Heute fand das 30. Steemit Vienna-Meetup im Hug Inn Vienna bei der @globalschool von @manncpt statt. Haben ein bisschen über Tron, Communities, Corona philosophiert und nebenbei Fußball geguckt (hihi, was mich aber weniger interessiert hat) ;)
@mammasitta hat bei der Gelegenheit auch eine Steem Austria Community angelegt und uns zu Mods gemacht ;) Wenn noch jemand Mod oder Admin werden möchte einfach bei @mammasitta melden.
Communities haben Vor- und Nachteile, wobei mir persönlich die alten "regelfreieren" Tags im Moment noch besser gefallen, weil sie dem Blockchain-Gedanken mehr entsprechen. Communities sind aber auch cool, sind so wie Subreddits und eben moderiert, was manchmal auch ein Mehrwert sein kann.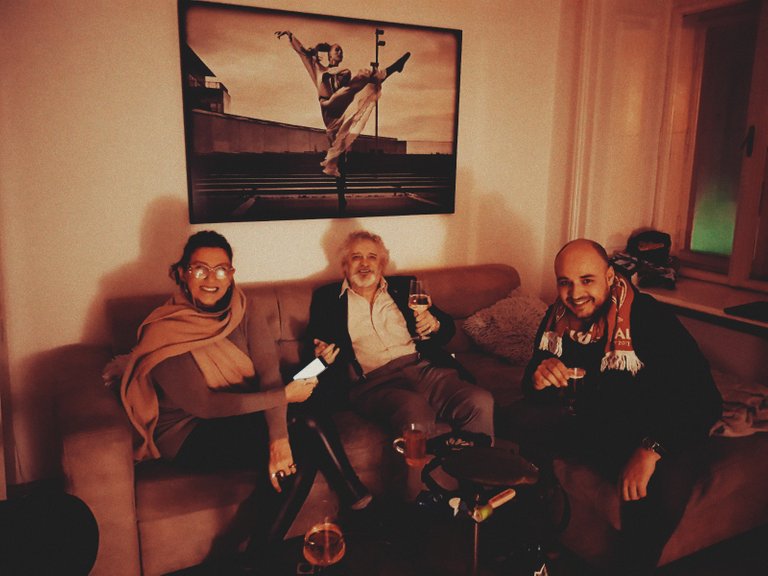 Vienna Steemit Meetup: @mammasitta, @thermoplastic, @manncpt, @vikisecrets (photographer), and @royaldna (not in pic)
English
Today the 30th Vienna Steemit Meetup took place at the Hug Inn Vienna at the @globalschool of @manncpt. We philosophized a bit about Tron, Communities, Corona, while watching soccer (giggle, which I'm less interested in) ;)
@mammasitta also created a Steem Austria Community and made us mods ;) If you want to become a mod or admin, just contact @mammasitta.
Communities have advantages and disadvantages, although I personally like the old "rule-free" tags even better at the moment, because they are more in line with the blockchain philosophy. But communities are also cool, they are like subreddits and moderated, which sometimes can be an added value.
Live your Secrets and Steem Prosper 🔥
Photo credit: @vikisecrets