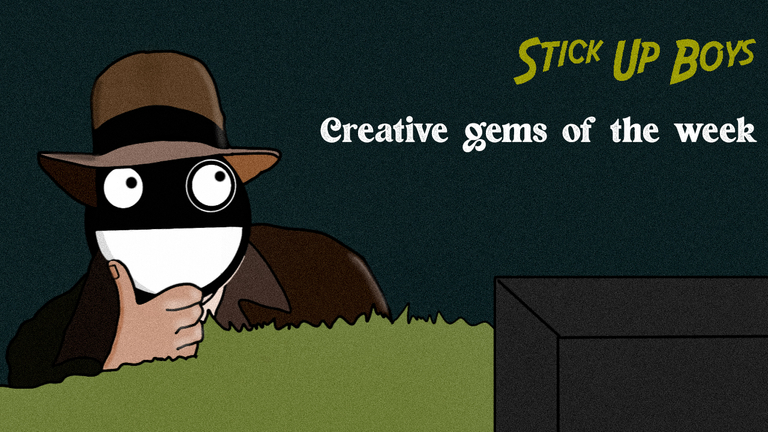 Introduction
The Stick Up Boys Curation Team believes that art and music are a world within themselves, and has a language that everyone can understand. For the last couple of months, the Stick Up Boys Curation team has been hard at work picking 5-10 music and art posts every single day. For each post we curate we:
| upvote | reblog | leave a friendly comment |
| --- | --- | --- |
| send a slice of pizza | drop fun GiFs | and promote |
Art and Music lovers alike! Join us in spotting HIVE bloggers showcasing music and art.
But we aren't stopping there - we've taken a good look at some of the posts we've curated and wanted to highlight our 5 favorite music and art posts from this week!
---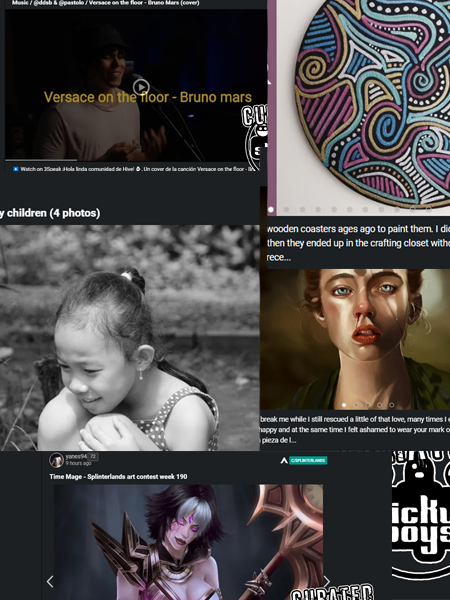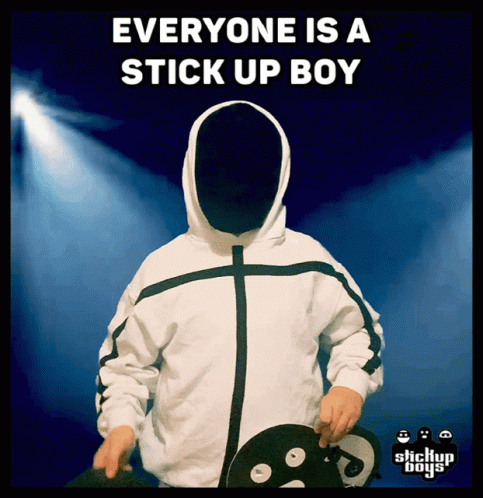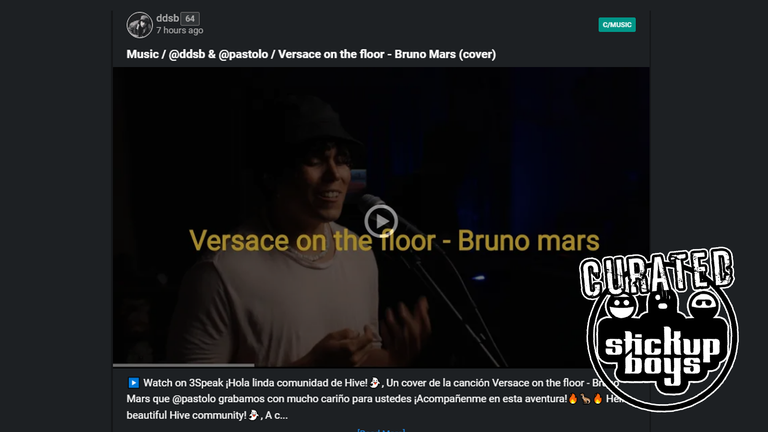 @ddsb made an amazing cover of Versace on the Floor. Very close to Bruno Mars I say.
Hello beautiful Hive community!👻, A cover of the song Versace on the floor - Bruno Mars that @pastolo recorded with love for you Join me on this adventure!🔥🦖🔥 read more
Blog post link: https://peakd.com/hive-193816/@ddsb/hlslfqvx
---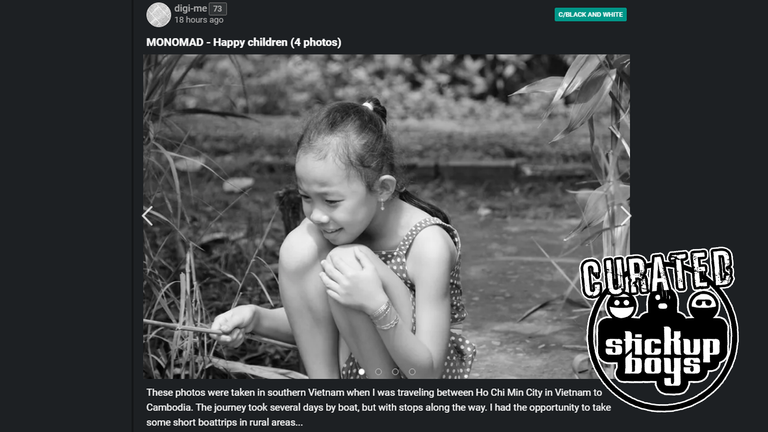 @digi-me showcases the smile of the future, our children. Even in black and white we can the colors of life.
These photos were taken in southern Vietnam when I was traveling between Ho Chi Min City in Vietnam to Cambodia. The journey took several days by boat, but with stops along the way. I had the opportunity to take some short boattrips in rural areas. This is where we had the opportunity to meet local children playing. read more
Blog post link: https://peakd.com/hive-142159/@digi-me/monomad-happy-children-4-photos
---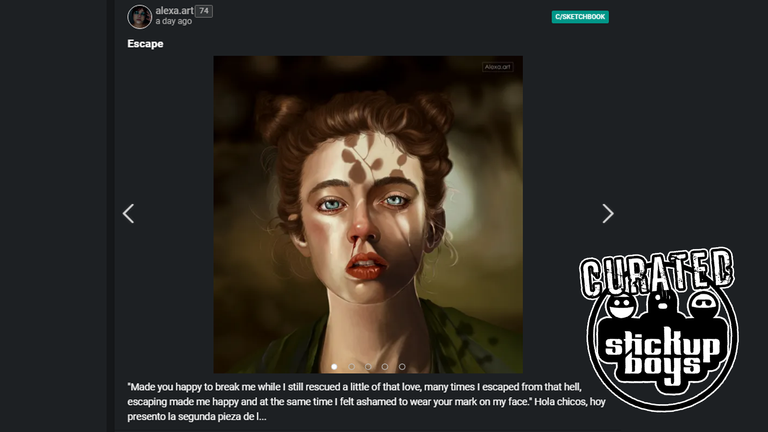 @alexa.art leaves a very realistic touch in this sketch. Love paints a permanent memory in someones heart so do art
"Made you happy to break me while I still rescued a little of that love, many times I escaped from that hell, escaping made me happy and at the same time I felt ashamed to wear your mark on my face."read more
Blog Post link: https://peakd.com/hive-174301/@alexa.art/escape
---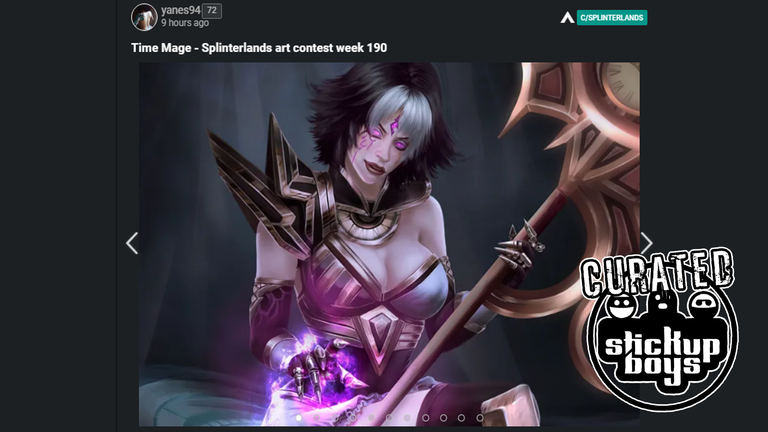 @splinterlands is not only a game but also a place to share art. Look at this fan art of Time Mage that @yanes94 made.
I'm alive! wow! it's been a while and with so many things I had pending I couldn't be here , several good things happened! I was able to fix several things and get something more decent for my Pc.read more
Blog link: https://peakd.com/hive-13323/@yanes94/time-mage-splinterlands-art-contest-week-190
---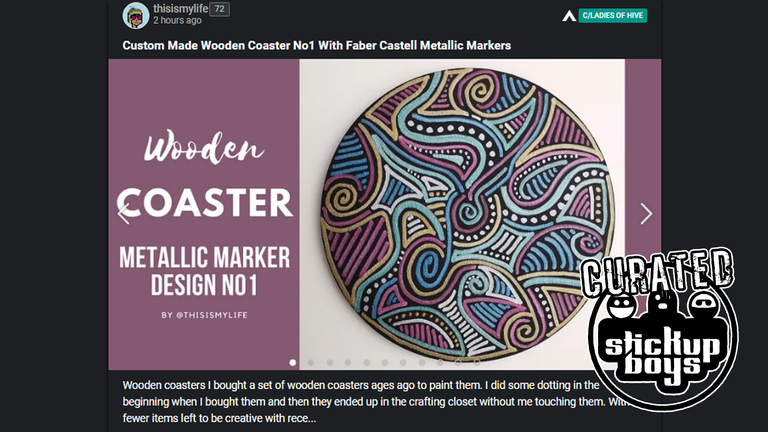 Art is truly everywhere! Take a look at how @thisismylife bring the vibrant colors of life to one of our favorite morning companion, a wooden coaster. If I have one of these my morning coffee will never lose its taste :)
I bought a set of wooden coasters ages ago to paint them. I did some dotting in the beginning when I bought them and then they ended up in the crafting closet without me touching them. With fewer items left to be creative with recently, I decided I'd give them a black gesso coating and use my metallic markers to decorate them for fun. Some zen doodling time and maybe if they turn out nicely, I can give them a coating in Spain and use them even. They aren't heavy anyway so I can easily take them if I love how they turn out. I'm not going to pressure myself to create 6 identical ones or finish them before we leave, but just when I feel like being creative I can try to decorate one. read more
Blog Post Link: https://peakd.com/hive-124452/@thisismylife/custom-made-wooden-coaster-no1-with-faber-castell-metallic-markers

---
And Finally
We love curating great music and art content! Follow @stickupcurator if you'd like to see the best of both that we find on Hive each day!
And if you're an art or music content creator we'd be honoured to count you among our friends as we really value the amazing community on Hive and the great quality stuff we get to read here!
---
SUPPORT THE CURATION TEAM THROUGH DELAGATION
You can always support music and the arts and follow this curation trail or support us even more by delegating!
Big up all the music and art on Hive
the Stick Up Boys
Check out more here: https://linktr.ee/StickUpBoys