Hey there @derangedvisions, I heard you're looking for a cool place to travel? I'd like to tell you a little about my town, Victoria, British Columbia on the southern tip of Vancouver Island.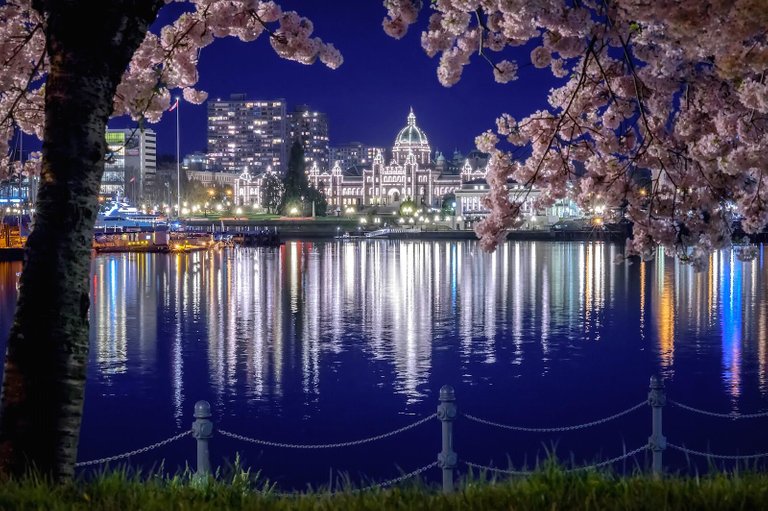 Me and my wife Cathy came here for a vacation seven years ago. Then we went home to Toronto, sold our house and moved right back three months later! We sold or donated almost everything we owned, stuffed the rest into our Chrysler mini-van, and drove 3,000 miles to get here. I've never been happier. Since that day we have been retired, and honestly all we do is take photos, or in Cathy's case, take photos and make paintings.

Cathy on Mount Tolmie, looking down at the city
Let me show you where this is... recognize the west coast of North America? Three cities are circled on the map. Vancouver at the top, Victoria on the tip of the island, and 130 miles to the southeast is Seattle. (Study this map. There will be questions at the end!)
This is the beautiful Pacific Northwest. We have spectacular scenery, pristine nature, wildlife, ocean, mountains... and a lovely little city that I call home with a population somewhere around 250,000. It's small enough that I can walk almost anywhere I want to go. I'm going to show some photos of the city and surrounding area, but first there is something else I need to talk to you about...
Hey America...
I'm a Canadian. I put the letter U in the word colour and harbour, exactly the way God intended when SHE invented the English language. (See what I did there? I'm offending as many people as possible for comic relief! Just play along.) That's right, damn you Noah Webster for screwing up our language! ...but I digress. Where was I? Oh yes.
America.
Why is it that every time I point my camera towards the ocean, I see your mountains? It's like you're always lurking in the background of my photos, taunting me! I wouldn't mind so much except my passport has expired and I can't go there at the moment! I want the readers to understand that all the mountains in the photos I'm about to show are in the USA. We have plenty of mountains in Canada, but you can't see them from here!

Above: Alpenglow on Mount Baker, Washington with San Juan Island in the middle distance
Can you see why any photographer might want to live here? This is looking due south.

Large sailboat with Washington's Olympic mountains in the background.
Living on an island means you get to see a lot of boats! The local economy depends on the tourist trade, and Victoria is one of the stops for the Alaska cruise ships coming up the coast from San Francisco and Seattle. Below you can see two cruise ships racing each other out of Puget Sound, heading for Victoria, roughly 2 hours away. In the foreground is Point Wilson Light, Port Townsend, Washington.
The cruise ships dock here three at a time and sometimes more have to wait their turn to get in. Every night the ships are in port, 6,000 or more tourists are let loose on the town.
Speaking of tourists, we love them and hate them at the same time. It's like that in any tourist town. I find the crowds downtown ideal subjects for street photography. Here's a typical bunch, straight off a cruise ship watching a young lady play a harp. Look at them closely... Alaska sweat shirt, guy smoking a cigarette, a woman with a 'Super Big Gulp'. Yep, those are the tourists... For the rest of this post, I'll show some examples of what a tourist might do here.
A carriage ride through China town.
Check out a haunted castle. This town is crawling with ghosts if you believe the tourist guides.
Play golf beside the ocean. The courses are open year-round. We almost never get snow here, although this past winter we had snow for a week. (It made me consider moving!)
Maybe you'd like to take some kayak lessons. These guys below run a little school, they'd be more than happy to teach you!
Once you've got those kayaking skills down pat, you might want to paddle over for a front row seat at the Victoria Symphony Orchestra.
Wildlife photography. Bring your long lens. This photo was taken in the city. The bald eagle is carrying a large crab which he just scooped off the beach.
The whole town is full of deer. We've got way too many, but as a photographer, I don't mind at all. Remember that shot of my wife? This little gif is made from shots taken about 50 yards from where she was standing.
If you have time to get out of town for a short trip, you might want to try some fishing.
Or do a little camping on the beach...
And then you can get back on that cruise ship to Alaska.
Or take the Victoria Clipper back to Seattle.
Or a seaplane to Vancouver.
Wow, that's twenty images, so I better wrap this up. I apologize for the length of this post, but @derangedvisions wants you to work hard and be creative if you enter his contest. I hope you enjoyed these images of my adopted home town.


Edit: I forgot to mention Whale Watching... what was I thinking? Sometimes the Orca whales will come right into the inner harbour. You could have seen one in the final picture if the timing had been right!
All photos were taken by me, @keithboone. Please click for a closer view, and thanks very much for visiting.