The team has been hard at work this week at not only curating, but hunting down abuse of the @creativecoin and @sonicgroove tag and I'm as pleased as I can be with the efforts put forth so far.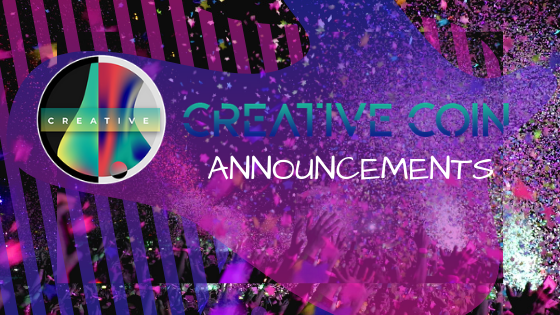 The response to Creative Coin has been overwhelmingly positive so far, with only a small bit of complaints from people that don't like the idea of having moderated tags. In my mind this is oldsteem thinking. A lack of moderation is one of the biggest issues the Steem platform has, take a look at trending on Steem compared to many of the tribes, and you'll see a big difference in what is being rewarded. Is it perfect? No, not yet. But I believe as more stake spreads to new accounts, we'll see even more diversity in what people are rewarding.
The key word there is people.
So let's back up a bit and let me quickly explain Creativecoin's structure:
Creativecoin is the main account. The umbrella that covers the creative and entertainment areas. It is also the parent of @sonicgroove, which is also owned by @swelker101 and @isara. There will be more niche tribes under the Creativecoin umbrella, but they will be owned by other accounts and people. What that means is that the most of the Creativecoin team will be helping run the smaller niche tribes, but will not have any governmental powers. Creativecoin can help set-up niche tribes that wish to come in under the umbrella. More on that in the near future.
So, with that being said. The next part is only valid for Creativecoin and Sonicgroove as they are the only two that @swelker101 and @isaria own.
We will not run any bid-bots that exchange tokens of any sort in exchange for CCC or SONIC
We have decided that we will not be allowing pay-for-vote bots on the two tribes
This includes many curation accounts that exchange upvotes for payments or delegations. We have already muted several accounts which follow this model, and will be muting others as we find them. We tend to see that these accounts tend to be automated and have zero standards on what they are voting, which in turn makes keeping the tag clean harder for the team.
Bid-bots will be muted immediately as they are found.
In the short term, I assume you'll see some coins being dumped. In the long term, we feel it's best for the platform and that will be reflected in the token value.
We will be sending delegations to some curation groups
We are well aware that there are some curation groups that curate by hand, and do a wonderful job. We are currently working on the best way to implement these possible delegations and will announce the initiatives when they are ready.
I think that just about wraps up this update. Thanks for reading!