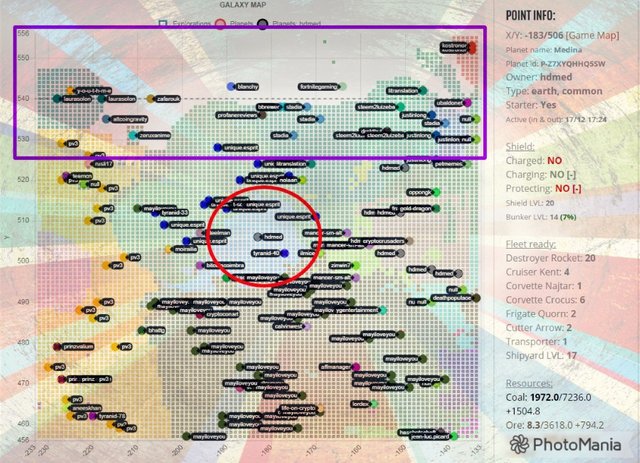 Hi my friends Steemians
Welcome and this new publication of my series in black and white, this time I share with you this image of my progress in exploration of the space (Galaxy) of @nextcolony.
On this image clearly shows the progression of my neighbors at the top and right of my planet Medina.
I hope you'll like it.

مرحبا أصدقائي ستيميانز
مرحبًا بكم وهذا المنشور الجديد لمسلسلتي بالأبيض والأسود ، أشارككم هذه المرة صورة التقدم الذي أحرزته في استكشاف الفضاء (المجرة) لـ @ nextcolony.
على هذه الصورة يظهر بوضوح تقدم الجيران في الجزء العلوي واليمين من كوكبي المدينة .
آمل أن تنال إعجابكم.

Salut mes amis Steemians
Bienvenue et cette nouvelle publication de ma série en noir et blanc, cette fois je partage avec vous cette image de ma progression en exploration de l'espace ( Galaxy) de @nextcolony.
Sur cette image en voie clairement la progression de mes voisins en haut et à droite de ma planete Medina.
j'espère qu'elle vous plaira.
- Original :
Today Screenshoot :

Capture d'écran d'aujourd'hui:

لقطة اليوم :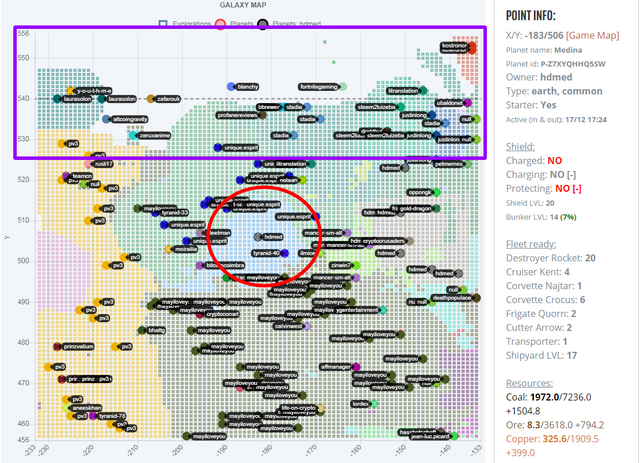 NB: All support are welcome ( Upvote, Resteem and Follow )

Thank you for dropping by.
Peace and love
Paix et amour
@hdmed




Souhaitez-vous ajouter quelque chose? laissez moi un commentaires ci-dessous!
Would you like to add something? leave me a comment below!
هل تريد إضافة شيء ؟ أترك لي تعليقا أدناه!.
Thank you Steemit for the opportunity to post at this fine site.