many many years (and roughly 10 kilos) ago, I played soccer for about 18 years.
I must have been 7 years of age when I started. At the age of 24, while playing a match, I had a serious knee injury. A complete tear of the anterior cruciate ligaments in my right knee.
Surgery was needed. Nowadays an injury like this is done with laparoscopy (aka keyhole surgery). But back then they really had to open the knee to do their repairwork.
Anyway, after the operation 6 weeks in a cast and walking with crutches, followed by some 3 months of physio-therapy and extra training, I slowly regained my strength in that right leg.
I went on to play another year. But with in mind the "warning" of the surgeon that, although the knee was well healed, 'it is better to always be cautious when playing soccer again': that's not me!
In a game it's Do, or Die. I exaggerate a bit with 'Die" maybe, but I think you can understand.
If you have always played at a reasonable high level and go "to the edge", it's almost impossible to play "with the brakes on".
At least, I couldn't. So after some 9 months I decided to quit.


The reason I tell you this all? There isn't any in fact.
I actually just wanted to share the picture below. It was sent to me yesterday by one of my team-mates with who I recently have got in contact with again via Fakebook.
I knew of the existance of the picture, because I have had it myself.
But because of the many times I have moved to different places over the years, it got lost I think.
So it was a nice surprise the other day when he said he still had the picture and would send me a copy.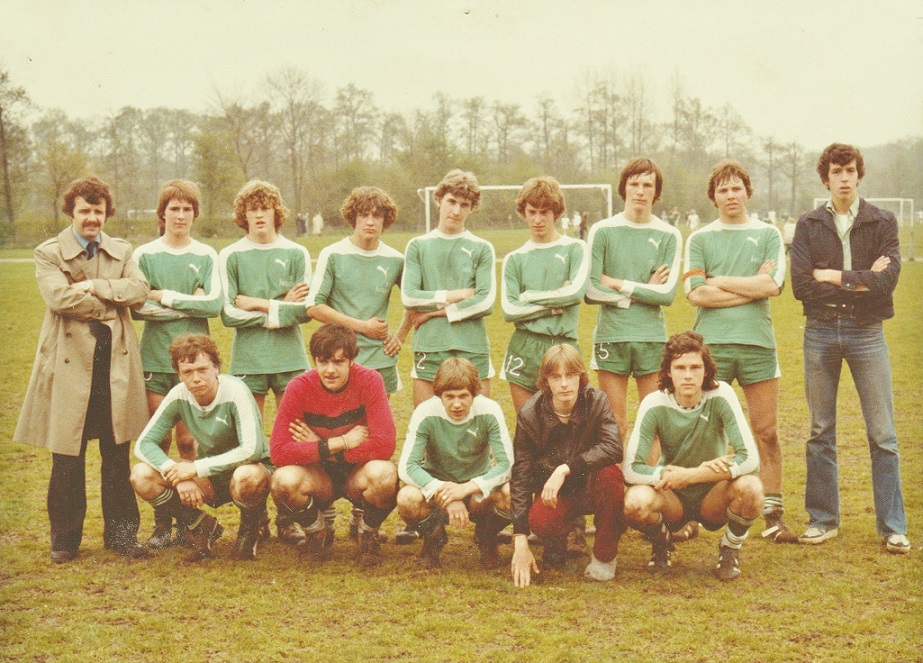 Anyway, I (we) must have been 17 or 18 years of age here.
But with a sharp eye at my profile picture (here below), you might find out who is @smasssh.

Hear you, take care, cheers!


THANKS FOR READING.
---