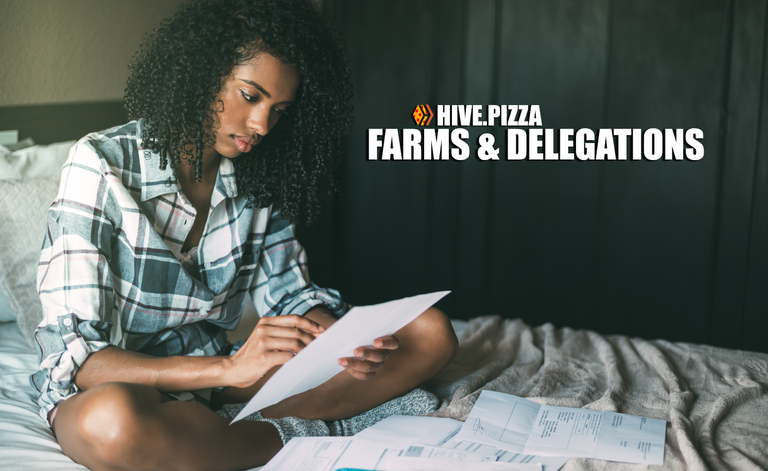 While building epic tools for Hivians, features for creative types and gamers, and onboarding experiences for off-chain users we are also always looking at ways to improve and expand on our rewards program and to give back to our PIZZA and HIVE community! Some are calling it DeFi. Some are calling it ZaFi. We call it Delegation Rewards! Hive.Pizza is a community backed project and has been completely funded (with the exception of a few costs being covered by the team out of pocket) by the HIVE community through PIZZA sales and through delegation, curation, and mining.
Let's take a look at how some are earning from delegating their HP to the PIZZA team or by depositing VFTs into the PIZZA VFT Farm!
Delegation Rewards
Our team has built a system through which delegating your HP you will immediately begin farming PIZZA tokens that are sent to your account daily! Currently daily inflation is set to 20 PIZZA tokens that are dispersed based on the % weight of your delegated power. The more you delegate to our curation account, the more PIZZA tokens you will start farming daily! We are set to increase the daily inflation 10 PIZZA tokens per 10,000 HP we receive to the @hive.pizza account.
Let's take a look at a recent print out of our delegation rewards.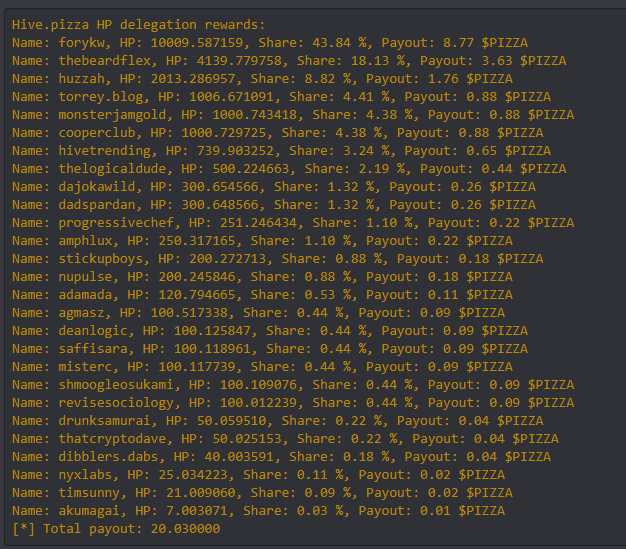 As you can see, our top delegation is just over 10k. The earner is currently farming 8.77 PIZZA tokens per day passively through their delegation.
That's roughly $0.42 USD/day, $2.95/week, or $153.23/year in returns at current price!
As mentioned before, the daily inflation will increase every 10,000 HP we receive.
=======================================================
VFT Labs VFT Farm
Our good friends over at MusicForLife ( @al-gaming @al-chocolatoso ) have created a super cool daily inflation farm for their VFT token over at https://vftlab.finance/ which is used to purchase NFTs from their store. PIZZA token recently won the governance vote and can not be used to participate in the daily VFT inflation rewards! Currently the PIZZA farm has a daily inflation rate of 50 VFT tokens that are split between farmers based on the % of PIZZA deposited into the farm! At the time of posting, PIZZA has the third highest APR in the VFT Labs at 72% APR.

These are just a few of the cool ways to earn PIZZA tokens or to build your passive gains portfolio. We also have a lot of cool things you can do with PIZZA tokens and a lot of great things coming! Feel free to check out the following two posts for a bit more information PIZZA and all of the cool things we're doing!
Building Value in HIVE through PIZZA
PIZZA is just not just a buy and hold token. We're building awesome tools with real fun-ctionality that will draw more users to HIVE.
This is just the beginning for our 'DeFi' solutions here at PIZZA!

Check out our easy PIZZA DeFi solution and get in on rewards by delegating your HP to our
@hive.pizza
curation account and farm your share of the daily $PIZZA inflation pool! The reward pool increases every 10k HP!

You can also check out the HIVE.PIZZA website here.
Buy $PIZZA
Leodex
Tribadex
Hive-Engine

Join the Discord and $PIZZA NATION

Join our curation trail here
Vote for us as Hive-Engine witness here
Vote for us as HIVE WITNESS HERE