11-29-2019
The Melt Down...the Freeze Up
November 14th was our first snow fall. A little bit late but the seasons are changing. No real change in the pattern of that first snow fall. About an inch and a half, two days later the temperatures went into the 40's, then back below freezing a few days later. The snows melted. The ground is frozen, so the melted snow stayed as water on top of the frozen ground, until it froze and became an ice layer. We have had sporadic warm again-cold again days this last two weeks.
Here a view of the driveway area from upstairs window on the 26th Tuesday. You don't see much of the driveway, but I stand in that little corner area for the ground photos, between the trees and the small dish and the well head. You can see a couple of tire tracks though.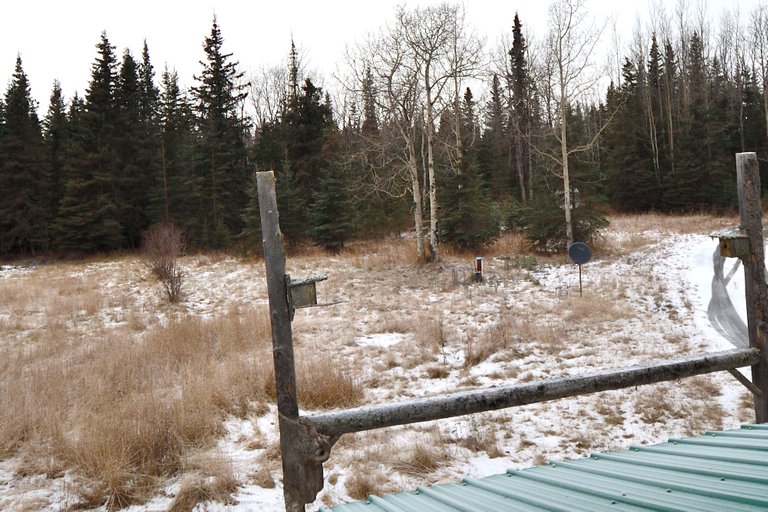 Still a little bit of snow, not much. On Monday it was only 25 degrees, with clear skies and lots of stars. I was hoping for more clear skies to try some more star shots, but no luck. It did warm back up to the mid 30's. No rain yet, just the clouds before the next system.
So Tuesday we got all the things we were going to need for the next few days. We knew it was going to do something the next day, we just did not know if it would be rain, or snow or a little of both. Wednesday was not a fun day. Our heater decided the day before Thanksgiving that it was simply not going to work. We did get lucky, and the heater repair person was able to come out and get in back in working order.
The weather was beginning to take a turn to the nasty side, a mix of rain, snow sleet, and ice started falling as the repair guy showed up. Like I said we got very lucky and were definitely Thankful on Thanksgiving for him being able to come and fix our heat source. It started raining and being weather active about 3 PM, it finally decided it was just going to be rain, and it rained and it rained and then it rained some more. It did not stop until about one o'clock in the afternoon of Thursday. Twenty two hours of rain. It may have taken a small brake while I tried to sleep through the drumming of the rain drops on a metal roof, but I don't think it did. Okay enough sad weather story.
Here is the drive way today about two thirty in the afternoon.
And here is the two image pano of the tree circle: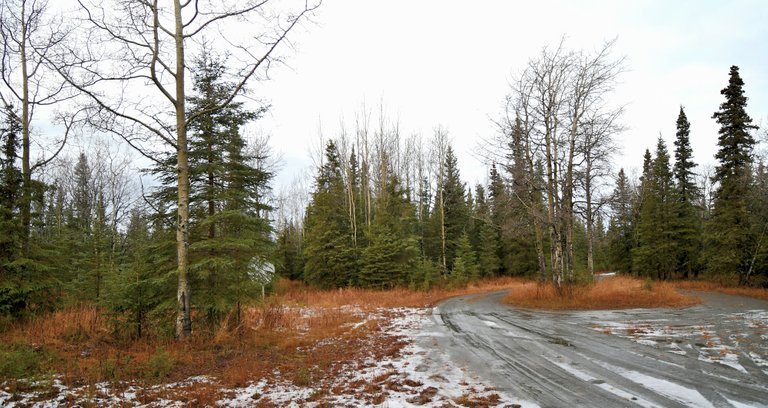 And last the drive in/out: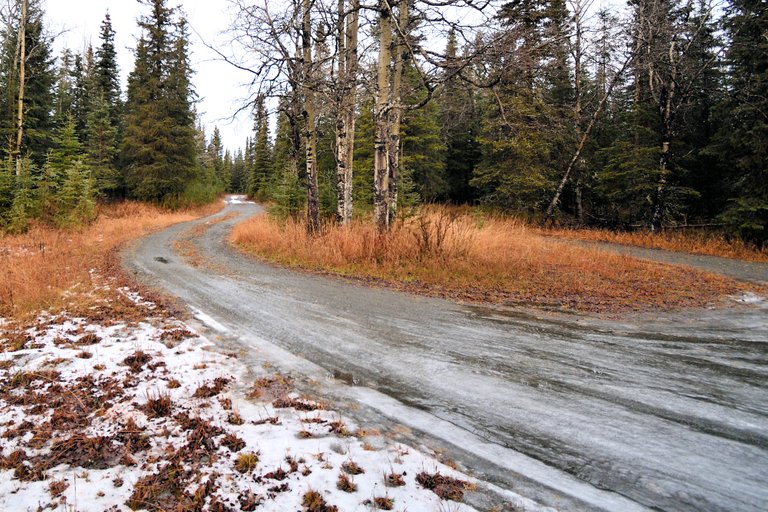 As you can see a little ice, some frozen crystallized snow, (kind of like the stuff you would get in the old freezers indicating it is time to defrost them if you want to put more stuff in the freezer, type snow), and quite a bit of water.

Now about the photo's. @markkujantunen was being helpful on my night sky photography and giving me some helpful hints and useful links. None of the photographs above were focused at the time of taking the picture. I Pre-Focused my camera and lens as practice for my next clear night photo try at star photography.
He gave me a link to:
https://www.photopills.com/calculators/hyperfocal-table.
I followed the instructions, broke out my tape measure, (okay well I had to borrow my wife's since I could not find mine), measured and focused, and switched to the manual focus and tried not to touch the focusing ring while setting up for the upstairs shot or the ones outside. The first one is a little bit more unfocused than the others because when I did that one on Tuesday, I just guesstimated at the correct distance to do my pre-focus. I have only just touched the surface of that page and have found it to be pretty useful.

That pretty much concludes Episode 3. I am hoping to be able to get a #spud / #spud8 post out on Sunday, then my monthly progress report post out in the early part of next week. I would not be to surprised if I also end up with another driveway saga update post, It could snow again, and that second snowfall is almost always a need to be plowed after the snow stops falling snow.
I hope you all have a nice weekend, and don't let the Holiday Shopping stress you out to much.


All images were taken by me.