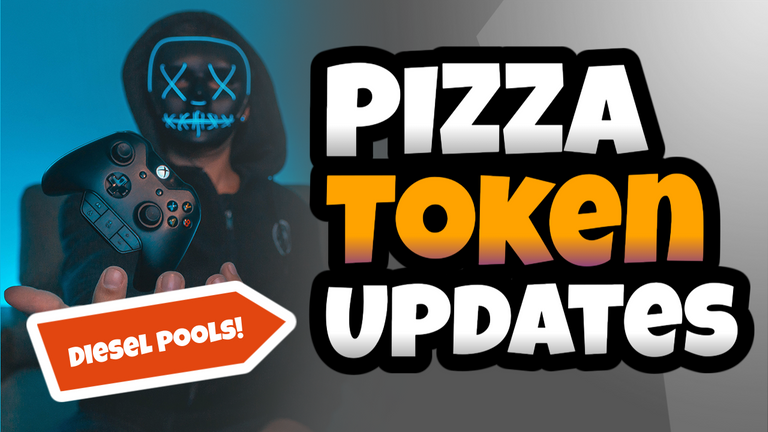 Happy Sunday everyone! I hope you've had a kickass week. If not, we're sending you some extra good vibes to get through the remainder of your weekend and prepare you for your Monday!
As usual, this has been another exciting week for PIZZA holders and for HIVE! Let's take a look!
Diesel Pools and Pairings
PIZZA has officially entered the DeFi space! Now you can combine your favorite tasty token, gaming, and finances all in one!
We have started off with a SWAP.HIVE:PIZZA pairing and have activated the rewards contract in the Diesel Pool. All Liquidity Providers (LPs) will now receive daily rewards for providing liquidity to our POOL!
We've already started working on the next pairing and pool rewards as well! Stay tuned for more awesome information as we expand our DeFi opportunities! For a complete review of the write-up and to see how it works, see our post here.
Splinterlands
We are pumped to report that our Splinterlands Guild (Hive Pizza) is starting to make some serious noise and took second place in the brawl this week! Amazing job team! The guild is starting to gain some amazing attention and the waiting list is starting to grow! We're looking at options to grow our guild further so more people can play with us on the competitive level!

Please contact a guild officer or captain or learn more about the requirements for joining our guild!

As the Splinterlands guild grows, so will our rewards! As we solidify our place among the Splinterlands guilds and teams, we'll be looking at building a more robust reward system for those are participate actively and help us in our journey to taking over and dominating the Splinterlands space!
Pizzabot Discord Bot
Massive visual facelift has been performed on our core Pizzabot Discord Bot.
Embeds have replaced the old code snippet entries
New commands have been built to monitor Diesel Pools
The following commands are now available in the Discord to assist you in your farming:

!pool Check HE Diesel Pool Info
!pools Check HE Diesel Pool Balances
!poolrewards Check HE Diesel Pool Rewards Info
!buybook Check a tokens buy book listing
!sellbook Check a tokens sell book listing
Delegation Rewards Pool Increase
We have a robust rewards program at PIZZA! Part of that program includes a daily rewards pool for those who delegate HP to our @hive.pizza curation account.
Every 10k delegation we receive to our curation account, we add an additional 10 PIZZA tokens that are distributed daily to our delegations, based on their share of the delegation.
This week we smashed past the 50k delegation goal and are now awarding up to 50 PIZZA tokens daily!


Stream Team
CALLING ALL STREAMERS! If you have been watching you know already that the PIZZA team is very active in the content creation and streaming space. We're starting to put together the idea of what our formal stream team will look like and we want to invite you to join our Discord and participate in the conversation!
PizzaWitness Node
Small amount of cleanup to deal with some rogue log reporting that was taking up space on the disk drive.
HIVE Witness
Our HIVE Witness rank has continued to improve. This past week we moved from position 83 to 79! Wow! Thank you SOOOOO MUCH to those who have taken the time to cast your vote for us! It means the world to us!

To vote and to support the project, simply click this link:
VOTE FOR PIZZA
If you do not feel comfortable using the link above, you can also vote for us in Peakd by click on your profile in the top right and click 'Witnesses'. Search PIZZA!

TOKENOMICS
| Circulating Supply | Staked | Burned | Max |
| --- | --- | --- | --- |
| 236,916 | 184,348 | 63,083 | 100,000,000.00 |
---


Wallet Status


3600 wallets hold $PIZZA
0678 wallets hold >= 1 $PIZZA ( 8-) )
0281 wallets hold >= 20 $PIZZA (bot access level 1)
0051 wallets hold >= 200 $PIZZA (bot access level 2)
0023 wallets hold >= 1000 $PIZZA (badass level)
0007 wallets hold >= 10,000 $PIZZA (baron level)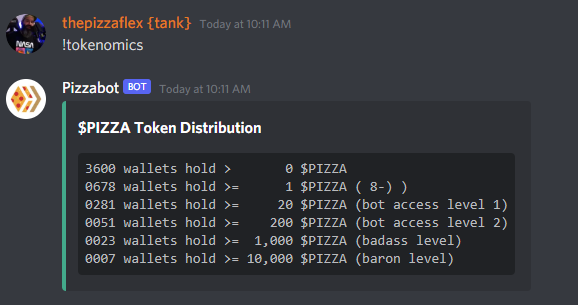 Discord Submission
We love Pizza, it's a fact! Pizza is the bond that brings us together. In the Discord we encourage our $PIZZA family to share photos of their pizza creations or of 'za they are trying throughout their day.
This week, we are choosing THREE winners from the Discord!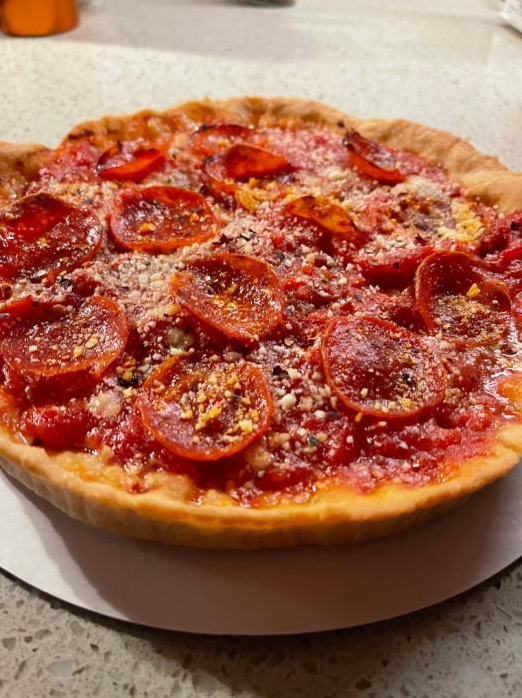 First Place
Submitted By: @shauner
Award: 15 $PIZZA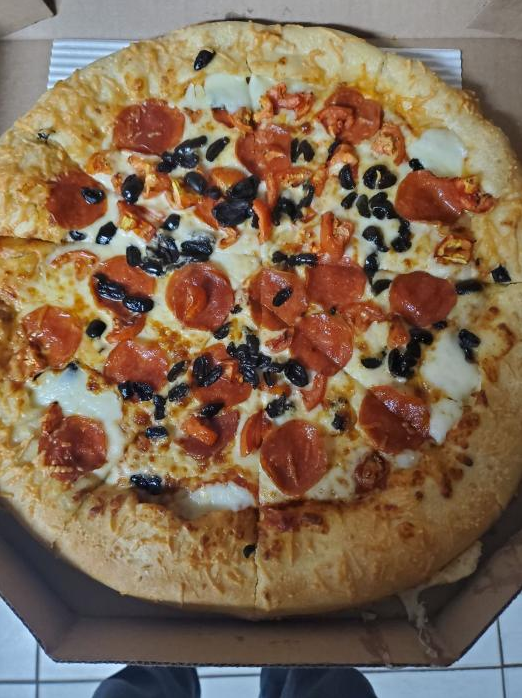 Second Place
Submitted By: @dibblers.dabs
Award: 10 $PIZZA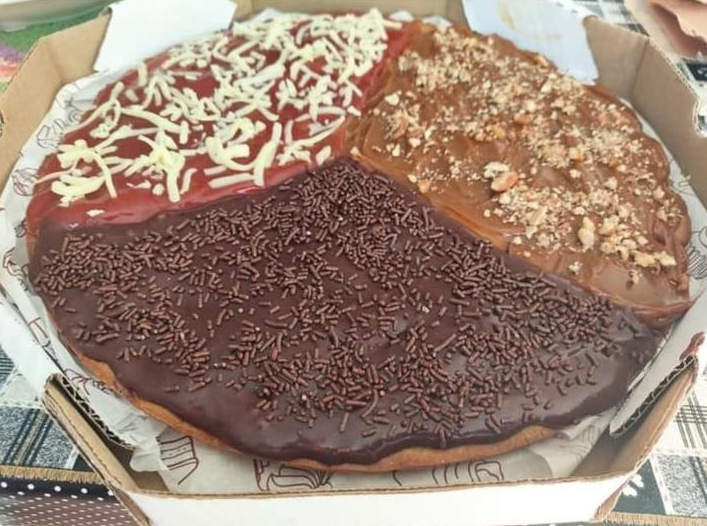 Third Place
Submitted By: @fireguardian
Award: 5 $PIZZA
Interesting desert PIZZA!


Thank you for your participation and enjoy your tasty $PIZZA tokens!

REWARDS
Top 10 Staked Leaderboards


Date: 8/8/2021
Token: #PIZZA
This weeks bonus: 10% $PIZZA RNG Favors the Barons this day!



Want to get in on the action and secure your own weekly bonus rewards?
You can buy $PIZZA on LeoDex, TribalDex, or Hive Engine!
You can earn up to 10% back in the form of $PIZZA and other tokens by knocking our current leaders out and claiming your spot among the top!
@pizzaconnection @cooperclub @stickupboys @dadspardan @dibblers.dabs @fireguardian @shauner @hivetrending @juanmiguelsalas @brofundholdings
Lucky 5 Weekly $PIZZA Holders
(randomly chosen weekly from all holders with >= 1 $PIZZA in their wallet)
These lucky winners have won 3% of their staked $PIZZA holdings value back!
Remember! If you want a chance at BIGGER rewards, simply stake more $PIZZA in your wallet!
@globetrottergcc @knowhow92 @libertycrypto27 @batgirlog @alanigma
BONUS 5 Weekly $PIZZA Holders
These 5 bonus winners are drawn from holders with >= 500 $PIZZA
Remember, the more you have staked the more you can increase your lottery winnings! You can also secure guaranteed weekly winnings by being in the top 10 staked holders list! The rewards are up to 10% back weekly for our top 10!
Congratulations and thank you for locking up your tasty za! Enjoy your bonus rewards of 3%!
@chronocrypto @okean123 @honeysaver @eirik @kaelci
Daily Winners
Congratulations! You have won 5% of your $PIZZA holdings back in additional $PIZZA!
@steevc @d-zero @cryptoyzzy @yems @allcapsonezero @nuthman @stevenwood

DELEGATE TO PIZZA
You can also delegate your HP to our @hive.pizza curation account and farm your share of the daily $PIZZA rewards pool! The reward pool increases 10 tokens every 10k HP that is delegated to the account!



You can also check out the HIVE.PIZZA website here.
Buy $PIZZA
Leodex
Tribadex
Hive-Engine

Join the Discord and $PIZZA NATION

Join our curation trail here
Vote for us as Hive-Engine witness here
Vote for us as HIVE WITNESS HERE