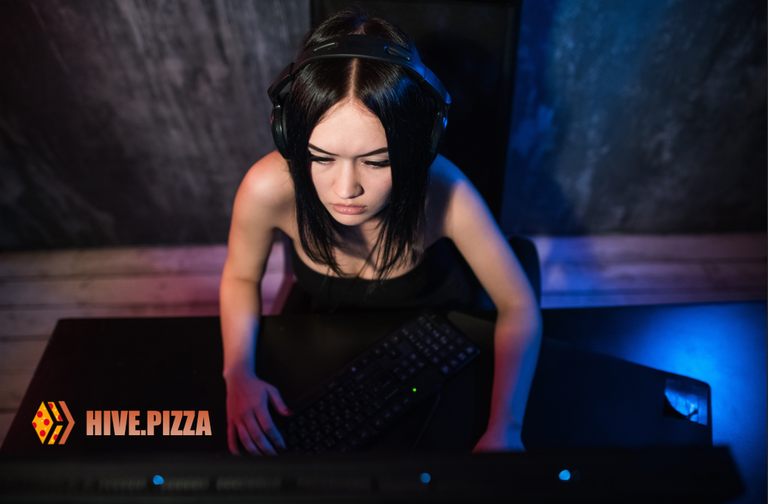 It's been another fun week at HIVE as we executed the Hardfork.
Let's take a look at how things went and as always, get to those juicy rewards!
Hardfork
We're excited to report that all PIZZA services transitioned through the Hardfork without a problem. Special shoutout to @hivetrending for ensuring SYKNET stayed awake and was without interruption!
HIVE Witness
Our HIVE Witness node saw the new Hardfork upgrade executed without issue as well!
In the first week of being a HIVE Witness our node has already produced 9 blocks!
With your support we have increased to 118 / 105 in the witness list!
To vote, simply click this link:
If you do not feel comfortable using the link above, you can also vote for us in Peakd by click on your profile in the top right and click 'Witnesses'. Search PIZZA!
Bot Command
We've added a new command to our Discord bot that will allow users to check relevant Witness information. Simply invoke the !witness command in the PIZZA discord to see information related to Witness nodes!
Join our Discord to check it out! JOIN DISCORD


HIVE TODAY
We also post a weekly informative HIVE post, informing you of all of the latest cool things going on across the HIVE ecosystem. You can view our latest HIVE TODAY post here.
WEBSITE
Here is a quick sneak peak of some of the cool things coming to the hive.pizza website!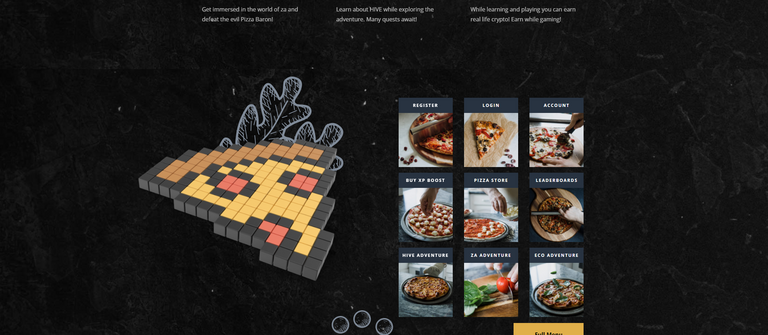 You'll have to stay tuned to learn more! ;)
Twitter Giveaway
In the past few weeks we've given away hundreds of PIZZA tokens, music NFTs (VFTs) from local HIVE musicians, and NFTs on WAX (including GOLD Splinterlands cards). We'll be kicking off another giveaway (we use these as a way to promote HIVE and PIZZA together) this coming week! Make sure you are in the Discord to participate and for a chance to win!

TOKENOMICS
| Circulating Supply | Burned | Max |
| --- | --- | --- |
| 278,000 | 34,071.83 | 100,000,000.00 |
---


Note: Both of the large dumps in the graph above prior to today were executed by a single account. The price has quickly rebounded each time! The dump today was by another user selling at a loss! Get your $PIZZA tokens while there are some on sale! Reminder, our project funding sell walls will never be this cheap again!






Wallet Status


2873 wallets hold $PIZZA
0508 wallets hold >= 1 $PIZZA ( 8-) )
0238 wallets hold >= 20 $PIZZA (bot access level 1)
0047 wallets hold >= 200 $PIZZA (bot access level 2)
0017 wallets hold >= 1000 $PIZZA (badass level)
0004 wallets hold >= 10,000 $PIZZA (baron level)





We're about to see $PIZZA token in over 3,000 wallets. This is extremely exciting and quite a wonderful feat considering we have done this through user to user engagement and with almost no financial backing outside of community funding and what has come out of pocket! Just wait till we have a bit more funding and can accomplish goals a bit faster ;) :)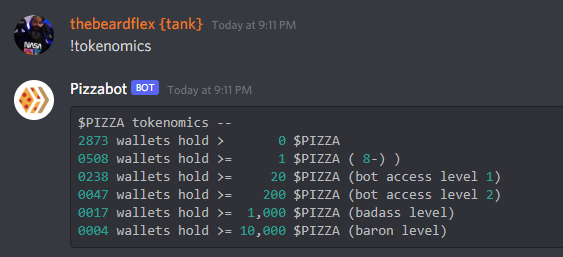 Discord Submission
We love Pizza, it's a fact! Pizza is the bond that brings us together. In the Discord we encourage our $PIZZA family to share photos of their pizza creations or of 'za they are trying throughout their day.
This week, we are choosing THREE winners from the Discord!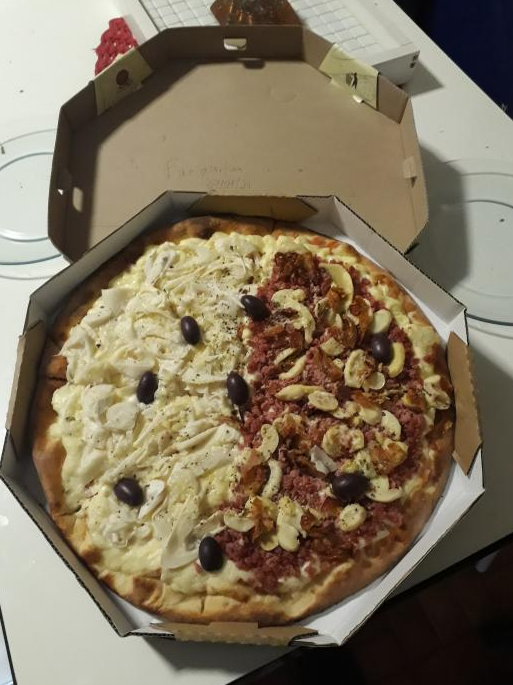 First Place
(received the most emojis in the Discord)
Submitted By: @fireguardian
Award: 15 $PIZZA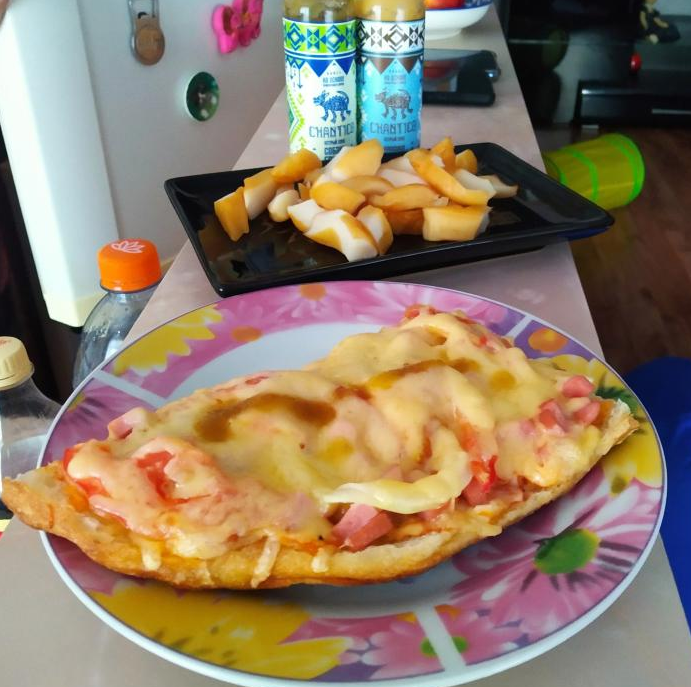 Second Place
Submitted By: @lostkluster
Award: 10 $PIZZA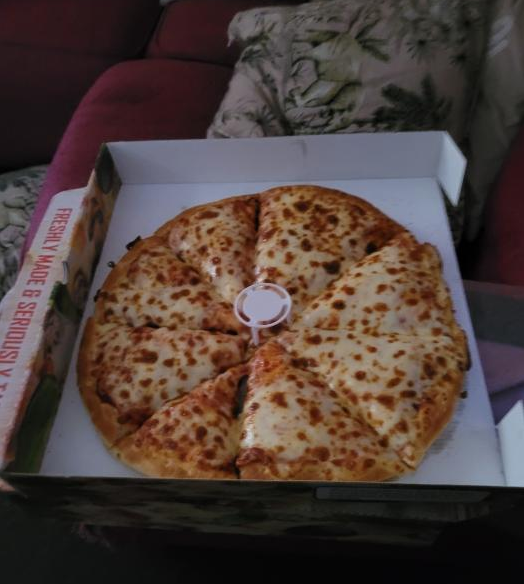 Third Place
Submitted By: @dadspardan
Award: 5 $PIZZA


Thank you for your participation and enjoy your tasty $PIZZA tokens!


REWARDS
Top 10 Leaderboards (Bag Holders)


Date: 7/4/2021
Token: #PIZZA
This weeks bonus: 6% $PIZZA
Want to get in on the action and secure your own weekly bonus rewards?
You can buy $PIZZA on LeoDex, TribalDex, or Hive Engine!
These PIZZA BARONS control the top 10 leaderboards and thus receive the biggest bonus reward each week! You can earn up to 10% back in the form of $PIZZA and other tokens by knocking our current leaders out and claiming your spot among the top!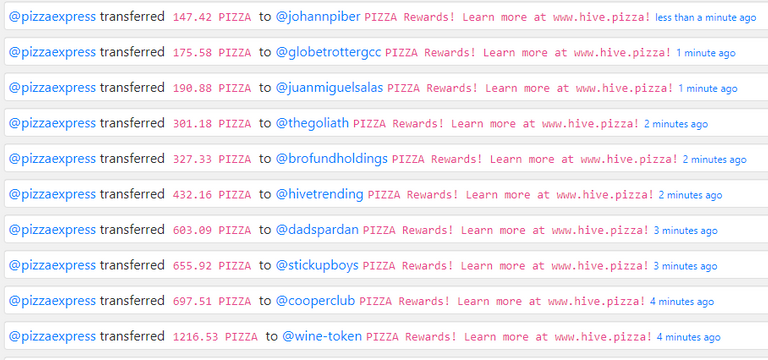 @wine-token @stickupboys @dadspardan @hivetrending @cooperclub @brofundholdings @thegoliath @juanmiguelsalas @globetrottergcc @johannpiber
Lucky 5 Weekly $PIZZA Holders
(randomly chosen weekly from all holders with >= 1 $PIZZA in their wallet)
These lucky winners have won 3% of their $PIZZA holdings value back!
Remember! If you want a chance at BIGGER rewards, simply hold more $PIZZA in your wallet!

@jakiro12 @nessie2645 @valerianis @edicted @mipiano
BONUS 5 Weekly $PIZZA Holders
These 5 bonus winners are drawn from holders with >= 500 $PIZZA

Congratulations! Enjoy your bonus rewards of 3%!
@schlees @splatts @eirik @altonos @jotakrevs
Daily Winners

Congratulations! You have won 5% of your $PIZZA holdings back in additional $PIZZA!
@dbuzz @lildolphin @eythorphoto @nupulse @logicforce @stevenwood @gr33nm4ster




Check out our easy PIZZA DeFi solution and get in on rewards by delegating your HP to our @hive.pizza curation account and farm your share of the daily $PIZZA inflation pool! The reward pool increases every 10k HP!







You can also check out the HIVE.PIZZA website here.
Buy $PIZZA
Leodex
Tribadex
Hive-Engine

Join the Discord and $PIZZA NATION

Join our curation trail here
Vote for us as Hive-Engine witness here
Vote for us as HIVE WITNESS HERE