Hello everyone! 😊
How are you doing?
I am very actice on the Blockchain again for several month now.
There are sooo many cool projects I discovered in the last weeks. I don´t know which one to talk about first, because they are all so exciting!
But today, I want to introduce the PIZZA project here on the HIVE Blockchain. 🍕🍕🍕
I am sure most of you already know this community and use it quite actively, but as I am quite new to it, I want to write a little bit about it. 😊
When in the last month making some blog posts here, I recognized that many people "tipped" me some $PIZZA in the comments to my blog posts. I did not know what this was in the beginning and beeing able to tip any tokens for a blog post was quite new to me, cause I had a really long pause from the blockchain, so this never crossed my way.

I asked people what it was and entered their Discord. And I must say, this is one of the most fun communities I´ve been in so far!
I remember having hundreds of questions in the beginning. And everyone was really friendly and answered all my questions right away. This is awesome, as it is not like this in every community!
There is so much little things going on in there that it would be way too much to write about everything, and I still only know bits and pieces. So here are some bullet points about what you can do in this community.
Like I already mentioned, you can use your $PIZZA tokens for tipping others on their blog posts
---
There are always really funny and interesting contests. For example there was a GIF contest which just ended yesteday. The winners will also be rewarded with $PIZZA Tokens.
---
Also giveaways. From small, regularly ones wiht $PIZZA tokens, to bigger ones where you can also win Splinterlands Cards, Hive Power Delegations, Discord Nitro and much more.
---
The community is very active when it comes to gaming. Small games which you can play directly on the discord server, many channels about various blockchain games and much more.
For me as a Rising Star player (and Legendary Card 😍) it´s very cool to be in this community because there is a direct cooperation between PIZZA and RISING STAR. There is a card called PIZZA BIKE. I bought it right after I found out about the Community. 😄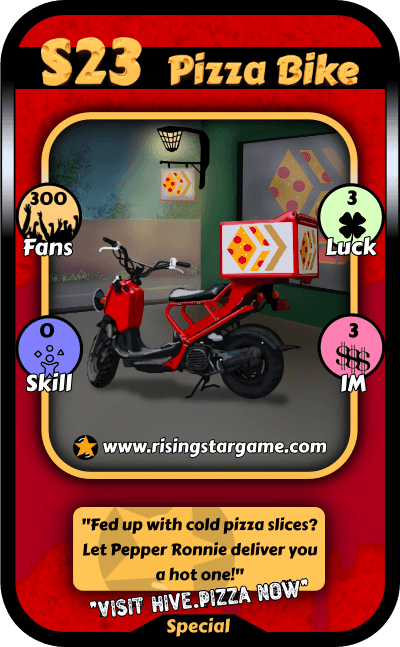 ---
For $PIZZA token holders, there are also contests and special giveaways. If you hold 200 or more tokens you are eligible for that.
---
There are BeeSwap Pools for $PIZZA tokens, for example with STARBITS or ONEUP tokens. You can stake your coins in these pools to get quite a good APR of other tokens as reward.
---
These are the main points what I know and use about this community. But there is much more to discover! The community is very friendly, funny and there is always much going on in their Discord! You should check it out!
In the future there will also be more things be for musicians, but I don`t know too much about it yet. Let´s see what this might bring for us! 😄🍕

I hope I aroused your interest about this community a little bit, and I´m excited to get to know more about it and will keep on staking $PIZZA tokens!
Hope to see you in their Discord! 😊💜🍕
Best regards,
RAVEN