The warrior poet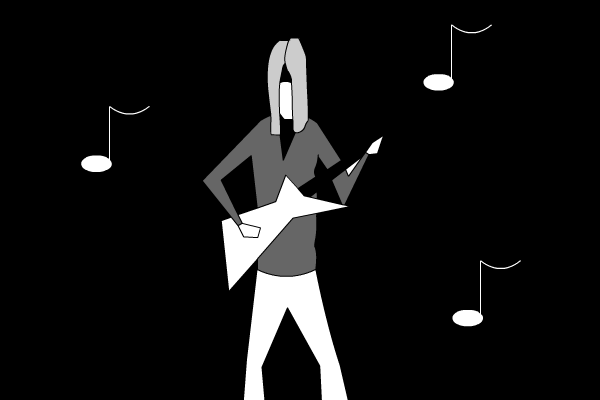 Simon is a young man with long straight hair who dreams of being part of a rock band. He carries his guitar everywhere, he is not a great musician but when he strums his strings his melody flows and there is no one who doesn't rock with his sound.
Arrived
The warrior poet
Fearlessly stands before the crowd
will give his blood with courage
to the rhythm of the song.
At a party he meets a boy named Queni. Simom plays and sings and at the end Queni asks him to borrow his guitar, he starts plucking the strings so fast that his fingers disappear in the neck, Simom is impressed.
"Brother!, where did you learn to play the guitar like that?"
Queni answers "at home, when I was a kid I had nothing to do and I would practice with the guitar from morning till night trying to do arpeggios"
Simon sees him as more than a musician, a weapon that together with him would be one of the best rock bands in his city.
Simon didn't hesitate to tell him "Dude, let's play good metal together, you as the lead guitar".
And so the band R.C. (Rigid Centauris) was born.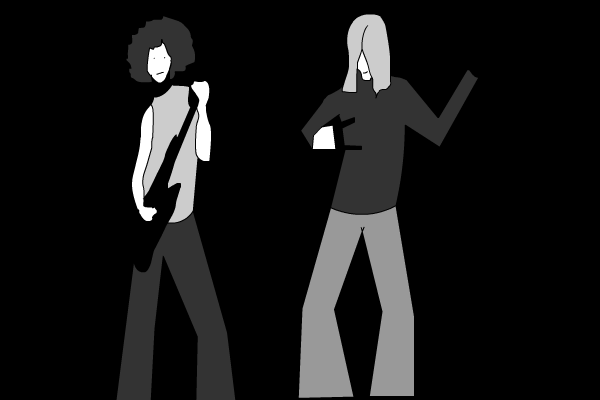 Weeks go by and another musician named Bander who masters the electric bass very well, upon seeing Queni's talent is motivated to join the band, everyone is counting on Queni to succeed. Ranks of good drummers are formed and Queni selects Antonio the best percussionist of all, now R.C. is complete.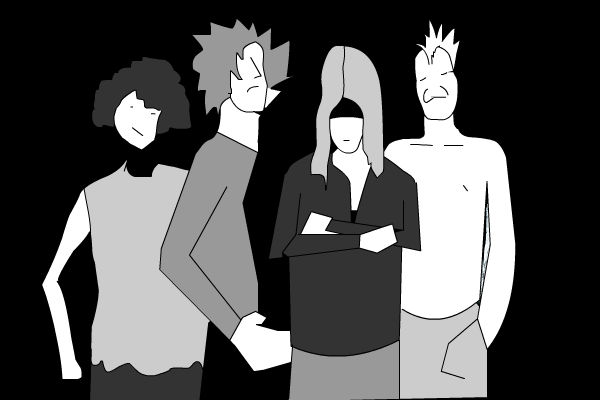 During their rehearsals they create good music that can only be appreciated at local events that they and other bands organize, they do not make money but live the dream that one day they will be successful.
One day they receive a news that will change their destiny forever, it is the new national festival of rock bands, to be held in the city where they live, a unique opportunity that they could not miss, Simon does not take long to register his team, with Queni in his band increases his enthusiasm, however Queni is thoughtful and silent
R.C. is not the only band that wants to win the festival, there are many good ones.
All the members are ready for the rehearsal but Queni doesn't arrive, Simon calls him on his cell phone
"hello brother, what's up, why aren't you here, we are waiting for you".
"Hi simon, cobra has invited me to be part of their band, it is clear that it is an opportunity that I can't miss and I have signed up for the festival with them with you I won't be able to win, I want to win".
Simon feels disappointed because he was counting on the ability of his guitarist and now he is part of the Serafinos, a band very difficult to beat and with Queni his rock metal will increase.
The news flies like lightning and reaches the ears of his band mates who see R.C. incomplete and with very limited opportunities, Bander the bass player puts his disposition on Facebook and is recruited by another good band, Submarin, while SImon watches as he disintegrates R.C into pieces, but Antonio the drummer is the only one who remains faithful and tells Simon.
"brother you are not a guitarist like Queni but you play and sing, nobody rocks like you we can participate with guitar and drums only".
Simon doesn't see it that way and sits down without saying anything, Antonio doesn't manage to make him see reason and gives up, he decides to leave and leaves Simon alone in the living room. Simón's eyes water, suddenly he hears Anotnio shouting and calling him from the street.
"Simon, Simon, come out and see this."
Simon comes out and there's a guitarist and a bass player.
"Simon, I'm Ramon, I was the guitarist of Serafinos until they kicked me out to incorporate Queni".
"and I was the bass player of Submarin, my name is Lio, they changed me for another bass player, Bander".
"We wanted to ask you if we could join your band to participate".
They are not bad musicians R.C. is back and ready to rock but they have little time left so they rehearse day and night, they endure the threats of their neighbors, their music doesn't let anyone sleep, but they insist to keep on playing until that longed-for day finally arrives.
The day of the festival has arrived, the afternoon is sunny and all the groups have already played, it's R.C's turn and he sings a slow, simple and soft lyric, Simon masters it well. His song is about romanticism in the defeats, the pain we feel when the body does not give more and yet we know that the end will be in vain, the jury likes it and R.C classifies along with Seraphinos and Infernal.
No one expected R.C. to qualify
In the crowd he was interrupted by Bander.
"Hey Simon, what piece are you going to play in the final round?
Simon sees it, knows Submarin didn't qualify and says.
"We'll play wings of vengeance."
"Bro, take lio out and let me play the bass, it's clear that no one plays the bass on that piece like I do".
Simon replies
"I won't do to him what you did to me".
Minutes later a fight breaks out and Queni punches Bander in the mouth because he was trying to sabotage Simon's band by telling him the music they were going to play.
Simon finds out then Simon wishes Queni and his band the best of success Queni wishes Simon the same.
Infernal imposes itself with a brutal black metal that dazzles the audience and the judges are impressed.
Seraphinos makes a sample of power metal and Queni shines with a guitar solo that left the judges with their mouths open.
R.C is presented to the audience with a heavy metal music, his lyrics talk about an aerial battle at maximum speed, in his lyrics he symbolizes the aviators mounted on steel dragons with wings of revenge.
the judges get ready to give the beredidto and give infernal as the winner.
Simon lets out his breath but is happy for what they accomplished and decides to celebrate with the guys, while they are drinking and rocking a man calls Simon,
"hi, I'm the owner of a record label and I want to talk to you".
Arrived
The warrior poet
Fearlessly stands before the crowd
will give his blood with courage
to the rhythm of the song.

All drawings are my property