Year 2021 was rather challenging in many ways. Somehow I feel a bit of relief that it is almost over, but I know the next will be no better. I, like many others, tend to remember the good things though. And there were many things that made me happy and they are related to the photos I made. For the last two years I found birding and birdwatching fascinating hobby along with photographing the birds. I chose maybe the most difficult way of learning photography. Instead of starting with something easy and static I am after the birds. So, when I look back to choose the best photos I made this year, it will not be surprising that they are mainly birds. But, surprise, surprise. I got other photos too and I am going from the newest to the oldest. It will be a retrospective post and I will choose one photo per month.
But why I am doing this? You may ask why I am selecting my best photos of the year?
Because this is my entry to Photography Lovers End of Year Contest Announcement.
If you wish to take part, click the link above and read carefully the rules.
And here they are, my best photos I took this year. Some I have used in other posts, others I show for the first time.
December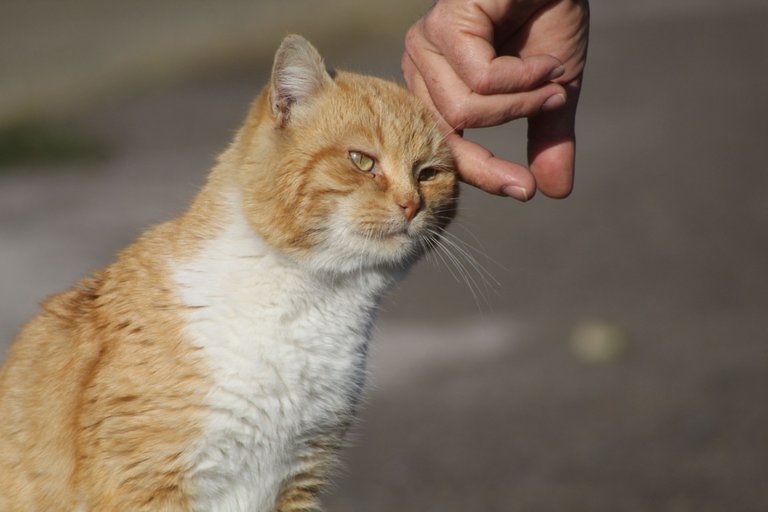 Trust
I said in the begining that most of my photos will be about birds, but the first choice is a photo of a cat. There is this ginge who hangs out in the park where we walk our dog every day. Always on one and the same spot he got biscuits left by people, sometimes he shares with another cat, or the crows steal them under his nose. He let hubby to rub his head and I got this moment with his head slightly tilt and hubby's hand. If I can use one word to decribe this image, it will be trust.
Cats are great models. I used to say that many times and I found that either their curiousity or just because they don't give a $hit what I am doing with the camera, made them easy to photograph.
November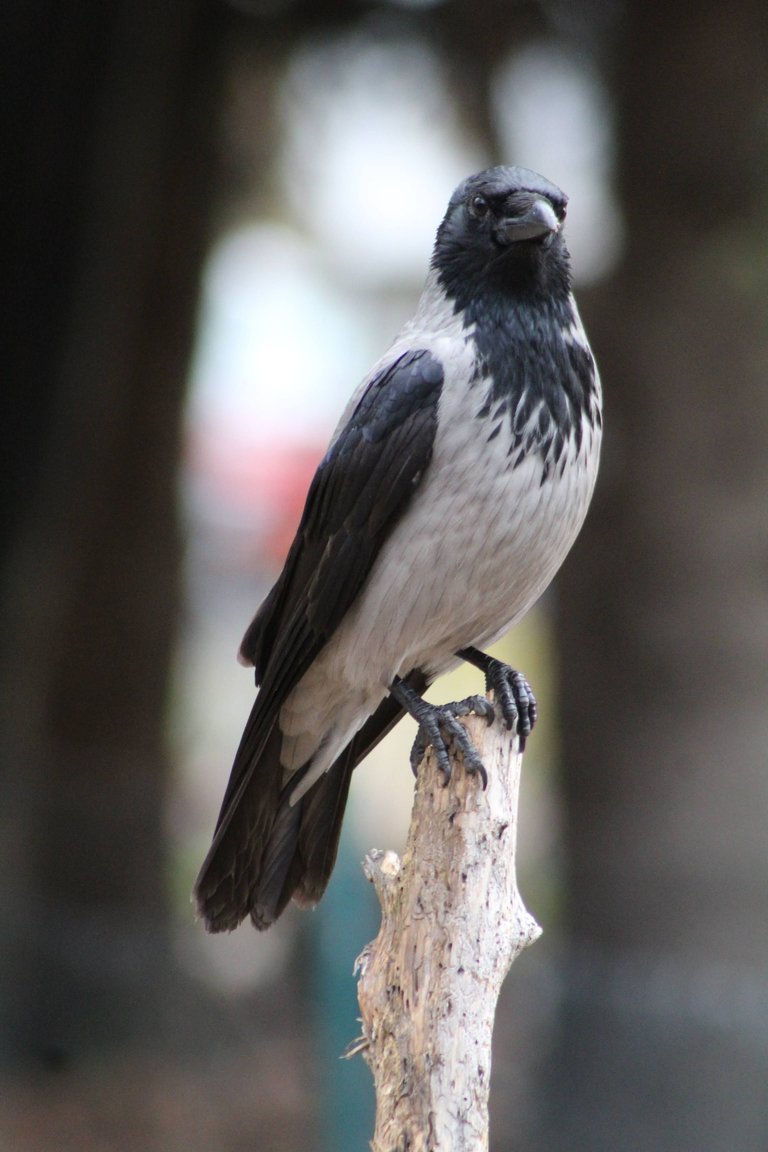 Pride
And here is the first photo of the bird. The hooded crow, one of the many. Again from the same park. The bird perched on that wood and gave me perfect opportunity for a nice shot. What makes bird photography difficult is not only the constantly moving objects, but all the obstacles between the bird and the camera, mainly branches, leaves, twigs. Having clear shot as such is a dose of luck and pinch of habit to look around constantly in search of interesting birds. In our small park and surroundings where I live we have seen and photographed around 100 birds. We means hubby and I. Not bad, considering the total number of birds observed and registered in my country are over 400.
On that photo the crow poses proudly and this is how I would describe the image - Pride. But you know what, the more I look at it, the more it reminds me of a politician posing for election campaign.
October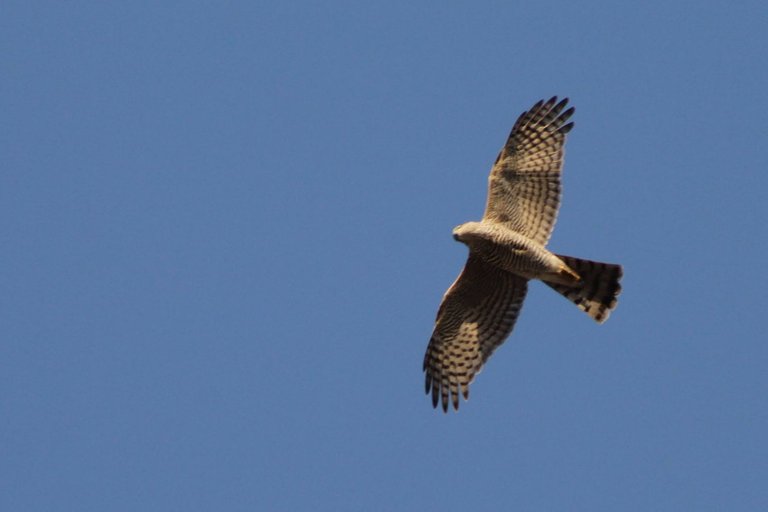 Freedom
Birds of prey are rather challenging to capture in frame. When they soar high in the sky, all my photos turned to be horrible and I can only have sort of decent photo when the bird is flying low, like this hawk. Interesting to know that raptors are quite numerous where I live as well as where I work. My working place is 70 km away, but both places are very close to the woods where I suspect their nests are. If I took my camera at work, I have short window to snap some shots. Luckily, while waiting for the rest of my mates to arrive and catch the van, I was observing the sky and there it was, the hawk, flying so low above our heads. The image itself is not the best, but made me feel proud to show my mates what is above. Honestly, none of them saw it until I pointed out.
As I have named the first two photos, I will continue with the next. This one is Freedom.
September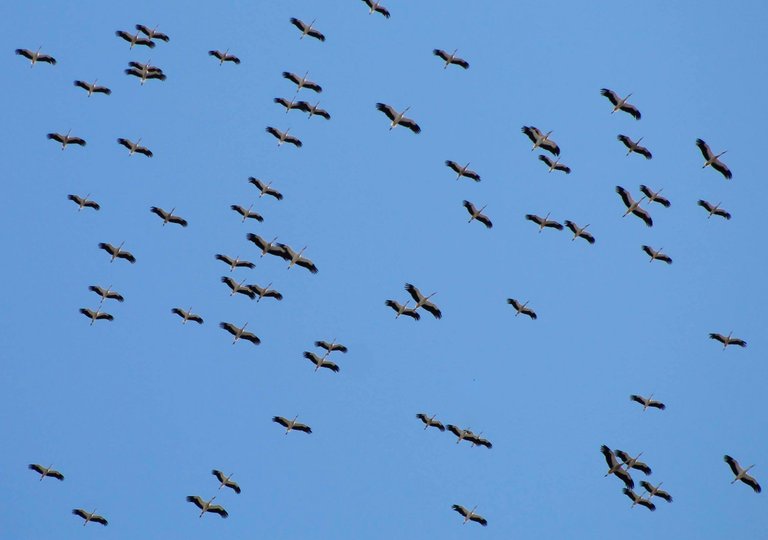 Muster
One of the last flocks of storks leaving to the warmer places. Like I mentioned in my posts several times I am lucky to live on one of the main European bird migration routes. You have no idea what the feeling is to go out on the balcony and to watch the birds gliding in huge flocks. Storks and pelicans are among them and we have seen them so very often. Sky full with big birds, silently flying. Incredible sight. I still don't know what my next photos will be, but I made many of storks this year and I may have more in this post. I felt sad when the storks began leaving, but soon the winter will be over and I will welcome them back.
August
Browsing the photos I made in August I could not find outstanding one. Still, there is one, even though not so sharp, it is cropped on top of that.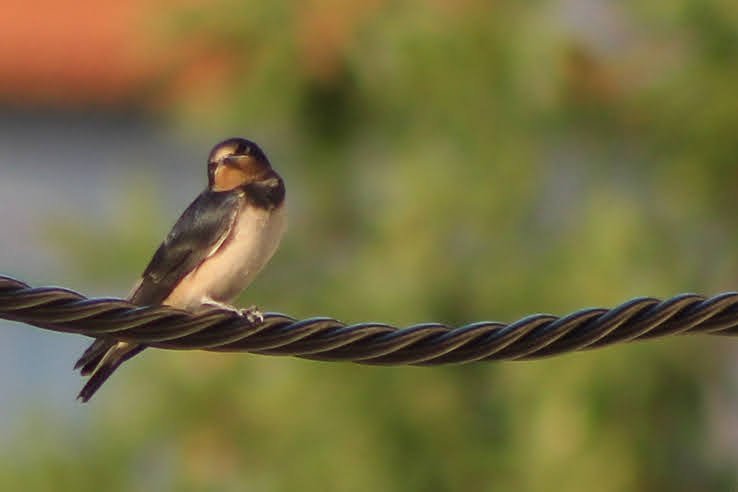 Summer
Barn swallow is bloody fast and all my attempts to make photo of flying swallow failed. Next to the park there is a house with nice garden. To my delight the birds had a rest on the wire in front of the house entrance and it was enough for a click or two, before they were gone again. It was a pleasant late summer afternoon. I liked these warm colours and how the bird posed.
This photo can be found in my post here.
July
I have made many photos in July. Hard to choose which one to represent this month, but finally I decided to go with the little toad.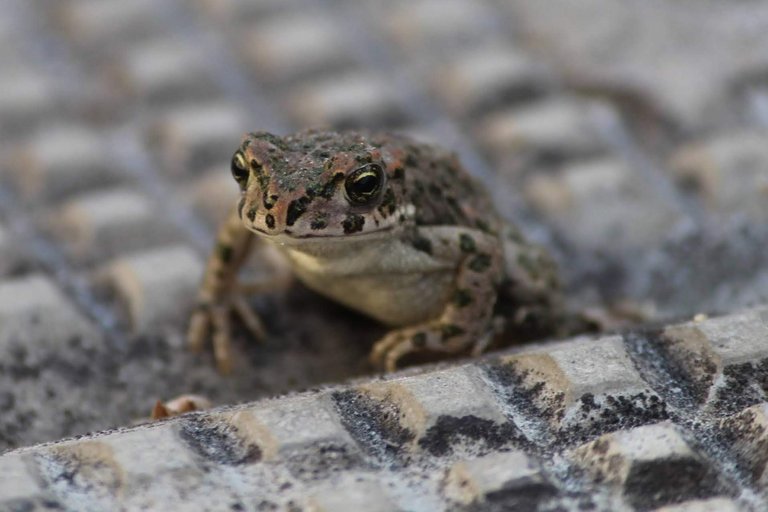 Surprise
Funny enough I would miss the little creature, it was so tiny, size of a thumbnail or so. To reach the office where I work, I pass by a patch of grass and this fella jumped from the grass on the pavement and stopped as if it was surprised by the giant human who happend to have camera in her hands. The truth is I knew there were little toads as my mates from work told me. They know I am after everything that is flying or crawilng and call me when they see something extraordinary. So, surprised or not, I managed few clicks. I have no idea if this one survived and if the next day I saw the same one or some of its siblings. But I did not see any adult toads afterwards.
This photo can be found in my post here
June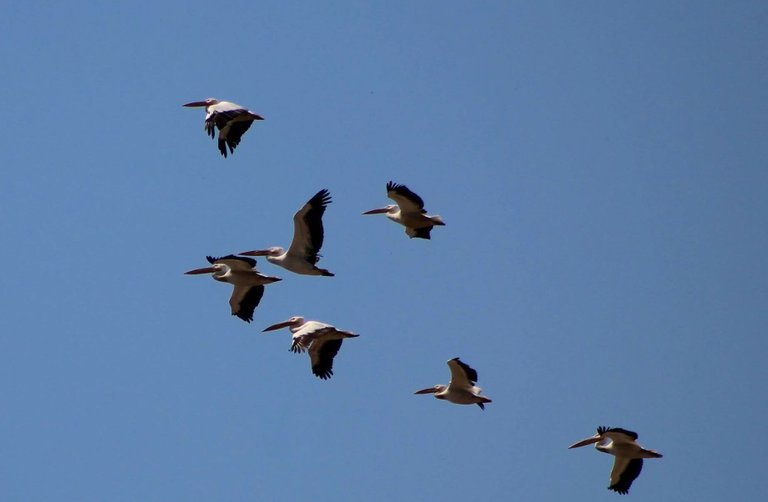 Squadron
Have you seen pelicans in flight? Oh my, this is a sight! These big birds are so clumsy and funny when they are on the ground, but when they fly, they change completely. Recently I learned that the group of birds is called different than a flock. Each species has its own collective noun/s. That is why I put under the image of the storks - muster. But pelicans has more attractive one - squadron. Perhaps, because they fly in a distinctive V shape formation, like planes. I was on a hill nearby my home from where I saw this squadron of pelicans. I cropped the image for viewing some details.
May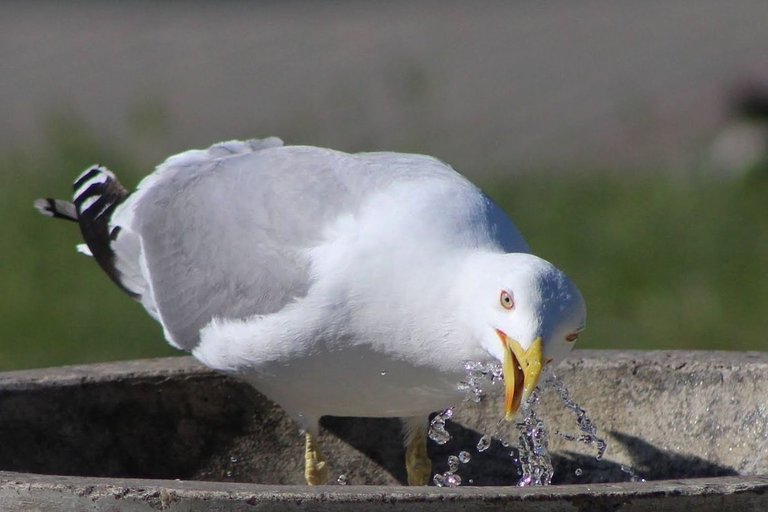 Thirst
The fountain in the park is constantly visited by different birds in hot days where they quench their thirst. They fight sometimes who to get first to the water and they also use is for bird bath. But the seagull was definitely thirsty and spend some time allowing me to make several shots.
This photo can be found in in my post here.
April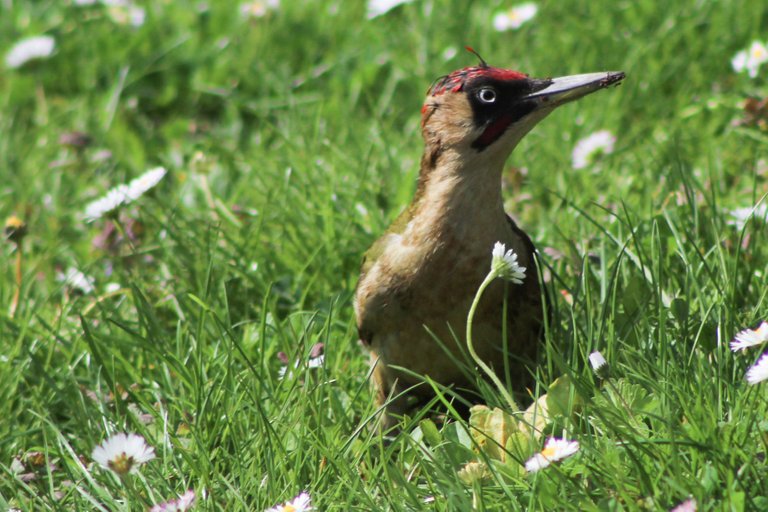 Spring
While walking in the Sea Garden, I was happy to watch the green woodpecker having his favourate ants for lunch. If you look carefully, you may see ants on the beak. Other people noticed the bird just because they saw me taking pictures. I had plenty and I used some of them in differnt posts. The bird was so close and so content, not afraid. Oh, I love that hair style with the one feather upright on the top of the head.
The woodpeckers are the first birds I began watching and photographing. Thanks to them I am so much interested in birds. Knowing where to find them and listening carefully for the drumming sound on the bark of the trees, I can't miss them. They have very specific call and I could recognize if it is green or great spotted or Syrian by hearing it. However, they can be silent like the one on that photo. But what a joy to capture it in frame among the flowers.
March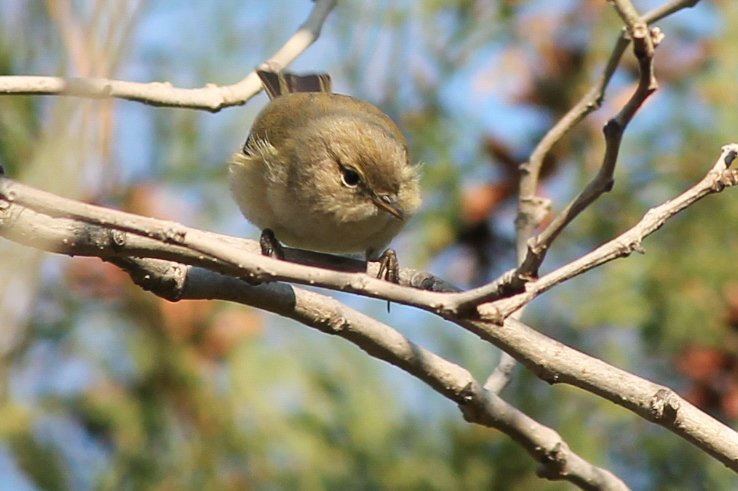 Hello
One of the not very attractive birds, the chiffchaff, but still having his own charm. At least for me. I like the way it looked at me. Usually the birds don't stare at the camera. All my photos are made handheld and to get some nice, interesting and decent one, it is mostly because I was lucky. Photos like this one are not planned. Chasing any bird with the camera is fun. But also I have to disregard plenty of photos afterwards. I am still struggling which settings to choose and how quickly to change them. Birds tend not to cooperate.
This photo can be seen in my post here
February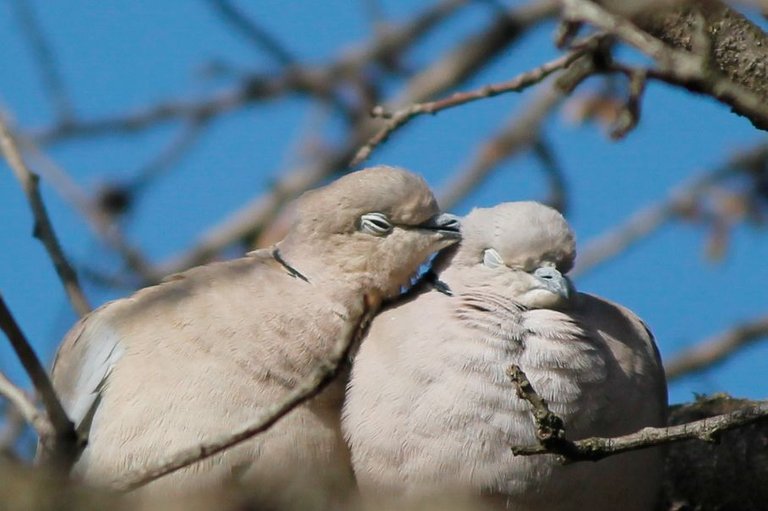 Love
February is the month of love, St,Valentine and so naturally my choice of the photo is with the two doves, showing their affection. Have you ever seen how the birds prepare for the mating season, how the males dance and sing? This is something worth seeing with your own eyes. Different birds, different manners, but all the same - to show how worthy they are. And here, both doves with their eyes shut, must really enjoy to be together.
January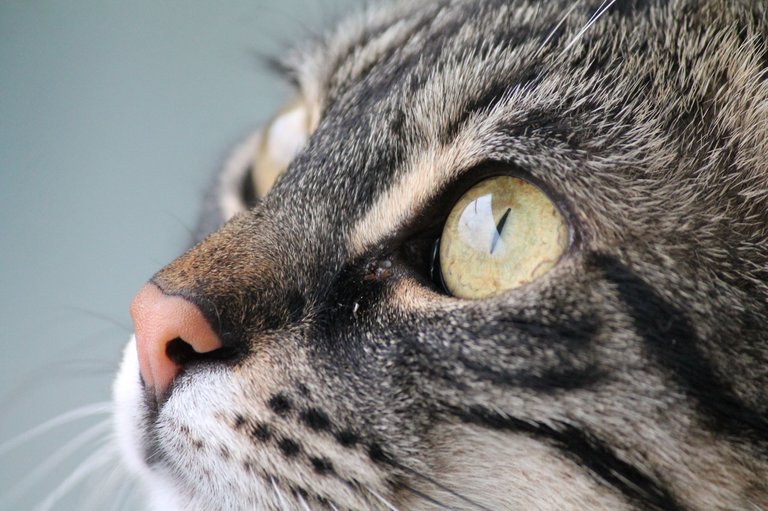 Curiosity
I started with photo of a cat and I will end with a cat. This is Blue, one of my three cats, staring through the window. A jackdaw was perching on the railing outside and draw Blue's attention. I tried to focus on her eye. I may not succeed, because each time I looked at it, the noze caught my eye at first. Still it was fun while capturing Blue and her reflection on the window while she was motionless and stalking.
And that's it, the end of my post and these are my favourite photos I took throughout the year. I enjoyed browsing through the numerous images and sorting out which to choose.
The photos were taken with Canon EOS 4000D or 1100D.
You can find some of my photos on my Facebook profile or Birds in Bulgaria FB group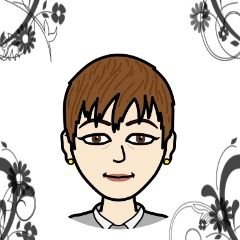 Thank you for viewing.
If you like to share your thoughts you can leave a comment.