I'm doing my #Wednesdaywalk and #Makemesmile challenge without video today, tho I wanted to. I did upload a video that corresponds to this walk on #3speak, but it's been in a que all night and this morning and simply reads: "ASSIGNED TO ENCODING NODE" and I've not a clue what that means...so My Walk will simply be in photos.
If you'd like to join in go to @tattoodjay post to learn how to join in the fun!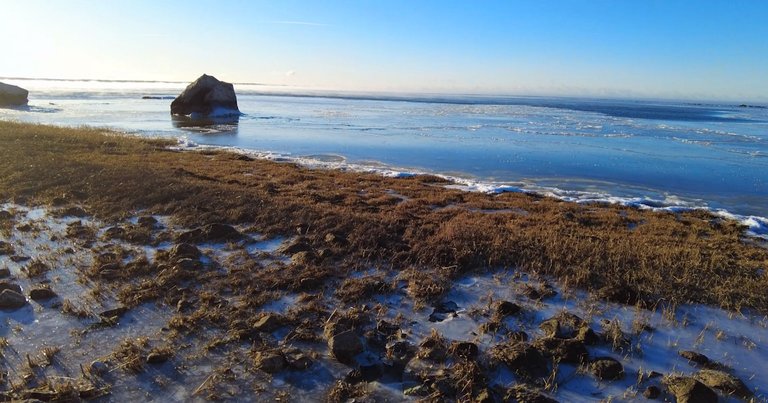 Our harbor was frozen in the receding low tide.
We've had rather a good Winter thus far. In fact, I'd say it's a more 'typical Cape Cod' Winter, at least in my own memory. That is we get a day of snow, then rain, the warm Spring weather , rinse and repeat.
In 2015, however , we had a year like I never recalled, with snow and freeze until March...no thank you.
This day, however, was magical. As a day of below freezing with frozen sea is magical when one knows in a few days the weather will be sunny and 50 F again.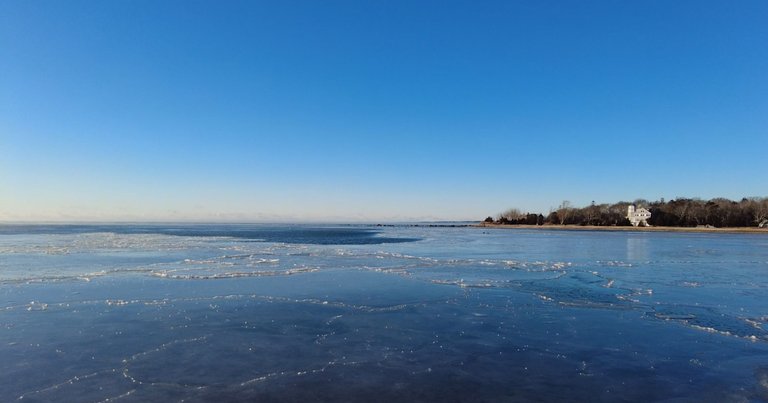 Top layer of the bay would freeze as the receding tide would move and shuffle it about.
There are some magical sounds associated with such a freeze. There is a music to this place normally, the sea, birds and winds as well as various fog horns, boat noises all add to the cacophony of a Symphony of Seaside living.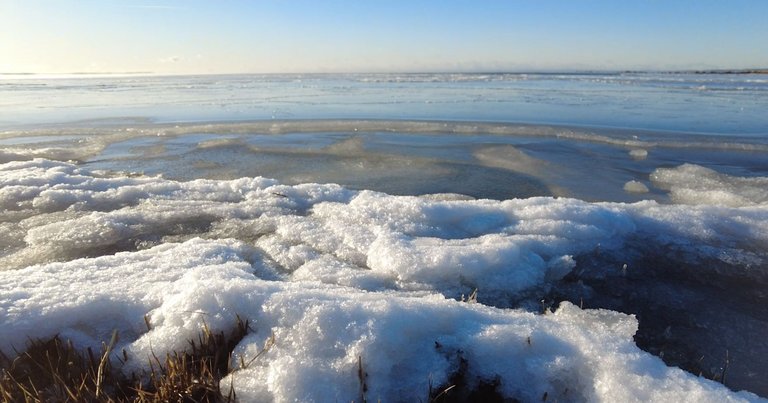 The receding tide piled the ice like so many snocones in the golden brown seagrass.
As I'd mentioned before , I'd a video to go with this, but as it's somehow Stuck in the que in #3speak You'll have to be happy with photographs. But the movement of this thin layer of ice forming quickly on the sea and then the tide going out, makes a magical noise.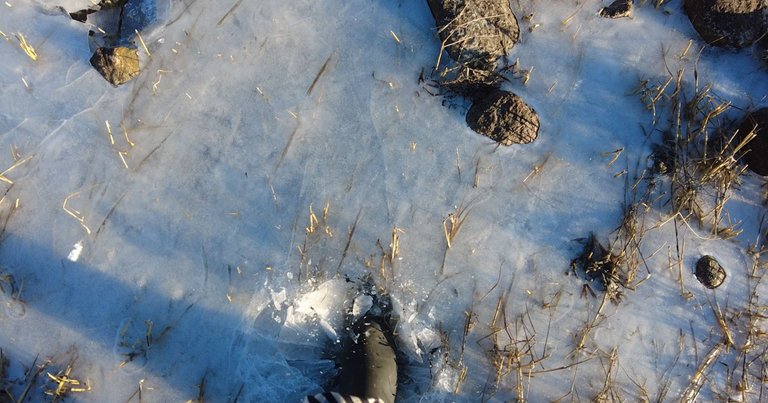 The crunch of frozen sea under my wellies.
And walking the rocky shore in this type of weather has a music to it as well. The crunch my wellies make into this quick frozen salt water is pretty magical. I do have to be careful to not go t over a, as they say, but the sound of it was worth the risk of falling.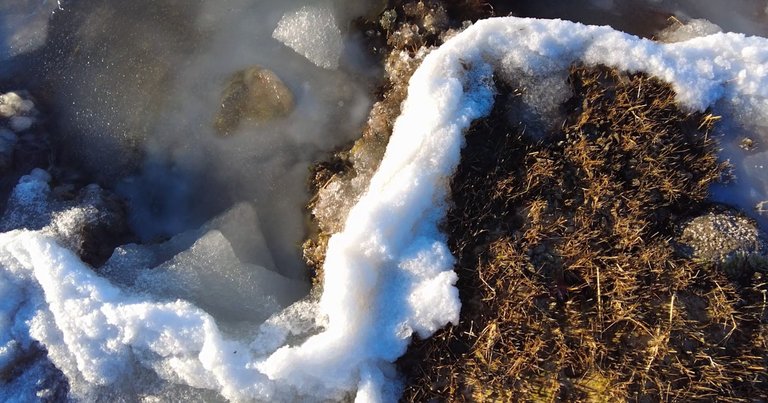 salt water piling into patterns on the ochre seagrass along the shore.
I'm often taking shots down upon the detritious left by the tide. It always has such an 'abstract painters' look to it.
This shot, with the slushy ice floe and frozen salt water looked even more so when I upped saturation and tweaked it a bit in photoshop.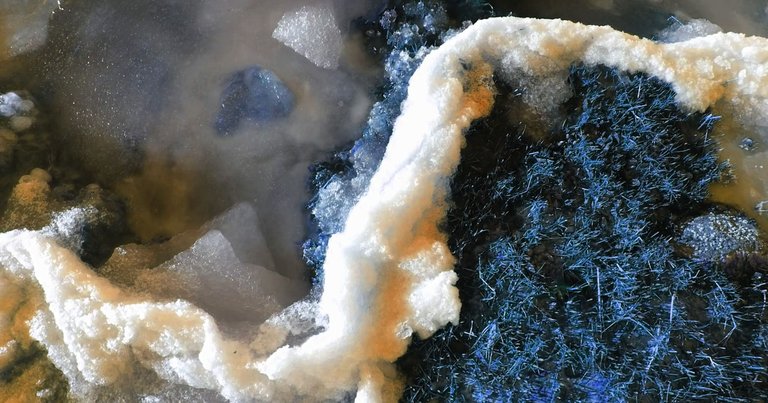 One can almost feel the painters brush strokes or the smear of the palette knife in this shot, Nature's painting.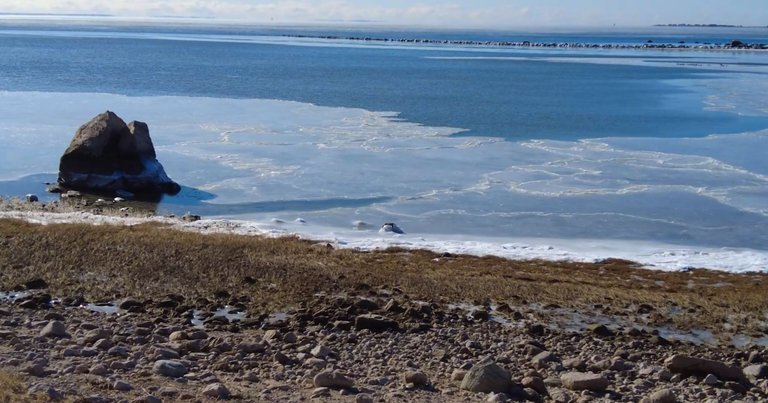 The bright sun and long shadows contrast the actual frigid below freezing temps and wind that day.
Overall it was a good walk a great #wednesdaywalk and I wanted to share it. I'm happy to look at it in memory of last week as I watch the sun rise now knowing we're to have 50F this afternoon with soft soil perfect for playing in the garden and sketching out of doors.
I hope you enjoyed my little pictorial walk and that you'll join in next week.
I want to apoligise if my video on #3speak uploads and I don't see it, as I did use the #wednesdaywalk hashtag, but as I've no way of knowing IF it will publish or how to edit it UNTIL it publishes, I hope I'll be forgiven if there is an overlap of 2 posts with that hashtag. I'm keeping an eye on it today, to see IF and When the video will go up and IF it does, I'll edit the hashtags for sure. I do try and be a good Hiver when I can.
ADDENDUM: my video finally uploaded, if you'd like to see these views in action GO HERE.
---
If you'd like to follow my Work Here are some Links:
My Website
Instagram
Twitter
My 3Speak Channel
NFTshowroom
MAKERSPLACE