It's time again for Three Tune Tuesday, that day of the week where members of the Hive community shares three songs of their liking with the rest of the community.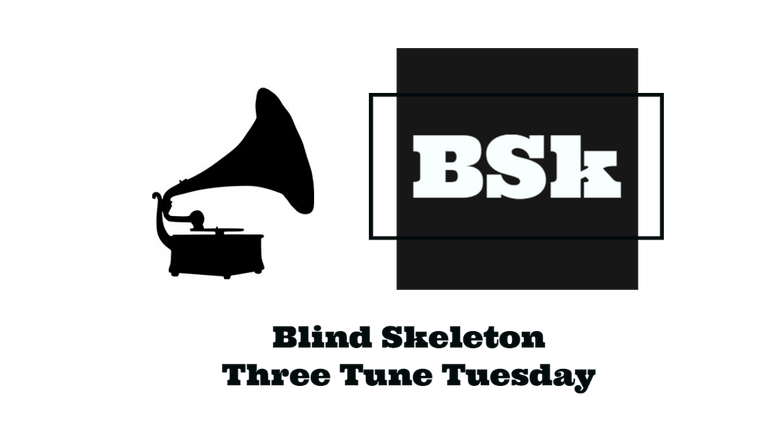 I know, I post Three Tune Tuesday on Wednesday. It's done by design! I run a Three Tune Tuesday livestream on Tuesday, then post the songs the next day. Want to be the first to hear them? Tune in live!
12:00pm (noon) EDT
17:00 UTC
https://blindskeleton.one/radio/
I take a slow, relaxing approach to Three Tune Tuesday: I like to share pre-1924 78rpm songs from my collection, and record them while playing on an appropriate time-period windup phonograph. I encourage you to take a few moments and slow down with me. Settle down, close your eyes, and take yourself back.. way back.. in time, to a distant uncle's parlour in the early 1920's. There are comfortable seats, pleasant conversation, and old music.
---
I kinda like the name Jazzy Tuesday. I think I might need to do this more often.
For this week's songs I'm looking directly at the year 1922, the year when all these songs were released.
"Runnin' Wild" is a popular jazz composition from the 1920s. The composition was written by A.H. Gibbs, Joe Grey, and Leo Wood and was first recorded by the Original Dixieland Jazz Band in 1917 who, of course, were the band who performed the first ever recording of a jazz song in history.
This Cotton Pickers version was released on the Brunswick label in 1922. The Cotton Pickers were a popular dance band of the time, known for their energetic and rhythmic performances. The band featured various musicians throughout its existence, but its most notable members were saxophonist Benny Krueger and pianist Charles Adams.
Like many jazz bands of the era, The Cotton Pickers faced challenges as the popularity of jazz waned in the late 1920s. By the early 1930s, the band had disbanded, and its members pursued other musical endeavors or joined different groups.
"Louisville Lou" is a popular song that was written by Harold Christy and published in 1904. It is considered a classic ragtime composition and has become a part of the traditional jazz repertoire.
The song tells a lively and humorous story about a young man named Louisville Lou who is in love with a woman named Sweet Sue.
As a ragtime composition, "Louisville Lou" showcases syncopated rhythms, lively piano playing, and characteristic ragtime melodies. The song captures the essence of the early 20th-century popular music scene and represents the energetic and exuberant nature of the ragtime era.
This version of the song was recorded by the Georgia Jazz Band in 1923 on the Silvertone label.
"Stumbling" was written by Zez Confrey and tells the story of a man who stumbles through life but is determined to keep going. It was a popular song of the time and was covered by a number of different artists and groups. The version we have was performed by the Yerkes S.S. Flotilla Orchestra on the Vocalion label in 1922.
The Yerkes S. S. Flotilla Orchestra was an American dance band that was formed in 1921 and active in the 1920s. The band was led by Harry A. Yerkes and it was known for its energetic performances. The band recorded for a number of labels, including Vocalion, Okeh, and Brunswick. The band's name was a reference to the fact that Yerkes was a sailor in the U.S. Navy during World War I.
---
Three Tune Tuesday (TTT) is initiated by @ablaze.
I run a live stream of my TTT songs every Tuesday at 12:00pm EDT, then take that stream and share the songs from it here, on Hive, on Wednesday (or occasionally Thursday). These songs are all old pre-1923 78rpm records from my collection, played on my antique phonographs and recorded with a well placed microphone. Like what you hear? Come listen live!
Online Radio: https://blindskeleton.one/radio/
Three Tune Tuesday Live Stream: 12:00pm (noon) EST
Listen to the podcast!
https://blindskeleton.one/blind-skeleton-podcasts/
---
(c) All images and photographs, unless otherwise specified, are created and owned by me.
(c) Victor Wiebe
---
Blind Skeleton


Online Radio! 24x7 of OTR classics:
Live shows:
Three Tune Tuesday Live Stream: 12:00pm (noon) EST
Electric Dreams Live Stream: 2nd and 4th Wednesdays, 8:30pm EST
---
The Skeleton Brew coffee shop is open!