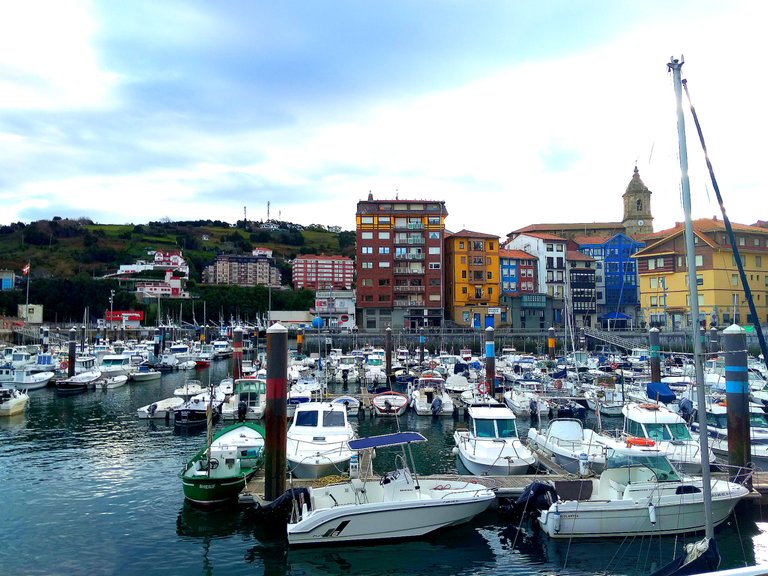 My photo for the Around The World Challenge 👆 Taken in Bermeo, Basque Country Pinmaplle
Hola Hivers! 💙 Hoy quiero compartir con ustedes algunas fotos que tomé durante una pequeña excursión que hice con mis compañeros de piso el día de navidad. El 25 por la mañana, o más bien al mediodía, ya que todos estábamos algo trasnochados por la reunión de la cena navideña, me encontré con mis compañeros de piso en la cocina, quienes tenían ganas de tomar su coche y aventurarse en un viaje por carretera para hacer algo diferente ese día, y me invitaron a ir con ellos. Yo dije que sí porque era una oportunidad para conocer un lugar nuevo y algo lejano en buena compañía 😊 La dueña del coche dio su idea de un buen destino: Bermeo. Yo era la única del grupo que nunca había ido allí.
Hi Hivers! 💙 Today I want to share with you some photos I took during a little outing I did with my flatmates on Christmas Day. On the 25th in the morning, or rather at noon, since we were all a bit late because of the Christmas dinner meeting, I met my flatmates in the kitchen, who felt like taking their car and venturing on a road trip to do something different that day, and they invited me to go with them. I said yes because it was an opportunity to get to know a new and somewhat far away place in good company 😊 The owner of the car gave her idea of a good destination: Bermeo. I was the only one in the group who had never been there.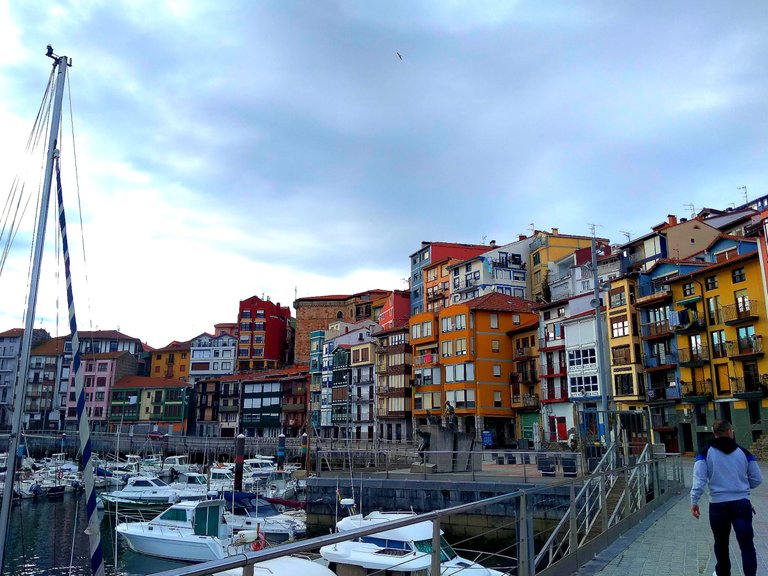 Bermeo es una villa bastante importante del País Vasco, por su historia y por su economía impulsada principalmente por la pesca. Además, es uno de los municipios que forman parte de la gran *Reserva de la biosfera de Urdaibai*, área natural protegida por la UNESCO debido a la cantidad de especies de aves migratorias que invernan en la zona, entre otros importantes factores ecológicos, como sus humedales y diversidad de la fauna silvestre. Por todas estas razones, me propongo este año volver a ir, preferiblemente cuando sea verano, para conocer este hermoso lugar más extensamente. En este día sabíamos que nuestro paseo sería algo fugaz, así que nos mantuvimos caminando un poco por la zona del Puerto Viejo.
Bermeo is a very important town in the Basque Country, due to its history and its economy, mainly driven by fishing. In addition, it is one of the municipalities that are part of the great *Urdaibai Biosphere Reserve*, a natural area protected by UNESCO due to the number of migratory bird species that winter in the area, among other important ecological factors, such as its wetlands and diversity of wildlife. For all these reasons, I intend to go again this year, preferably when it is summer, to get to know this beautiful place more extensively. On this day we knew that our walk would be somewhat fleeting, so we kept walking a bit around the Old Port area.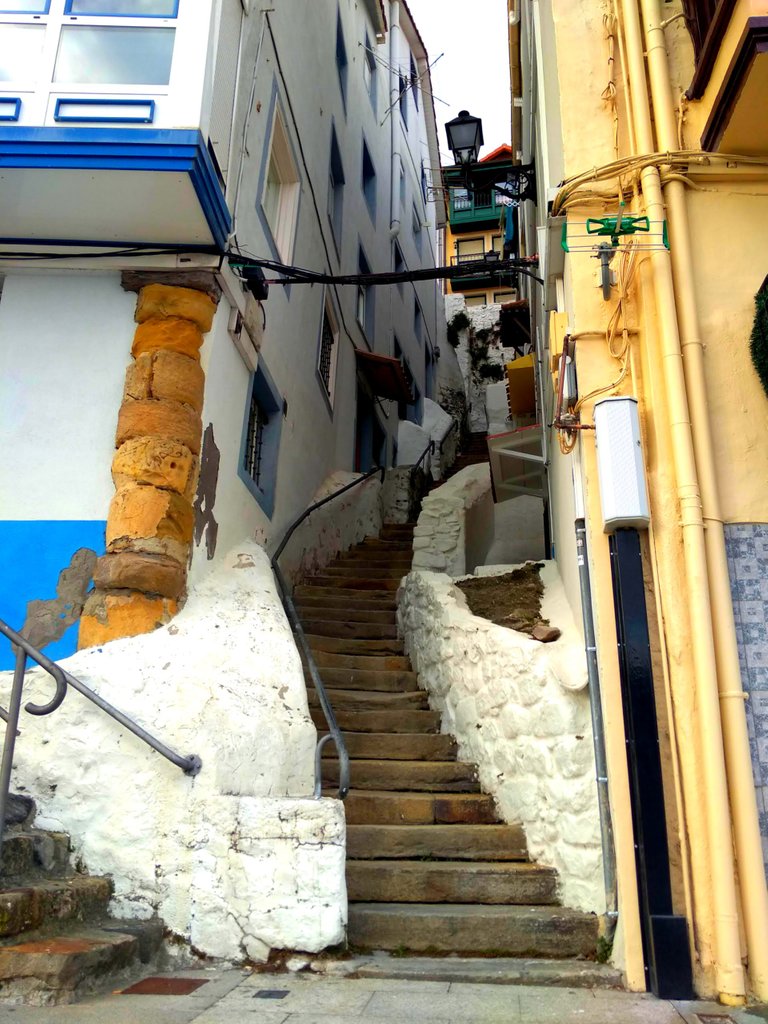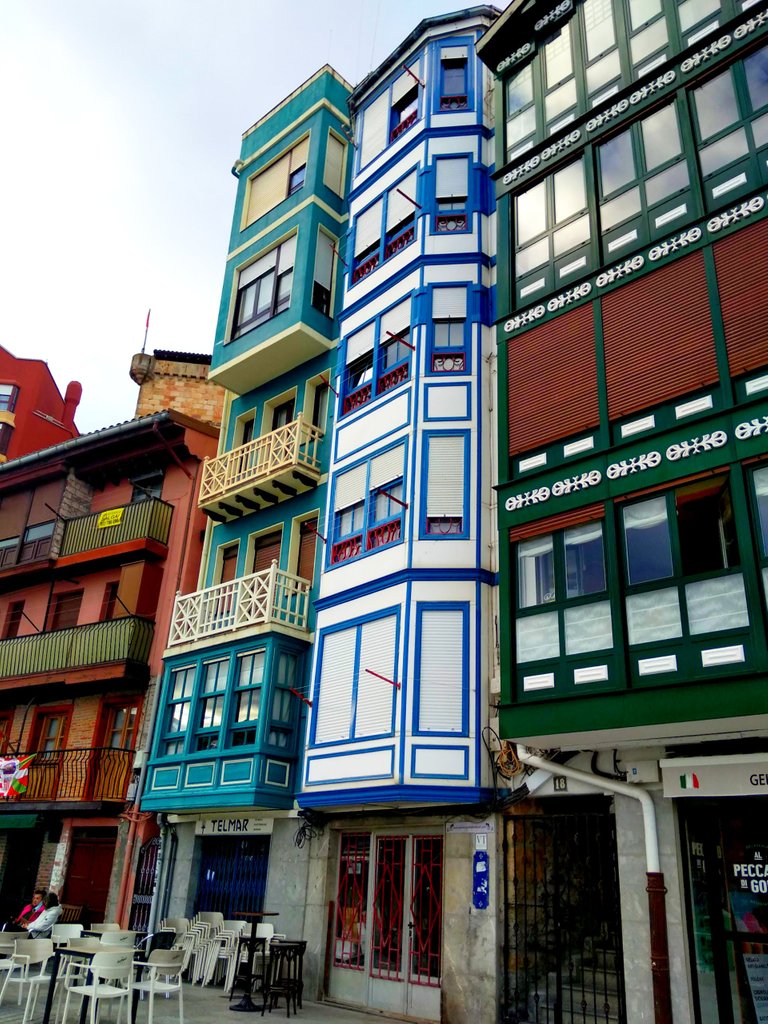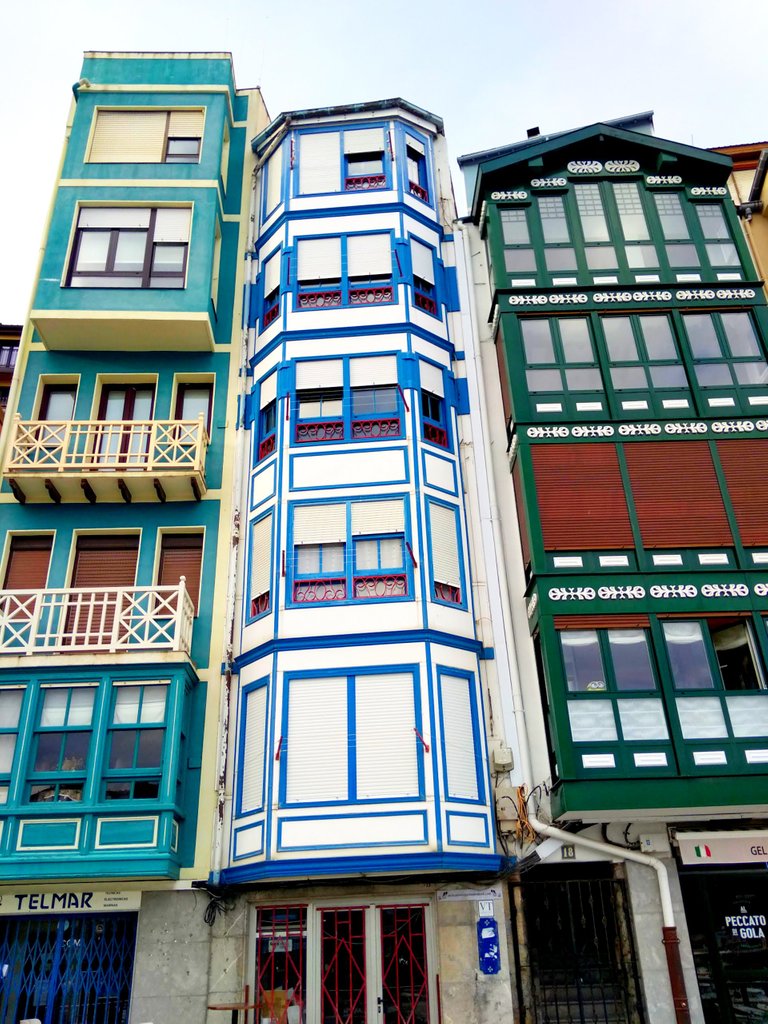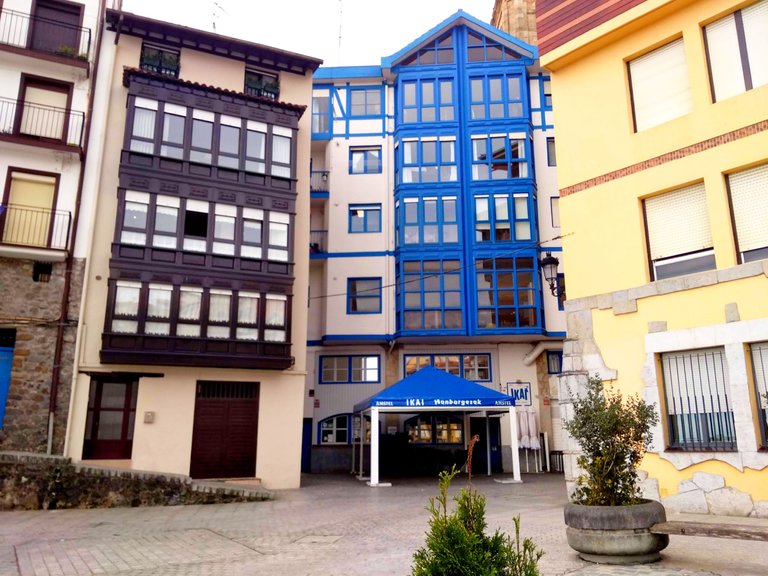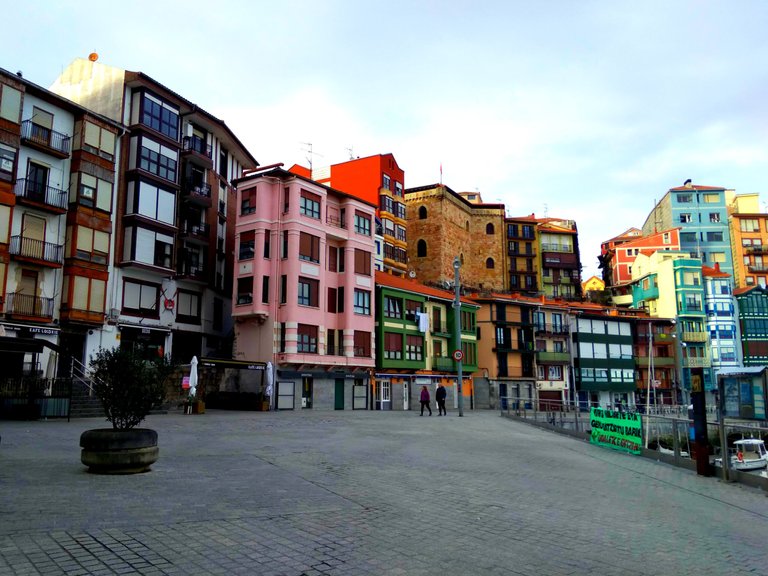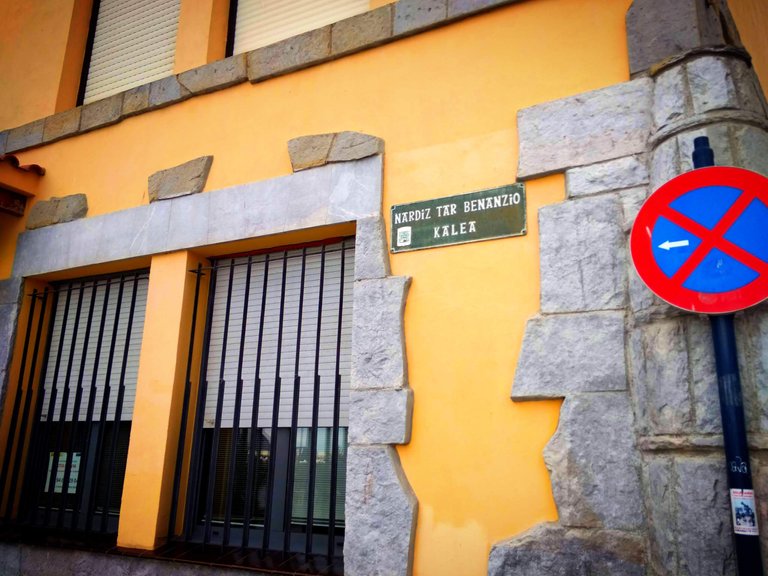 Al ser 25 de Diciembre y por la hora a la que llegamos allá, sabíamos que no econtraríamos mucha actividad comercial o turística. La verdad es que fue un fugaz y espontáneo mini viaje improvisado.
As it was December 25th and because of the time we arrived there, we knew that we were not going to find much commercial or tourist activity. The truth is that it was a fleeting and spontaneous improvised mini trip.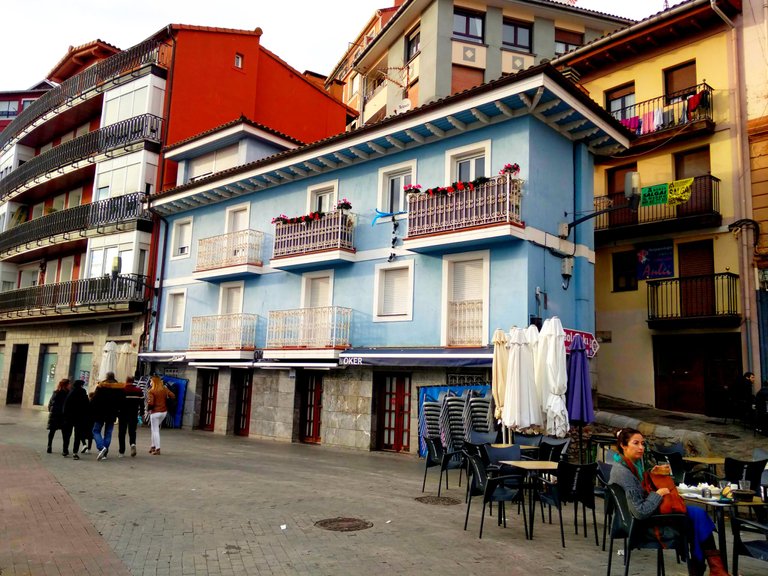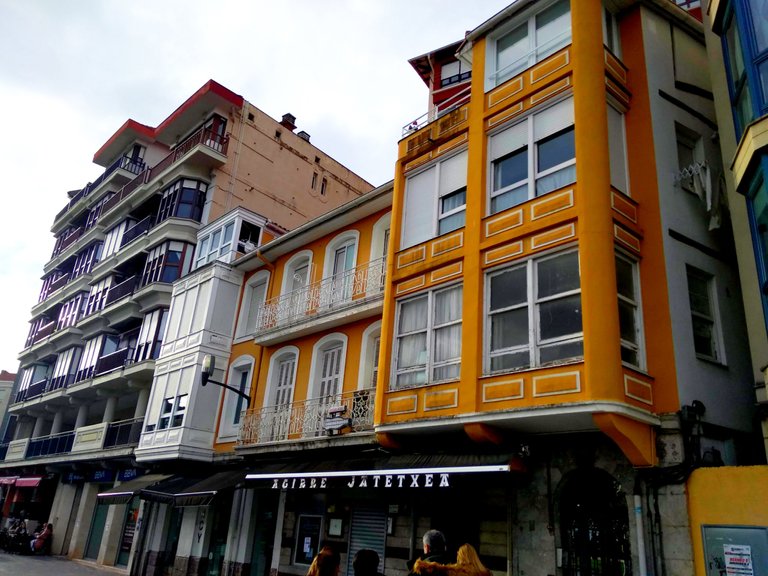 Nuestro interés principal era comer algo de pescado, famoso en la zona por su calidad y frescura. Y aunque casi todos los locales estaban cerrando justo cuando llegamos, después de caminar un rato logramos encontrar un lugar donde les quedaban algunos pintxos. Los pintxos son la versión vasca de las tapas.
Our main interest was to eat some fish, famous in the area for its quality and freshness. And although almost all the locals were closing right when we arrived, after walking for a while we managed to find a place where they had some pintxos left. Pintxos are the Basque version of tapas.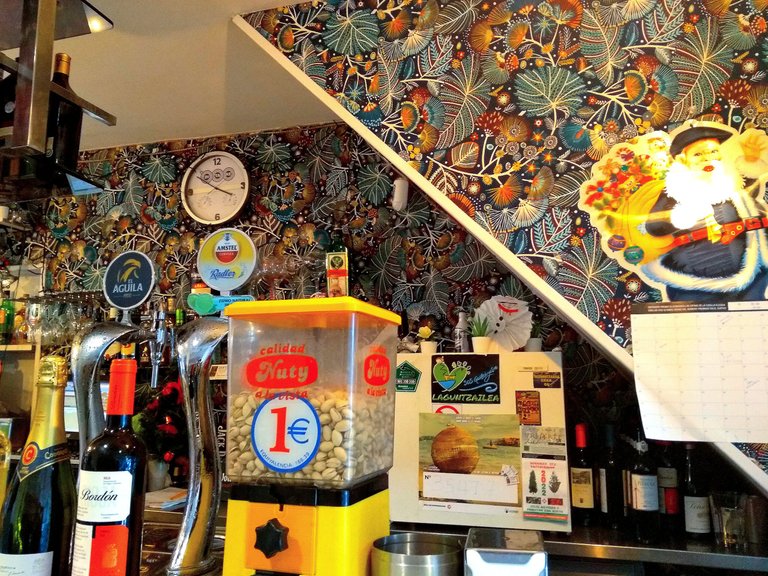 El lugar estaba muy pintoresco. Me gustó el tapizado colorido de las paredes.
The place was very picturesque. I liked the colorful upholstery on the walls.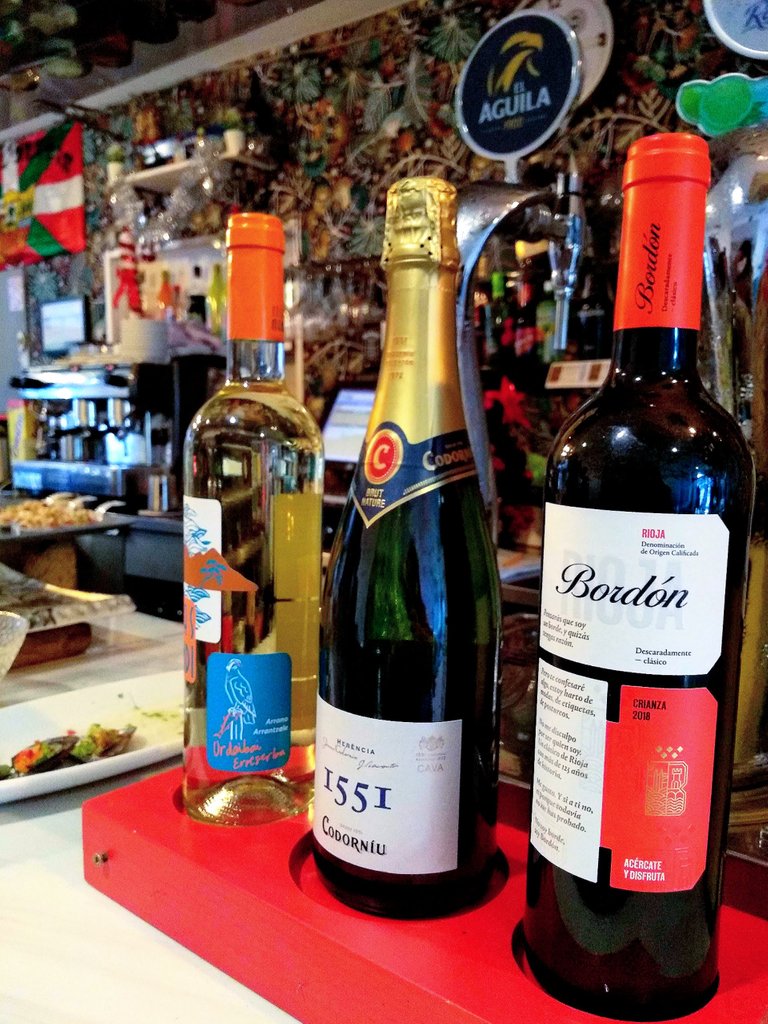 Pedimos nuestros pintxos de mariscos para poder probar el mejor producto de Bermeo y nos sentamos a comer en la terraza. ¡Estaban deliciosos!
We ordered our seafood pintxos to taste the best product of Bermeo and sat down to eat on the terrace, they were delicious!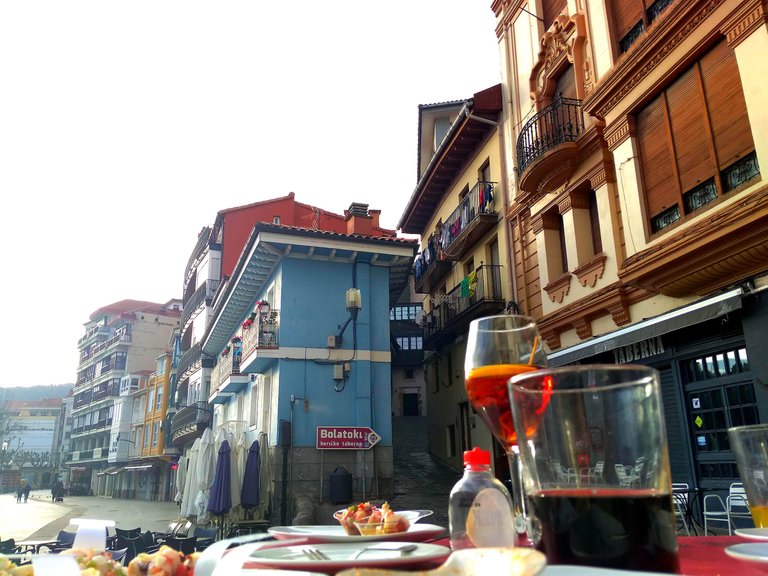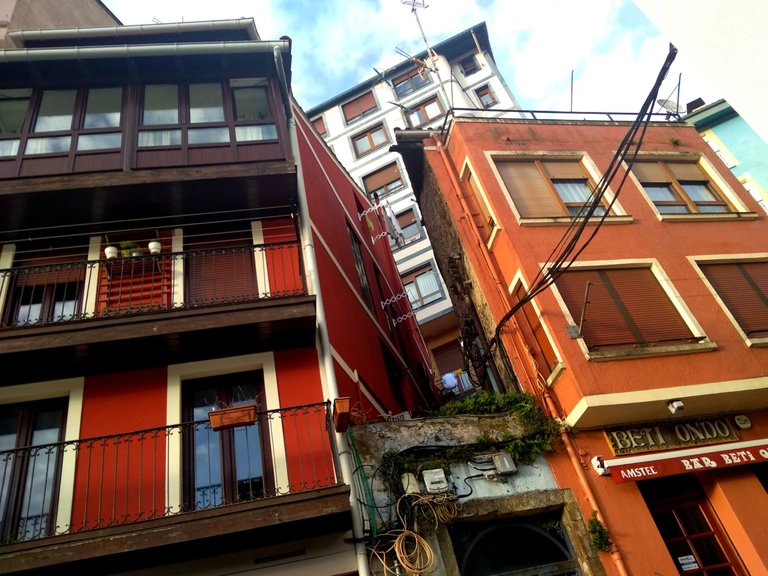 Después de la comida nos levantamos para disfrutar una caminata bajo los últimos rayos de sol radiante.
After lunch we got up to enjoy a walk under the last rays of bright sunshine.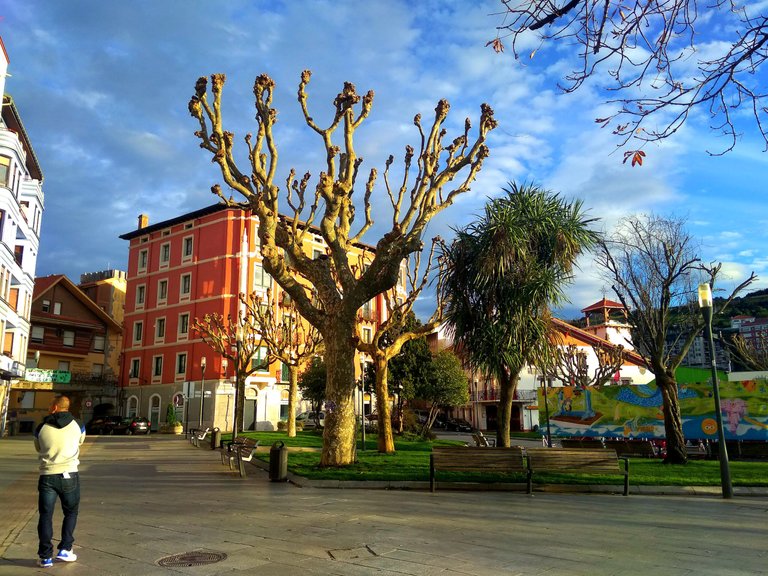 Justo en ese momento el cielo era de un azul muy intenso, tan solo media hora después se iría apagando. Los trabajadores de un parque infantil parecían estar preparando todo para abrir en la noche.
Just at that moment the sky was a very intense blue, only half an hour later it would be fading. The workers of a playground seemed to be preparing everything to open for the night.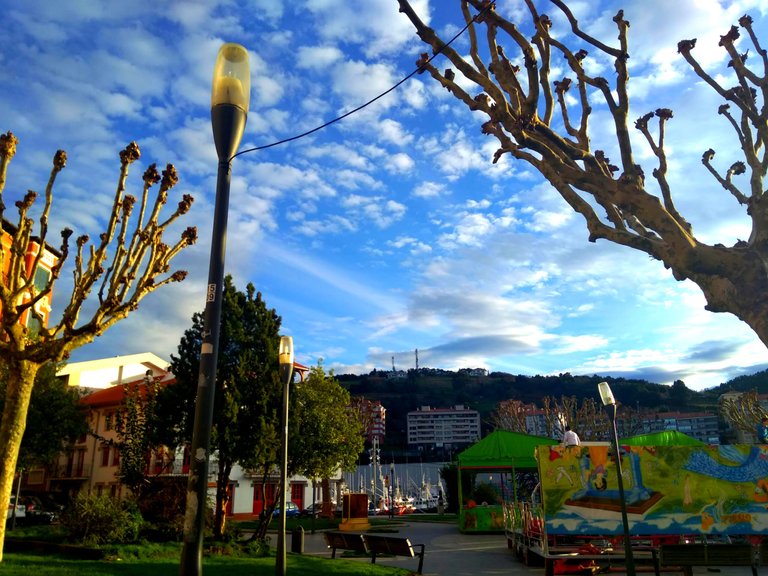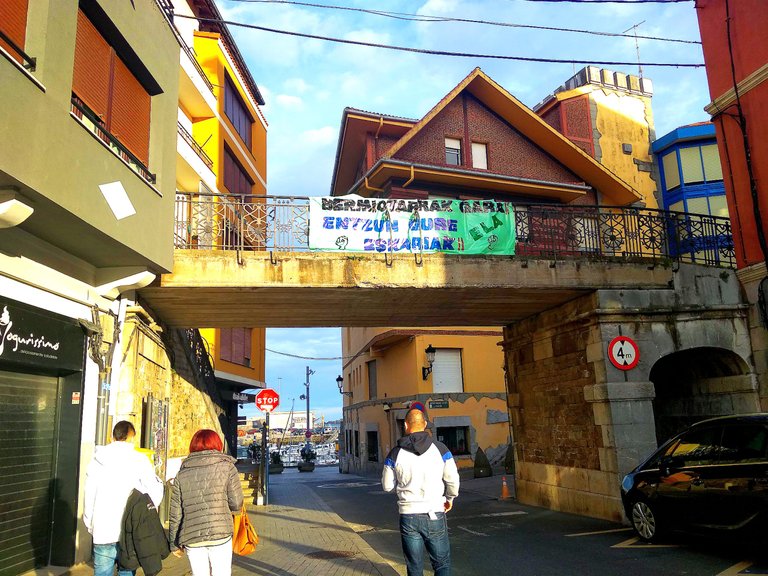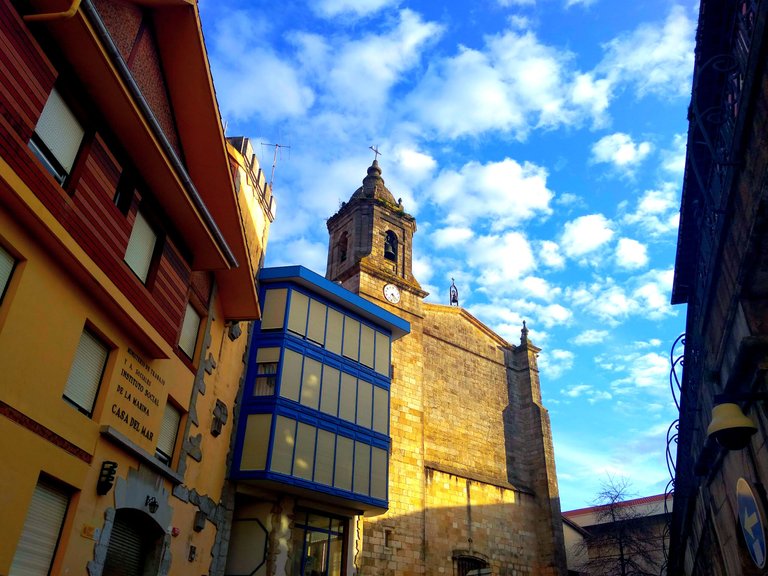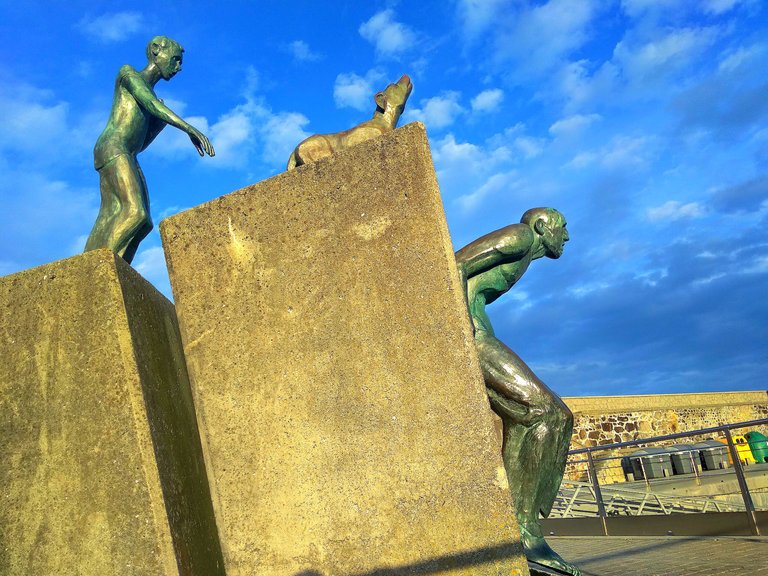 Nos dirigíamos hacia el paseo de los rompeolas para respirar un poco el aire del mar cuando nos topamos con esta escultura que llamó mucho nuestra atención. Me pareció muy bonita y atrapante, en especial por la figura del perro aullando. En casa busqué información sobre ella. Se llama *La última ola, el último aliento* y fue realizada por el artista bermeano Enrique Zubia Elorduy, en homenaje a las personas que han perdido la vida en el mar. Es interesante saber esto después de haberla visto y haber notado que causa bastante impresión.
We were heading towards the breakwater promenade to breathe some sea air when we came across this sculpture that caught our attention. I thought it was very beautiful and catching, especially because of the figure of the howling dog. At home I looked for information about it. It is called *The last wave, the last breath* and it was made by the artist Enrique Zubia Elorduy, from Bermeo, as a tribute to the people who have lost their lives at sea. It is interesting to know this after having seen it and having noticed that it makes quite an impression.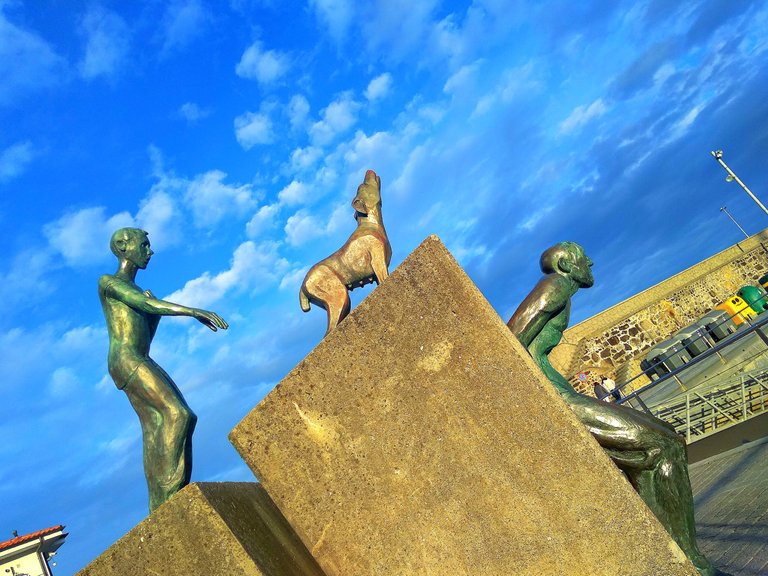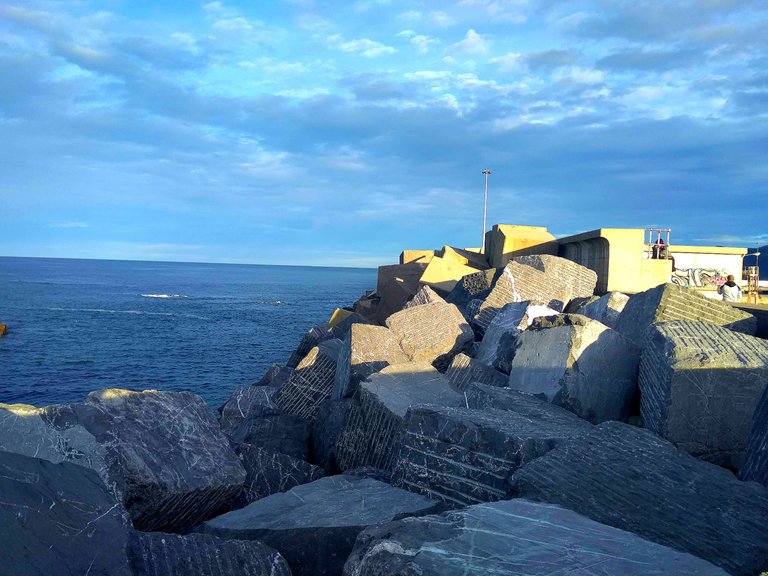 Luego llegamos al paseo y tomamos algunas fotos. Creo que en otros puertos nunca había estado tan cerca de estos enormes cubos rompeolas. En el muro hay un cartel de advertencia, no se debe caminar por allí si la marea está alta. Esta advertencia parece muy obvia, pero en realidad es necesaria, la marea puede subir muy rápida e inesperadamente, mi compañero de piso nos contó cómo ha visto el agua sobrepasar el muro y llegar a la zona donde se estacionan los autos.
Then we got to the promenade and took some pictures. I don't think in other ports I have ever been so close to these huge breakwater cubes. On the wall there is a warning sign, do not walk there if the tide is high. This warning seems very obvious, but it is actually necessary, the tide can rise very quickly and unexpectedly, my roommate told us how he has seen the water go over the wall and reach the area where the cars are parked.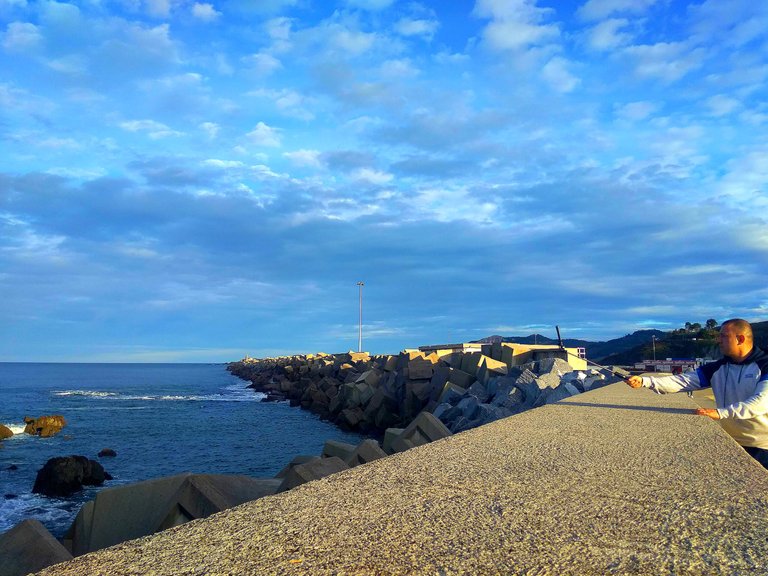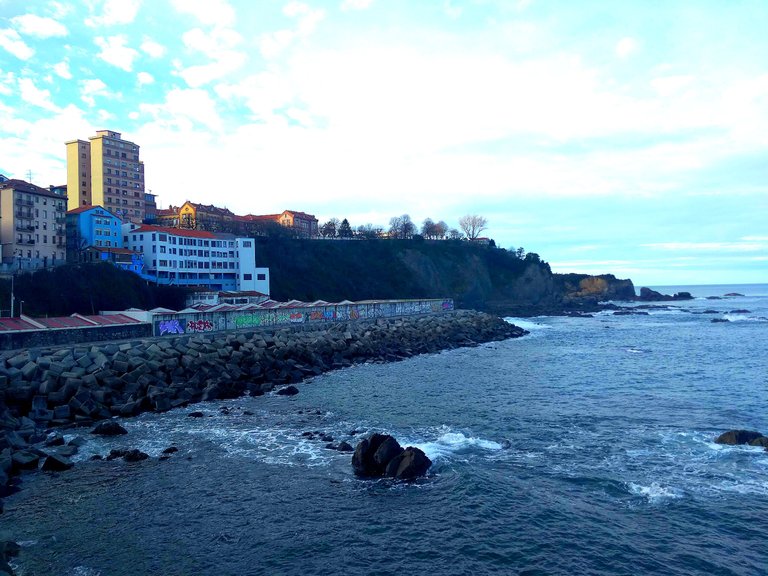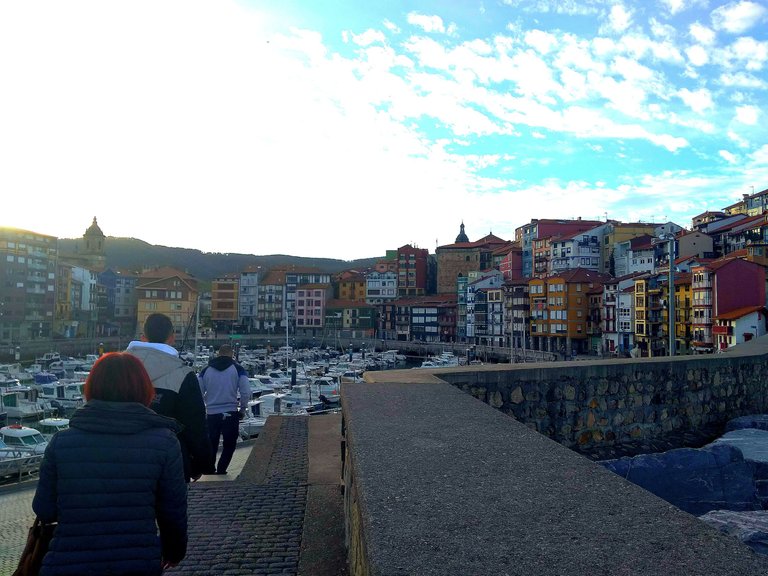 Ya era hora de volver, pero de regreso nos detuvimos en un pequeño mirador junto a la carretera y pudimos ver allí el inicio de la despedida de los rayos del sol.
It was time to go back, but on the way back we stopped at a small viewpoint next to the road and we could see there the beginning of the sun's farewell rays.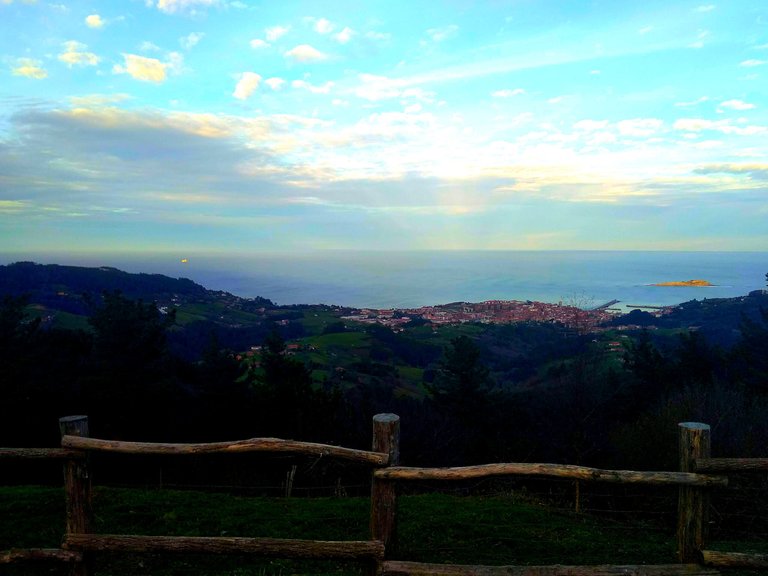 Y a continuación les comparto las fotos que me tomó mi compañera con su móvil:
And here are the pictures that my flatmate took me with her cell phone: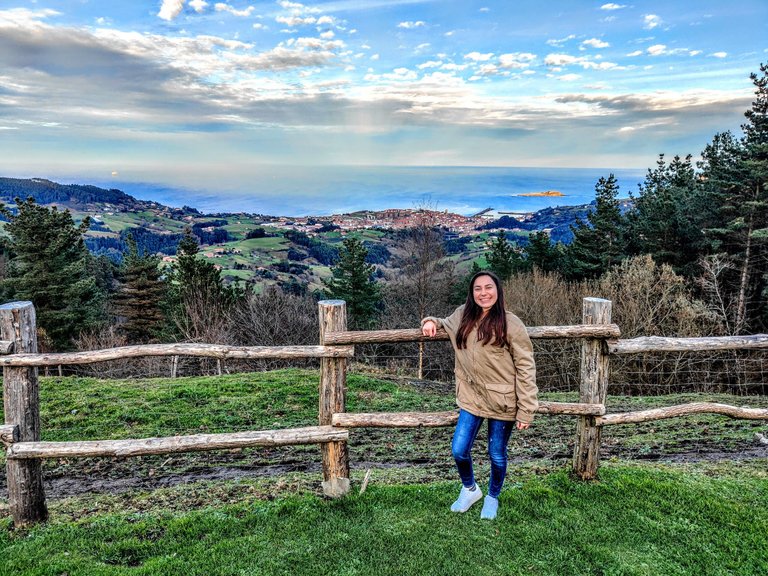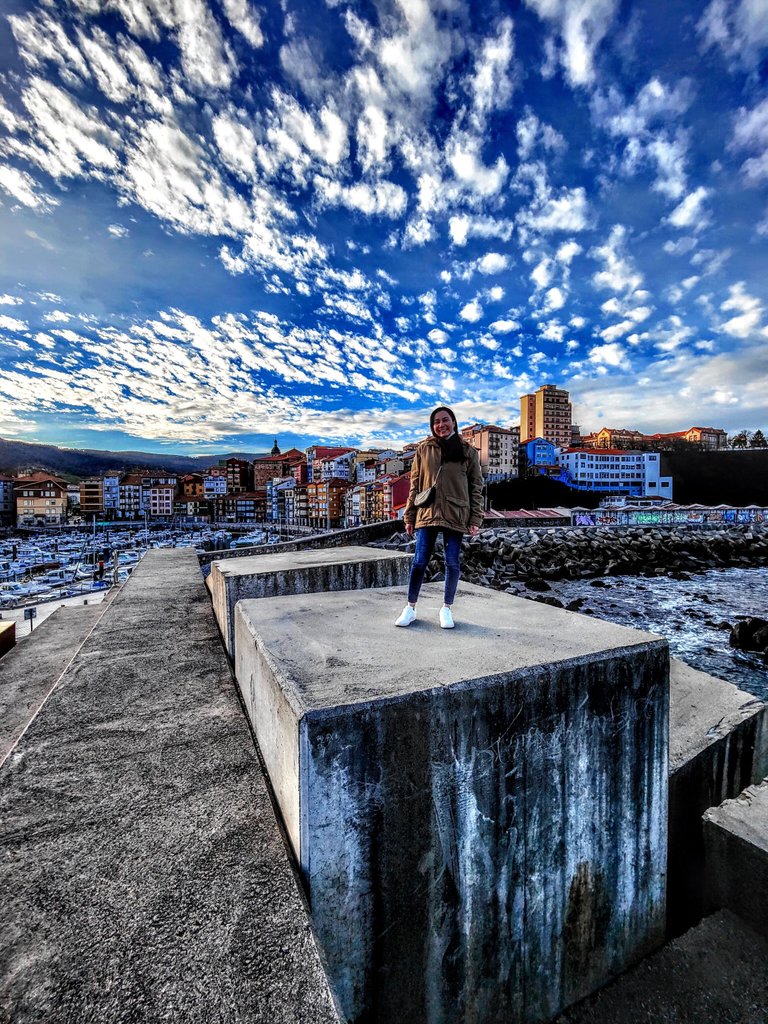 Gracias por leer mi post 🤗 Feliz año 2022 para todos! ✨ Yo este año espero poder seguir conociendo lugares nuevos y compartirlo por acá con ustedes 💙
Thanks for reading my post 🤗 Happy new year 2022 to all of you! ✨ I hope this year I can continue to see new places and share it here with you 💙