I should have kept looking for pumpkins, because they are also Autumn Fruits and I could have used them for this post :)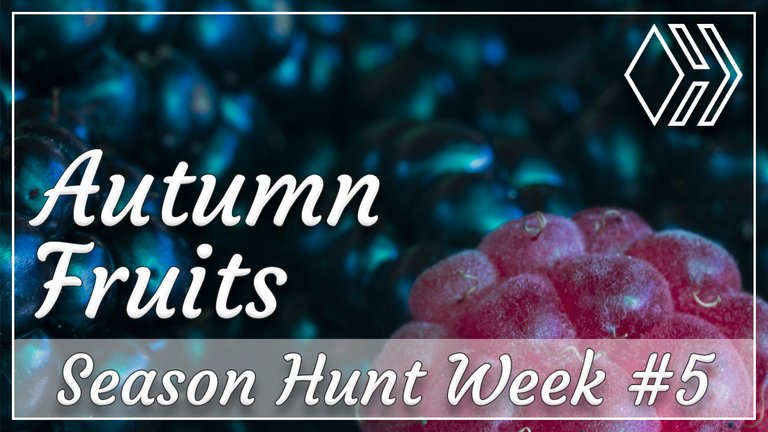 Fall Fruits
Season Hunt - Week 5
Barbara Orenya | @barbara-orenya is hosting a new Challenge:
Season Hunt
Every week a new theme is announced which suits to the actual season. It is still Autumn and this week's theme is: We are chasing FALL FRUITS (https://ecency.com/hive-190931/@barbara-orenya/season-hunt-challenge-week-5)
I was writing these first lines in free minutes at work, although I have not had an idea if I would have any photos to put in this post. 'Maybe I'll have to cheat and search my archive for Autumn related photos of fruits', I thought.
I was hoping to find some apples or pears on the ground in the fields, but I think I have been a bit too late. The trees were already empty and either the farmers or wild animals had eaten the fallen apples (if that's an apple tree).
Raspberries and Blackberries - aren't they typical Autumn Fruits? I have taken this photo back in September this year.
On my walk today, I have seen a shrub or small tree with these little red berries and when they are red in Autumn, they certainly count as Fall Fruits, don't they? I have no idea what these fruits are called, but later in the year you can still see them a little bit frosty.
A few weeks before, the shrubs look like this with autumnal red leaves.
Pinecones are Fall Fruits, I am sure - in Fall they fall from the trees and so they are Fall(en) Fruits 😉
I like this kind of paint on this pinecone which suits to the colour of the leaf beside it.
Now, almost at the end of my post, I want to show you another fruit tree which unfortunately was empty too, but behind the leafless tree you can still see beautiful Autumn colors on the trees.
It was late today, when I got back home from work and went for the little walk. The sun was already setting behind the mountains and lit only the autumnal orange coloured trees high up on the hills.
So, to answer my initial thought, yes, I have had to cheat because I haven't found enough time till today to go out and take photos, but as said, I went for a walk in the afternoon today, and took a few photos which I have uploaded to this post after a quick edit.
---
Information
All photos were taken with the Canon EOS R and one of these lenses: Canon RF 24-105mm f/4 L IS USM, Canon RF 70-200mm f/4 L IS USM, Canon EF 16-35mm 1:4 L IS USM, Canon EF 50mm 1:1.8 L STM, SIGMA 105mm 1:2,8 DG MACRO HSM, Sigma 100-400mm f/5-6,3 DG OS HSM C.
If you are interested in the image data, I leave all EXIF and IPTC information stored in the pictures.
---
If you like my work I would appreciate an upvote, nice comment or maybe you want to share my post on your blog 😊 ... and maybe you would like to follow me, so that you never miss a post from me.
Thank you so much for visiting my blog
take care, stay safe and healthy,



Photos and Text: @johannpiber | Johann Piber | All rights reserved - do not use without my permission
Please contact me if you would like to have one of my photos in full resolution.
> Have a look at my NFT's on the Foundation Plattform
> My Photos are listed at the OpenSea NFT Marketplace
>>> Twitter/JohannPiber <<<
>>> See my posts on my Pinmapple Profile Map <<<
>>> Not got a Hive account yet? Sign up free here! or here <<<
2021-11-24
#hive5 from Austria 🖐️