Hello to all my beautiful people from @jewelry, I hope you had a nice day, it's a great pleasure to be with you again. Today I come to show you my most recent project, it is a very simple tutorial, how to make a very elegant set of accessories for Ladies, they would be great to use in festive moments, making whoever wears them look radiant and striking, since , the bead, gives a great touch of shine, making them look radiant and elegant, just follow me and I'll show you./
Hola a toda mí gente bonita de @jewelry, espero hayan tenido un lindo día, es un gran gusto, estar nuevamente con ustedes. Hoy paso para mostrarles mí más reciente proyecto, se trata de un muy sencillo tutorial,cómo hacer un muy elegante juego de accesorios para Damas, serían geniales para usarlos en momentos festivos, haciendo lucir a quien los lleve puesto, radiante y llamativa, ya que, el canutillo, da un gran toque de brillo, haciéndolos ver radiantes y elegantes, sin más sigueme y te mostraré.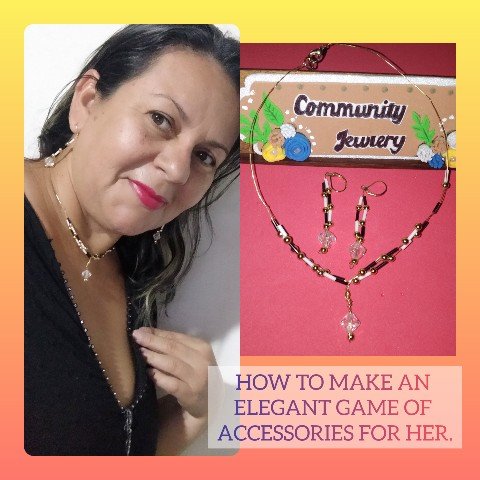 Materials/Materiales
. n24 wire.
. Color beads (black and white)
. Golden pellets.
. Barrette or tranquillla for necklace.
. earring stands
. Earrings.
. swarovski stones
. Round tip jewelry pliers.
. scissors./
. Alambre n24.
. Canutillos colores (blanco y negro)
. Balines dorados.
. Pasador o tranquilla para collar.
. Bases para aretes
. Aritos.
. Piedras de Swarovski
. Pinza punta redonda de bisutería.
.tijeras.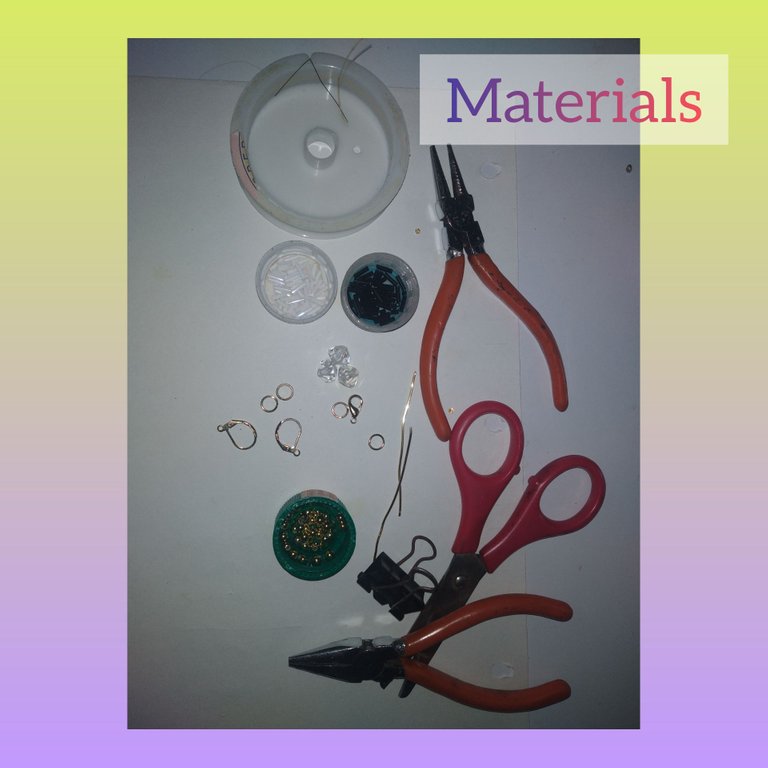 Steps/Pasos
1.) I cut a 29cm strand of wire, in one of the ends I put a pellet and with the help of the round tip pliers I round, continue and insert a Swarovski stone, a pellet.
1.) Corto una hebra de 29cm de alambre, en uno de los extremos meto un balín y con ayuda de la pinza punta redonda redondeo, continuo y meto una piedra de Swarovski,un balín.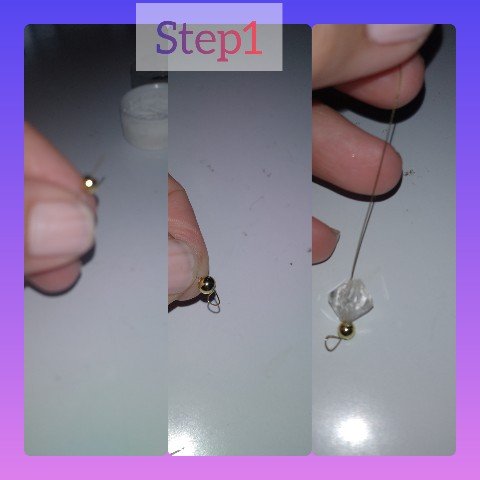 2.) Next, I insert a pellet, then a bead separated from a pellet and alternate between the colors of beads, until I get a total of four. Once this is done, I introduce the wire into the hole of the base for earrings, which to ensure, I turn and still do not cut the wire.
2.) Seguidamente, introduzco una balín, luego un canutillo separado de un balín y alterno entre los colores de canutillos, hasta lograr meter un total de cuatro. Hecho esto introduzco en el orificio de la base para aretes el alambre, lo cual para asegurar, doy vueltas y sin cortar aún el alambre.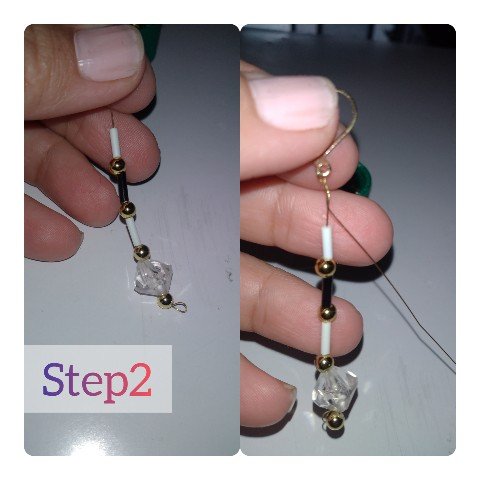 3.) I will continue, this time I will work the next strand of wire that will be part of the earring, from the accessory kit. I will do it following the sequence but avoiding the same color of tube, that is to say that those of different colors face each other, slightly separated by a pellet and reaching the same number of tubes, ready this I introduce the strand of the wire, inside the Swarovski stone. So that the remaining wire, I will turn around until consumed without leaving residue.
3.) Continuaré, está vez trabajaré la siguiente hebra de alambre que formará parte de el arete, del juego de accesorios. Lo haré siguiendo la secuencia pero evitando se encuentre el mismo color de canutillo, es decir que se den la cara los de diferentes colores, debigual manera separados cor un balín y alcanzando l amisma cantidad de canutillos,listo esto introduzco la hebra de el alambre, por dentro de la piedra de Swarovski. De manera que el alambre restante, daré vueltas hasta consumir sin dejar residuos.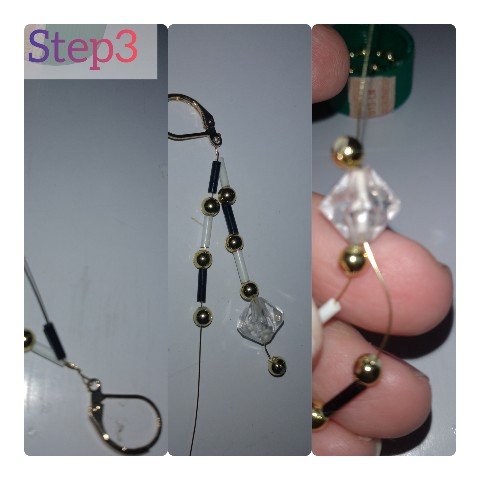 In this way, the elaboration of the earrings was completed./
De esta manera, culminó la elaboración de los aretes.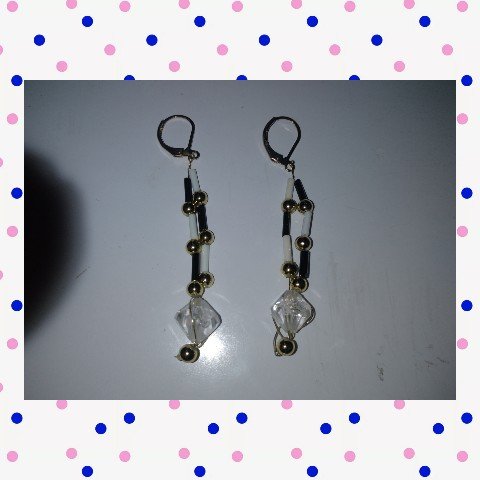 4.) Next, I continue to work the necklace, I cut a strand of wire and insert it through the collar pin, and I turn to tie and fix, in the same way that I work the earrings I will do with the necklace, it will be made up of two pieces of wire decorated with black and white beads separated by golden pellets, always avoiding the colors of the beads to coincide.
4.) Seguidamente, continuo a trabajar el collar, corto una hebra de alambre e introduzco por el pasador de el collar, y doy vueltas para atar y fijar, de la misma manera que trabaje los aretes haré con el collar, este estará compuesto de dos piezas de alambres decoradas con canutillos de colores blanco y negro separados por balines dorados,siempre evitando que coincidan los colores de el canutillo.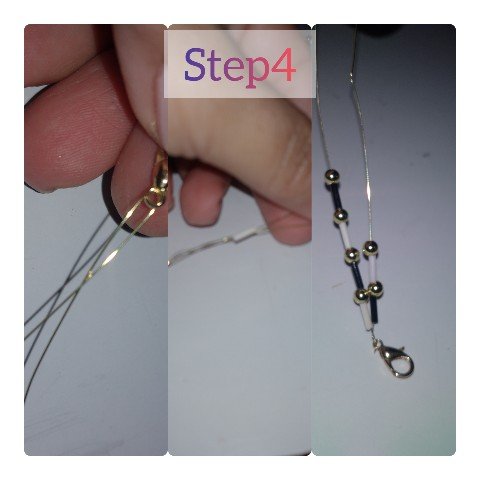 5.) At the end, after inserting five beads separated by pellets, I will insert the Swarovski stone and a pellet, to secure it, I will now work the other strand of wire, inserting the wire through the ring and going around several times to tie it, Like in the previous one, I put five small tubes separated by a pellet, I will join both pieces in the center, turning the wire and leaving both pieces safe, and above all letting the Swarovski stone hang.
5.) Al finalizar, luego de meter cinco canutillos separados por balines, meteré la piedra de Swarovski y un balín, para segurarla, trabajaré ahora la otra hebra de alambre,introduciendo por el arito el alambre y dando varias vueltas para atar a el, meto igual que en el anterior cinco canutillos separados por un balín,unire ambas piezas en el centro dando vueltas a el alambre y dejando bien segura a ambas piezas, y sobre todo dejando colgar a la piedra de Swarovski.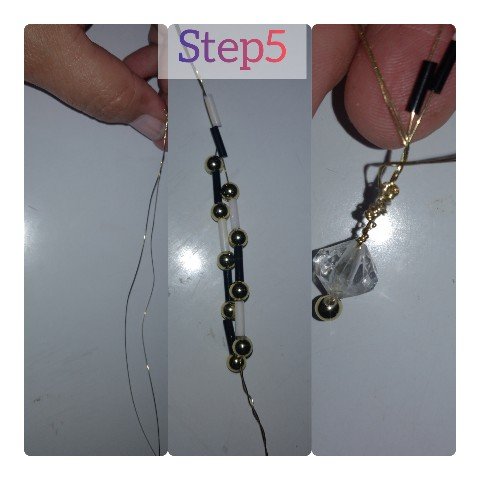 This is how the necklace finally looks, which will be one of the pieces of the accessory for adamas./
Así finalmente luce el collar que será una de las piezas de el accesorio para adamas.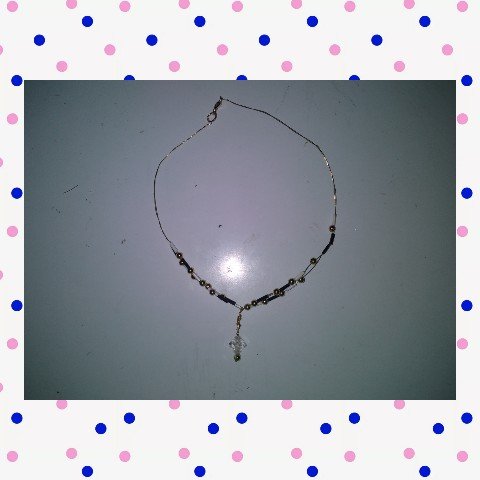 Completely pleased, with my finished project. It is very comfortable to wear and very easy to perform./
Completamente complacida, con mi proyecto terminado. Es muy cómodo de llevar y muy fácil de realizar.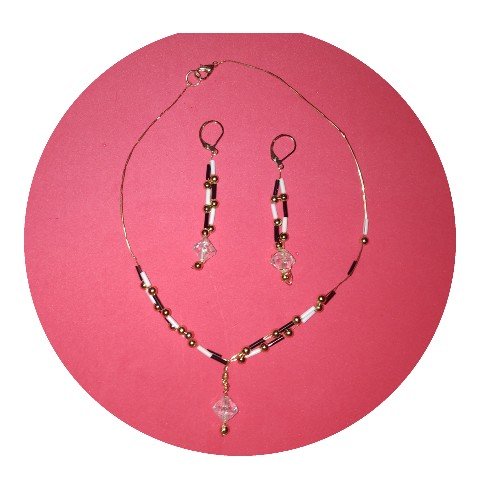 . All photos are of my property taken with my smartphone.
. Use InShot,n to show them step by step.
. Use Google translate.
. Todas las fotos son de mí propiedad tomadas con mí teléfono inteligente.
. Use InShot,npara mostrarles el paso a paso.
. Use traductor Google.
I appreciate you visiting my blog, accompany it with a good comment, I will be grateful for them, it will be until tomorrow, if God allows me./
Agradezco hayas visitado mí blog, lo acompañes con un buen comentario, seré agradecida por ellos, será hasta mañana, si Dios me lo permite.