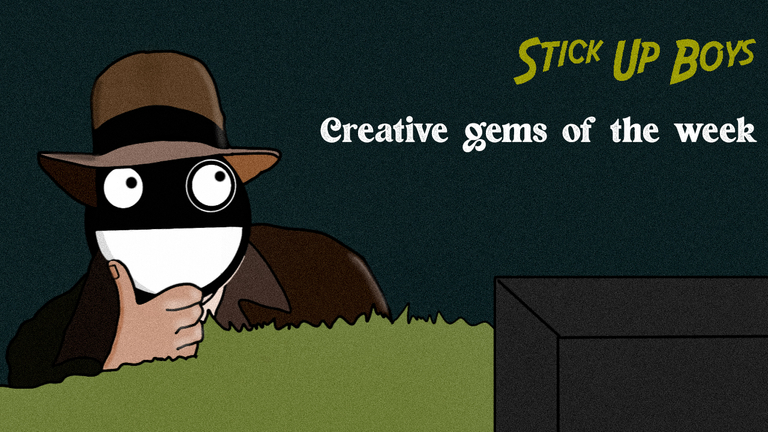 Introduction
The Stick Up Boys Curation Team believes that art and music are a world within themselves, and has a language that everyone can understand. For the last couple of months, the Stick Up Boys Curation team has been hard at work picking 5-10 music and art posts every single day. For each post we curate we:
| upvote | reblog | leave a friendly comment |
| --- | --- | --- |
| send a slice of pizza | drop fun GiFs | and promote |
Art and Music lovers alike! Join us in spotting HIVE bloggers showcasing music and art.
But we aren't stopping there - we've taken a good look at some of the posts we've curated and wanted to highlight our 5 favorite music and art posts from this week!
---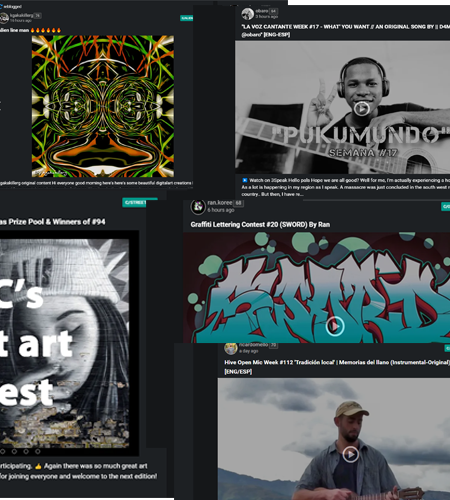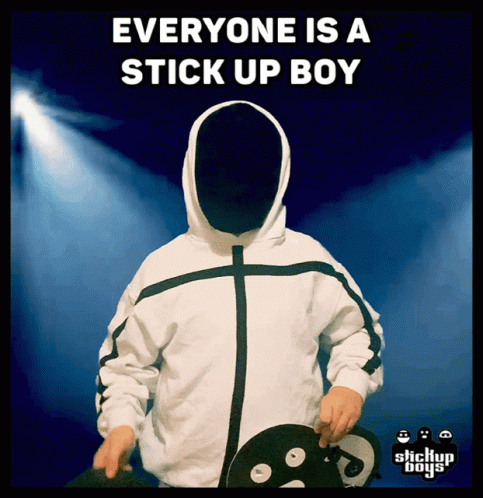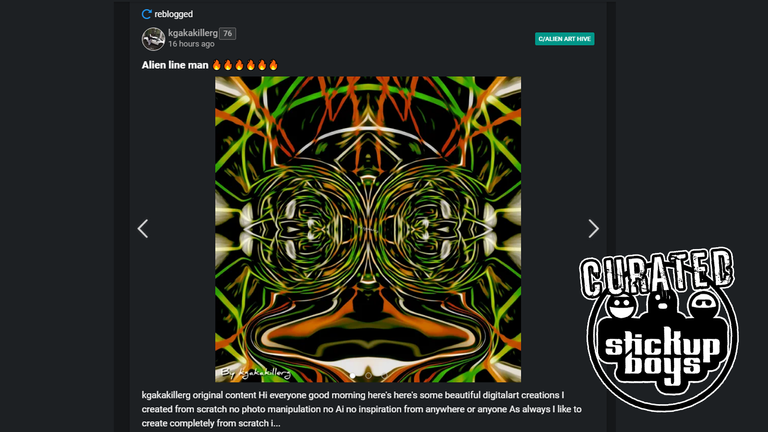 @kgakakillerg goes wild with his free-flowing art style letting art take over his creation. Look at his alien line art here and feel the guy staring at you
Hi everyone good morning here's here's some beautiful digitalart creations I created from scratch no photo manipulation no Ai no inspiration from anywhere or anyone read more
Blog post link: https://peakd.com/hive-158694/@kgakakillerg/alien-line-man
---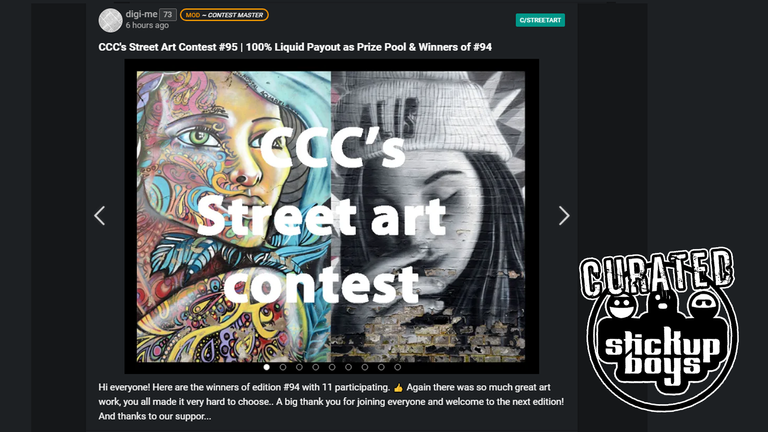 Check out the collection of street art presented by @digi-me. Get some inspiration and join their next contest.
Hi everyone! Here are the winners of edition #94 with 11 participating. 👍 Again there was so much great art work, you all made it very hard to choose.. A big thank you for joining everyone and welcome to the next edition! read more
Blog post link: https://peakd.com/hive-184784/@digi-me/ccc-s-street-art-contest-95-or-100-liquid-payout-as-prize-pool-and-winners-of-94
---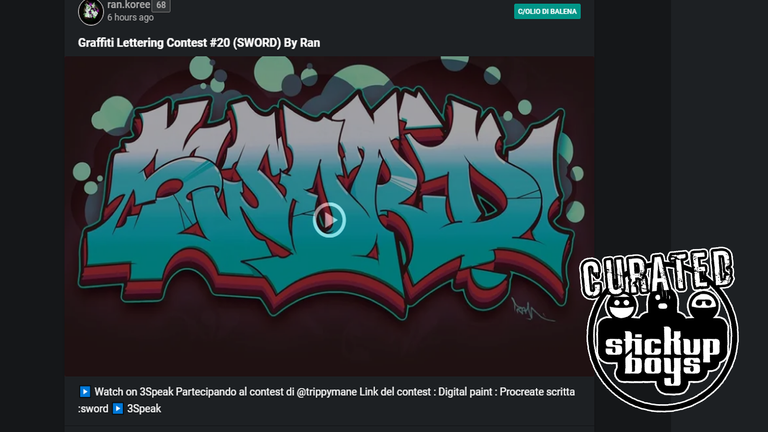 A very cool lettering video from @ran.koree, let's see if they can make a stickupboys version soon!
Blog Post link: https://peakd.com/hive-146620/@ran.koree/nrhmxgdo
---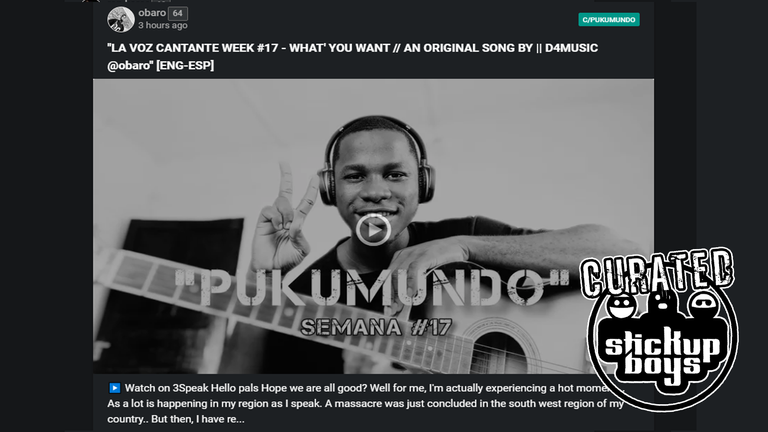 Listen to @obaro as he brings positivity to a dark moment in his country. Music really brings a lot of emotions and most of the times it brings us hope.
Well for me, I'm actually experiencing a hot moment... As a lot is happening in my region as I speak. A massacre was just concluded in the south west region of my country..
But then, I have recorded this video about two days back.
So I have to drop it as part of my love for this community and as a commited member. read more
Blog post link: https://peakd.com/hive-142415/@obaro/pejjhawa
---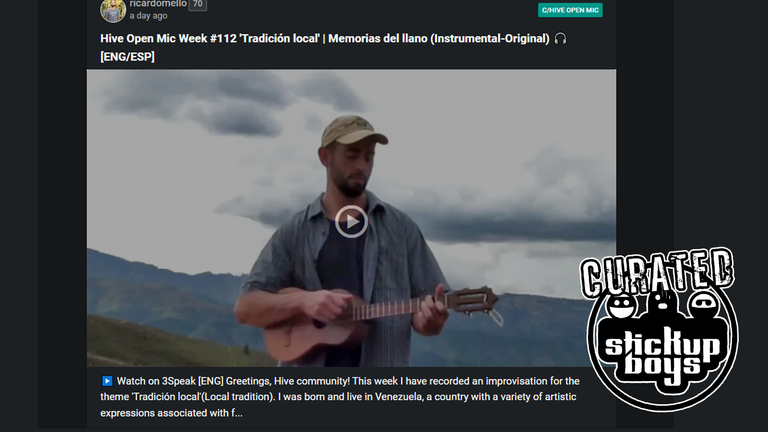 Listen to how @ricardomello uses different instruments to share his local tradition. Our culture is a gem to treasure. Making music for it is a way to keep it alive forever.
Greetings, Hive community! This week I have recorded an improvisation for the theme 'Tradición local'(Local tradition). I was born and live in Venezuela, a country with a variety of artistic expressions associated with flokore and the tradition of the first settlers. Llanera music is something very characteristic of this country, full of energetic and lively sounds. I have visited 'Los llanos' on several occasions, they are different places, without the noise of the cities, where work comes first, the sun beats down there and there is a lot of walking.read more
Blog Post Link: https://peakd.com/hive-105786/@ricardomello/rvgglkut

---
And Finally
We love curating great music and art content! Follow @stickupcurator if you'd like to see the best of both that we find on Hive each day!
And if you're an art or music content creator we'd be honoured to count you among our friends as we really value the amazing community on Hive and the great quality stuff we get to read here!
---
SUPPORT THE CURATION TEAM THROUGH DELAGATION
You can always support music and the arts and follow this curation trail or support us even more by delegating!
Big up all the music and art on Hive
the Stick Up Boys
Check out more here: https://linktr.ee/StickUpBoys