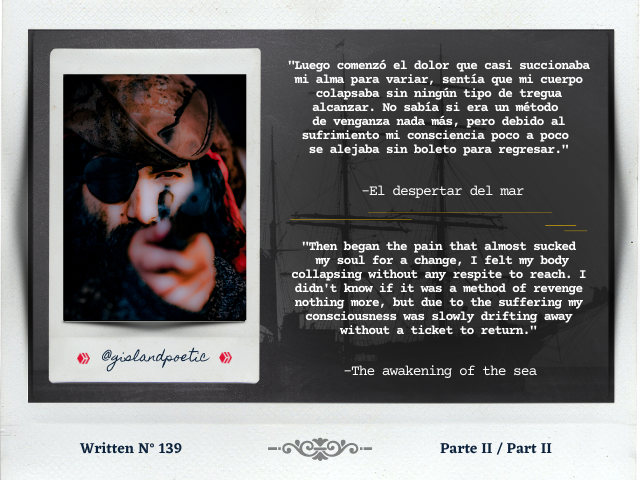 ¡Hi, mis hermosos gislanders!
Hoy les comparto un texto literario de mi autoría,
espero los deleite, inspire y fidelice a mi arte.






Hi, my beautiful gislanders!
Today I share with you a literary text of my authorship,
I hope it will delight you, inspire you and make you loyal to my art.






-Español/Spanish-




El despertar del mar - Parte I [Esp-Eng]





El despertar del mar
Parte II
Asesinos del pasado




En una esquina el contramaestre se jactaba de celebrar, mientras la mayoría de los marineros casi se arrodillaban a implorar, todos pensaban que este sería el final. Molesto lo enfrenté sin más, pero ahogado en el alcohol de su reserva personal, reía diciendo haber cumplido su misión generacional. Dijo "Lo he traído hasta aquí, capitán. Por los crímenes de su familia pagará y ella finalmente regresará".


Yo solo escuchaba disparates sin parar, pero a punto de enviarlo a una celda, encerrándolo por su absurda ebriedad, el cielo negro comenzó a cambiar. Una oscura tormenta nos empezó a azotar. A lo lejos veíamos rayos que el cielo lograba manifestar, la lluvia caía furiosa sobre las velas color champan y el agua se volvió turbulenta lográndonos tambalear. Algo claramente andaba mal.


Sin parar de reír el contramaestre gritaba de felicidad, entonces lo tomé fuertemente de la ropa para que comenzara a explicar. Con una sonrisa me vio a los ojos sin chistar, su rostro estaba empapado por la lluvia torrencial. Él dijo "Su linaje está maldito, capitán. Hace milenios sus ancestros piratas orgullosos de saquear, capturaron y asesinaron a la diosa del mar. Con ayuda de una bruja yo lo busqué y lo logré encontrar. Mi familia es devota de esta deidad, estuvimos ahí cuando la masacraron a cambio de perlas y todas las joyas que pudieran llevar. Solo un descendiente de sus asesinos la puede resucitar y tomando su vida su poder restaurará, trayendo la justicia y retomando el control del mar".


Seguro de que escuchaba tonterías, con él quise acabar, pero antes de golpearlo con mi puño sin parar, recordé de mi infancia un cuento familiar: "Esta daga es especial, marcó la muerte de una deidad, es por eso que somos los más temidos en el mar. Es tu herencia familiar. Miles de tesoros reclamaremos hasta el final. Por esto somos los únicos que controlan las aguas más allá".


"¿Ahora lo entiende, capitán?", dijo el contramaestre que me traicionó sin mirar atrás. Desconcertado lo solté sin poderlo golpear y volví al camarote a pesar de lo que se vivía a cielo abierto ahogados en angustia y ansiedad. El libro busqué aferrándome a un poco de racionalidad, al hallarlo lo leí con frenesí a pesar de la poca luz en el lugar. Buscaba una frase, una clave o una sentencia fatal, necesitaba de algo que explicara lo que estaba sucediendo en la marea bestial. Hasta que leí un fragmento que sentenciaba mi vida banal.


Mi pecho sintió tan fuerte el rugido del mar, que mis huesos y mi mentalidad empezaron a temer de verdad. Quería esconderme en lo más profundo de una caja fuerte que nadie pudiera encontrar, pero no había a donde huir en medio de altamar. Debía ver con mis propios ojos lo que aparentemente era verdad, así que salí del camarote con miedo y ansiedad. Pero ver lo que sucedía me dejó sin habla y apenas podía respirar.


En lo más alto de una inmensa ola erguida como si estuviera allí para desafiar, en su interior una esfera de agua luminosa una mujer parecía descansar. Por un segundo todo estuvo en silencio y en paz, los truenos cesaron al igual que el agitado mar. Pero si la ola gigante caía sin más, nos destruiría sin sobrevivientes quedar. La tensión se sentía escalar, pero si era cierto todo lo demás, sería solo a mí a quien vino a buscar.


El libro decía con clara indicación milenial: "El libro profético el descendiente sentenciado abrirá y después de la brillante señal, la diosa finalmente resucitará, para volver a reclamar a su dominio el inmenso y profundo mar". Después de leer y confirmar las palabras de un ebrio sin lealtad, la vista que presenciaba y no podía negar, aseguraban que había caído en una especie de trampa mortal.


En el momento en el que sus ojos abrió terminando de despertar, la esfera luminosa que la rodeaba se hizo explotar. Entonces su mirada se enfocó en mi daga familiar y la sutileza que había estado en su rostro dormido logró cambiar. Fue cuando trague un nudo grueso temiendo por mi bienestar. Descendió con un imperioso movimiento como si pudiera flotar y hasta mi procedió a caminar.


Todos estaban tensos y asustados sin poderlo ocultar, con sus espadas en mano tomaron la mala decisión de atacar. Con una mirada nada más se percató de su vulnerabilidad y con una magia que no había visto jamás, del mar emergieron espantosas criaturas llenas de dientes que podían caminar. No atacaron, venían para escoltar. Pero algunos de mis hombres prefirieron lanzarse al mar antes de morir con dignidad.


Al ver eso, ella sonrió regresando sus penetrantes ojos a mi daga familiar. Instintivamente posé encima mi mano sin primero pensar. Su descontento endureció su rostro acelerando mi palpitar. Caminó rápidamente hasta mi con seguridad, intenté detenerla tomando su fría mano para poderlo evitar, pero con un movimiento me puso de rodillas sin vacilar. Fue ahí que descubrí el contraste de su suave cuerpo con su fuerza descomunal.


Tomó sin problemas la daga en mi cintura sin yo poder protestar y la colocó en mi garganta sin vacilar. "Apestas a asesino, pequeño mortal. Así que eres tú el descendiente de quienes me asesinaron milenios atrás. Llevas contigo el mismo pedazo de metal, con el que a mi corazón lograron atravesar. Tu sangre necesito para mi poder completo restaurar. Es hora de pagar".


"¡Puedo jurarte lealtad!", grité en busca de una oportunidad, antes de que mi propia daga en su mano me desangrara con ferocidad. Algo en sus ojos destelló sin modestia, como una moneda de oro que recién pulida puede deslumbrar. La comisura de sus labios esbozo una media sonrisa llena de maldad, a la vez que profundizaba la presión de la daga pero sin cortarme en realidad.


Retrocedió un poco, solo unos centímetros atrás. Entrecerró sus ojos con evidente cautela como evaluando una posibilidad y como si obedecieran un impulso que no pudieran evitar, sus criaturas me sujetaron con fuerza colosal. Me despojaron de mi chaqueta, sombrero y rompieron mi camisa en un ojal. Aún de rodillas no estaba al tanto de lo que podría pasar. No sabía si había aceptado mi oferta o si había decidido otra manera en la que me podía matar.


De pronto de un movimiento horizontal, cortó mi pecho con suficiente profundidad como para hacerme gritar. Acto seguido su mano sujetó con firmeza el filo de la misma arma letal y en un segundo ahora ella también poseía una herida que sangraba sin cesar. Mirándome a los ojos como envolviéndome en una sonata angelical, su mano sangrante posó en la herida sobre mi corazón que palpitaba haciéndome los puños cerrar.


Luego comenzó el dolor que casi succionaba mi alma para variar, sentía que mi cuerpo colapsaba sin ningún tipo de tregua alcanzar. No sabía si era un método de venganza nada más, pero debido al sufrimiento mi consciencia poco a poco se alejaba sin boleto para regresar. Mi cuerpo temblaba sin poderlo evitar, mientras sus monstruosos lacayos me sujetaban sin que me pudiera liberar y ella de mi cuerpo la sangre absorbía como si la reclamara con autoridad. Lo último que vi fue su rostro sonriendo mientras mis ojos se cerraban haciéndome descansar.


Continuará





-Inglés/English-
The awakening of the sea
Part II
Killers of the past




In a corner the boatswain was boasting in celebration, while most of the sailors were almost on their knees imploring, all thinking that this would be the end. Annoyed I confronted him without further ado, but drowned in the alcohol of his personal reserve, he laughed claiming to have accomplished his generational mission. He said, "I have brought you here, Captain. For your family's crimes you will pay and she will finally return."


I just listened to nonsense non-stop, but about to send him to a cell, locking him up for his absurd drunkenness, the black sky began to change. A dark storm began to lash us. In the distance we saw lightning bolts that the sky managed to manifest, the rain fell furiously on the champagne-colored sails and the water became turbulent, making us stagger. Something was clearly wrong.


Without stopping laughing, the boatswain shouted with happiness, so I grabbed him by the clothes so he could start explaining. With a smile he looked me in the eyes without a hint, his face was soaked by the torrential rain. He said "Your lineage is cursed, Captain. Millennia ago your pirate ancestors proudly plundered, captured and murdered the goddess of the sea. With the help of a witch I sought him out and managed to find him. My family is devoted to this deity, we were there when they slaughtered her in exchange for pearls and all the jewels they could carry. Only a descendant of her murderers can resurrect her and by taking her life her power will restore, bringing justice and taking back control of the sea."


Sure that I was listening to nonsense, I wanted to finish him off, but before hitting him with my fist without stopping, I remembered from my childhood a family tale: "This dagger is special, it marked the death of a deity, that's why we are the most feared in the sea. It is your family heirloom. Thousands of treasures we will claim until the end. This is why we are the only ones who control the waters beyond."


"Now do you understand, Captain?" said the boatswain who betrayed me without looking back. Bewildered I released him without being able to hit him and returned to the cabin despite what was lived in the open sky drowned in anguish and anxiety. I searched for the book, clinging to a little rationality, and when I found it I read it frantically in spite of the dim light in the place. I was looking for a phrase, a key or a fatal sentence, I needed something to explain what was happening in the bestial tide. Until I read a fragment that sentenced my banal life.


My chest felt so strongly the roar of the sea, that my bones and my mentality began to really fear. I wanted to hide in the depths of a safe that no one could find, but there was nowhere to run in the middle of the sea. I had to see with my own eyes what was apparently true, so I left the cabin in fear and anxiety. But seeing what was happening left me speechless and barely able to breathe.


At the top of an immense wave standing upright as if it were there to challenge, inside it a sphere of luminous water a woman seemed to be resting. For a second all was silent and peaceful, the thunder ceased as did the rough sea. But if the giant wave fell without further ado, it would destroy us with no survivors left. The tension felt escalating, but if everything else was true, it would be only me it came for.


The book said with clear millennial indication: "The prophetic book the sentenced descendant will open and after the shining sign, the goddess will finally rise, to return to reclaim to her domain the immense and deep sea". After reading and confirming the words of a drunkard with no allegiance, the sight he witnessed and could not deny, assured that he had fallen into some sort of death trap.


The moment her eyes opened as she finished waking up, the luminous sphere around her exploded. Then her gaze focused on my familiar dagger and the subtlety that had been on her sleeping face managed to change. That was when I swallowed a thick knot fearing for my well-being. He descended with an imperious motion as if he could float and up to me he proceeded to walk.


Everyone was tense and frightened without being able to hide it, with their swords in hand they made the bad decision to attack. With one glance they realized their vulnerability and with a magic I had never seen before, from the sea emerged frightening creatures full of teeth that could walk. They did not attack, they came to escort. But some of my men preferred to throw themselves into the sea rather than die with dignity.


Seeing that, she smiled, returning her piercing eyes to my familiar dagger. Instinctively I placed my hand on it without first thinking. Her displeasure hardened her face quickening my throbbing. I tried to stop her by taking her cold hand so I could avoid it, but with one movement she brought me to my knees without hesitation. It was there that I discovered the contrast of her soft body with her colossal strength.


She smoothly took the dagger at my waist without my being able to protest and placed it at my throat without hesitation. "You reek of murder, little mortal. So it is you who are the descendant of those who murdered me millennia ago. You carry with you the same piece of metal, with which they managed to pierce my heart. Your blood I need for my full power to restore. It is time to pay."


"I can swear allegiance to you!", I shouted for a chance, before my own dagger in his hand bled me fiercely. Something in his eyes flashed without modesty, like a gold coin that freshly polished can dazzle. The corners of his lips quirked into a half-smile full of malice, as he deepened the pressure of the dagger but without actually cutting me.


He stepped back a little, just a few centimeters behind. He narrowed his eyes with obvious caution as if evaluating a possibility and as if obeying an impulse they could not avoid, his creatures grabbed me with colossal force. They stripped me of my jacket, hat and tore my shirt into a buttonhole. Still on my knees I was unaware of what might happen. I didn't know if he had accepted my offer or if he had decided on another way in which he could kill me.


Suddenly in one horizontal motion, he slashed my chest deep enough to make me scream. Then her hand firmly gripped the edge of the same lethal weapon and in a second she too now possessed a wound that bled unceasingly. Looking into my eyes as if enveloping me in an angelic sonata, her bleeding hand rested on the wound over my beating heart making my fists clench.


Then began the pain that almost sucked my soul for a change, I felt my body collapsing without any respite to reach. I didn't know if it was a method of revenge nothing more, but due to the suffering my consciousness was slowly drifting away without a ticket to return. My body trembled without being able to avoid it, while her monstrous lackeys held me without me being able to free myself and she from my body the blood absorbed as if she claimed it with authority. The last thing I saw was her face smiling as my eyes closed making me rest.


To be continued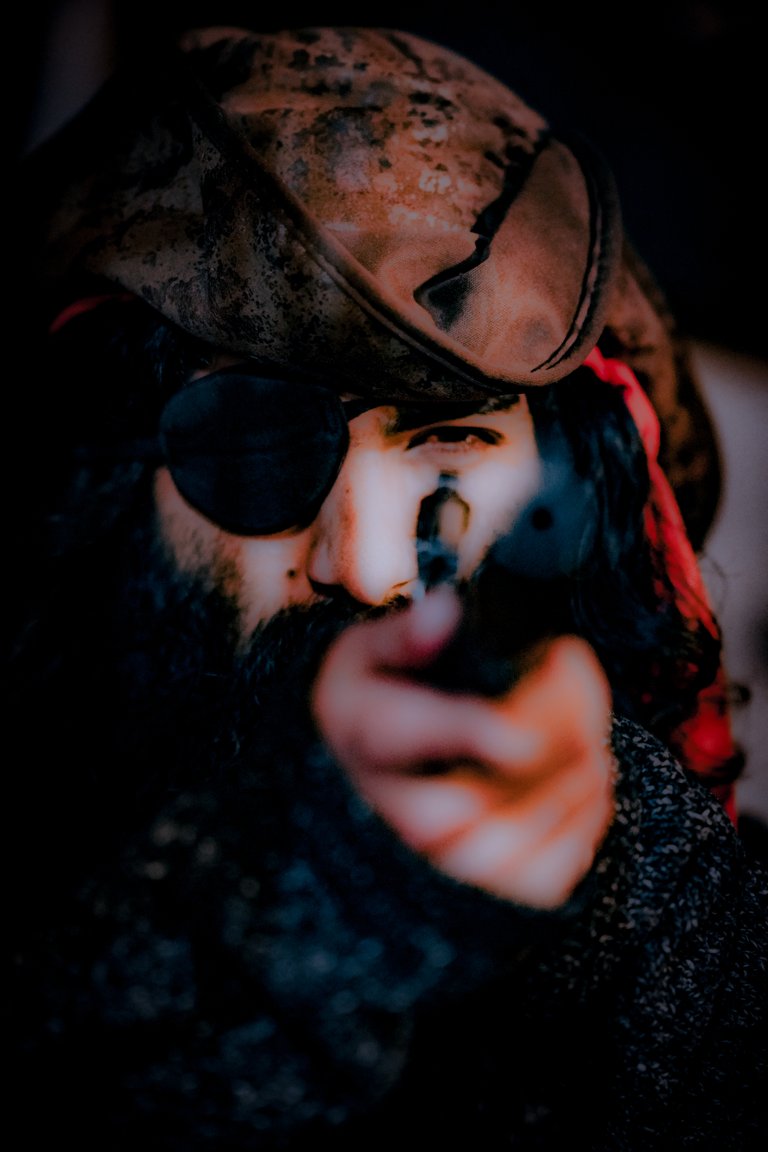 Fuente/Source

Créditos y más
El contenido aquí escrito es de mi propiedad. Si necesitas hacer uso de él, no dudes en comunicarte conmigo o mencionar a @gislandpoetic como creadora del mismo.


Los separadores de texto son de mi propiedad. Y los banners de bienvenida/despedida son de mi creación y por lo tanto de mi propiedad.


Todo lo antes mencionado es contenido original y exclusivo. Su uso para otros usuarios se considera plagio en todas las comunidades de Hive.Blog. ¡Por favor no lo hagas!


Las imágenes aquí publicadas son modificadas en Canva


Agradezco todo el apoyo que pueda generar mi contenido de valor. Y para los gislanders que quieran conocer un poco más de mi, pueden ubicarme en
Credits and more
The content written here is my property. If you need to use it, do not hesitate to contact me or mention @gislandpoetic as the creator.


The text separators are my property. And the welcome/farewell banners are my creation and therefore my property.


All of the above is original and exclusive content. Its use for other users is considered plagiarism in all Hive.Blog communities. Please don't do it!


The images published here are modified in Canva


I appreciate all the support that can generate my valuable content. And for those gislanders who want to know a little more about me, you can find me on

Twitter
@gislandpoetic
Instagram
@gislandpoetic