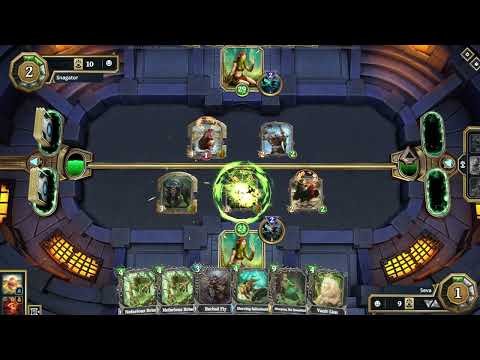 ---
"Get ready to embark on an epic journey through the realm of the gods in Gods Unchained! In this video, you'll witness the true beauty of this amazing game as we showcase pure, unadulterated gameplay. No commentary needed - just sit back, relax, and enjoy the ride!
With its stunning graphics and immersive gameplay, Gods Unchained takes you on a journey filled with magic, mythical creatures, and incredible battles. Watch as the legendary heroes of the gods unleash their power, and feel the excitement as you witness the battles unfold in real-time.
Whether you're a seasoned player or just discovering this amazing game, this video is a must-watch! So get ready to be transported to a world filled with adventure, excitement, and endless possibilities. Gods Unchained - where the sky's the limit!"
▬▬▬▬▬▬▬▬▬▬▬▬▬▬▬▬▬▬▬▬▬▬▬▬
► Abonnieren: https://www.youtube.com/channel/UCepWsmTmOR2ZunZIK-COEbg?view_as=subscriber
▬▬▬▬▬▬▬▬▬▬▬▬▬▬▬▬▬▬▬▬▬▬▬▬
► Soziale Netzwerke:
☉ Ko-Fi: https://ko-fi.com/sevataria
☉ Patreon: https://www.patreon.com/sevatar
☉ Twitter: https://twitter.com/SevatariaFFXIV ▬▬▬▬▬▬▬▬▬▬▬▬▬▬▬▬▬▬▬▬▬▬▬▬
► Donation/Spenden: https://streamlabs.com/sevaofficial
▬▬▬▬▬▬▬▬▬▬▬▬▬▬▬▬▬▬▬▬▬▬▬▬
Amazon (Games): https://www.amazon.com/s?url=search-alias%3Dvideogames&field-keywords=&_encoding=UTF8&tag=boldw-20&linkCode=ur2&linkId=6f44de107eaa8a7677c662e3ce7eb3f6&camp=1789&creative=9325
Durch das Benutzen meiner Reflinks könnt ihr mich indirekt unterstützen ohne das euch die Angebotenen Waren einen Cent mehr kosten =) ▬▬▬▬▬▬▬▬▬▬▬▬▬▬▬▬▬▬▬▬▬▬▬▬
► Setup:
♦ Fractal Design Define XL R2 Full Tower Case FDCADEFXLR2BL - Black Pearl https://amzn.to/2w0jM5o
♦ Bildschirm: Acer R240HY bidx 23.8-inch IPS HDMI DVI VGA (1920 x 1080) Widescreen Monitor https://amzn.to/2vZ1x02
♦ Intel Core i7 6700K 4.00 GHz Unlocked Quad Core Skylake Desktop Processor, Socket LGA 1151 [BX80662I76700K] https://amzn.to/2whYAap
♦Gigabyte ATX DDR4 Intel LGA 1151 SATA E (6Gbit/s) Motherboards (GA-Z170X-Gaming 7) https://amzn.to/2PpdAvJ
♦ MSI GAMING GeForce GTX 1050 Ti 4GB GDRR5 128-bit HDCP Support DirectX 12 TORX 2.0 Fan Graphics Card (GTX 1050 TI GAMING X 4G) https://amzn.to/2nQhjG9
♦ OWC 32GB (4x8GB) PC3-12800 DDR3L 1600MHz SO-DIMM 204 Pin CL11 Memory Upgrade Kit For iMac https://amzn.to/2OMMHAK
♦ Cooler Master V850 - Fully Modular 850W 80 PLUS Gold PSU with Silencio Silent 135mm fan https://amzn.to/2nUqlCa
♦ Laufwerk: LG Electronics GH24NSC0 DVD-RW SATA intern schwarz Bulk https://amzn.to/2N3mzRJ
♦ Kühler: Scythe Grand Kama Cross 3 Topblow Kühler https://amzn.to/2OOigu0
♦ Festplatte: 8000GB Seagate Desktop HDD ST8000DM002 7.200U/min 256MB 3.5" (8.9cm) SATA 6Gb/s https://amzn.to/2N5VHjV
♦ SSD: 512GB Samsung 850 PRO 2.5" (6.4cm) SATA 6Gb/s MLC Toggle (MZ-7KE512BW) https://amzn.to/2PmrU8i
♦ Tastatur: Razer BlackWidow Chroma V2 - RGB Mechanical Gaming Keyboard - Ergonomic Wrist Rest - Tactile & Clicky Green Switches https://amzn.to/2L6WLCl
♦ Maus:Razer Naga Trinity: True 16,000 5G Optical Sensor - 3 Interchangeable Side Plates - Chroma Enable - Gaming Mouse https://amzn.to/2wgncjJ
♦ Headset: Logitech G533 Wireless Gaming Headset – DTS 7.1 Surround Sound – Pro-G Audio Drivers https://amzn.to/2PmspiG
---
▶️ DTube
Posted using Neoxian City