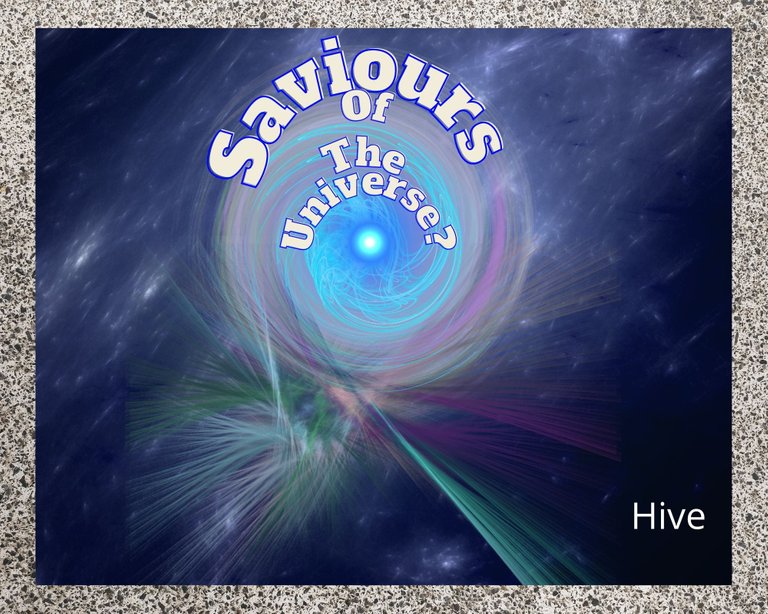 "I know that the odds are in favor of intelligent life existing on other planets. But it just seems so... I don't know. Not important, far fetched?"
"What! Mitchell!!! First contact with an alien race would be the story of the century!" said the middle aged lady passionately.
"Of course, Rachel. But would it really change anything for us? I mean, we would still be going about our boring lives. Five days a week in this infernal office for twelve hours a day, helping people file their insurance reports. And another two hours in traffic. Then if we're lucky, two days off to sit in front of the TV and eat potato chips."
"What makes you think they won't change everything - for the better! Imagine the technology they might share!"
"Maybe... If they even exist." said Mitchell in a bored tone.
Rachel and his other co-workers had noticed that he hadn't seemed to care about much of anything lately. The announcement which the entire world was talking about didn't even phase Mitchell.
A signal had been detected which scientists said was most likely sent by an intelligent alien race, in a very distant galaxy! Almost every human being on Earth was talking about nothing else. So why wasn't he at least curious?
"This is impossible... Leroy! Can you please double check these figures?"
"Sure Dave, what's up?"
"I ran these numbers through the computer ten times, and it still comes out the same. This message was sent before the universe began! It has to be a glitch."
"I'll use the supercomputer at U of C. You're right, it has to be a glitch. Can you please call Mrs. Walker and see if there has been any progress in decoding the message, Dave?"
"Thanks Leroy, I'll check after I text Wendy. I'm going to surprise her tonight with a picnic under the stars for our anniversary!"
"Have a happy anniversary! I'll be back in an hour to find out if Mrs. Walker had any luck on the message."
"Yes Mr Lind, I have managed to make out a few words. But not enough to say for sure what the main message means. They included an alphabet and a sort of simple dictionary, both of which need to be fully decoded before I can read it."
"What are the words???" asked Dave, full of curiosity.
"Help Bubble Stop. At least as far as I can tell, for now. I'll know more of the words soon, but these things take time."
"They're asking us for help with something?"
"I'm not sure yet, until I have the rest translated. It's all based on math, I am confident that I will have it ready by tomorrow."
"Thank you. I feel like a kid again! Things like this are what got me interested in science to begin with."
"I think we all started out expecting to make the discovery of a lifetime. But you and I are living it!" said Mrs. Walker, sharing in the excitement felt by the world.
"Yes Mr. Lind, I have the message." she said, quite a bit more subdued than the day before.
"Well let's have it!" Dave Lind said jubilantly.
"We have discovered a bubble of true vacuum which will eventually destroy billions of sentient species. Your galaxy is inside this bubble. Please help stop the destruction. Doing so will destroy your galaxy, but you will never be forgotten. Thank you."
"What!!! This is our first contact?!?!?!"
"Yes. Detailed instructions were included after that. Along with the descriptions of some of the species and their cultures and worlds."
"This is... I'm just speechless. Mrs. Walker, there has to be another way to help them."
"That's more your area, Mr. Lind. I just translate."
"We both know it was much more complicated than that. Thanks for everything, you did an excellent job!"
"Hey Dave! How did your big night go?" asked Leroy, walking in with a smile his face.
"It went great..."
"What's wrong?"
"Mrs. Walker just finished decoding the message. I recorded it for you..."
"That explains it! The supercomputer kept spitting out the same results you were getting yesterday. It appears that light travels much faster in our own little world."
"What are we going to do, Leroy?"
"The only thing we can do. Share this with the world, and try to find a better solution!"
Six months later the brightest minds on Earth reached a consensus that there was no other way to save the "parent universe" as it was now being referred to. We would have to incept a sort of baby universe with a slightly higher energy than the "real universe" which existed outside of our bubble. It would reach the edge of the bubble in approximately eight million years, saving most of the intelligent species from extinction.
"Mr. President! You aren't actually thinking about going through with this?" asked Prime Minister Remmaz.
"I'm not suggesting that we jump into anything. What I am proposing is that we have a global vote. Each human being will have a say in the future of the entire universe."
"Is this an official motion?"
"Yes."
"I second that!" exclaimed someone from among the sea of faces at the United Nations meeting.
"Rachel! You don't seriously plan to vote yes for blowing up the Earth?!?! This is stupid!"
"I am considering it. Who are we compared to so many lives? And it isn't technically blowing up the Earth. We will be making a whole new little universe which will wipe out the little bubble we are living in."
"I don't care what you want to call it. We won't survive it. The guy on the news said we would be dead in seconds, maybe less."
"I'm not wild about the dying part either, Mitchell. But I want to save all of those people."
"My vote is still no! I want to live."
I thought you hated your life, Mitchell? You are always saying you do."
"Well it's better than the alternative."
Similar conversations were occurring in every corner of the world.
"Good morning, Rachel! What a beautiful day!" beamed Mitchell.
"Where is Mitchell and what have you done with him?" joked Rachel.
"I feel so relieved! I have my entire life to live! Today I gave notice, I'm quitting. I want to see the world while I still can."
Predictably, the human race had voted to save itself at any cost. Surprisingly, many marriage proposals and adoptions and career changes occurred after the votes were tallied. Faced with the possibility of immediate death, people suddenly decided to make the best of every day.
In her modest apartment, Rachel pulled a box out from under her bed. She wearily climbed two flights of stairs to access the roof. Setting up a complicated machine, she sent a message to her ancestor's world.
"Humanity is not ready to join us yet. Humankind is still selfish and petty. Maybe try again in a thousand years. So much potential, but they can't even cooperate with each other reliably."
With a sad heart, Rachel trudged back down the stairs with her box. She decided a chat with Mom was just the thing to cheer her up.
"Hello, this is Mrs. Walker. If you want an interview please call back tomorrow morning."
"Hi mom!"
"Rachel! Sorry honey, I thought you were another reporter."
"I sent the message just like you told me to. I so hoped that I could meet more of our people!"
"You will one day, dear. You are still very young. I have seen many races advance, most do fail the test the first few times. Humanity will get there before you are even two thousand years old, mark my words!"
"I hope you're right Mom, I want to see the universe!" Recalling Mitchell saying almost exactly the same thing, she laughed lightly. "Hey, for now maybe I should quit my job and travel with Mitchell! It sure beats the insurance business!"
"I think that's an excellent idea, dear. You have spent way too much time on that dull routine. Go have some fun, see the many wonders this unique planet has to offer. I know it's the only one you have ever experienced, But trust me. It's also one of the most beautiful!"
This is a 100% power up post
Cover image is original artwork made by me, and edited in Canva