Today to participate in the Weekend-Engagement writing suggestions initiative in its 145th week Link Here, I chose the following proposal:
One piece
Do you have a favorite piece of clothing or pair of shoes? Take a picture and explain why it is your favorite item. You can wear it or just put it on the bed or something, be creative. Of course, you must use your own photos for this post and it must contain at least 250 words.
A T-Shirt is a piece of clothing that allows us to be comfortable either at home or on the street, and many times through its prints are able to convey ideas that are fully visible to others, and more than once serve as a means to interact between people.
It is a practical clothing that can come to represent who we are and how we feel, it is also one of the most representative forms of art and communication all the time and everywhere.
Some time ago my wife traveled to the island of Aruba and brought me some t-shirts that proclaimed my love for rock music. Among my favorite t-shirts are the following: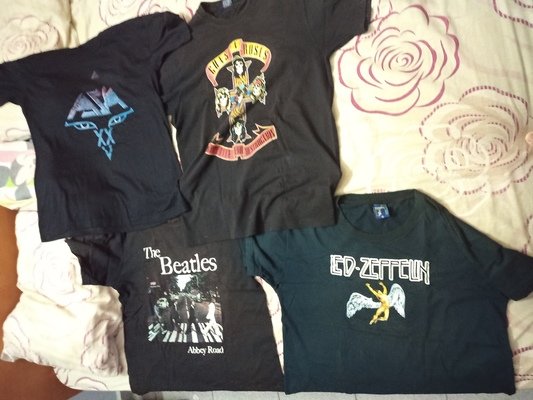 How to choose between Led Zeppelin, Asia, Guns N' Roses, and The Beatles.
My first contact with Led Zeppelin, was as a child, which induced me to listen to more music of this group, being amazed and fascinated with the Heavy and Blues style of this group.
When I see my Asia T-shirt, I remember the progressive rock of Yes, Emerson, Lake & Palmer, U.K, and the New Wave and Synth Pop of The Buggles, groups from which the musicians of this band come from. Besides, it transported me to that concert they performed in Caracas in the year , in which I saw one of the best drummers in the world: Carl Palmer.
Guns N' Roses and their 1987 album Appetite for Destruction revolutionized the rock world, it is a pleasure to listen to guitarist Slash, I remember the Heavy Metal superstar status they acquired and their continuous excesses and scandals.
Psychedelia, Rock, Pop, creation, renovation. That's what I feel when I see my Beatles T-Shirt crossing the Abbey Road, this group is one of the best musical anomalies of the 20th century. For me the music of The Beatles is already classic music, and I started to like them around the middle of the 80's. They are an anomaly because they broke the mould of the 20th century. They are anomalous because they broke the pre-existing molds in music.They were also pioneers with their conceptual album Sgt. Pepper's Lonely Hearts Club Band. For me the best album in this category that exists above Pink Floyd's The Wall.
I have to choose quickly since the cold is doing its thing, it's 6:00 A.M. here in Venezuela. I am undecided, but the choice is between these two T-Shirts: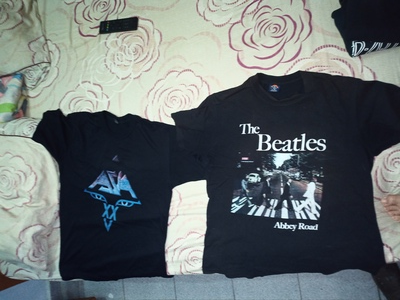 Without much preamble I choose The Beatles as my favorite T-Shirt because it represents the creative freedom, the taste for Rock, the inventiveness, the musical revolution and the legacy and influence they have left in bands like Oasis, and The Electric Light Orchestra.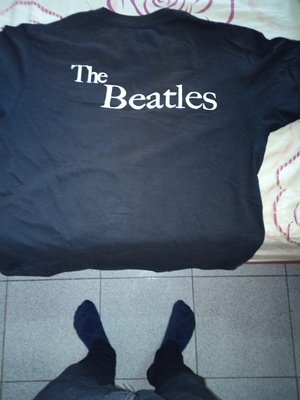 It is a cool 100% cotton T-Shirt, very light and ideal for warm climates, even though its color is black. This color allows the garment to combine with any pants or sport shoes I wear.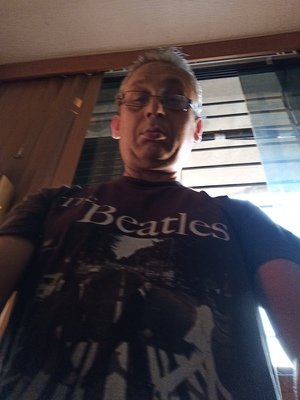 On many occasions I have been asked about my T-Shirt, and whoever asks me I tell them that it was a gift from my wife, and we usually end the conversation talking about something related to The Beatles. Precisely that is the power of a T-Shirt, I manage to connect with other people and to exchange ideas through it. This T-Shirt manages to project my personality.
Also, this T-Shirt for me reflects my wife's understanding of me, she knows my tastes and she surely knows about the feeling of satisfaction I feel when I wear this garment.
A big greeting to all the Weekend Experiences community, I wish you a good weekend, and that you wear the T-Shirt that makes you feel more comfortable.