This publication was also written in SPANISH and PORTUGUESE.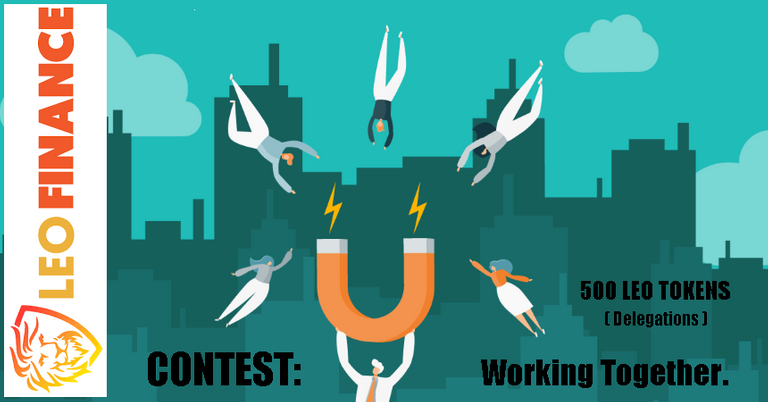 Funnel Overload
I believe that one of the most important aspects in the construction process within a community, is the collective strength that fuels teamwork. Once a project is encouraged by users willing to do their best, the tendency for it to work is very high because there are people committed to making everything happen and that is why they strive to show their potential to conquer their space.
This contest that I'm running is just about that: demonstrating the power that a part of the LeoFinance community has. When I refer to just "a part" of the community I'm not excluding anyone (everyone here is important), but for the contest to work (according to the concept I'm establishing to create this initiative), I need to categorize the user participation.
The reason is quite simple: I want to motivate new users, with LEO POWER delegations to make them more willing to write more posts, and start to become more engaged within the LeoFinance community. The idea behind the contest is to offer a small "push" so that users feel more recognized for what they do and also help with the rewards they can earn with their posts.
If you are reading this post, consider yourself a very participative user, and have a reputation number among 30 and 55, this contest is an opportunity to increase what you can earn (with rewards and engagement) for at least two weeks (which will be the time for which I will lend a part of my LEO TOKENS... yes, this is an idea sponsored only by myself and I hope it inspires other users).
According to the above criteria and answering the following question ("WHY DO I DESERVE TO WIN A DELEGATION IN LEO POWER?"), You will be able to run for one of TWO DELEGATIONS (of 250 LEO TOKENS, each) for a period of 14 days. Answer (right here in this post) that question in the next 7 days, and next March 10 I'll choose and post the winners myself (writing another post to explain what motivated me to choose them).
Once again I say that this contest is not mainly about money (because otherwise I would not really be giving up the earnings that my 500 LEO TOKENS provide me, directly and at the same time indirectly) it is about discovering talents of people able to bring good people content for the LeoFinance community and also about the encouragement and engagement they can provide to other users.
---
CONCURSO LEOFINANCE: Trabajando Juntos. | 500 LEO TOKENS en PREMIOS.
Creo que uno de los aspectos más importantes en el proceso de construcción dentro de una comunidad, es la fuerza colectiva que alimenta el trabajo en equipo. Una vez que un proyecto es impulsado por usuarios dispuestos a dar lo mejor de sí mismos, la tendencia a que funcione es muy alta porque hay personas comprometidas en hacer que todo suceda y por eso se esfuerzan por mostrar su potencial para conquistar su espacio.
Este concurso que estoy organizando es solo eso: demostrar el poder que tiene una parte de la comunidad LeoFinance. Cuando me refiero solo a "una parte" de la comunidad no estoy excluyendo a nadie (todos aquí son importantes), pero para que el concurso funcione (de acuerdo con el concepto que estoy estableciendo para crear esta iniciativa), necesito categorizar la participación del usuario.
La razón es bastante simple: quiero motivar a los usuarios novatos, con delegaciones de LEO POWER para que estén más dispuestos a escribir más publicaciones y comenzar a involucrarse más dentro de la comunidad LeoFinance. La idea detrás del concurso es ofrecer un pequeño "empujón" para que los usuarios se sientan más reconocidos por lo que hacen y también ayudar con las recompensas que pueden ganar con sus publicaciones.
Si estás leyendo esta publicación, considérate un usuario muy participativo y tienes un número de reputación entre 30 y 55, este concurso es una oportunidad para aumentar lo que puedes ganar (con recompensas y compromiso) durante al menos dos semanas (que será el tiempo por el cual prestaré una parte de mis LEO TOKENS... sí, esta es una idea patrocinada solo por mí y espero que inspire a otros usuarios).
De acuerdo con los criterios anteriores y respondiendo a la siguiente pregunta ("¿POR QUÉ MERECO GANAR UNA DELEGACIÓN DE LEO POWER?"), podrás competir por una de las DOS DELEGACIONES (de 250 LEO TOKENS, cada una) por un período de 14 días. Responde (aquí mismo en este post) esa pregunta en los próximos 7 días, y el próximo 10 de Marzo elegiré y daré a conocer a los ganadores yo mismo (escribiendo otro post para explicar qué me motivó a elegirlos).
Una vez más digo que este concurso no se trata principalmente de dinero (porque de lo contrario realmente no estaría renunciando a las ganancias que me brindan mis 500 LEO TOKENS, directa y al mismo tiempo indirectamente) se trata de descubrir talentos de personas capaces de aportar buen contenido para la comunidad LeoFinance y también sobre el estímulo y la participación que pueden brindar a otros usuarios.
---
CONCURSO LEOFINANCE: Trabalhando Juntos. | 500 TOKENS em PRÊMIOS.
Eu acredito que um dos aspectos mais importantes no processo de construção dentro de uma comunidade, é a força coletiva que alimenta o trabalho em equipe. Uma vez que um projeto é incentivado por usuários dispostos a fazerem o seu melhor, a tendência que ele funcione é muito alta porque há pessoas comprometidas a fazerem tudo acontecer e por isso elas se empenham em mostrar o seu potencial para conquistar o seu espaço.
Esse concurso que eu estou promovendo é justamente sobre isso: demonstrar a potência que uma parte da comunidade LeoFinance tem. Quando eu me refiro a apenas "uma parte" da comunidade eu não estou excluindo ninguém (todo mundo aqui é importante), mas para o concurso funcionar (de acordo com o conceito que eu estou estabelecendo para criar essa iniciativa), eu preciso categorizar a participação dos usuários.
O motivo é bastante simples: Eu quero motivar os novos usuários, com delegações em LEO POWER para que eles tenham mais vontade de escrever mais posts, e começarem a se tornar mais engajados dentro da comunidade LeoFinance. A ideia por trás do concurso é oferecer um pequeno "empurrão" para que os usuários se sintam mais reconhecidos pelo que eles fazem e também ajudar nas recompensas que eles podem ganhar com seus posts.
Se você que está lendo esse post, se considera um usuário muito participativo, e tem um número de reputação entre 30 e 55, esse concurso é uma oportunidade de aumentar o que você pode ganhar (com recompensas e engajamento) por pelo menos duas semanas (que será o tempo pelo qual que vou emprestar uma parte dos meus LEO TOKENS... sim, essa é uma ideia patrocinada apenas por mim mesmo e eu espero que inspire outros usuários).
De acordo com os critérios acima e respondendo a seguinte pergunta ("PORQUE EU MEREÇO GANHAR UMA DELEGAÇÃO EM LEO POWER?"), você estará apto para concorrer a uma das DUAS DELEGAÇÕES (de 250 LEO TOKENS, cada) por um período de 14 dias. Responda (neste mesmo post) essa pergunta nos próximos 7 dias, e no próximo dia 10 de Março eu mesmo irei escolher e divulgar os vencedores (escrevendo um outro post para explicar o que me motivou a escolhê-los).
Uma vez mais eu digo que esse concurso não é majoritariamente sobre dinheiro (porque senão eu realmente não estaria abrindo mão dos ganhos que os meus 500 LEO TOKENS me proporcionam, diretamente e ao mesmo tempo indiretamente) é sobre descobrir talentos de pessoas aptas a trazer bons conteúdos para a comunidade LeoFinance e também sobre o incentivo e o engajamento que elas podem proporcionar aos outros usuários.
Posted Using LeoFinance Beta