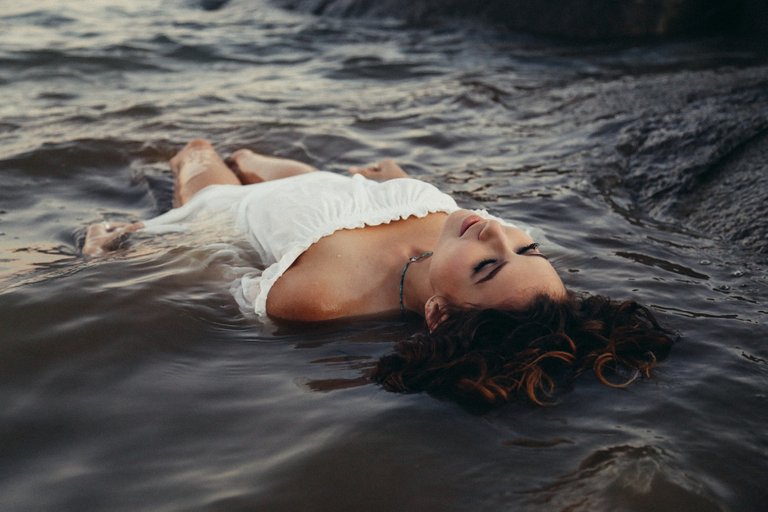 A small white object gleamed in the beautiful Caribbean, the morning sun hitting it as if in hopes of making it even brighter.
"What's that up ahead, Captain?"
"I'm not sure, maybe garbage. Or it might be an albino dolphin. I'll slow down, wouldn't want to hit a sea mammal. And if it's garbage, we can snag it, and dispose of it properly."
As they approached, the captain trained his binoculars on the object. "It's a person!"
He stopped the engines immediately. A small boat was deployed to retrieve her, and she was immediately taken to sick bay.
At the next port, the still unconscious mystery woman was transferred to a hospital.
"Thank you for taking her, Doctor Guthrie."
"You're most welcome, it's what we do, Captain Lundte. How long was she in the water?"
"If I had to guess, not very long. She was floating on her back, unconscious. But her make-up was perfect, and the top part of her was dry, and perfectly clean. I've never seen anything like it... my crew have nicknamed her Mira, because the condition we found her in seemed like a miracle."
"What did she tell you when she woke up?"
"To my knowledge, she hasn't regained consciousness since we found her. The woman had a large medical type bandage on her left leg. Our ship's doctor said the wound looked like an injection."
"Did your doctor run any blood work, Captain?"
"Unfortunately he doesn't have the facilities to run tests, but he did collect a blood sample."
"Ah, good. I'll process that first thing."
"Please keep me posted on her condition, Doctor?"
"Yes, of course. I'm sure she'll be fine, and we'll have her home in no time."
Two days later, Mira awoke.
A man dressed in white stood before her bed. "Hello, my name is Nurse Rick. You're in a hospital, Ma'am."
"How did I get here?" she asked, rubbing her eyes.
"You were found at sea, by a commercial cruise. It's a miracle that your adventure ended so well. In fact, the crew nicknamed you Mira. Now that you're awake, what is your real name, Ma'am?"
Mira's eyes widened, and her face paled. "I don't know. I don't even remember where I came from, or where I belong."
"We did find an indication that you had recently received an injection. The substance isn't something that we've ever seen before, so there's no way of knowing what effects it might have."
The woman looked down at her trembling hands. "Is it... going to kill me?"
"As I said, we don't know what it can do. But your vitals are strong, and you appear to be in fine health."
"I want to know who I am..." she said, her lower lip quivering.
"The police are doing their best. They'll probably figure it out in no time," he reassured her.
Once she was alone again, she dozed off. Then she was in a small dark space, whispering to herself. "We have to get out of here. If we don't, they'll destroy everything that matters... even free will."
The woman felt her way over to another bunk, and shook the still figure under the covers. "Dan! Wake up, they'll be back any minute," she whispered.
Two male voices carried from another room. She froze, and put her ear to the wall.
"Relax Pat, have another beer. We're out in the middle of the Caribbean."
"I still think we should check on them, Nate. This tub doesn't have any locks that can't be unlocked from the inside."
"Where would they go? Rena can't even swim, and Mr. Chivalry there would never leave his fiance behind. Besides, they're both out cold."
"I don't care... I'm checking on them. And while I'm at it, I'm going to tie them up."
"Whatever. I'm having another beer."
She hugged the still figure, feeling strangely calm for what she was about to attempt. "It's now or never. I have to go by myself. If I survive, I'll send help. I promise."
Quietly she slipped out of the cabin, and looked at the millions of stars overhead. The sound of someone rummaging through a storage locker nearby hastened her short trip to the swim platform.
"I can't get a lifejacket without being caught. Please God, let me remember how to float," Rena prayed silently. Remembering the lazy summer days when she used to float in the shallow end of the pool for hours as a child, she carefully backed into the vast ocean.
As the craft streaked by, she saw the name Delilah's Paradise printed on the side. A few minutes later, Rena passed out.
She opened her eyes, and found herself in the hospital. "I remember - and I need to talk to the police now! Hello, anyone?!?!" she shouted. Nobody came, and she remembered that in a hospital there should be a buzzer by her bed. Frantically she pushed the button, over and over.
Within the hour, Rena was gazing up from her bed at a tall man in a dark uniform. After introductions, she quickly gave him an accurate account of her dream.
"Do you know why they wanted you and your fiance?" he asked, after she finished.
"I think it's because we both have influential parents. It would be easy for one or both of us to succeed in politics."
"Then you think they hoped to get a big ransom?"
"Not really, I overheard them talking about mind control. I'm pretty sure they were experimenting on us, and once they were satisfied we would have been released."
He then asked several more questions, before putting his recorder back in his pocket. "Thank you, Ma'am. This helps a lot."
You can call me Rena - or after this experience Mira, if you prefer."
"We'll be in touch when we have any news, Rena."
The following days were both busy and joyful. Rena's parents flew in, and she had a difficult time convincing them to book a hotel room rather than camp out at the hospital.
Less than twenty-four hours later, a cot was rolled into her now private room, and placed behind a curtain for privacy. She raised her eyebrows. "Who is this?" she asked the attendant.
He smiled broadly. "I'm not at liberty to give you that information. But perhaps you can ask the patient when he comes to."
When she was alone, Rena craned her neck, but her view of the cot had been effectively blocked. "Maybe I'll just take a peek."
Rena got to her feet, for the first time since the ordeal began. Shakily she made her way to the curtains, and parted them.
She gasped, then squealed with delight. "Dan! I never thought I would see you again!"
The patient didn't twitch, but several nurses came rushing in.
"What are you doing, Ma'am? Is everything alright?"
Rena looked from the nurses to Dan, then back. Wordlessly she returned to her cot, her face bright red.
A few minutes later Doctor Guthrie came in, followed by someone she had never met. They were both smiling.
The doctor chuckled, and said "I heard that you unwrapped your surprise a bit early, so to speak. I guess it's just as well. Sergeant Coffes here wants to both give you an update, and ask some questions."
The short older man settled himself in a chair. "Ma'am, thanks to your information we have captured five suspects, in addition to rescuing Mr. Mirre. With a little luck - and maybe a few more clues from you and your fiance - we'll get some leads as to the identity of those higher up the food chain."
"Thank you so much for rescuing him. Now what can I do to help you?"
Once she had answered their questions, Rena looked over at the curtain separating her from her fiance, and smiled. "I think this is the start of a very exciting life," she whispered.
---
---
Describe what you see:
I see a sleeping woman floating amongst waves. It looks like she is in a natural body of water. She has a large white bandage on her left leg.
Her dress is clean and white. She's dry except for the parts currently in the water. And her make-up is perfect. She must have been very careful when entering the water.
Describe what you feel:
I feel like she is mysterious. Who can stay so perfectly made up (and dry) after going for a swim?