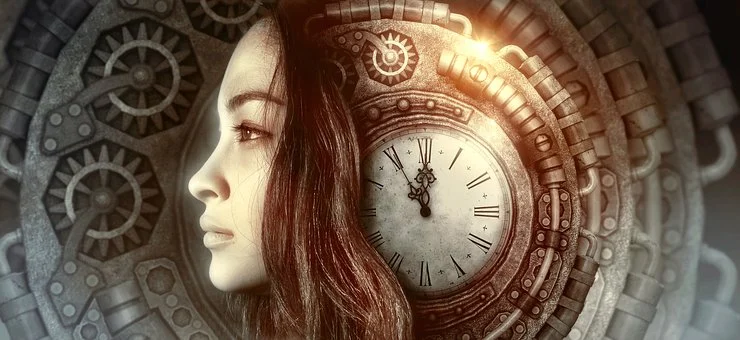 Fuente

DERROTA
Se había preparado para lo peor,
no dejó espina sin rozar; en todas metió sus manos para afilar sus uñas.
También estuvo entre los asideros, buscando qué hacer con sus excusas.
Se le ocurrió que podía fortalecer la mirada,
por eso acudía en las mañanas a recibir el sol
y por las noches practicaba quemando sus sueños
para que no descubrieran sus debilidades.
Se había metido el tiempo en el pecho;
fue duro empujar esos antiguos resortes milenarios
y las agujas inexorables que no paran de coser la vida,
pero ella seleccionó los de las catedrales,
esos relojes bendecidos por el oído de los pobres
que saben que no hay mayor resistencia que la de ellos.
Se había preparado para cuando llegara el momento,
y como se había tragado los relojes
esperaba que un campanazo interno se lo anunciara.
Ahora está ahí, frente al espejo,
ensimismada en su interior
inexorable como las agujas del reloj
vencida por una espera a la que nunca salió a buscar.
---
---

---
---
DEFEAT
He had prepared himself for the worst,
He left no thorn untouched; he dug his hands into all of them to sharpen his nails.
He was also among the useless, looking for what to do with his excuses.
It occurred to him that he could strengthen his gaze,
so he went in the mornings to receive the sun
and in the evenings he practiced burning his dreams
so that his weaknesses would not be discovered.
He had put time in his chest;
it was difficult to push those ancient millenary springs
and the inexorable needles that never cease to sew life,
but he selected those of the cathedrals,
those clocks blessed by the hearing of the poor,
who know that there is no greater resistance than their own.
He had prepared himself for when the time came
and as he had swallowed the clocks
he waited for an inner chime to announce it to him.
Now she is there, in front of the mirror,
absorbed within herself
inexorable as the hands of the clock
defeated by a wait she never went out to look for.


---