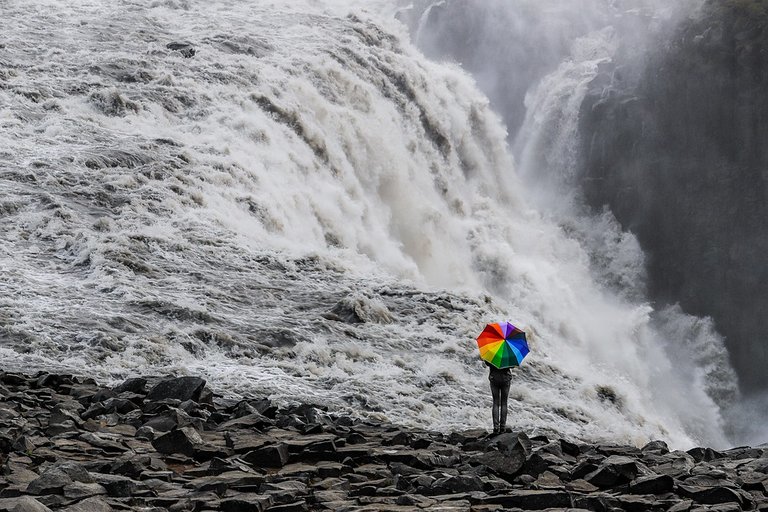 Fuente | Source

Somos arcoíris en la tempestad,
"Llegó el apocalipsis en el momento más hermoso de nuestro amor, luchamos incansablemente y ganamos un pase al cielo. Debo confesar algo que jamás mencioné, soy totalmente culpable de poseer un corazón egoísta que jamás te compartirá ni con la almohada o el abrigo, ni con la brisa o el mar frío.
Fuimos arcoíris en medio de la marea alta, sin importar cuantas personas se interpongan entre tu ser y mi amor te regalo los colores de mi alma. La vida pasa rápido, pero el universo se detiene con solo una caricia tuya. Cuando la lluvia nuble tu visión busca el arcoíris que el sol nos regala antes del atardecer, justo al principio me encontraré esperándote para viajar juntos hasta el fin de su luz.
Estando contigo todo es perfecto, como las olas en el mar, como abeja en su panal. No hay más que desee que nuestros colores perduren por la eternidad, que jamás se tornen gris, nunca te alejes de mí; porque mi piel se eriza solo si estoy junto a ti.
Acompáñame a ver el amanecer, la aurora, el atardecer y a deshora; como se besan aquellos traviesos que desde niños ya se querían con euforia. Quiero que terminemos como ellos que se unieron hasta el final, ninguna tormenta los separó jamás como si el destino ya estuviera hecho para ambos.
Cuando me siento solo, apartado en el rincón lo único que hago es pensar en ti y me pregunto ¿Estará tu alma igual que la mía?, siento tu voz susurrarme a lo lejos y me llena de paz.
Cuando el día se vuelva más oscuro, búscame en los colores de nuestro arcoíris y no dejes de pensarme porque allí estaré yo haciendo lo mismo por ti. Ámame, solo ámame porque jamás te defraudaré ni con el cielo más gris."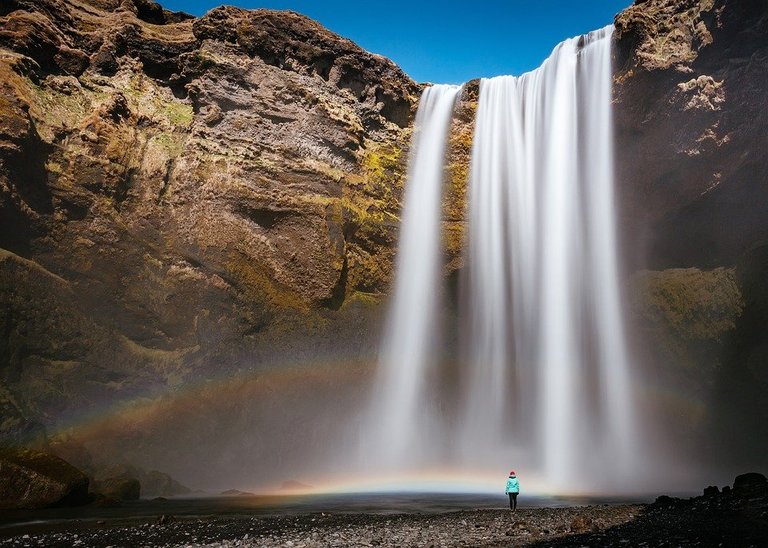 Fuente | Source
We are rainbows in the storm,
"The apocalypse came at the most beautiful moment of our love, we fought tirelessly and won a pass to heaven. I must confess something I never mentioned, I am guilty of possessing a selfish heart that will never share you neither with the pillow or the coat nor with the breeze or the cold sea.
We were rainbows during high tide, no matter how many people stand between your being and my love I give you the colors of my soul. Life goes by fast, but the universe stops with just a caress from you. When the rain clouds your vision look for the rainbow that the sun gives us before sunset, right at the beginning I will find myself waiting for you to travel together until the end of its light.
Being with you everything is perfect, like the waves in the sea, like a bee in its honeycomb. There is nothing more than wishing that our colors last for eternity, that they never turn gray, never go away from me; because my skin will only bristle if I'm with you.
Accompany me to see the dawn, the dawn, the dusk and after hours; as those naughty ones kiss each other, who since they were children already loved each other with euphoria. I want us to end up like them who were united until the end, no storm ever separated them as if destiny was already made for both of them.
When I sit alone, secluded in the corner all I do is think of you and wonder if your soul is the same as mine, I feel your voice whisper to me in the distance and it fills me with peace.
When the day gets darker, look for me in the colors of our rainbow, and don't stop thinking about me because I'll be there doing the same for you. Love me, just love me because I will never let you down even with the grayest sky."

ESPAÑOL
Di siempre todo lo que sientas, no sabemos cuando será la última vez que lo podamos decir. El sentimiento más transformador es el amor, porque cuando amamos perdonamos, cuando amamos regalamos confianza y seguridad, cuando amamos no tenemos espacio para odiar.
Esa frase la usé en un post anterior y es posible que la sigan leyendo por un buen tiempo, amemos como deseamos ser amados y la vida empezará a cambiar para mejor.
Sin importar si ese amor se corresponde o no, entreguémoslo porque de ese modo estamos enviando una energía positiva al universo, una energía capaz de convertir un cielo gris en un hermoso arcoíris.
"Es fácil pintar sobre un lienzo en blanco, por qué no intentas darle esos colores a un cielo gris..."
ENGLISH
Always say everything you feel, we do not know when will be the last time we can say it. The most transforming feeling is love, because when we love we forgive when we love we give confidence and security when we love we have no room to hate.
I used that phrase in a previous post and you can keep reading it for a long time, let's love as we wish to be loved and life will begin to change for the better.
It doesn't matter if that love is reciprocated or not, let's give it because of that way we are sending positive energy to the universe, an energy capable of turning a gray sky into a beautiful rainbow.
"It's easy to paint on a blank canvas. Why don't you try to give those colors to a gray sky?"

Los separadores usados y muchos otros están disponible haciendo clic aquí y su uso es de libre distribución, hay muchos que son realmente geniales se los recomiendo.
The separators used and many others are available by clicking here and their use is free for distribution, there are many that are really cool and I recommend them.

---

Banner made in Canva ||| Banner realizado en Canva