Pokemon or "Pocket Monster" has been among the successful shows and video games in history. Who doesn't know the tiny and cute Pikachu, right?
I am not a Pokemon die-hard fan though I've watched a couple of its episodes when it aired on our local television channel when I was around second or third grade. The Pokemon characters are so cute, I wish they were real. I remember one of my classmates even has a pokeball keychain and most of us would rush to the cafeteria during recess to buy a certain chips because it has free Pokemon stickers. Pokemon was really huge back then, and is still today, actually.
Last week, the ArtPark's challenge was to create our own Pokemon character, "Draw Your Monster, Pokemon-style", and has to be on the same art style as the original.
So, I present to you my own Pokemon character,
CHUBBLEBUM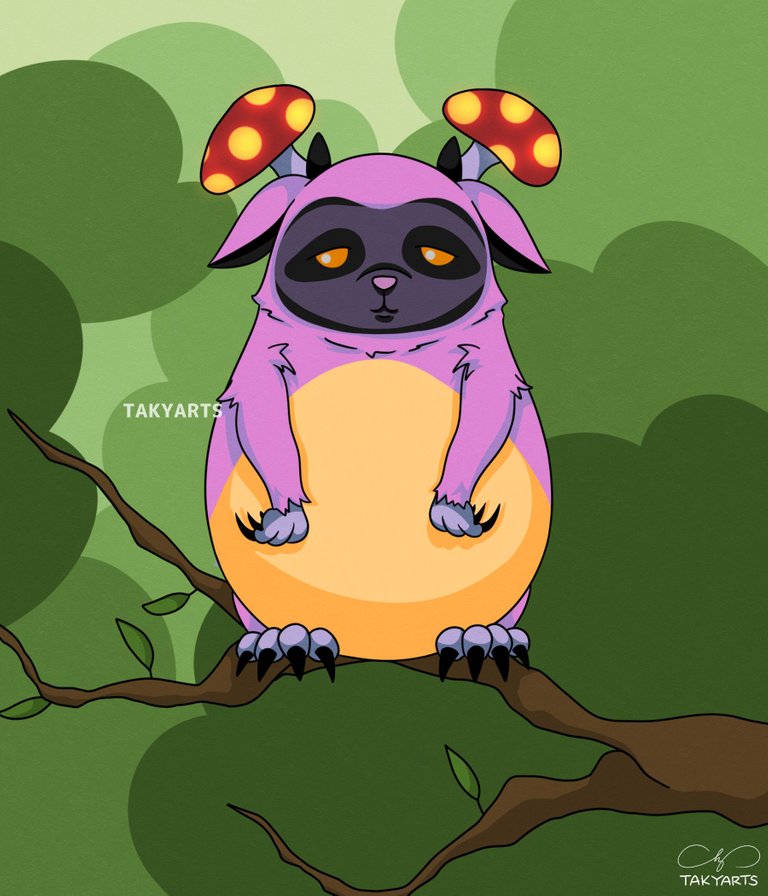 Type: Grass | Fairy
Catchword: Chaba, Chababa, Chabaram, Chabam!!!
Chubblebum is a tiny chubby creature from the deepest area of the Trocalpi Forest. A guardian of the rarest mushrooms in the world though spends most her time sleeping. But that doesn't mean she's slacking! She's very laid-back and naturally sweet, but turns the opposite when commanded by her trainer. She detest taking orders from literally anyone. The most difficult pokemon to train but a shocker when cute baby chooses to fight!
Opponents often see Chubblebum as a weak and useless Pokemon because she moves too slow, but she is not a guardian of the rarest mushrooms for nothing. As someone who prefers peace, she often refuses to go into battles. When left with no choice, she would let her opponents taste a portion of her power.
Her powers in this form are Flash Step, Claw Slash, Death Shred, and Pierce Kick.
The mushrooms on her head starts to glow sending energy concentrating on her hands and feet for strong attack and super speed. She would slash her opponent with her long sharp nails. She can also crawl and climb trees very fast.
Her trump card called Good Night is sedating her opponents when the mushrooms are rang like an alarm by her tiny black horns. Chubblebum expends energy quick and so she can only attack for a short time and gets tired faster when using her trump card. She goes back to sleep to recharge her energy. However, she can regain her energy faster by absorbing the energy of anyone sleeping. (She'd be a great partner for Jigglypuff!)
Chubblebum's Character Inspiration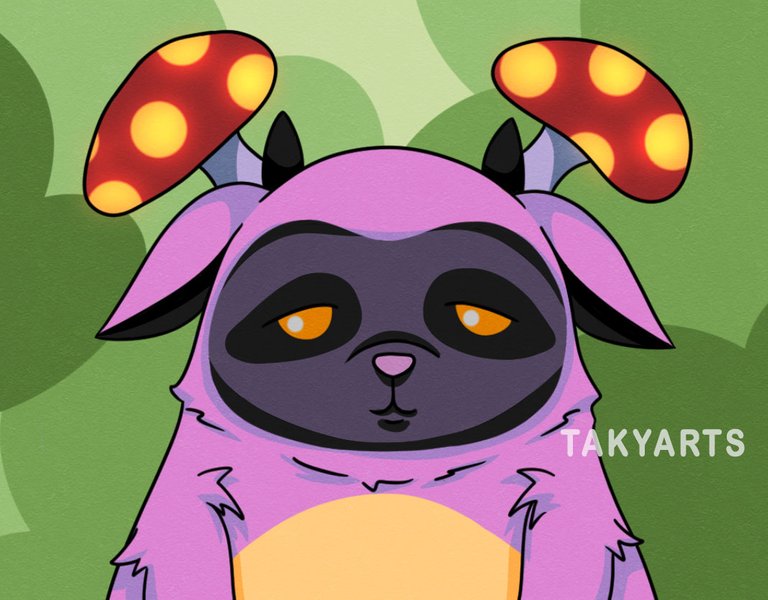 Chubblebum is mainly inspired from a sloth, from her eyes and nails, to her lazy personality. Some of her personalities were also inspired from myself. Lol. I won't tell which ones those are. Since she's lazy, she doesn't move often and so I drew her round and chubby.
This was unintentional, but after I finished drawing Chubblebum, I realized she also slightly looked like a bat too. Probably because of the black horns and her black face.
I know it's too obvious where I got her name. Chubblebum is just a stylized combination of the words "chubby" and "bum". But the "le" can also be a French word which means "the", making her name "the chubby bum".
Drawing Process

One of the few criteria of the challenge was to draw in the same art style as the original Pokemon art so I went with line art and anime style of coloring.
This was also the first time I used my drawing tablet and drawing program after purchasing a separate and larger monitor. The tablet didn't recognized and adjusted to the larger area of the monitor, I tried fixing it the tablet settings although nothing seems to work. I thought the bottom and right side would no longer be used when using the tablet. Good thing I thought of restarting the laptop. That's when the changes I made on the tablet settings took effect. Phew!
Here's the timelapse of drawing Chubblebum. I've also increased my laptop's RAM and now I can export my timelapse in 1080 resolution. Yay!
CHUBBLEBUM, I CHOOSE YOU!!!


Medium: Digital (Intuos Comic)
Program: Clip Studio Paint Debut
Time: Approximately 5.5 Hours
Collage Made on Photoshop CS6
Video Edited on Premiere CS6
---