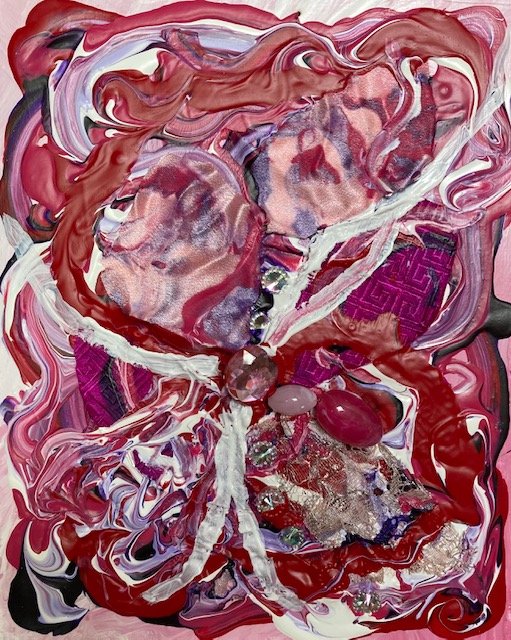 (ENG)
This is my original artwork.
"Song of Flowers"
Mixed Media,22x27.3cm,2022
This painting is from the "Song" series. I called this one "Song of Flowers" because I used mainly red/pink tones.
I think I am finally getting back into the swing of things.
I bought all the painting materials and supplies for today's painting by mail order again; I also use 100 yen stores, but they are not enough.
Today is the Mid-Autumn Moon. It is cloudy here and there is little chance of seeing the moon, so I ate tsukimi dango (dumplings for moon viewing) a while ago.
(JPN)
これは私が創った作品です。
「花のうた」
ミクストメディア、22x27.3cm、2022
この絵は「うた」シリーズです。これは赤・ピンク系を主に使ったので「花のうた」としました。
ようやく調子が戻ってきたかなと思います。
本日絵に使う画材や素材をまた通販で買い集めました。100円ショップも使っていますが、それだけでは物足りないのです。
今日は中秋の名月。こちらは曇っていて月が見られる可能性は低いので、さっき月見団子を食べました。
---
My homepage / 私のホームページ "YADAMANIART" https://ydart.exout.net/
My art shop / 私の絵のお店 "Shop YADAMANIART" https://yadamaniart.com/
詩画集(Japanese Only)
Kindle : https://www.amazon.co.jp/dp/B0B57W925V/
特装版 : https://ydart.thebase.in/items/64252744
YouTubeチャンネル"VIDEO Yadamaniart"
https://www.youtube.com/channel/UCQ9EJG3MDg7T_yJIr3_sOig
My First Album "My Strange World" by Yadamaniart
https://yadamaniart.bandcamp.com/album/my-strange-world