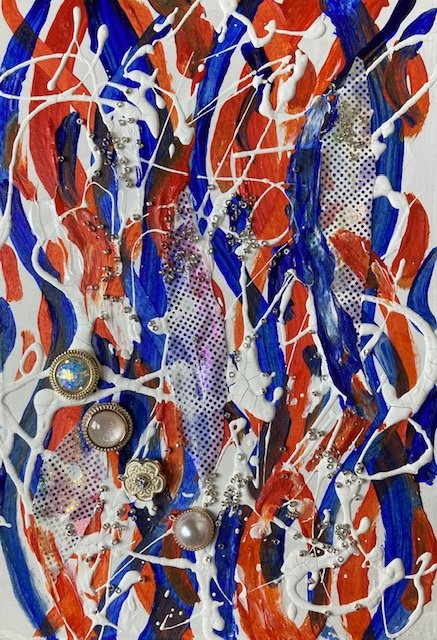 (ENG)
This is my original artwork.
"Popsicle"
Mixed Media,15.8x22.7cm,2022
In summer, I want to eat cold snacks and fruits. I like ice cream and soft-serve ice cream, but when it is this hot, I feel like eating more refreshing sherbet or shaved ice. However, I do not want to aggravate my diabetes, so I eat cut fruits of watermelon or "ICE BOX," a 15 kcal per pack popsicle from Morinaga Seika. I also used more white in this picture to express the coldness.
---
Akiko Yada Solo Exhibition "Echoing Colors and Forms"
Dates: August 30 (Tuesday) - September 4 (Sunday), 2022
10:00-18:00 (last day until 16:00)
Venue: Art Space Kami Sanjo (4 Kami Sanjo-machi, Nara City)
---
(JPN)
これは私が創った作品です。
「氷菓」
ミクストメディア、15.8x22.7cm、2022
夏はやっぱり冷たいお菓子や果物が食べたいです。アイスクリームやソフトクリームも好きですが、こう暑いともっとさっぱりしたシャーベットやかき氷が食べたい気分です。しかし私は糖尿病を悪化させたくないので、すいかのカットフルーツを食べるか、森永製菓から出されている1パック15kcalの氷菓「ICE BOX」を食べています。この絵も白を多めに使って冷たさを表現しました。
---
★矢田明子個展「響き合う色と形」
会期:2022年8月30日(火) - 9月4日(日)
10-18時(最終日は16時まで)
会場:アートスペース上三条(奈良市上三条町4)
---