Hello Hive community,
today I decided to share an old fashion design project of mine. I am studying Industrial Design, so at my university we deal with many projects of different design fields.
---
This project was about fashion design inspired by a famous architect and his work. The architect I chose was Zaha Hadid, a really talented woman who had designed impressive buildings and parks. My project is inspired by her personal design style which I really admire.
---
This my presentation poster for the project: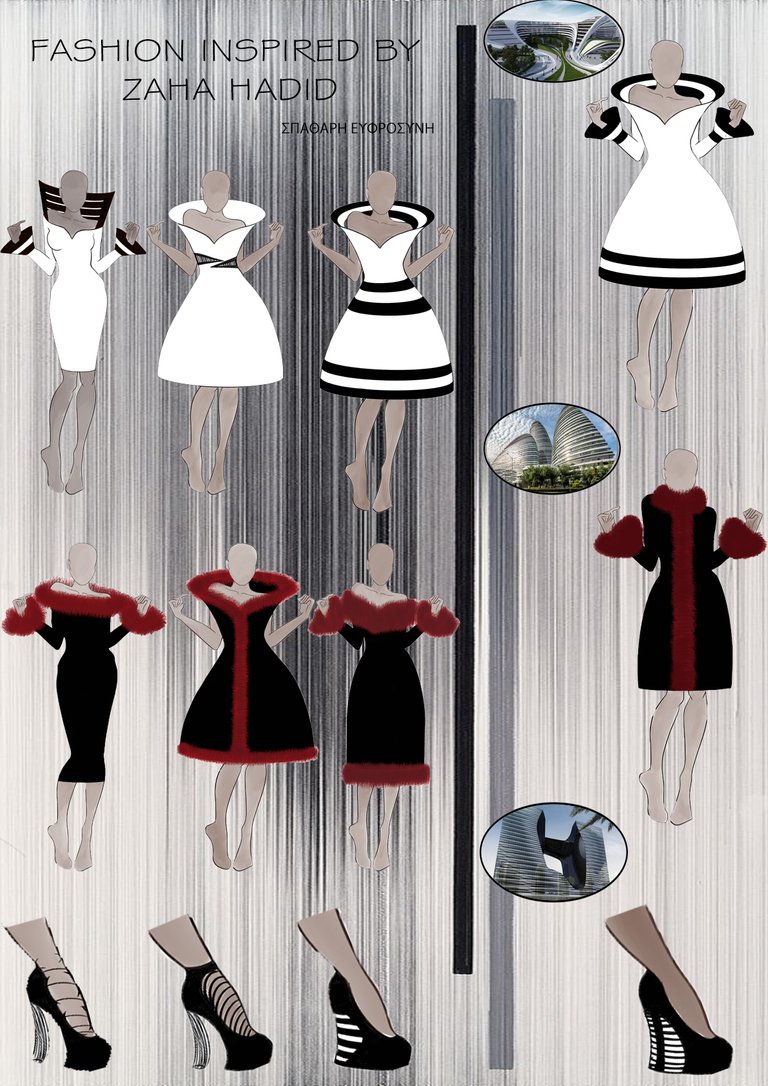 The first concept is inspired by a famous building called Beko which is located at Belgrade. The dress designs are inspired by the unusual curves of the building which flatter the woman's body. The fabric I chose, is called neoprene or scuba fabric which helps the curves and the dress remain creaseless.
---
The second concept is inspired by a building called Galaxy Soho which is located at Beijing, China. The dress designs are also inspired by the curves of the building and also have fair details. Of course the fur I used is faux 100% cause I am against animal abuse and I hate it when people support industries that use real animal fur.
---
The third concept is inspired by a building called Opus Office which is located in Dubai's Burj Khalifa district. The collection of high heels is inspired by the curves and the lines of the building and flattering every woman's feet.
---
I really enjoyed this project although I don't usually design clothes. I would really appreciate if you could let me know whether you like my project.
Thank you for stopping by guys,
see you soon.
Illusivelf