I've been waiting to share these pics and I couldn't wait to do it for #wednesdaywalk! And I thought today was TUESDAY, so I was getting my thoughts collected for tomorrow - but nope... aghhhh
only 2 hours left for Wednesday!
So....I hope that this isn't too rushed hehehehe
ok heeeeeeeeeeeeeeeeere we go! :)
For the Hubs' birthday - and because we all needed to get away! hehehe @biggerjoe @bbqgriffinwings and I went away for the weekend. We headed out to Long Beach and went deep sea fishing! It was a wonderful day (even though I got sick for part of it - bad migraine!!) and the only thing that would have made it better is if our @quirky.countess was there to spend it with us!
We arrived at the landing before 6 am - and the light was so pretty! I decided to get some pics for Wednesday Walk - knowing that I'd be sharing them now! hehehehe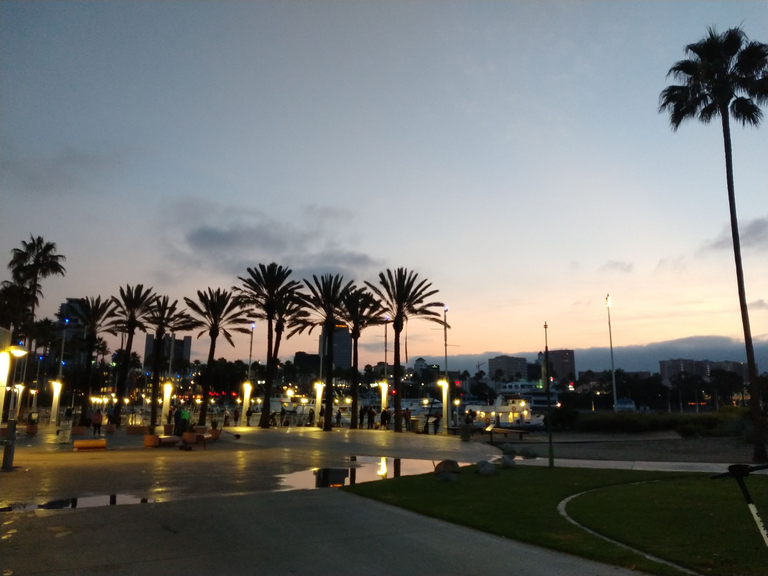 I just love how the lights were so glowy! and the sun is rising and bringing that beautiful painted sky for us! hehehe And seeing the palm trees against the sky is always just so pretty to me! No matter where you are - you KNOW you are in a sunny place when you see those palm trees!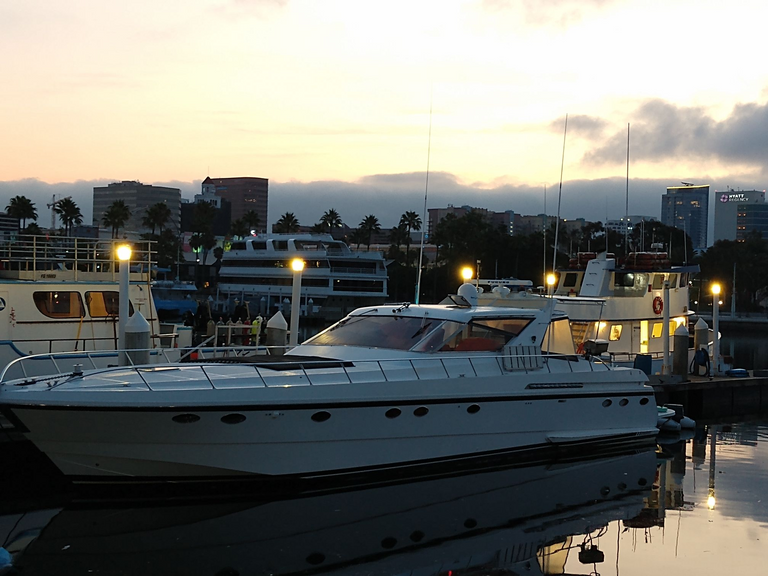 I stopped to take a picture of this amazing yacht (is that a yacht @bluefinstudios ???) and this guy in front of me says "Oh... this is only one of my boats. You should see the others. Here - want to take a picture of me in front of it?" And then he proceeds to BUST UP LAUGHING with me!!! We were both laughing SO hard - hahahahaha it just took me by surprise LOLOL Of course - he was just one of the mere common folk - showing up for a day on the sea - trying to fish! hehehehehe but don't you just love those random conversations that bring a little light into your day!? hehee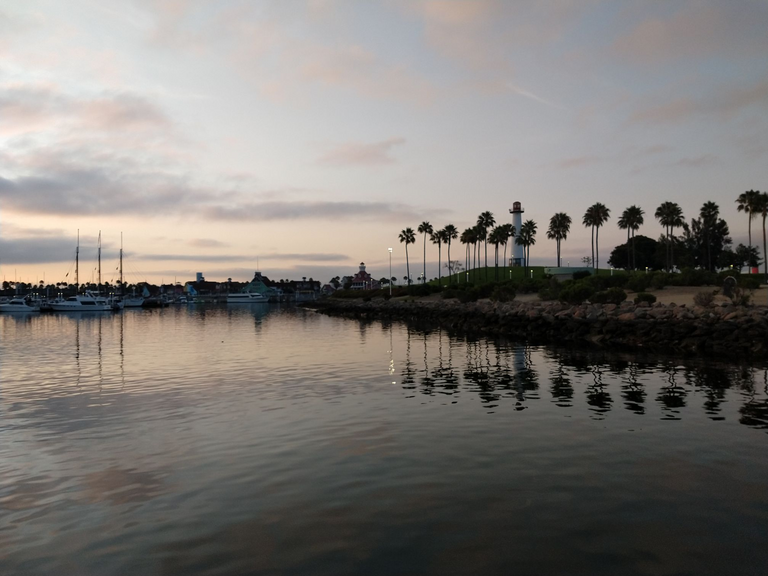 Ilove this picture! Love how the still water reflects those beautiful palm trees like its glass! The sky is pretty above - but doubled in the water its just exquisite!!! :)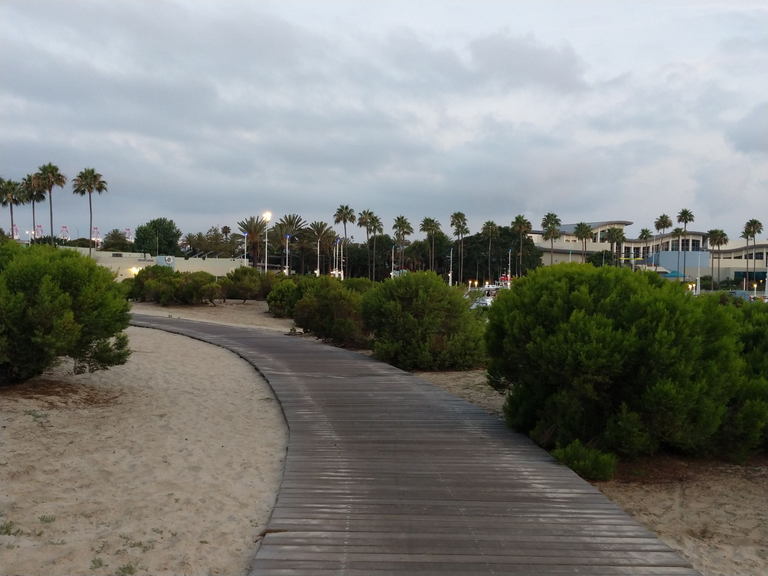 Now it's time to take a walk on the boardwalk here - among the dunes that they were restoring. I'm on a mission to get a good shot of that lighthouse that I saw from the dock! hehehehe Let's see if we can get a nice shot!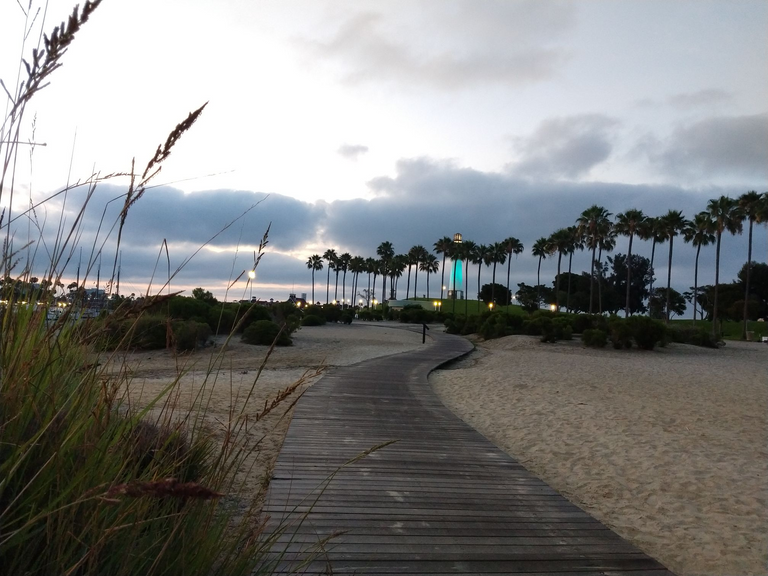 Ahhhh there she is - in the distance! hehehehe See that green light? It's a white lighthouse - but they shine different colored - changing lights on it! I'm so glad we came here at this time - because by the time we boarded the boat just an hour later - the sun was already up too high - and the lights were off! So I got to see the changing colors on the lighthouse! Don't worry - we'll get closer hehehe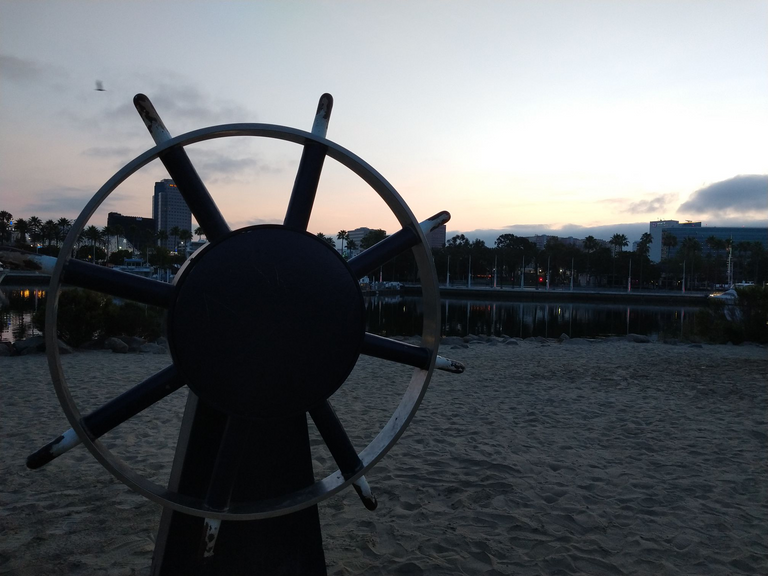 hehehe of course I had to take a picture of this! This reminded me of the good old days of me being a pirate captain! hehehehe wait - what am I saying. Once a pirate captain, ALWAYS a pirate captain! arghhhhhh! :)

Here you can see the different colors showing up better! on the left - a purplish-pink! on the right - a neon blue! so fun! hehehehe
I had a video of it turning colors, but since I'm so late with my post - I won't add it in today! 😔 Maybe another day - but it was pretty cool!! hehehe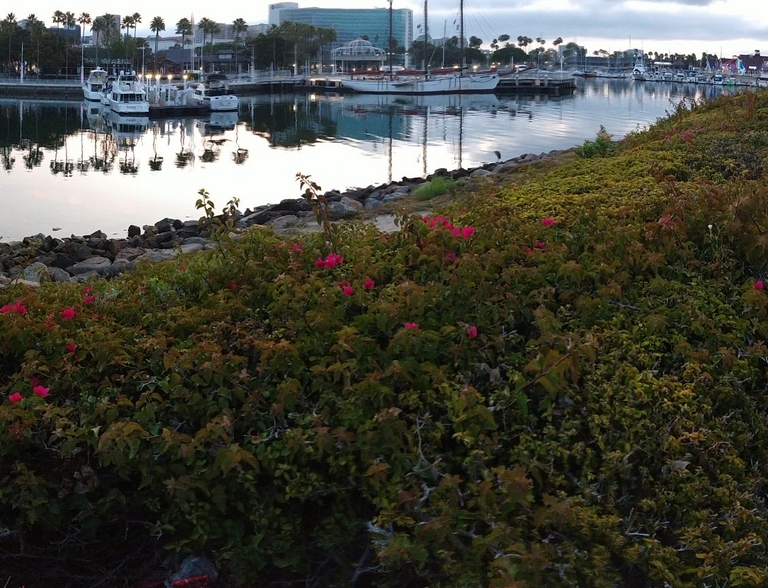 I loved this picture too! You can see all the restoration happening in front of me - and the flowers are blooming and opening for the sunrise. But look at those beautiful boats in the glassy harbor! Doesn't it just look pristine??? Everything was so clean and beautiful all around us. Hubs said that the city gets a bad reputation for not looking so nice - but honestly?? I don't know where they get that idea! Everywhere that we went - it was scrubbed clean and so pretty! loved it!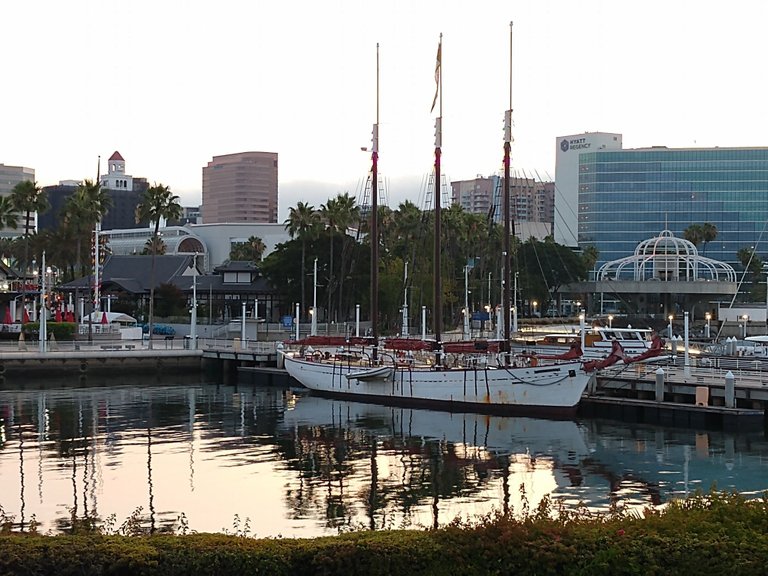 Doesn't this look like a pirate ship??? We actually saw this out on the ocean when we were heading back to the dock! They had no sails up - so I wasn't sure how it was moving hahahaha - I always thought ships like this needed to have their sails up??? But - maybe there is a motor in there too ! hehehehe I just thought it looked so neat! Had to grab a shot :)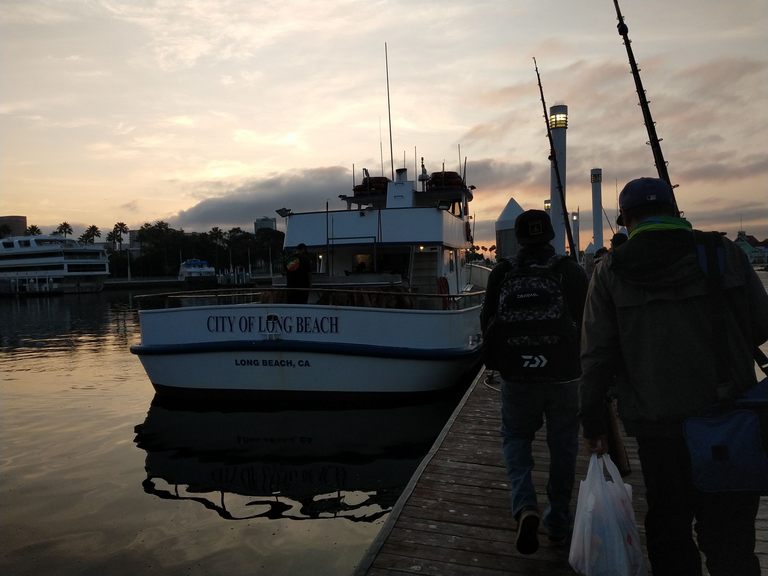 No more time for walking - it was time to board our boat and get ready to catch some fish!!! Everyone was READY!!! :)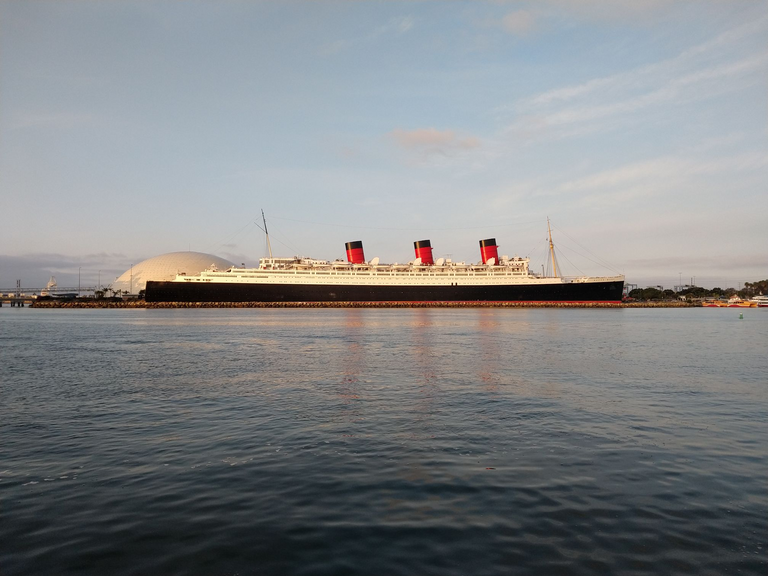 As we pulled out of the harbor - we passed the Queen Mary! Griff says that it's one of the most haunted places in the world hehehehe I don't believe in that stuff - but apparently, one of the rooms there is the central place for all the hauntings! eeeeek hehehehe So for those of you who like that stuff - feel free to go check it out! LOL
Behind it, on the left, you can see the cruise terminal. Isn't that cool??? It looks like a massive silver golf ball! hehehe Kinda like Disney's Epcot Center! :)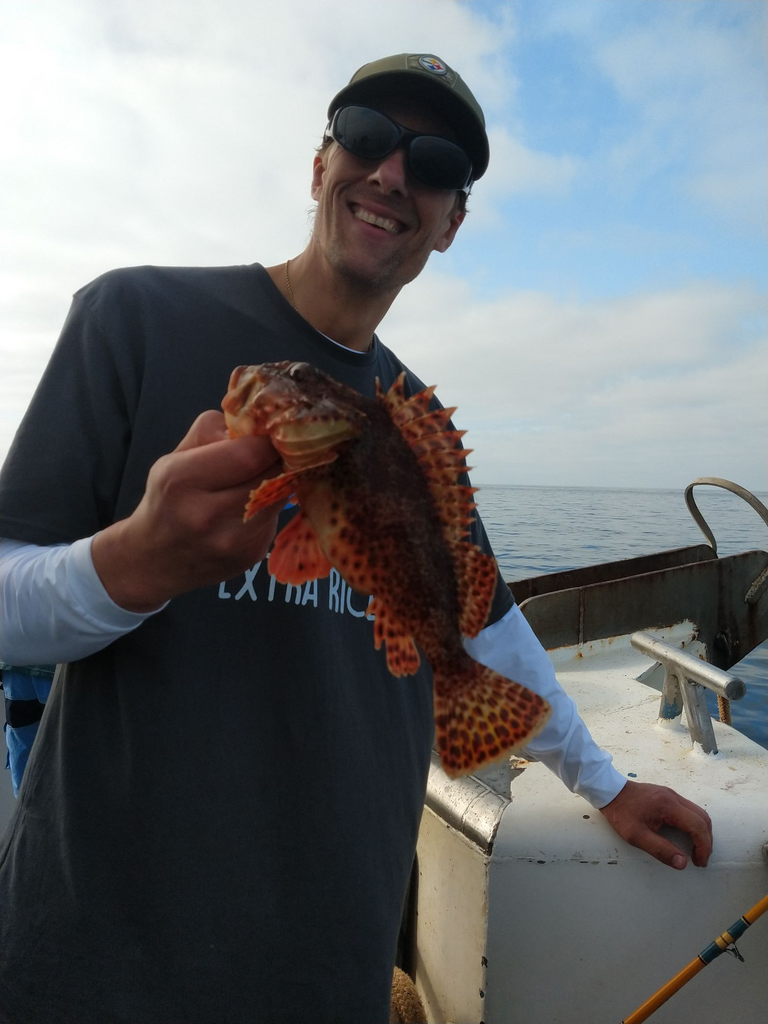 I didn't fish this time - the boys were sad at first, because they know I love to fish! But - I really wasn't feeling very good. And I really think its just as fun to watch them pull in some fishies! (By the way - we ate them last night and they were OH SO TASTY!) HEHEHEHE
Here is the Hubs and Griff - catching some! :) and yes - they are both very tall. and I am very small LOL
Hubs is 6'8' and Griff is 6'2 (or 3) now hehehe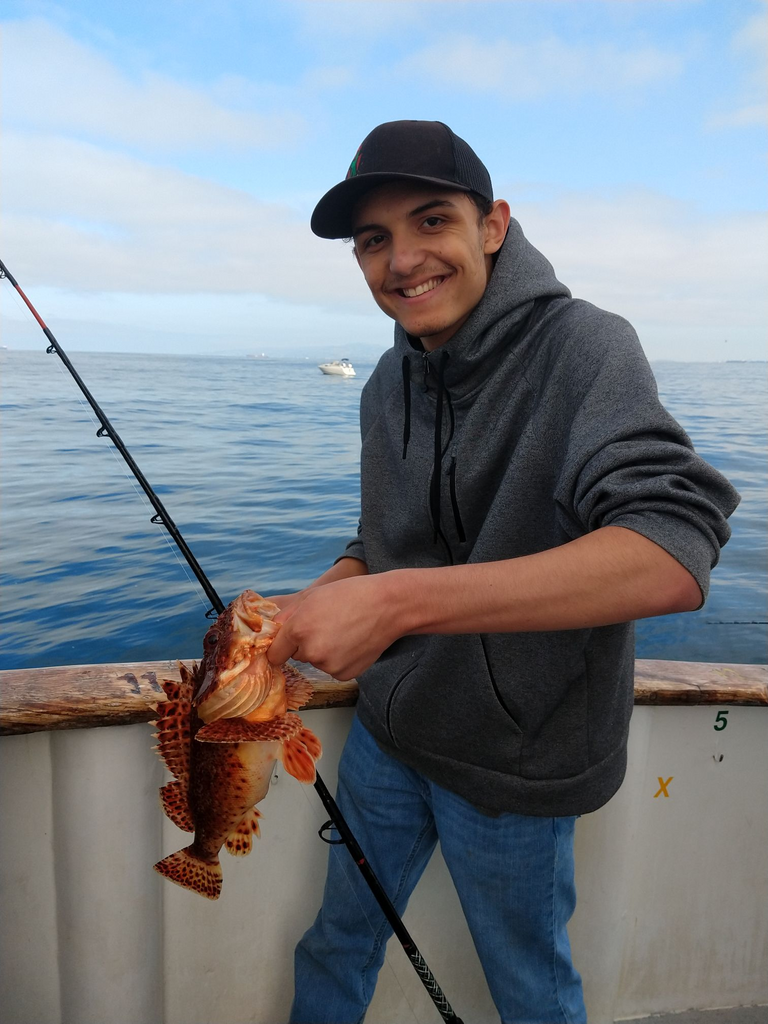 and I don't remember the name of the fish - one was a sculpin - and I think the other was some sort of rockfish?
sorry hahahaha I just eat them :)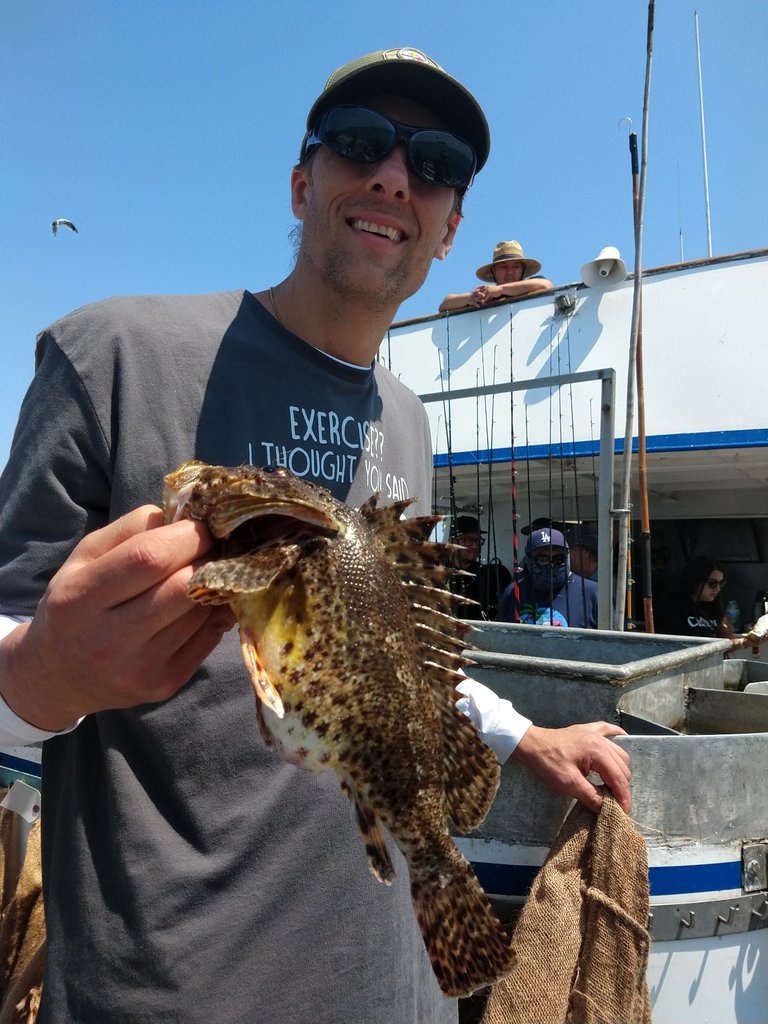 After I watched them for about an hour - my body was just in too much pain. The migraine was bad - but everything else on my body hurt too. This occassionally happens and I know better than to try to fight it. I went inside the boat and laid down for a bit - pretty soon, I was asleep. The rocking of the boat is usually nice, but a few times, I almost fell off the seat hahahahaha I needed a hammock or something LOLOLOL
Finally Griff came inside and said - Mom, can you come out so I can get a picture of all three of us?
Of course I can! I did - and getting up to move around actually felt pretty good. He felt so bad though. He hugged me and said - I'm so sorry you're sick. This was supposed to be a special day for us!
I said - oh honey - it is a special day, I had a really great time!
And then - as SOON as we spoke those words..... My favorites arrived. Playful, diving, jumping, silly, entertaining! I caught them on video - but here are some screenshots. I couldn't stop giggling! Something about my favorites just turn me into a little girl hehehehe
my dolphins!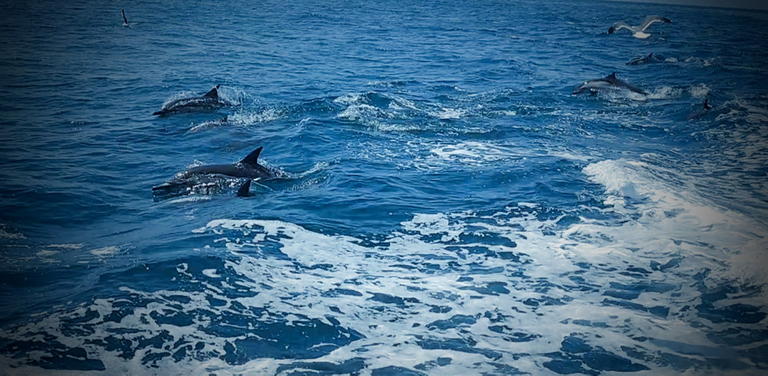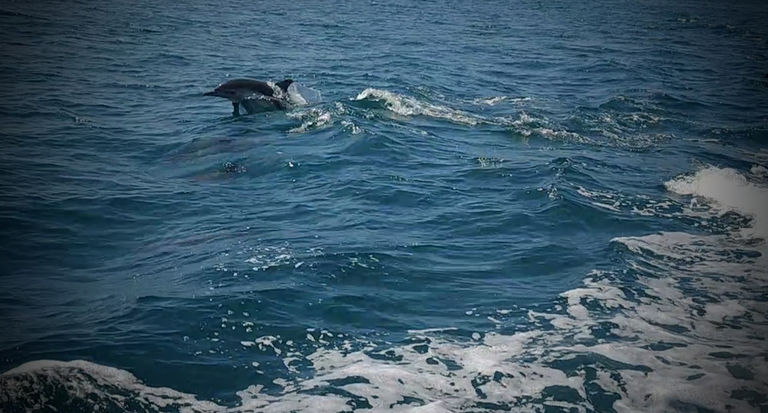 There were SO many of them! The pod was HUGE and they just danced alongside the boat for what felt like an eternity! hehehehe I just LOVE these creatures! They are so beautiful and so intelligent - and SO PLAYFUL!!!! I have gone swimming with them in the past and I got to ride on one - and it was, and always will be, one of my FAVORITE memories!
So... I hope that you enjoyed my wednesday walk - part on land, and part on sea! hahahaha
And i'm SO glad I got this in with only ONE HOUR LEFT of Wednesday! hehehehhe
Thanks all - and hope you have a fabulous week!!!! :)