I've been waiting to use these pictures for a while! Blue is my favorite color. Not one shade of blue -but the captivating spell of the shades of the sea. Or the gradient that glamourizes the sky!
However - I haven't really seen many blue flowers. Not a true blue, really.
(possibly a hyacinth, or a bluebell of course - but that's really it!)
The rest are shades of violet, indigo and purple. And they CAPTURE my heart!
Now these pictures are not all captured on one walk. As a matter of fact, they are various places but have been stored in the "purple place" on my phone! hehehe
We are gonna have a little fun today. I don't know the names of ANY of these flowers. Not one! So... I'm gonna tell you what I call them. And you can giggle along with me! I sure do hope my Andie-girl @andysantics48 is coming along on Wednesday Walk! She always shares the most beautiful photos and I haven't seen her here for 2 weeks! Where are you Andy!?? @frot drag her back here! hahaha
ok... shall we begin? Let's start with our Butterfly garden walk in southwestern Florida!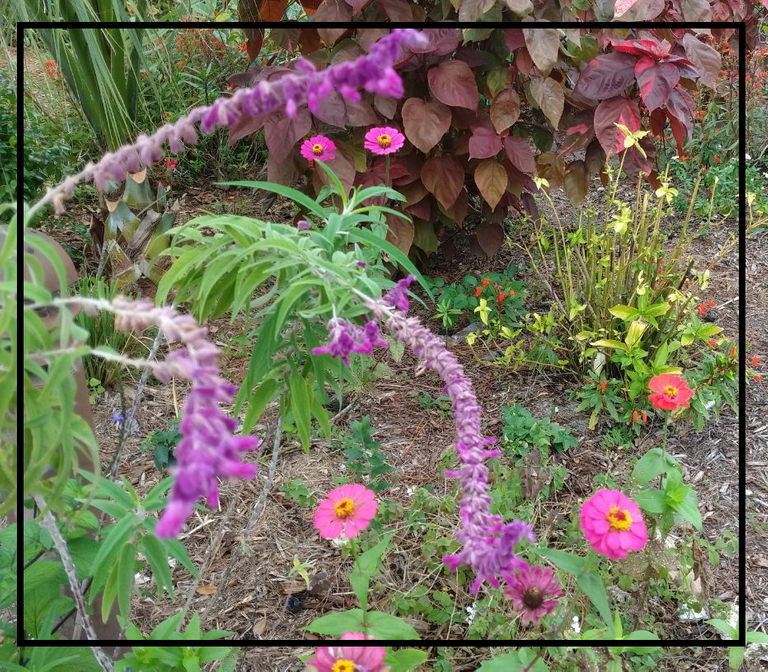 Several purple flowers here! You can see those silly "Bug Eyed Sassies" with the yellow centers! And You can't miss the "Stalkie Walkers" stretching out to reach us. Those are always fun ones!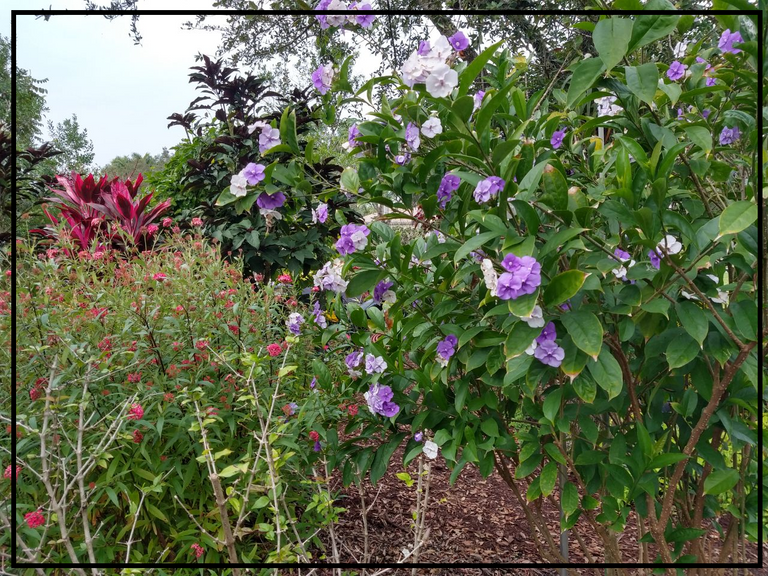 You simply can't miss this lovely bush filled with "Confetti Puffins". Just look how they fill that bush with their happy faces! And you might even say that the reddish purple stalks over on the left might fit the bit for our purple path. But no. Sorry. We need PURPLE purple for all our flowers. That guy should just be happy to grace our photo hehehe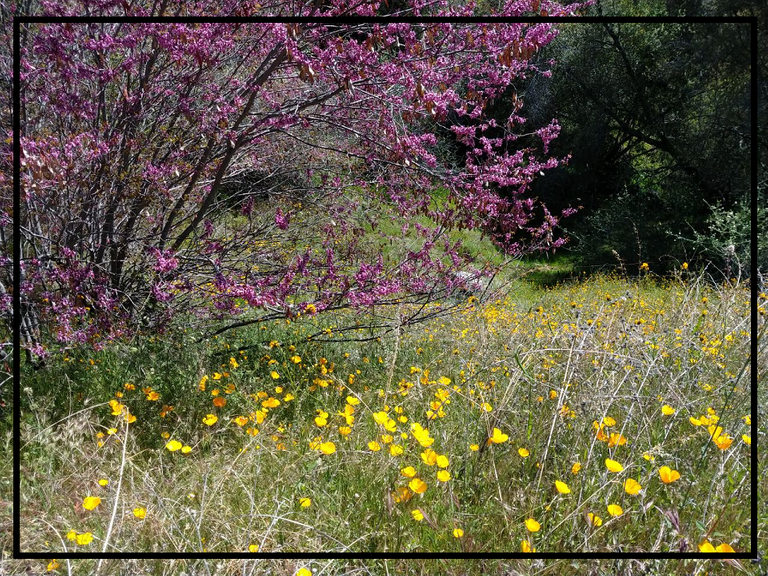 Next we traverse the country back to glorious central Cali- where we wait every single year for these "Prickly Purple Witchies" to dot every hillside with their ravishing beauty. And the only flower I DO know the actual name of is sitting right beside it - our state flower - the poppy! Doesn't that bright sunshiney orange go so well with the purple???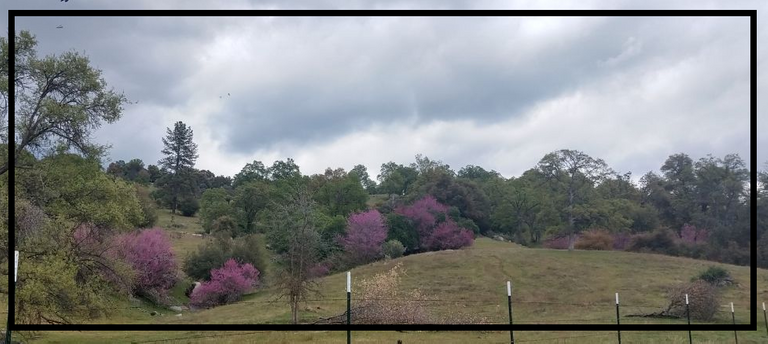 See? What did I tell you? One day, they are all green and sticky looking - and then FLASH! The purple comes out of NOWHERE and its all over the hills. Glorious I tell you!
Heading off the mountain, but going deeper into the Central Valley - I spy a buddy. Can you see him here???? He (or she) is hanging out in the ones that I call "Grapleberry Cluster Bushies". I mean, if you could be with the graple clusters - wouldn't you be?
Did you see him yet? If not... see him in ALL his beauty here - with his wings open. I thought he was a monarch from far away, but then when he opened his wings and I saw that beautiful blue!!! oooooooh! I was thrilled! His name is Clem Jiggles. (sorry its a bit blurry - but it's still worth it, right?)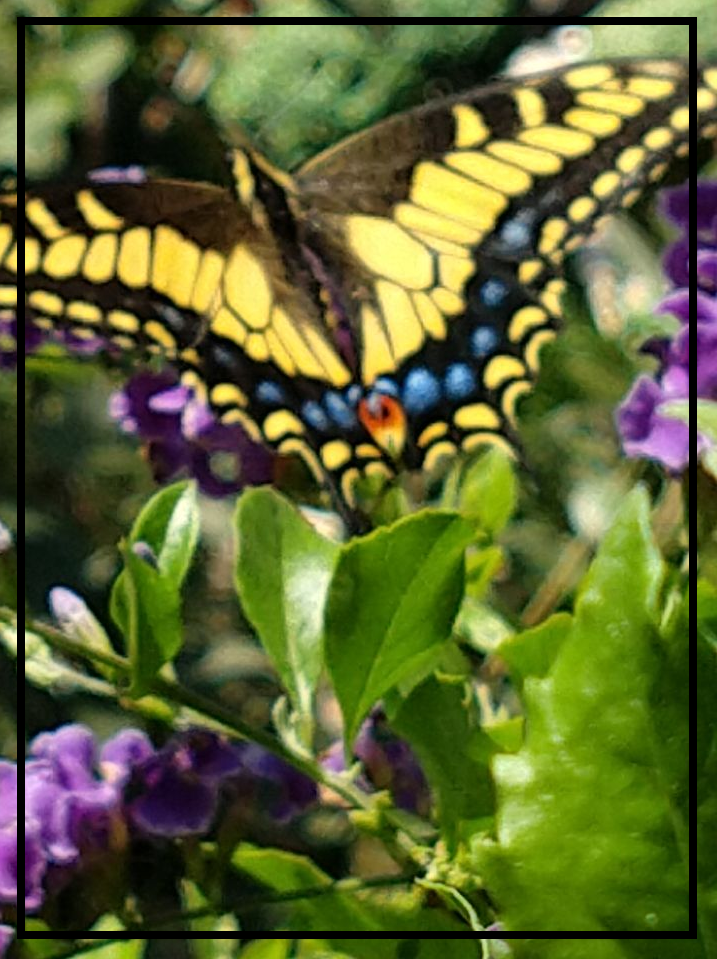 Next we head to the coast, to my favorite little Sanctuary on the rocky shores of Monterey. Maybe you remember my picture of the ocean? Well, here we have the purple flowers that were EVERYWHERE on the trail. So many different kinds. How were they all various varieties of violet???? I do not know. I've never seen so many different kinds of purple flowers in one place before!!! So - enjoy the purple below with me! 😁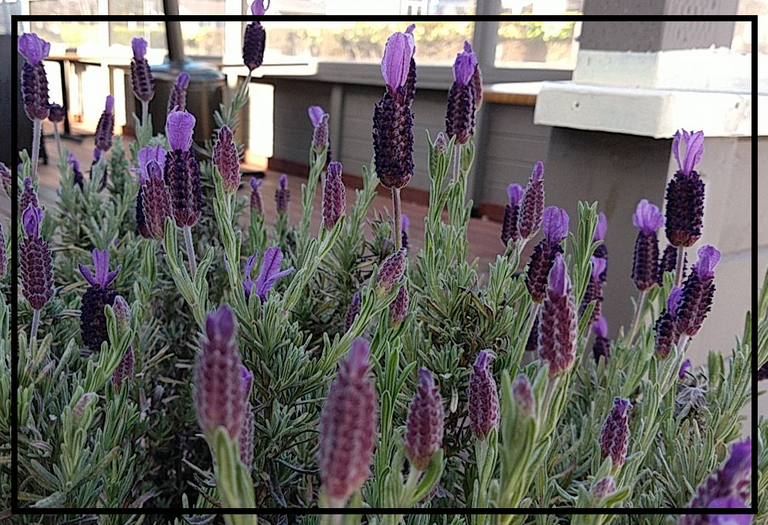 And do you know what those are called above? hmmmm let me think - oh yeah!!! "Hoo-head Pricklebodies" Yep. That's those famous Hoo-head Pricklebodies. Don't they just look like they're here to party?? hahaha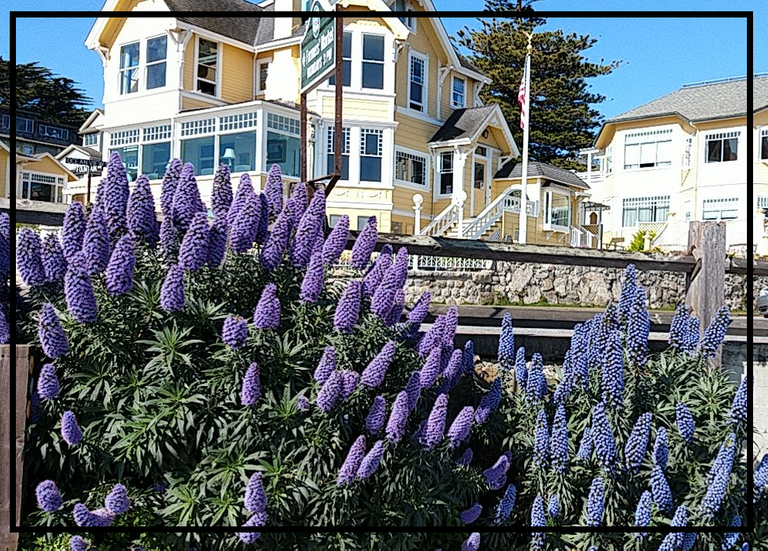 I loved these in front of that pretty Victorian style B&B there. I've always wanted a house with gables and a big wrap around front porch! I don't have one.... so I'll just satisfy myself with a lovely picture! hehe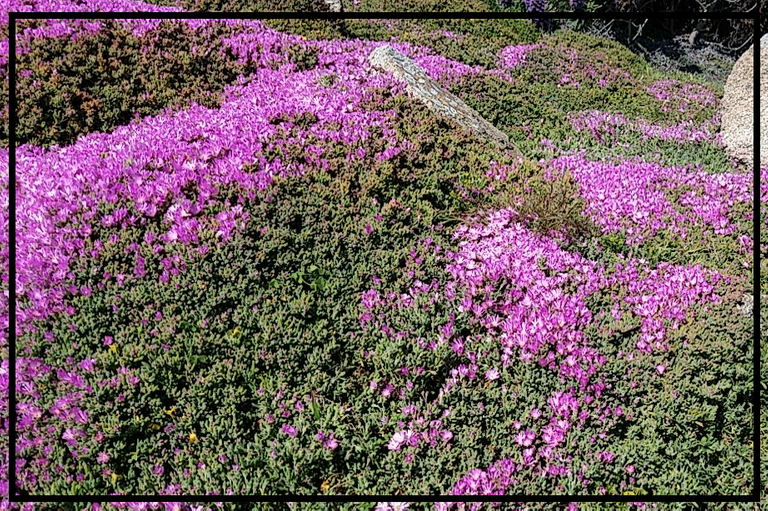 These were all over as ground cover along my walk - and there was SO much of it. We call this - the "Carpet Cushies!" LOLOL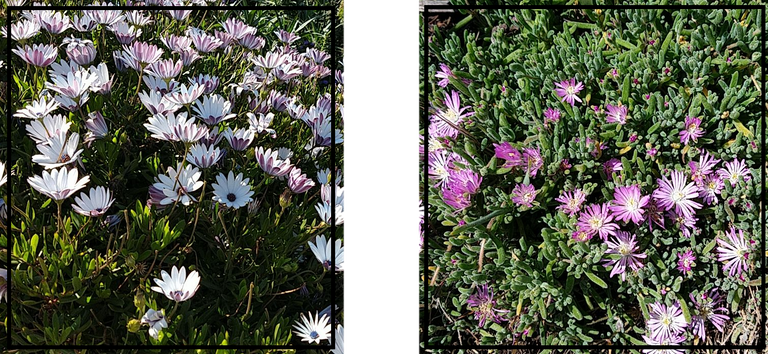 Now these above are similar shape - but they're not the same! The ones on the left are "Pasty Purpy Daisy Lookies" and the ones on the right are "Proper Purpy Spikey Lookies". I can see how you could get them confused, but I'm here to help you out! LOL
I bet you already know the name to these above.
YEP! I knew you knew it!!! "Fuschia Fireballs Cracker Jacker Johnnies"! Because - that's exactly what they look like - sitting up on the cliff, hanging out on the shoreline. hehehe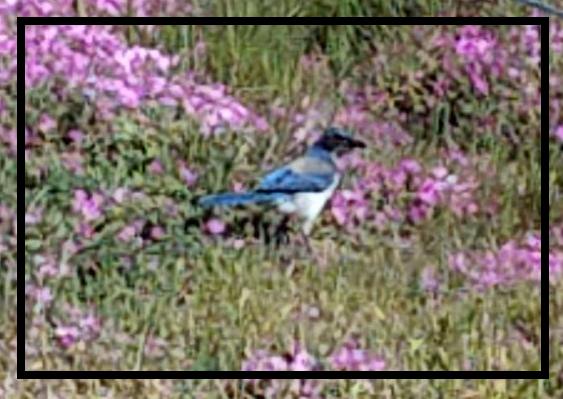 I know its another blurry picture. I tried SO HARD to sneak up on him! But they are just fast and flittery! There was no way I was gonna catch this picture without taking the picture FAST! SO... blurry. but...
he's so cute!!!!
To finish off this set of seductive sultry sinful hues of violet... I actually DO have a picture of a flower that is the closest to blue in this entire set. I call it "True Blue". It's hanging out at the top of the picture - so - do spy it out! This picture was taken outside of our hotel in Fisherman's Wharf, San Fran. The whole display was purple passion - so... I'm happy to finish this set with this one. I truly hope you enjoyed all the purple with me 😁. See you next Wednesday Walk!!!!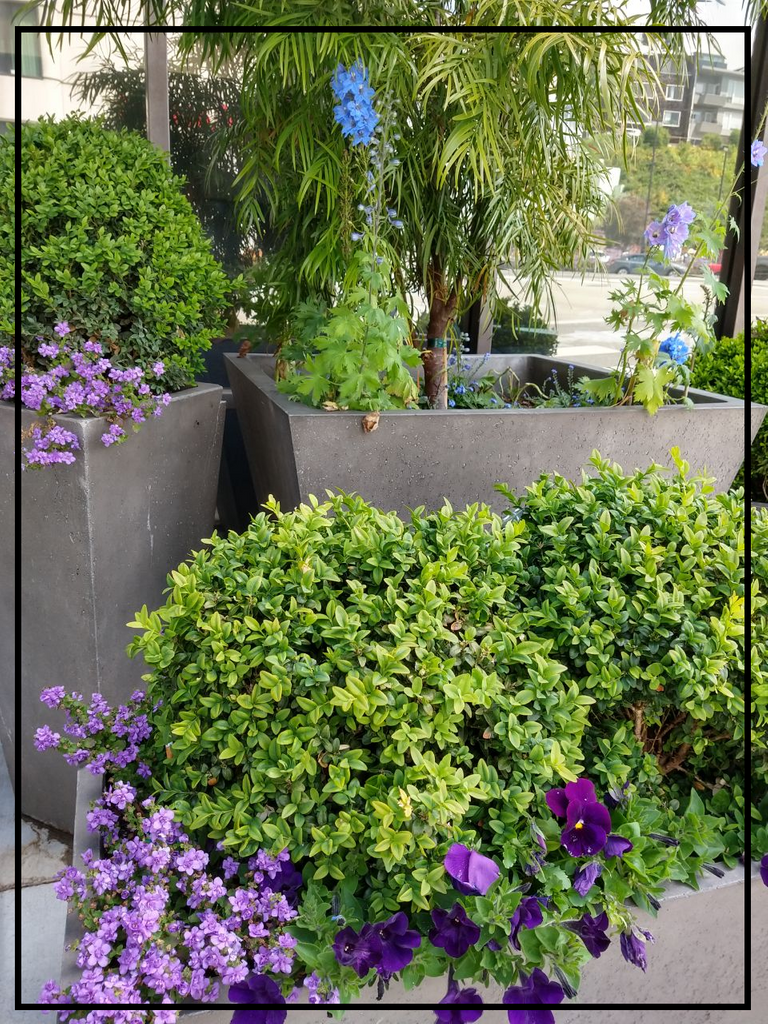 All pictures captured by me