Hello friends.
I'm not a wizard or a magician, I'm just learning to be one.
Wednesday is a day for walking.
New Year celebrations continue in Russia. Today is January 12th. In 2 days it will be the Old New Year.
Today I want to invite you, friends, for a walk in Kochkurovsky Park in Kirov. A few years ago, people fought for this place.. The city administration decided to improve this place a little. and the residents were against it. They were used to the fact that there were a lot of old trees in this place. The park was abandoned and there were small paths that people used to walk along.
One of my friends suggested that I go to this park and take photos. She literally told me - it's very interesting there.
Well. I decided to go to this park.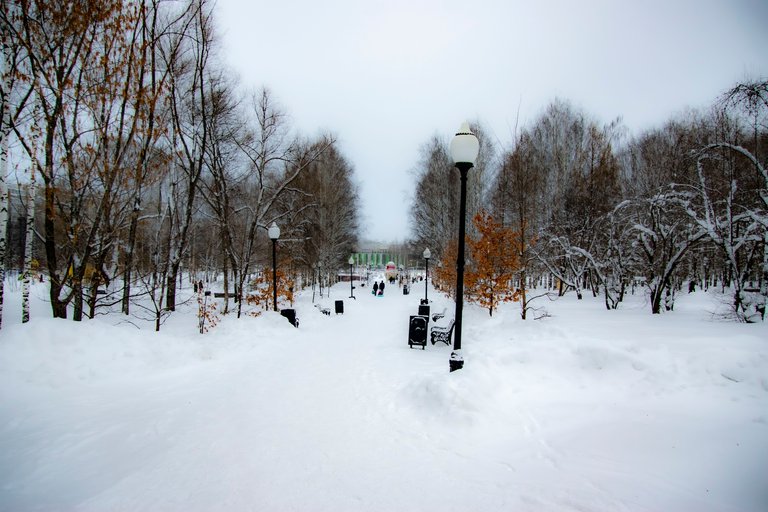 I left the car next to the Bystrica sports complex and headed towards the park. There were children's summer rides under the snow.
There was also a rope park, which stood empty and rested until the summer from the children.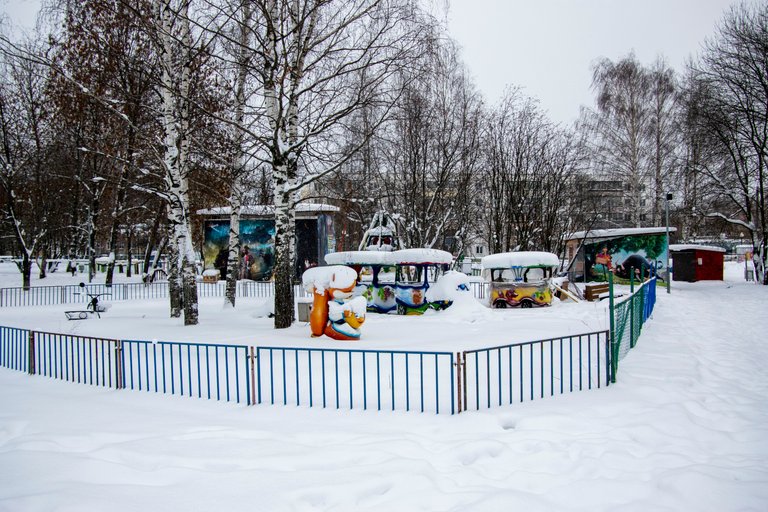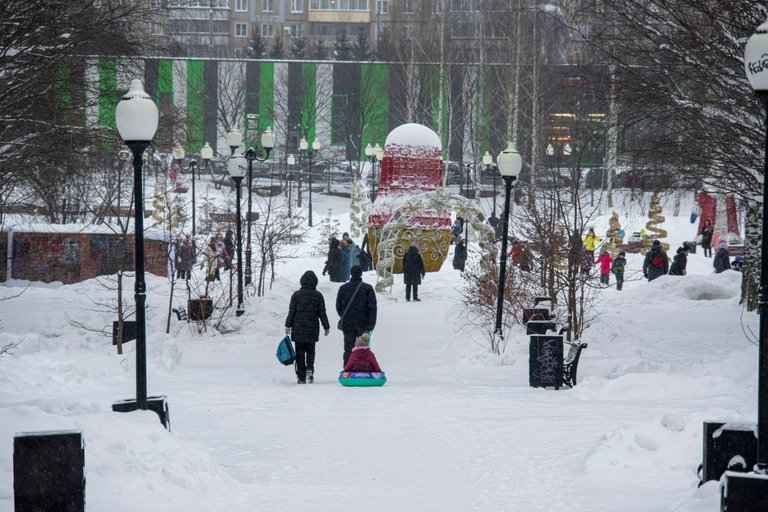 I see a lot of people ahead of me and a big Matryoshka doll! I didn't know what I could see in this park. But I already liked the neat benches, on which, for obvious reasons, no one was sitting. In general, I understand that our benches are not well adapted for sitting on them in winter. It's cold!
And it's good that every bench has a trash can! This is very important in our cities. People will not throw papers right on the streets, in parks, on the ground, and on footpaths.
But I'm going forward.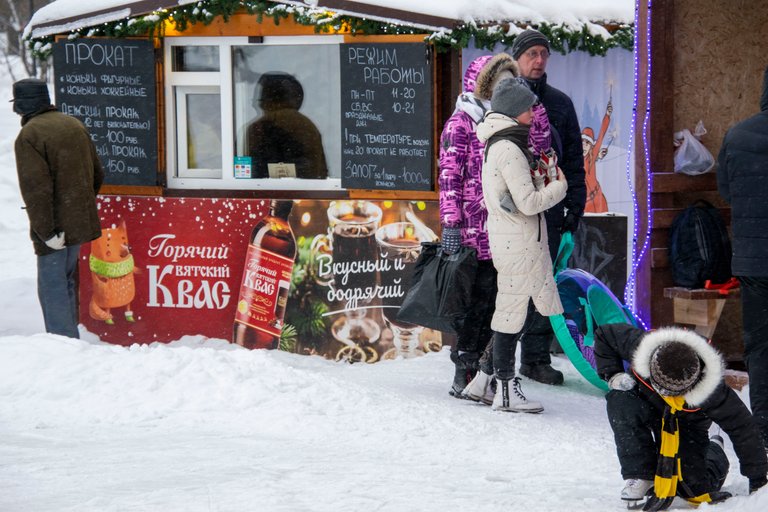 What's it? A small shop with hot drinks and delicious buns?
I was ready to see everything in this park, but not ice skating. It turns out that the paths were covered with people and children and adults went skating on them. Skate rental was also organized here. It was very unexpected for me.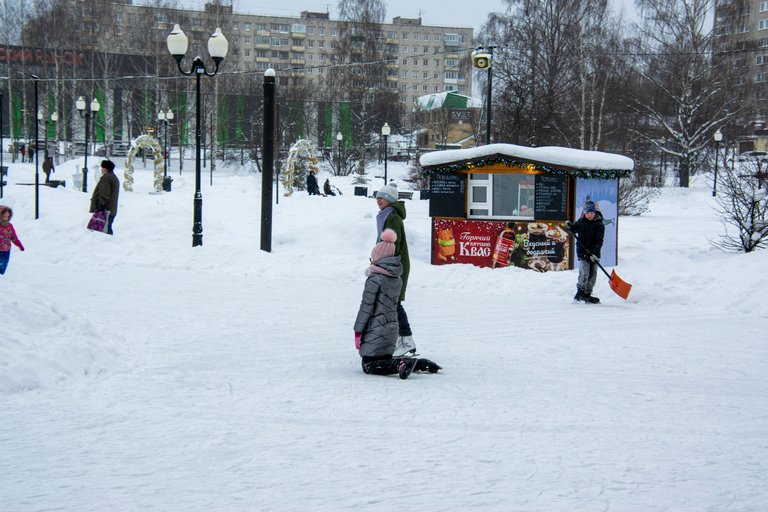 [![20220106_4.jpg][(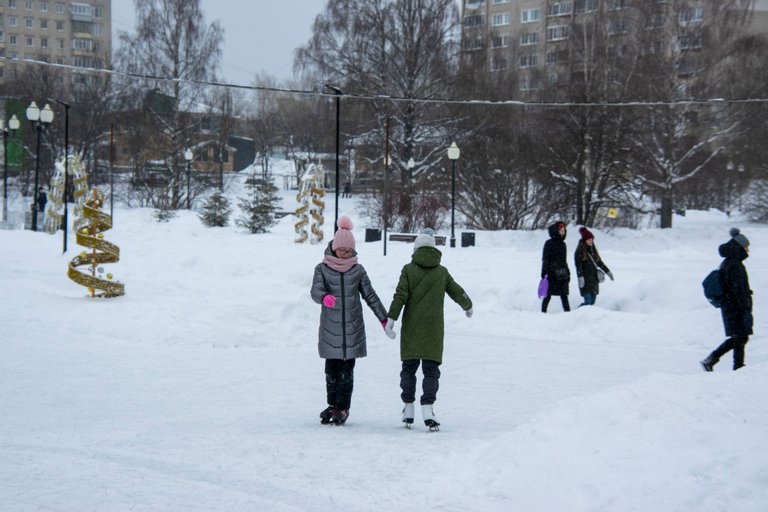 )]][(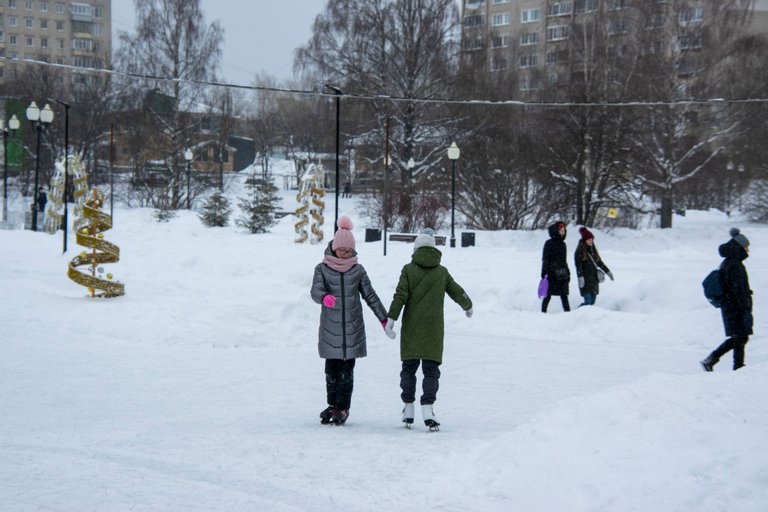 )]
This is quite an interesting format of recreation, skating. But. The ice was not very high quality. It was poorly made and was also covered with snow. But it was clear that the children were very interested. Some children even took shovels and scraped the ice, standing on skates.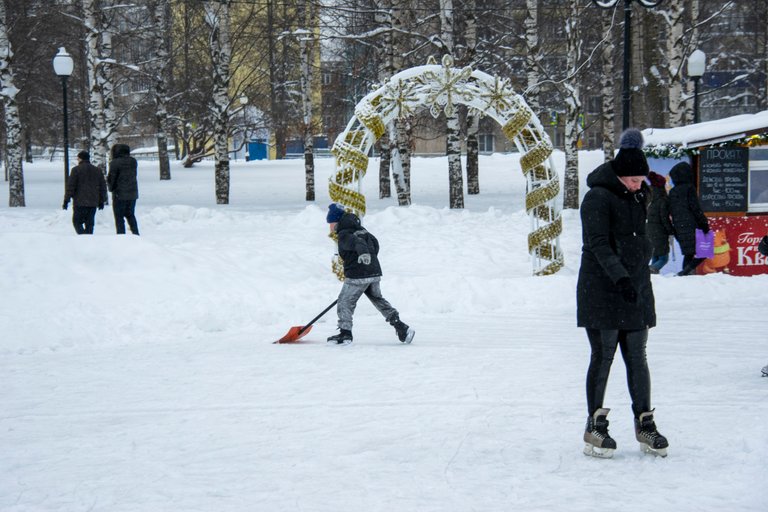 I haven't worn skates on my feet for 100 years. Stop. No. I'm not that old yet. I'm young. But still, I haven't been skating for a very long time. And I think it's not worth trying to do this.
I want to say that tonight on the local TV channel they said that people were injured on this ice in the park. Poor-quality ice is to blame. People fell into holes with snow and fell. They said that there were even fractures of the arms and legs. But I doubt that. Otherwise, this rink could simply be banned!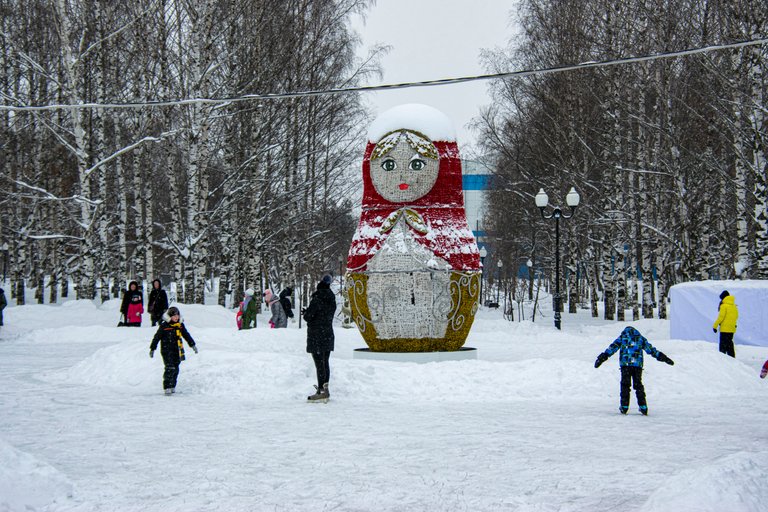 Giant Matryoshka Doll. It should glow in the dark. I think it would be more interesting to walk in this park in the evening with a camera. But I have other plans for the evening.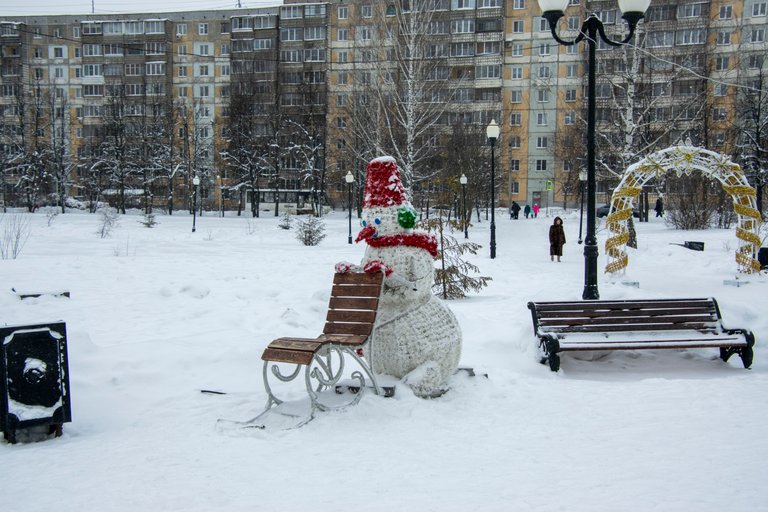 The snowman should also glow in the dark.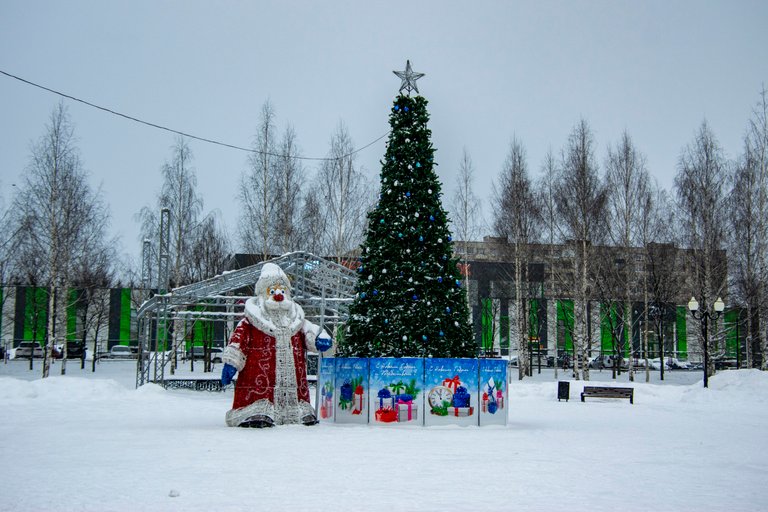 And this is the central composition of the park. Santa Claus and a Christmas tree. Santa Claus is very funny. But the Snow Maiden is not around. Strange! Very strange! She is always with Santa Claus in Russia. Forgot to put, probably. Again there was not enough money.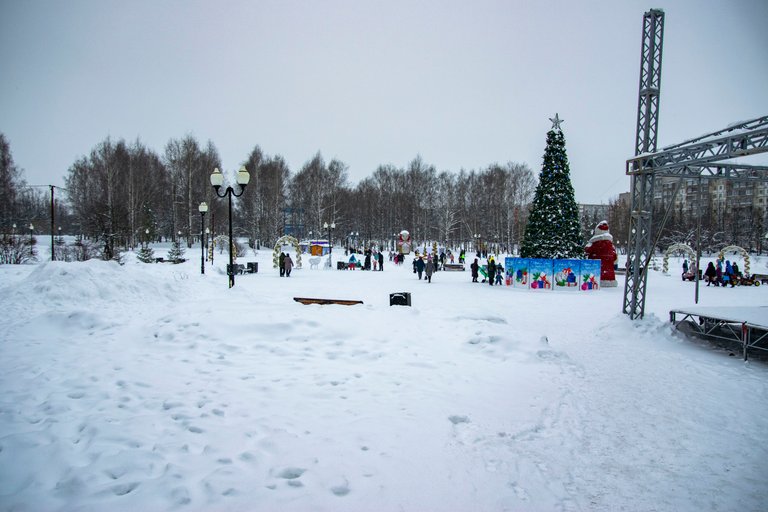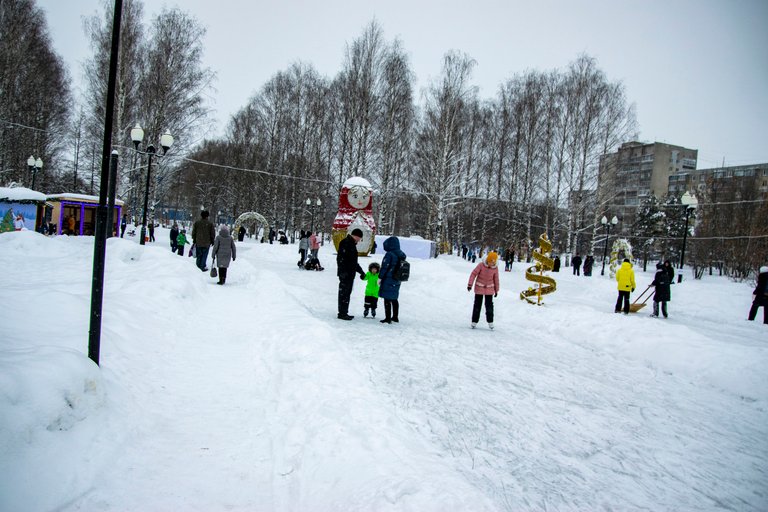 I looked at these children and I envied them. They can have fun so carefree, skate, relax. They are not in a hurry, they are not running to do any urgent work. This is childhood. And many adult uncles and aunts say in vain that now the children are sitting at home and do not go for a walk outside. Here they are our children!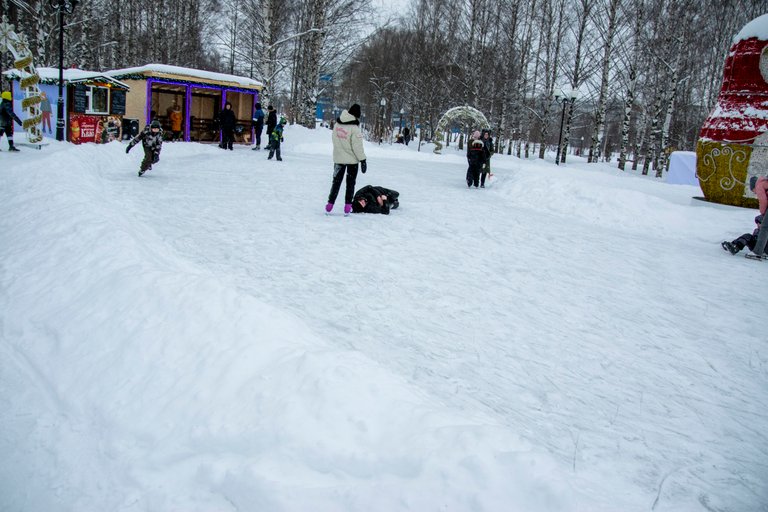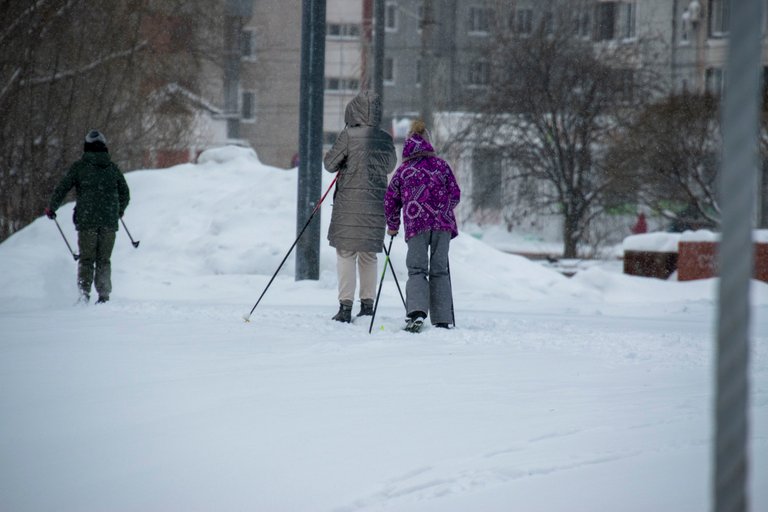 A ski track is made around the park. But I didn't get involved in photographing skiers. They were some strange skiers. There were a lot of them. Young girls and boys, but they were wearing warm jackets. Some people put hoods on their heads. It seems that they were forced to ride these skis. When I was a schoolboy, we were not allowed to ski while wearing warm jackets. I had to run and get warm so that it was warm.


Perhaps my walk has come to an end. Did you like her, friends?


---
I give 5% of the reward to @archon, and he thanks me for it. Do you do it?
I give 5% of the reward to @hive-166168, and he thanks me for it. Do you do it?
---
I wish everyone happiness for life and good luck for every day.!