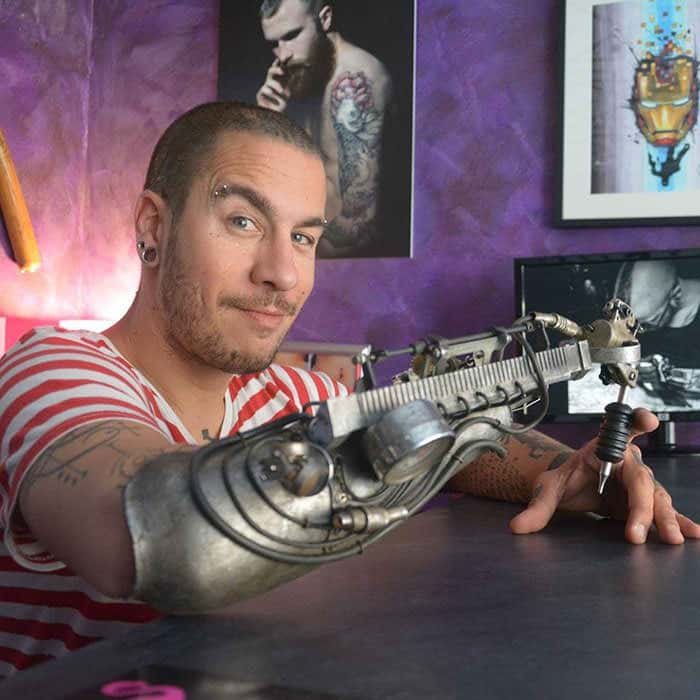 J. C Sheitan Tenet showing off his prosthetic arm
I came across the fascinating story of an artist named J. C Sheitan Tenet while surfing the Internet some days ago. I was amazed by his determination to pursue his dream of becoming an artist despite his disability. He won my admiration for his commitment to realising his goal.
Who is J. C Sheitan Tenet? J. C Sheitan is a tattoo artist who lives in Lyon, France, and lost his dominant arm at a tender age. He lost his right dominant arm over two decades ago and did not disclose the cause of the incident. Instead, he chose to focus his energy on achieving his goal of becoming an artist. The loss of his right arm compelled him to learn how to draw with his weaker left hand. This period was challenging for Tenet as he had to become proficient in drawing with his less dominant arm. After much practice, he mastered the skill and proceeded to acquire more training to become a professional artist. He encountered another hurdle on his journey. His applications for placement as an apprentice with several artists were turned down because of his disability. However, he did not let these feedbacks deter him from seeking further training. He persisted and eventually got a position as an apprentice. His quest to become an artist was still on course!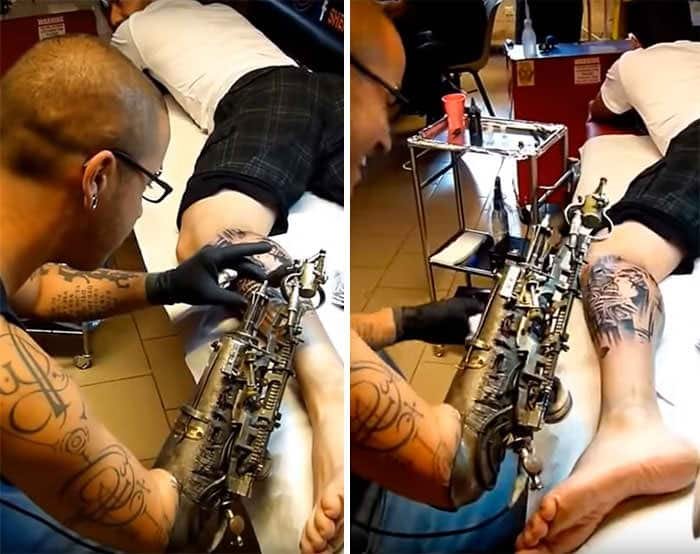 Tenet drawing a tattoo with his prosthetic arm for a client
At the end of his apprenticeship, Tenet chose to specialise as a tattoo artist. He drew tattoos in the early stages of his career with his left hand but also wanted to do the same with his amputated arm. He mused about how to accomplish this goal. Fortunately for him, he met Jean Louis Gonzales an artist-engineer who is also known as Gonzal, and revealed his plan to him. The duo worked together to make Tenet's goal a reality. The outcome of their work was a prosthetic arm that is equipped with a tattoo machine. This prosthetic creation made it possible for Tenet to draw tattoos with his amputated arm and go on to become the first artist to use such a tool. Tenet received commendations for this feat from all and sundry, especially from members of the tattoo community.
Remarkably, Tenet achieved his goals despite the odds being against him. His journey to become an artist validates the adage that says "where there is a will, there is a way". His story demonstrates how potent human willpower can become and the influences it can have on the direction of our lives. His story is also made up of valuable lessons and insights on how to perceive adversity and work toward gratification. Tenet's story also revealed the importance of persistence, hard work, and the rewards they offer. Anyone can get inspiration and encouragement from this fascinating story of how willpower triumphed over adversity in unfavourable circumstances. J. C Sheitan Tenet's achievements are a reminder that we deserve to pursue our dreams and happiness and have what it takes to leap over hurdles that we encounter on the way.
---
Thanks for reading,
Have a splendid day folks.
---
all image source added in caption and post inspiration was gotten from here