We went to the woods, yesterday.
A little more specifically, we went up into the mountains of the Olympic Peninsula, up to the parts that are so far removed from everything that there are only some rather sketchy Forest Service roads to drive on.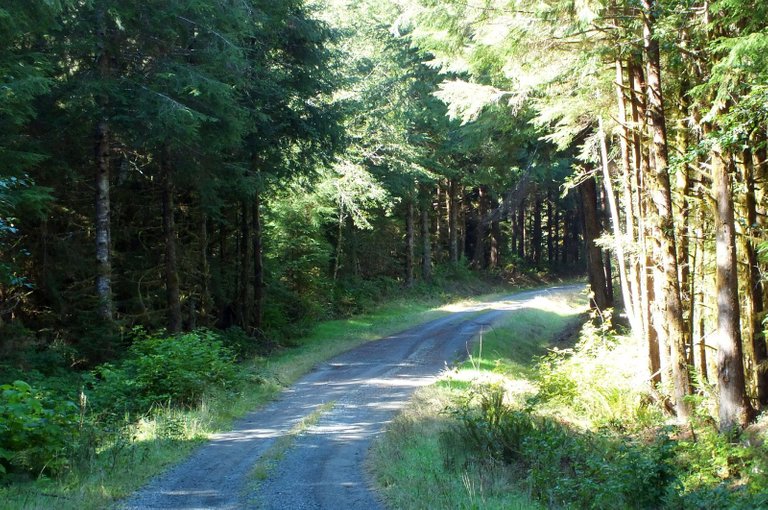 One of the BETTER pieces of road through the forest...
Thankfully, our friend has an SUV with pretty robust 4-wheel drive an good ground clearance.
Since we are at the end of summer (the dry season) it was not too muddy out there.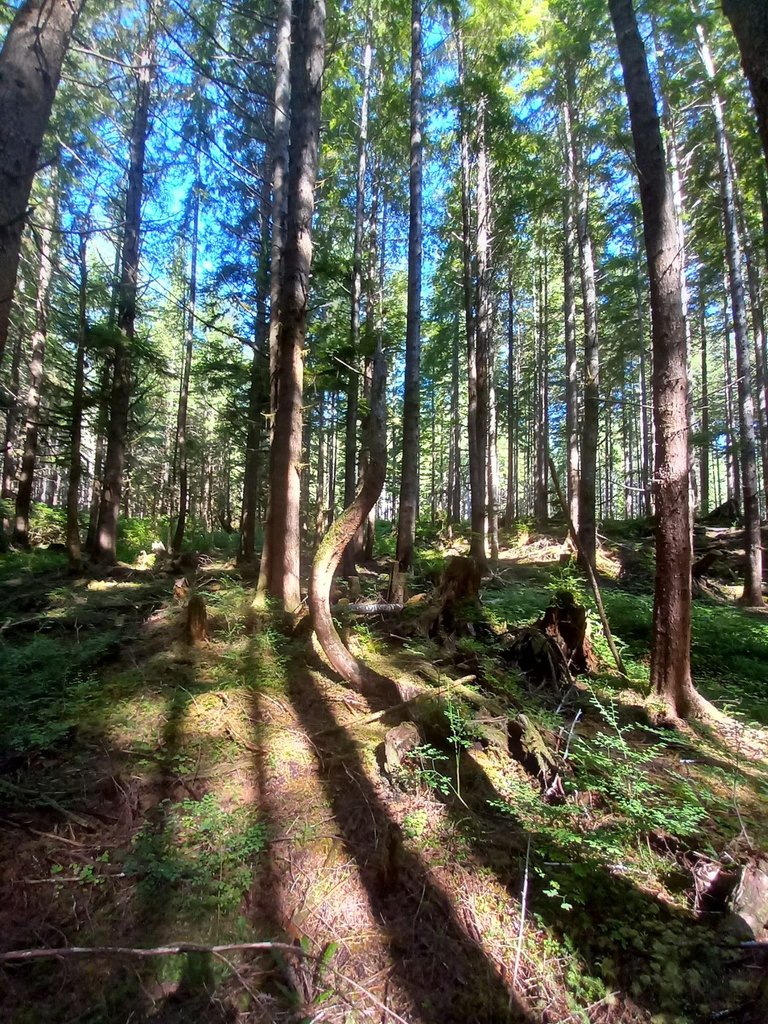 We're blessed to live near one of the largest pieces of truly "untamed" wilderness in the US... and by "untamed," I mean there are so many areas up there no human has ever been near.
The entire Olympic National Park/Olympic National Forest complex is about 2,500 square miles (6,300 square km) in size, most of which is only accessible by foot. Some of the "inner" parts in the mountain zones are all but inaccessible
Part of the joy of going up there is that it also has the cleanest air in North America... all that forest is basically like one of Planet Earth's giant "lungs."
We had a rare bright and sunny day, with barely a tiny breeze, so the stillness was amazing. As a testament to how remote the place is, we saw wild grouse that came within 10-15 feet of us without a worry... most likely never seen humans before.
Mostly, we were out there to pick chanterelle mushrooms.
In the Olympic rainforest, that's a somewhat unpredictable endeavor; this summer has been particularly dry, even on the "wet" side of the mountains. Even though we spent a good while trying many of our "usual" places, we only came up with about a pound of chanterelles.

Chanterelle mushrooms in their natural habitat
Enough to accompany a pork chop dinner, but that's about all. In the past, we've often come back with 15-20lbs.
But it's really OK, because as much as anything the day was about simply being out there, wandering around in a place where time doesn't really matter.
I've often said that "nature is my church," and there are few places better than the northern rainforest to illustrate this.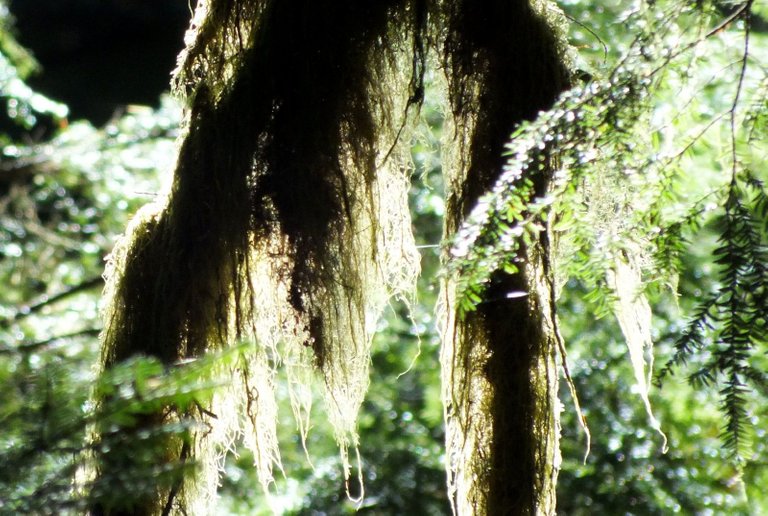 Everywhere you look, branches and trees are covered in moss...
These days, much of the focus of my life is simply to slow down. Most of the time, we already have a more leisurely life than many people, but it is time to dial it down a few more notches.
Haven't entirely figured out what that's going to look like in a way that still allows us to get from Point Aye to Point Bee in the financial sense; mostly going to focus on trying to make more of my writing and my art. Might be a tough "sell" but I have grown weary of busting my butt for other people, in exchange for a pittance.
Thanks for stopping by, and have a great weekend!
How about YOU? Do you ever feel like slowing down your life? What stops you, if anything? Or do you prefer a life that is in "constant movement?" Comments, feedback and other interaction is invited and welcomed! Because — after all — SOCIAL content is about interacting, right? Leave a comment — share your experiences — be part of the conversation!

---
Greetings bloggers and social content creators! This article was created via PeakD, a blogging application that's part of the Hive Social Content Experience. If you're a blogger, writer, poet, artist, vlogger, musician or other creative content wizard, come join us! Hive is a little "different" because it's not run by a "company;" it operates via the consensus of its users and your content can't be banned, censored, taken down or demonetized. And that COUNTS for something, in these uncertain times! So if you're ready for the next generation of social content where YOU retain ownership and control, come by and learn about Hive and make an account!

Proud member of the Proof of Brain Community on Hive!

(As usual, all text and images by the author, unless otherwise credited. This is original content, created expressly and uniquely for this platform — NOT cross posted anywhere else!)
Created at 20210924 22:15 PDT
0353/1594