2021 is almost over...
The year is about to end. This is a time to renew our resolutions and set our intentions, plant their seeds and let them grow. Our mind is like the fertile soil that nourish them, so may all your goals come true next year. I will use the hashtag #recap2021 and if you want to share yours and take it as an idea, share the highlights in your life in each month of the year. I think it's also a nice way to get each other better, so feel free to participate in this little challenge. I'll certainly visit and upvote as many as I can, and also to every meaningful feedback on this post (with proof of reading). Don't forget the tag :) so I'm aware of it, or if you decide to follow the prompt post it in comments so I can check to upvote. It's not that I have a great vote power, but one thing we should all learn is that connection is not about size or number. So hope you like the idea whether you choose to participate or not.
Just a few days ago I was thinking how "uneventful" 2021 felt to me. It's true I've been able to go out less than previous years and that the world is in a turmoil. There were moments when I felt kind of discouraged and thought... I've not done enough... but now sharing this I was aware of how much I did. I think it's a good exercise to make a realistic balance as often the bad seems to outweighs the good. And there were many resolutions from the previous year that didn't came to be, but remember that this is a time to try again, and remember that even our failures provide a very valuable and worthy lesson.
So whatever you wish... KEEP GOING!
My 2021 recap (12 months)
So this is my 2021 journey through life and the seasons, and also to realize of those vibrant moments I want to remember. It's divided in 12 months and some highlights. I'm not even sharing everything I did, but my favourite moments but just writing this article down made me feel aware of my effort.
So here we go!!
January 2021 : Cold are the long nights in Winter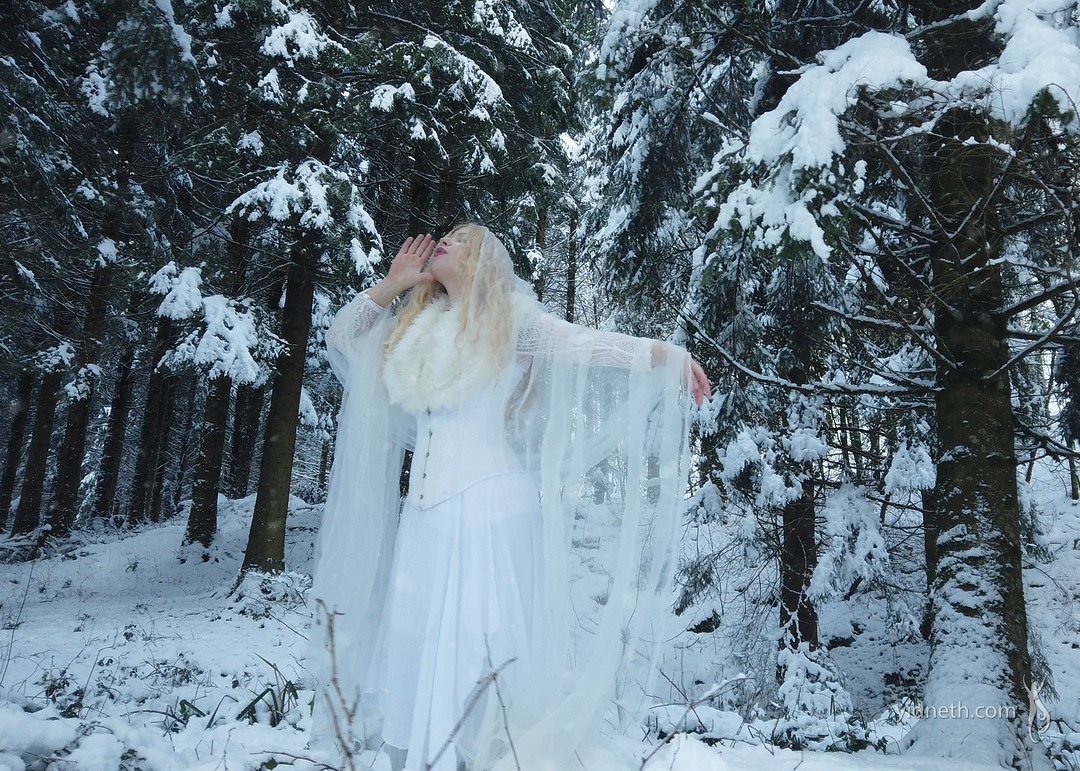 The year started with a Snow Storm called Filomena so we had the biggest snowfall since the 70s! I have always felt fascinated with the ethereal and harsh beauty of the snow, specially when pure and untrodden, and having grown in the tropical Canary Islands the contrast is so stark. My place looked for a while like a Frozen Northern Country. I had been a few days before in this pinewood, but overnight it was totally transformed into this white winter wonderland. It even inspired me to write a poem that turned into a song. I cannot recall having produced a song and video so quickly, it almost felt like it wrote itself. I want to add though that the blizzards and bad weather caused up to 1.8 billion in damages and arrived at an unprecedented energetic crisis in the country.... but isn't it just gorgeous? Nothing can beat the still ethereal quality of Winter. But remember COLD is needed to ignite life in the seeds that are dormant in the ground. EVERYTHING has a reason to be, even cold and bleak times (metaphorically speaking)
And if you want to see the resulting video/song it's here

And out in the roaring blizzard
a specter in white roams alone
February 2021: The Earth Awakens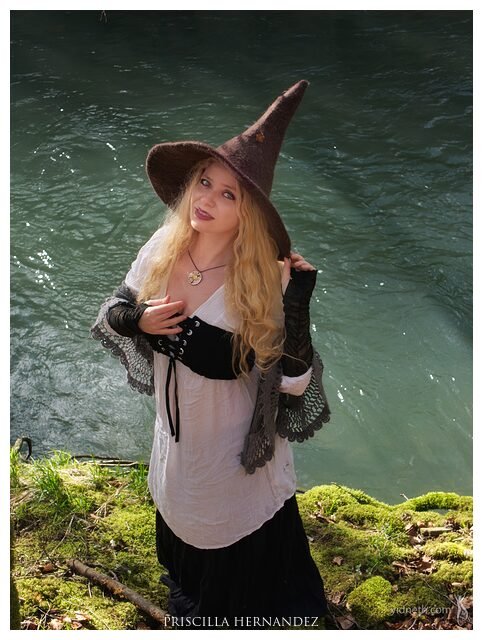 It all transformed in February, warm weather favoured the melting of the snow from the Pyrenees mountains and brought glorious days with early daffodils blooming, creeks full of water, birds chirping again as the days got longer. This picture and video was made in late February, as sun returned in longer days in was a time for positive transformation, awakening from our Winter Slumber to Embrace the Light.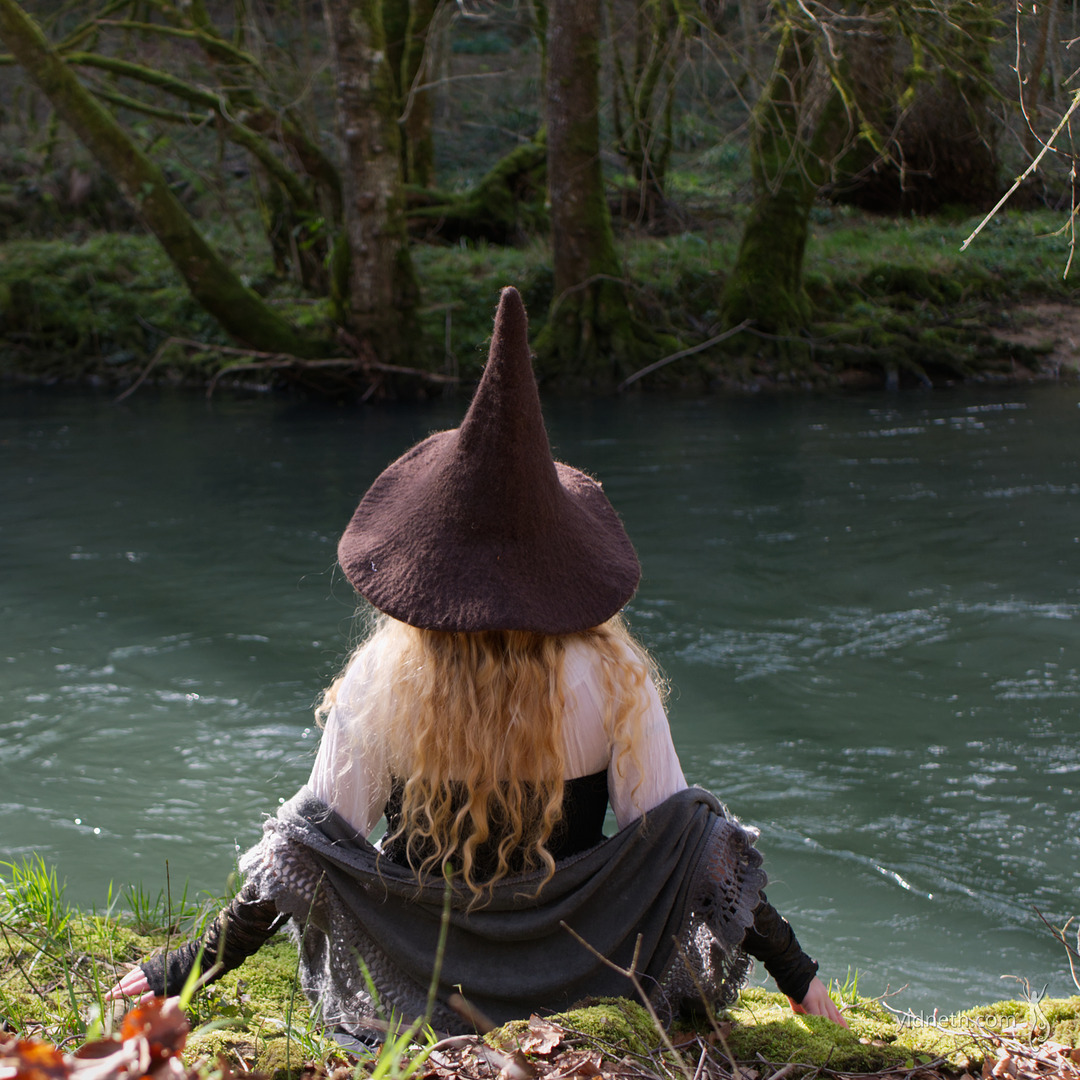 It inspired this improvisation in Nature (yes it was composed just that day) which I called "The Earth Awakens"
March 2021 : Everything is blooming
Flowers everywhere... the tender petals of a new bloom, the splatters of dandelions in the fields, the pastel whites and pinks crowning the trees. The delicate beauty of Early Spring.
Longing to Bloom
unfolding into the sun
gilded by light
I'm fire

It is likely one of the lyrics that I wrote this year that meant the most to me, for many self encouraging reasons.
This was also the month I released my single "Longing to Bloom"
And later on "Sakura" (traditional Japanese song about Cherry Blossoms)
In March I also filmed Celtic traditional "Down by the Salley Gardens" by a lovely waterfall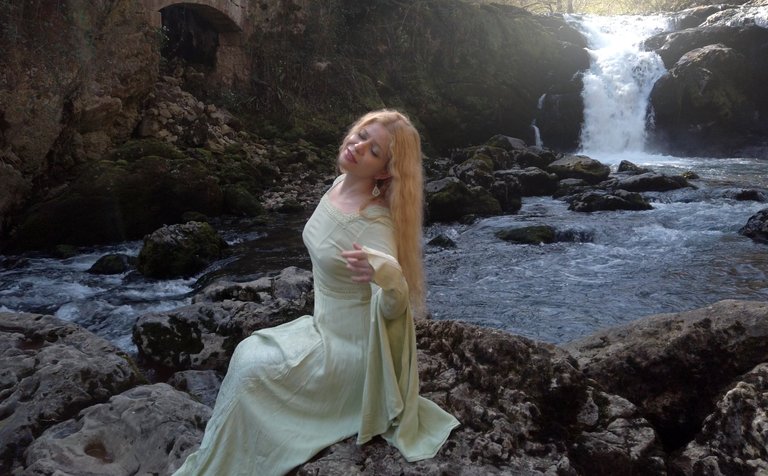 Earlier this year I had started to practice "mindful walking" which is giving long walks while paying attention to all your senses in awareness. I found it key for my healing journey and to gain endurance at the same time. While I walked I saw the green grass grow into golden barley and the unfurling sunflowers like a carpet of fallen suns extending as far as my sight could reach
April 2021 The Heart of the Forest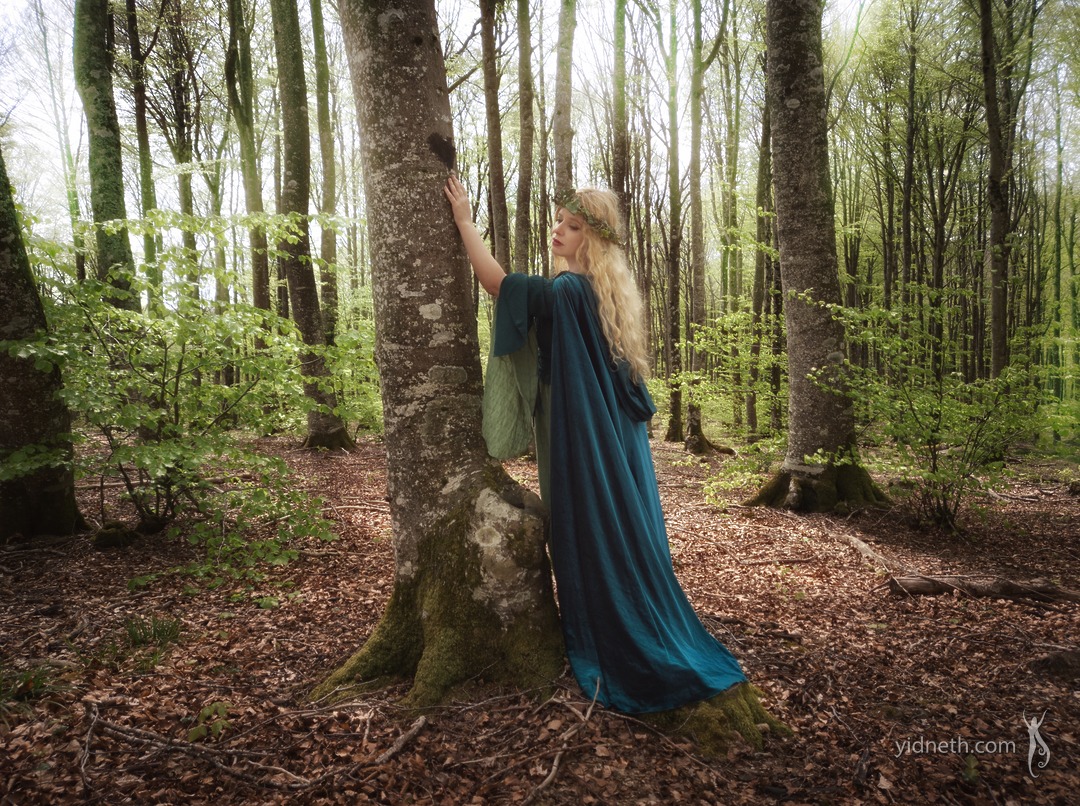 One of my favourite moments of the year is when the bare forest starts to grow tender new green leaves, my favourite colour! but in early Spring its shade is tender and translucent. This is a colour that shifts so drastically throughout the year. Spring green is pale and delicate and bathes everything with its glow. That month I found the heart of the forest, just when I needed it the most. This was a year with many ups and downs, some of the reasons I might not be inclined to share publicly, but through struggle and our way to overcome we find our strength.
And the heart of the forest I found, so randomly within the depths of the woods taught me that if you give love... you shall receive it.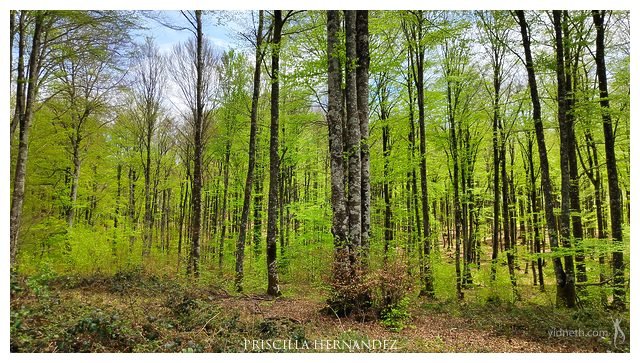 June 2021: A stroll in Middle Earth
June brought us warmer weather and also moody Summer Misty days.
Up here in "Balcón de Pilatos" I found my Lothlórien and became The elven lady of the Woods Galadriel from The Lord of the Rings.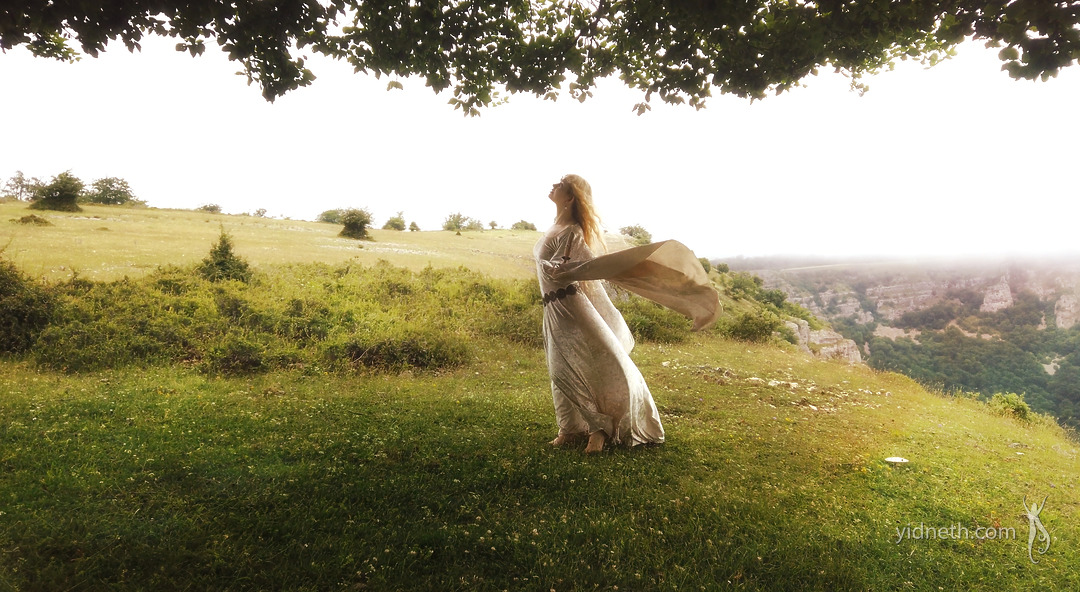 As a composer of original music I rather be told I sound like myself but this was a long time request, and the song is lovely. So I went for it.
July: The gifts from our Mother
In gratefulness I wrote this Incantation "Mother". That's the only word in this tune... and It's to say thanks for everything it provides.
BE GRATEFUL for what you've got!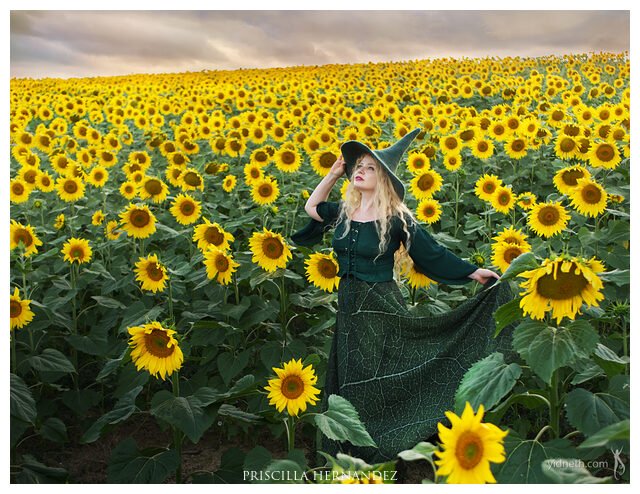 August: Everything is at its greenest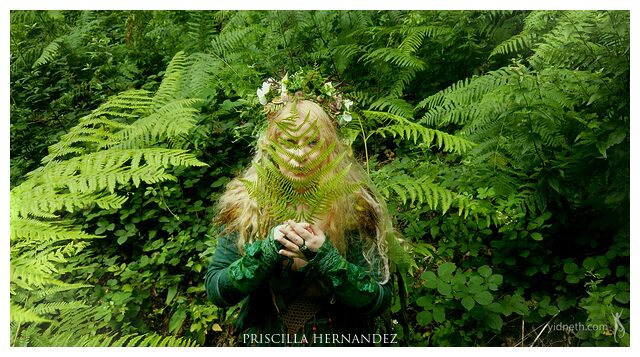 Summer green is deep, air is fragrant and dense... cicadas and crickets resounding in the hot Summer nights.
Here is a still of myself while filming Mora-ia that released in Summer. The forest is teeming with life. Wild berries everywhere.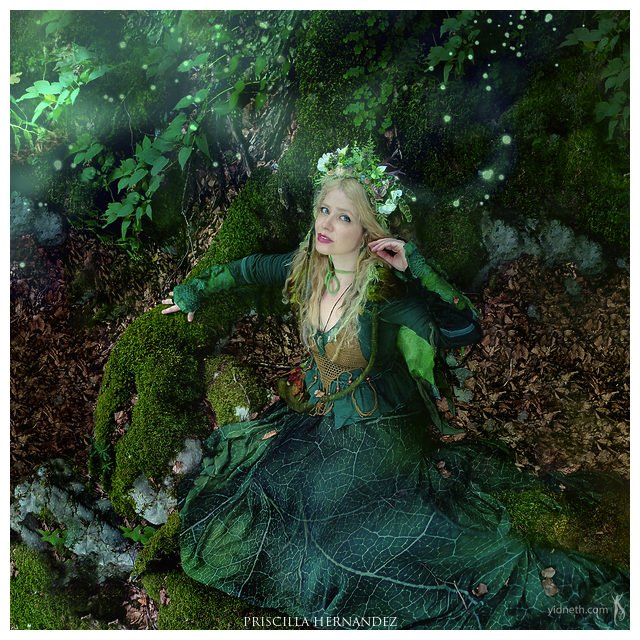 Also in August I rescued a little mouse... I saved his life and long story short he was relocated outdoors but I've kept visiting... Still it would be just fair I share this little "fufunchi"
So here not a particular good picture but a significant one... This was him during the first days under my care... Just to let you know he thrived and was successfully relocated at a very safe place, where he found a girlfriend and had babies. Up to this day I visit him with food and nuts. But that is another story that I will leave for another day. Just to say I spent most August sleepless taken care of a rescued orphaned mouse.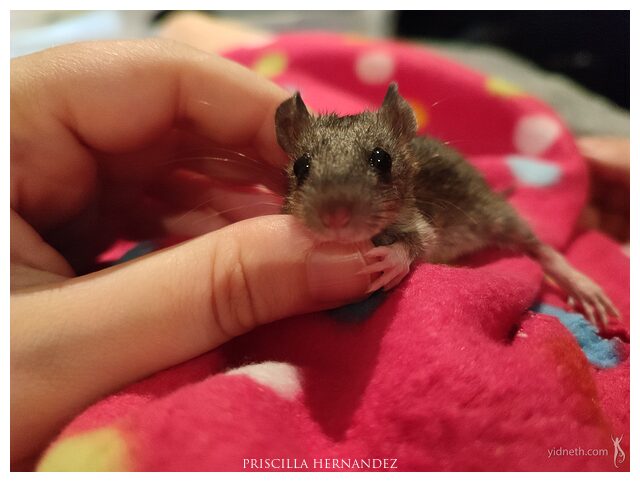 I also filmed a candid version of Greensleeves and since then (August) Fievel is appearing in every video along with my rats "fufunchis". If you know my work you know there are hidden rodents in all my videos.
September 2021
The leaves start to shift and turn golden. I love taking bathes in river as long as weather allows and this was my farewell to Summer. There is nothing like floating on water and letting everything go... the coldness that hold you, the water holding you as if you are weightless, the distant murmur of the hissing river... and all stagnant thoughts just flowing, flowing like water, clear and hyaline.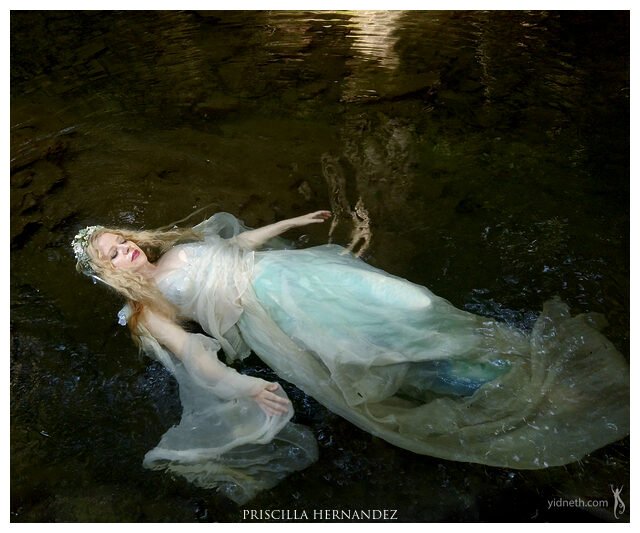 That day I filmed "The Spirit of Water"
October 2021
Oh, I love October, Autumn's glory... second Harvest! Pumpkin soup, the shifting color of the leaves. Everything just gets moodier and the veil gets thin. I love Halloween so every October I try to get ready for it with a couple of spooky specials. This year's was "The Lingering Light" which I filmed by the ruins where my little mouse now live. Every third day I would visit and by candlelight this came to be.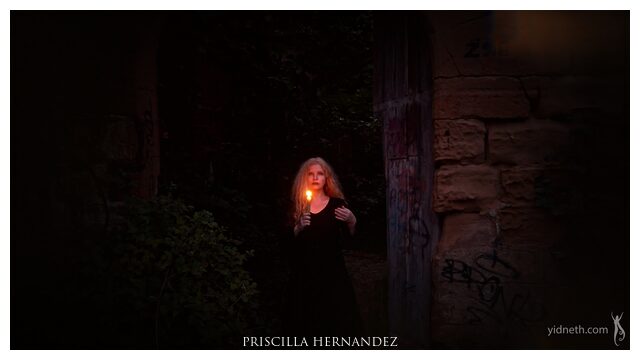 Follow the lingering light
it will guide you through the Darkness
Days are dimmer.
I also was surprised by the announcement of a new album by my favourite band, Tears for Fears (after two decades, what a come back!) so I made a cover of their new song "The Tipping Point"
November 2021
November brought us HiveFest :) and lots indoors time as I started not to feel so well (still mending). So it turned to be a creative month.
Autumn is likely the most romantic time them all. In November they start to fall and the wind carries them all around. I honestly never have enough of this season. This was a bountiful day of November collecting chestnuts.
It was also when Hive suddenly mooned and the post on hive about chestnuts might be the most successful post on hive I've ever posted, which was quite unexpected but still very grateful. Here the link if you want to give it a read.
https://hive.blog/hive-148441/@yidneth/sweet-chestnuts-fantasy-photography-myths-traditions-properties-and-facts-about-this-delicious-autumn-treat
I think it encouraged some to try roasted chestnuts for the first time so it makes me happy.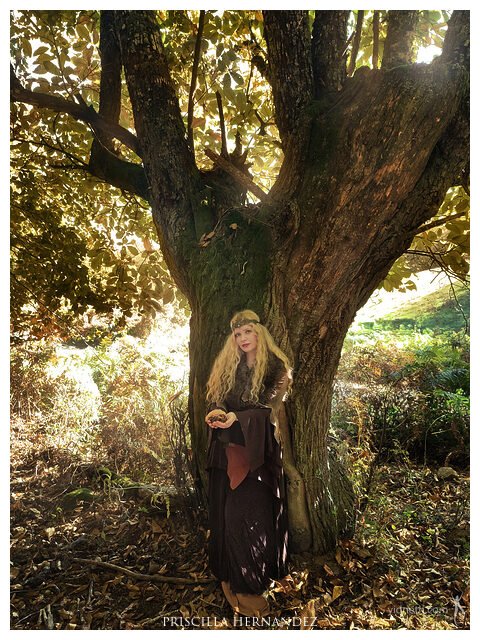 I also finished and shared the video of "The Singing Grove" a Celtic autumnal original tune.
December 2021: Another circle around the Sun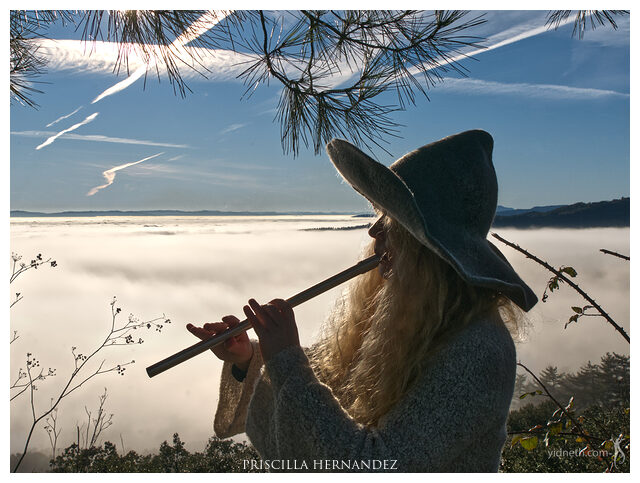 Up above, me on my birthday, going to a very special place where every December a sea of clouds is formed. It has become tradition that I go up there to play my flute.
And of course I finished it with a grateful heart and full of "Yule" Spirit. Because as I always mention, Winter is once again the season that will return the light!
So 2022 is almost here...
And 2021 maybe was not so uneventful at all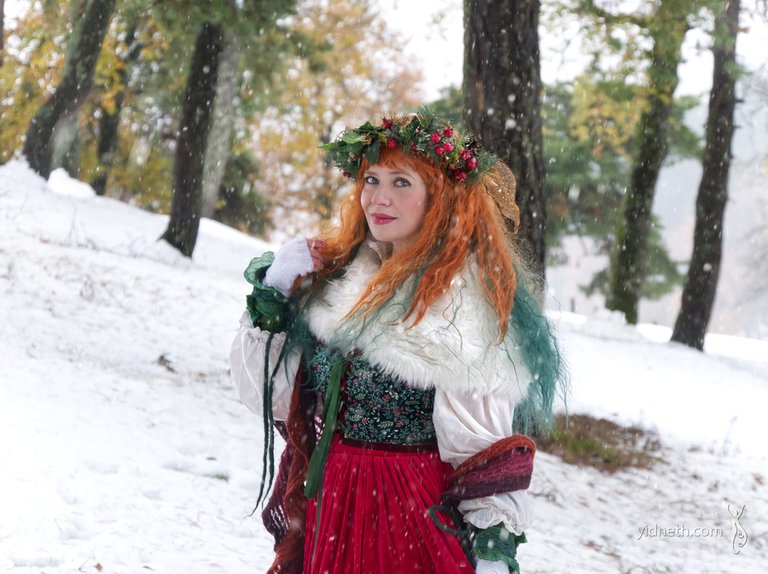 Above: Me December 2021 filming my Christmas Special (previous post)
I won't say it was the best year, health was changeling, the situation with the pandemic has exploded again, a volcano erupted and caused great destruction in my native island (just declared dormant on Christmas Day)... but overall, watching this pictures, I see my sparks of joy, and despite having had an impression that I haven not done enough suddenly I realize how much I've done. And not everything or release was mentioned.
So suddenly I felt I'm worth, I'm enough...But it's time for MORE and my motivation is all rekindled!
So I take the chance to wish you a Lovely Closing of the year
it's a time to renew our determinations and resolutions. Time to plot and improve. Time to hope for the changes we need in our lives. May all your dreams come true.
HAPPY NEW YEAR!
I hope to share more in 2022 and I will work to make it a more creative and productive one. I already gifted myself a blank notebook... yes just a blank notebook so I can brainstorm and write and fill it to the rims with my dreams. Because what matters is the QUEST, not the destination. And a gentle reminder to be kind to yourselves.
TRY YOUR BEST
And I hope to make more art (besides music) next year. And hopefully be more organized. But above all I'll continue on my journey within my ability, and will try to overcome the challenges as they come.
Don't forget you must work for your dreams and that everything that is worth requires an effort
Said this, best wishes and now to the moon!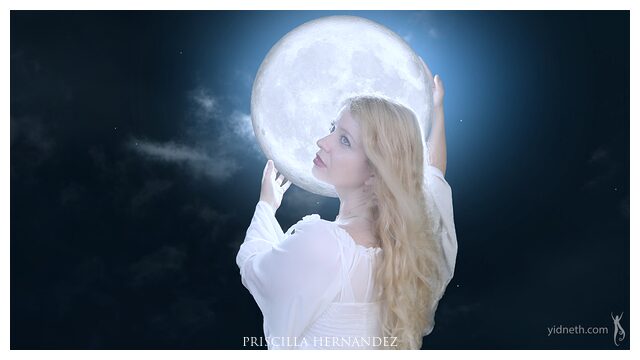 Still above from by cover of "Ode to Cynthia" that I released July 2021
Un saludo también a la comunidad hispanoparlante de hive
Es mi intención el año que viene tratar de tener un blog más bilingüe pero hasta entonces por si alguno se anima a participar de este pequeño desafío de hacer un recap del año: la idea es hacer un artículo con lo destacada de cada uno de los doce meses del 2021, con el propósito de ver las cosas buenas o significativas que nos han pasado a lo largo del año. Usad el hashtag #recap2021 y dejadme el link en comentario para que los pueda leer y votar. No es que tenga un voto extraordinaro, pero lo importante es la intención y no el número. Feliz año nuevo.
Support me following on my network. Sígueme en las redes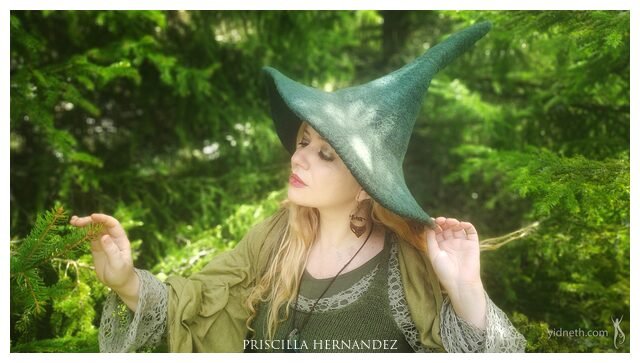 Please comment to encourage. I will upvote every meaningful feedback with proof of reading
Until next! And thanks for your support!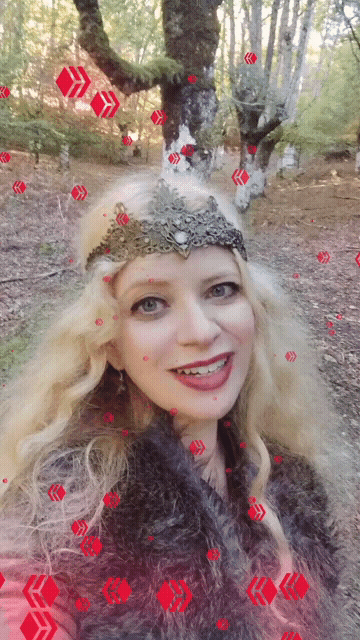 Priscilla Hernandez singer-songwriter & illustrator. Cantante e ilustradora http://yidneth.com