Tenía muchas ganas de publicar esto ayer pero aun no se recargaban mis créditos.
I really wanted to post this yesterday but my credits have not been reloaded yet.
😂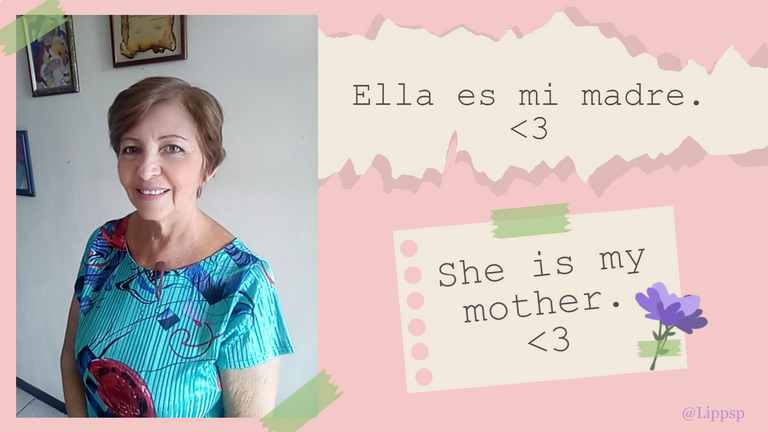 ¡Hola Hivers! Estoy muy emocionada por el día de hoy y por todos los blogs que he visto con la temática del Día de las Madres, obviamente no quiero quedarme sin compartir con ustedes un post para que junto conmigo puedan apreciar a la mujer increíble que me trajo al mundo.
Hi Hivers! I am very excited about today and all the blogs I have seen with the theme of Mother's Day, obviously I don't want to stay without sharing with you a post so that together with me you can appreciate the amazing woman who brought me to the world.
---
Ysvelia del Carmen Pérez es el nombre de mi madre, es la hermana mayor entre 4 hermanos, hijos de mi ya fallecida abuela Hilda Pérez.
Ysvelia del Carmen Perez is my mother's name, she is the oldest sister among 4 siblings, sons and daughters of my late grandmother Hilda Perez.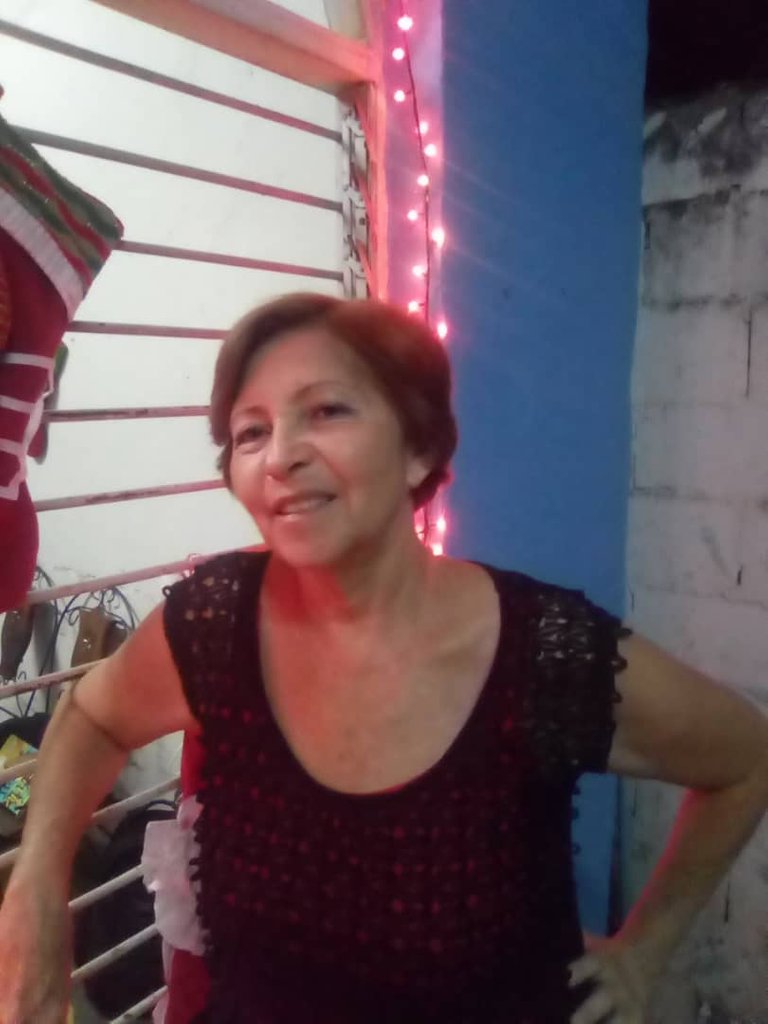 Mi madre tiene muchísimas cualidades y por supuesto la mayoría de ellas son muy buenas, la caracteriza ser una persona muy responsable, colaboradora, puntual, sensible, tolerante, emocionalmente fuerte, con muy buen gusto para todo, incluyendo la moda y el maquillaje, muy talentosa y creativa, amorosa hasta el cansancio y muy preocupada por toda su familia y sobre todo por sus hijos.
My mother has many qualities and of course most of them are very good, she is characterized as a very responsible person, helpful, punctual, sensitive, tolerant, emotionally strong, with very good taste in everything, including fashion and makeup, very talented and creative, loving to the point of exhaustion and very concerned about her family and especially her children.

Tengo un sinfín de historias de mi madre actuando como un gran ejemplo de súper-mamá, tal como la ocasión en la que recorrimos muchísimas tiendas intentando encontrar una franela bicolor que yo quería, con la intención de estamparle una figura y que se pareciera a la de un personaje de un juego que me gusta, estando muy cansadas mi madre me insistió sobre ir a una tienda más que al final fue donde la encontramos por fin y además tuvimos que hacer fila para entrar, pero salimos victoriosas de "La travesía de la camisa de Armin".
I have countless stories of my mother acting as a great example of super-mom, such as the time when we went through many stores trying to find a two-color flannel that I wanted, with the intention of stamping a figure and that looked like a character of a game I like, being very tired my mother insisted me on going to one more store that in the end was where we finally found it and also had to wait in line to enter, but we emerged victorious from "The journey of Armin's shirt".
Mi madre es una mujer muy trabajadora, y está muy orgullosa de esa parte ella. Empezó a trabajar en casas de familia a los 12 años de edad para poder ayudar a mi abuela con los gastos, a los 14 años comenzó un trabajo en una cafetería, también tomó clases en una academia para ser secretaria y ya a partir de allí tuvo distintos trabajos como cajera o en oficinas. Mi madre ha trabajado por muchos años y aún sigue muy activa en su trabajo actual como ama de casa a sus 64 años de edad.
My mother is a very hard working woman, and she is very proud of that part of her. She started working in family homes when she was 12 years old in order to help my grandmother with expenses, at 14 she started a job in a cafeteria, she also took classes in an academy to become a secretary and from there she had different jobs as a cashier or in offices. My mother has worked for many years and is still very active in her current job as a housewife at the age of 64 years old.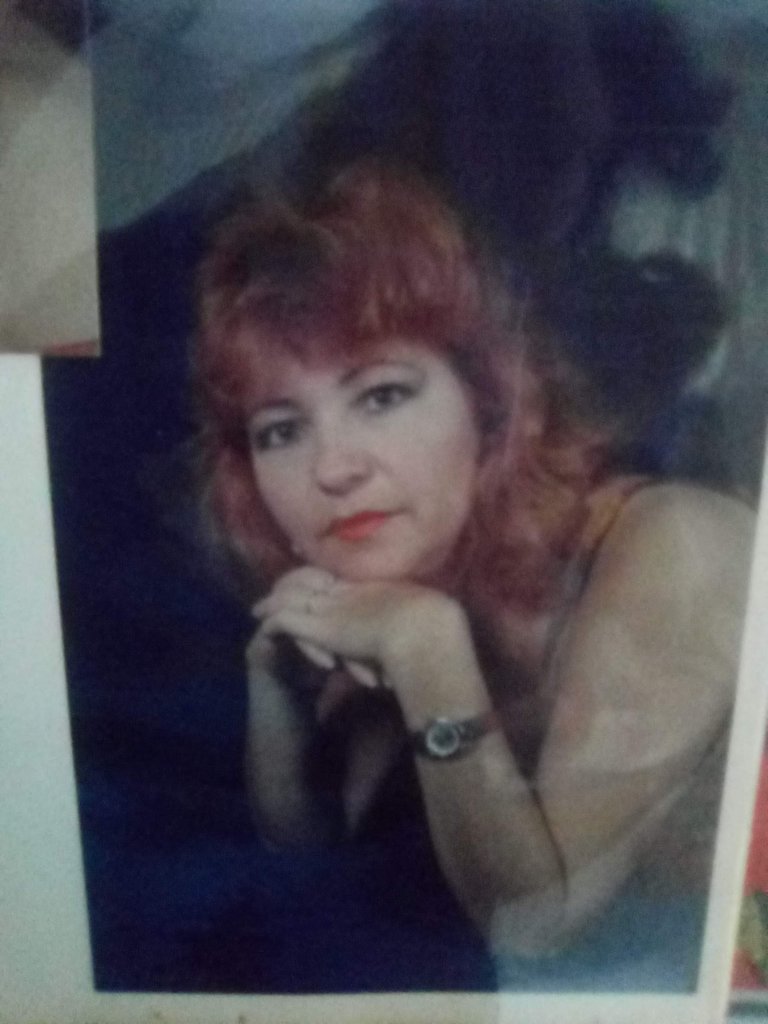 foto de un album: mi madre viéndose hermosa como siempre
Ella disfruta mucho de coser y de ver programas de moda, y obviamente me encanta ser la modelo de la ropa que hace, disfruta tanto de coser que aun quiere ser parte productiva de la sociedad y estamos aproximándonos a realizar el primer paso para un pequeño emprendimiento que decidimos hace unos días y estamos muy emocionadas por esto.
She really enjoys sewing and watching fashion TV shows, and obviously I love being the model for the clothes she makes, she enjoys sewing so much that she still wants to be a productive part of society and we are getting closer to making the first step for a small project that we decided a few days ago and we are very excited about it.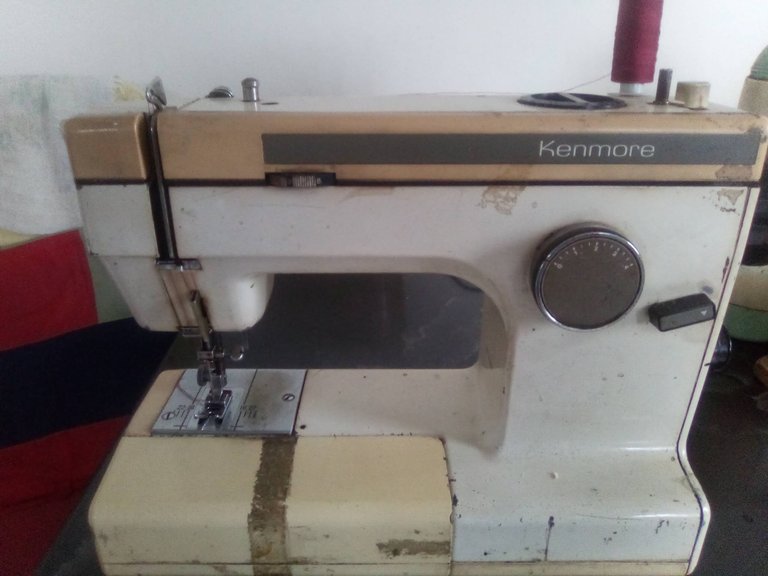 Maquina de coser de mi madre
Quiero contarte algunas cosas más sobre ella…
I want to tell you a few more things about her....
Le gusta mucho el café y las galletas y su postre favorito es el "mil hojas", disfruta mucho de toda la comida aunque actualmente debe tener cuidado con algunas cosas. Mi madre es fan de las series policiacas, también de el programa de tv "The big bang theory" y de Star Trek.
She likes coffee and cookies very much and her favorite dessert is "mil hojas", she enjoys all food very much although currently she has to be careful with some things. My mother is a fan of crime series, as well as the TV show "The big bang theory" and Star Trek.
Tanto a mi hermano como a mí nos ha apoyado mucho en distintas cosas que hemos querido hacer, mi madre ha ayudado a mi hermano a pagar viajes a festivales de rock, le ha comprado libros y cursos de inglés con los que aprendió mucho de lo que sabe actualmente, y cuando quiso tener un estilo gótico ella le compró pintura de uñas de color negro que él le pidió. En cuanto a mi, ella ha sido muy complaciente al momento de escoger ropa, me inscribió en una academia de danza y luego en una escuela de artes, ha celebrado todos mis cumpleaños, me ha acompañado a convenciones de anime en las que ella también ha disfrutado mucho viendo a los cosplayers, y una de las cosas más importantes que ella hace por mí es escucharme y entenderme mientras hablo de todos mis gustos, es algo que me hace muy feliz y me conmueve de su parte.
Both my brother and I she has been very supportive of different things we have wanted to do, my mother has helped my brother pay for trips to rock festivals, she has bought him books and English courses with which he learned a lot of what he knows now, and when he wanted to have a gothic style she bought him black nail polish which he asked for. As for me she has been very accommodating when choosing clothes, she enrolled me in a dance academy and then in an arts school, she has celebrated all my birthdays, she has accompanied me to anime conventions in which she has also enjoyed a lot watching the cosplayers, and one of the most important things she does for me is to listen to me and understand me while I talk about all my tastes, it is something that makes me very happy and touches me on her part.
mi hermano y mi madre en día de hacer hallacas, diciembre del 2020.
Para finalizar quiero destacar una de las cosas que más hace feliz a mi madre ahora y es el hecho de que pertenece a una iglesia cristiana, ella se regocija por poder escuchar la palabra del Señor que tanto la conforta, cada domingo ella va a convivir con sus hermanos y hermanas y compartiré con todos el hermoso recuerdo de su bautizo que fue a inicios del 2020.
To finish I want to highlight one of the things that makes my mother happiest now and that is the fact that she belongs to a Christian church, she rejoices for being able to listen to the word of the Lord that comforts her so much, every Sunday she goes to spend time with her brothers and sisters and I will share with everyone the beautiful memory of her baptism that was at the beginning of 2020.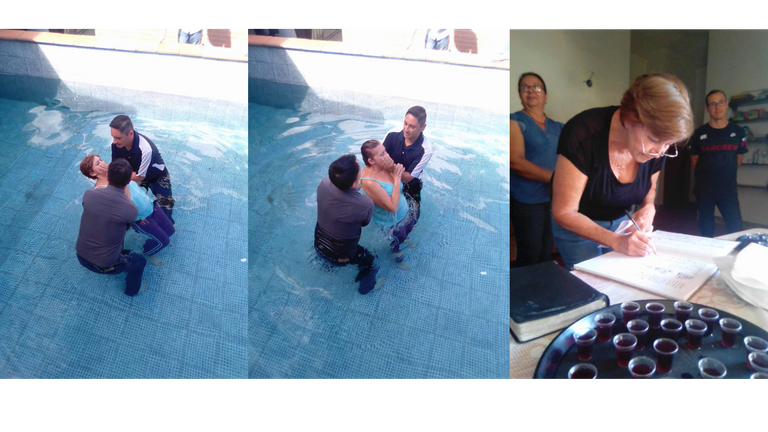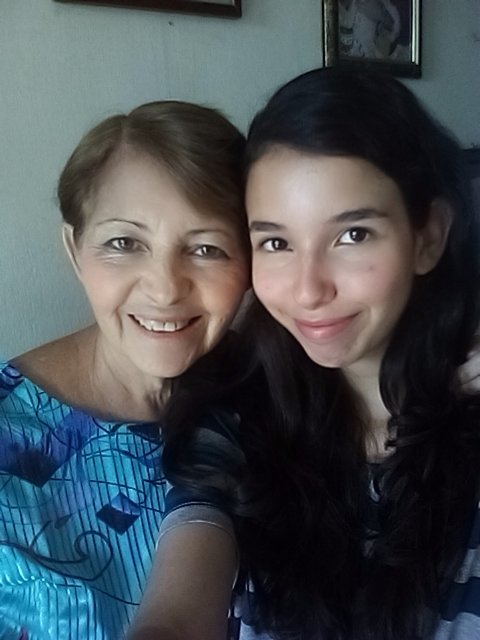 ¡Felicitaciones a todas las madres de Hive!
Congratulations to all Hive mothers!



Imágenes y recursos de mi propiedad
y editadas en: https://pixlr.com/es/
Traducción al inglés en:https://www.deepl.com/es/translator
Images and resources of my property
and edited at: https://pixlr.com/es/
English translation at:https://www.deepl.com/es/translator