photo by me
Yooo hello my fellow hivers and the whole community. Come back with me Jodi Pamungkas. Thank you to those of you who have stopped by and read my previous post. Today I got an invitation from the coffee shop David co. I have previously posted about this coffee shop. Now David co has new hope and of course a new home for coffee lovers in Langsa city. Honestly my first impression of coming to this new place was quite good. This place is quite comfortable than before and all the services are the same as the first time I came to the old place. Immediately I will take a few pictures and explain one by one.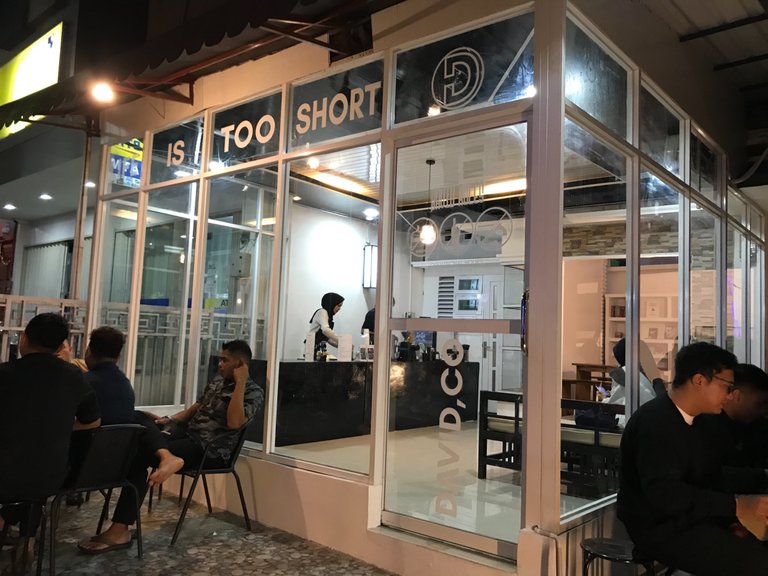 photo by me
First I came to this coffee shop. All the tables and chairs were full. A few minutes later my friend came and found a table and chairs for me. Because this place has just opened and enthusiastic people are very nice to celebrate new hopes and new place David co. Everything looks so perfect with the glass room which is so clean and tidy. The room is facilitated with air conditioning and several sofas.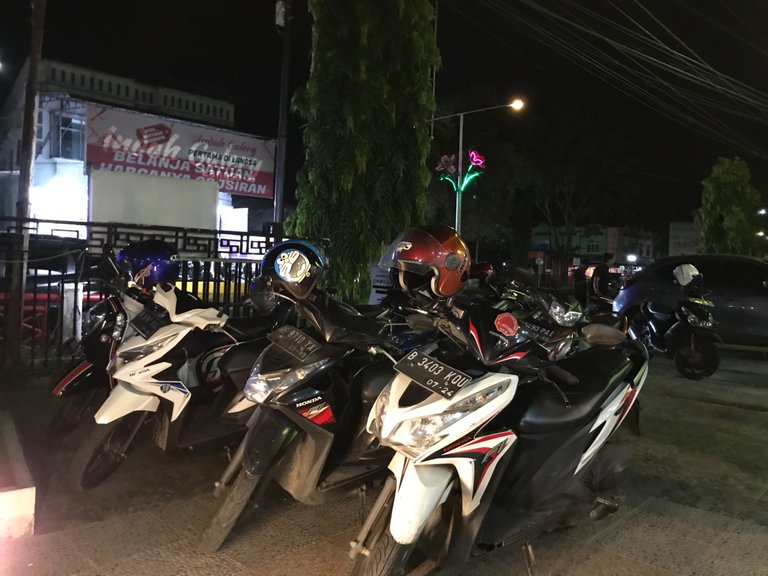 photo by me
One thing that this coffee shop lacks from the old place to the new place now. The parking lot is very narrow and it is very difficult for vehicles to park. Sometimes some visitors who want to go to this coffee shop have to park their vehicle in the next building. Sometimes during the day there is no place to park the vehicle.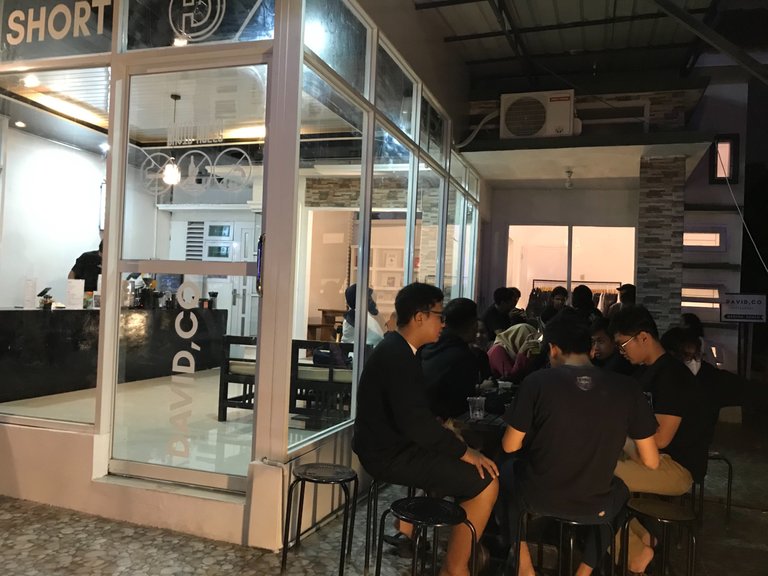 photo by me
It seems that some teenagers are very cool chatting and relaxing while enjoying a glass of coffee. At that time the atmosphere was very crowded and almost all of the visitors to this coffee shop were teenagers. Unfortunately, the chairs in this place do not have a backrest and are not very suitable for long-term sitting.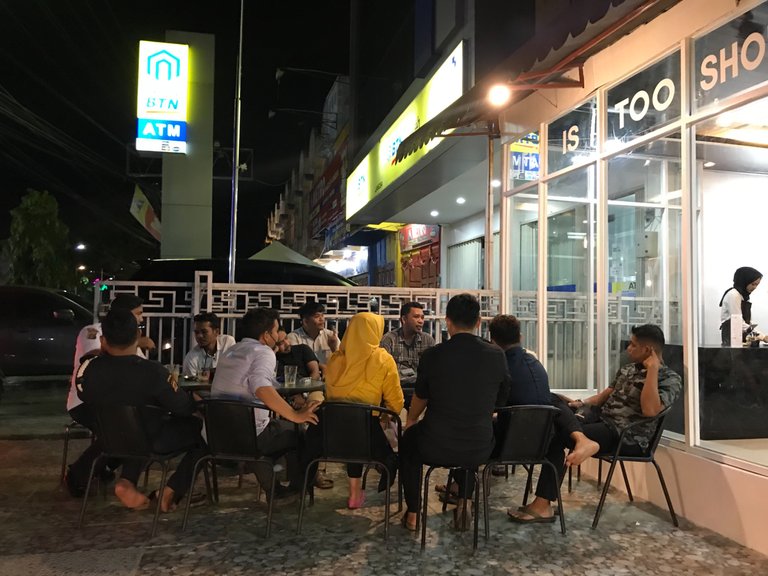 photo by me
I immediately ordered a drink menu into the room. Because several coffee shops in my city use an order and pay system. Some coffee shops don't need to order and pay. One of the waiters came over to me and brought a menu book. I ordered the Cortado drink menu and Ema ordered a cold espresso. All I have to pay is around 3 $ and I think it is quite cheap for this coffee shop class which has a place like this.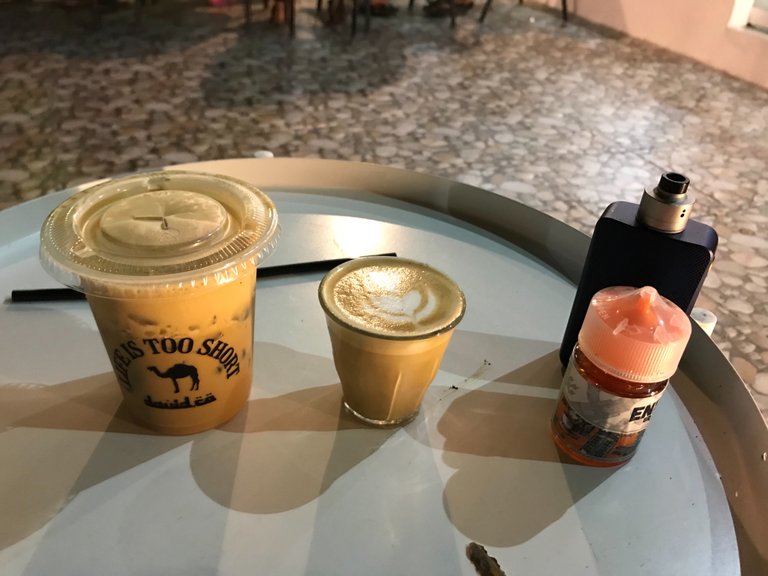 photo by me
After a few minutes I waited while talking with Ema about the next content. Finally, 1 cup of Cortado and cold Espresso has arrived. Let's take a look at the two coffees near.
photo by me
The first is Ema's cold espresso. You can see that the coffee packaging in this place is very unique and good. With the theme of the holy month of Ramadan and the coffee shop's slogan, "LIFE IS TOO SHORT" and there is an inscription in the unique font of David co. Now let's take a look at my near Cortado.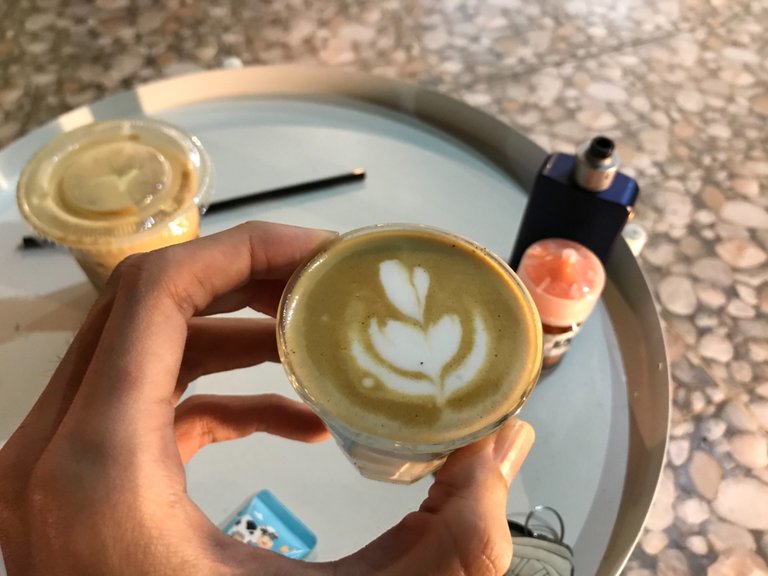 photo by me
Well, the photo above is the Cortado drink menu. The glass used is very cute and small. I really like the latte art in the shape of a flower. The barista at this coffee shop is directly handled by the coffee shop owner and I am really very satisfied with these two menus. Without lingering, I immediately tasted the two drinks. Honestly when I tried Cortado it was quite a surprise. Because it is quite different from other places. The taste of the coffee is very final and so thick. I'll give this an 8/10.
photo by me
Because it's still a new place. There aren't too many nice decorations in this room. But I quite like the design and layout of each chair or bar. Because it looks quite simple and not scattered. This coffee shop has 2 waiters and 1 barista. Maybe for a coffee shop that is not too big enough and does not use many waiters.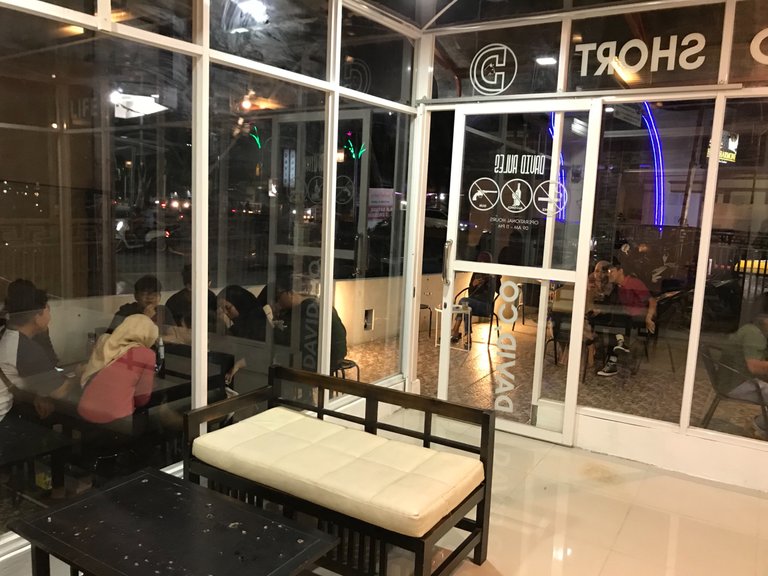 photo by me
I am quite happy with young entrepreneurs like David. He is one of the young men who is quite successful at taking up the day of the teenagers in my city. Because indeed the coffee shops in my city compete to grab customers by making the place quite comfortable and nice. For this place I give it an 8/10 because it provides good service and comfort.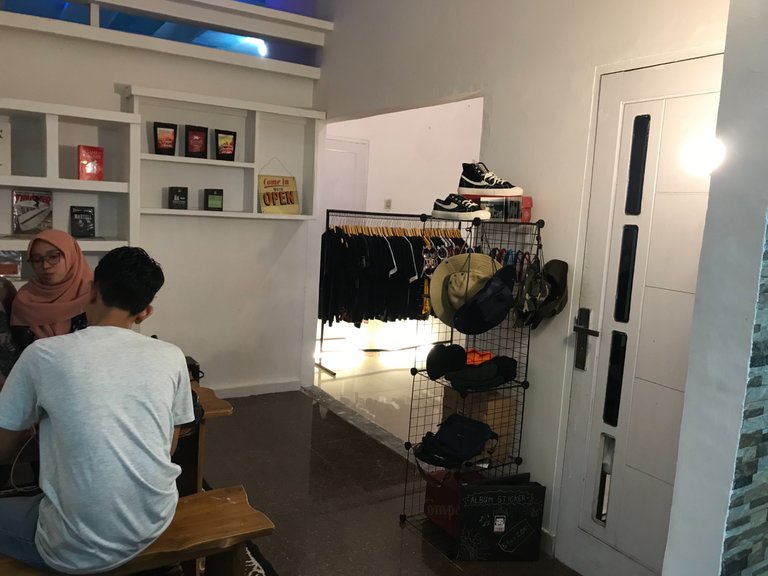 photo by me
Well, not just coffee shops. In this place also sells various clothes with local brands. They sell various types of clothes, hats, shoes and others. The one who sold all these items was not David. But one of my friends is named Arif. You can check Instagram
@toko
_ronaldo to see collections of clothes and more. Thank you to those of you who have read and stopped in my post today. Give your advice and support. See you in the next coffee or culinary post.