Happy Tuesday friends, I wish you all a day full of blessings 🙏🏻 for a couple of time I have wanted to make this publication because I am proud of what I have done in my life with a lot of effort and dedication.
Since I started my studies at school when I was little, I was always an exemplary student with good grades, always obtaining first place and diplomas of honor, my mother has kept these diplomas with great pride ❤️ but today I share my courses and professional training with you more recent
Felíz martes amigos 🥰 deseo un día lleno de bendiciones para todos 🙏🏻 desde hace un par de tiempo he querido realizar está publicación porque me siento orgullosa de lo que he realizado en mi vida con mucho esfuerzo y esmero.
Desde que inicie mis estudios en la escuela estando pequeña siempre fui una estudiante ejemplar con calificaciones buenas obteniendo así siempre el primer lugar y diplomas de honor dichos diplomas los tiene mi mamá guardados con mucho orgullo ❤️ pero hoy comparto con ustedes mis cursos y formaciones profesionales más recientes.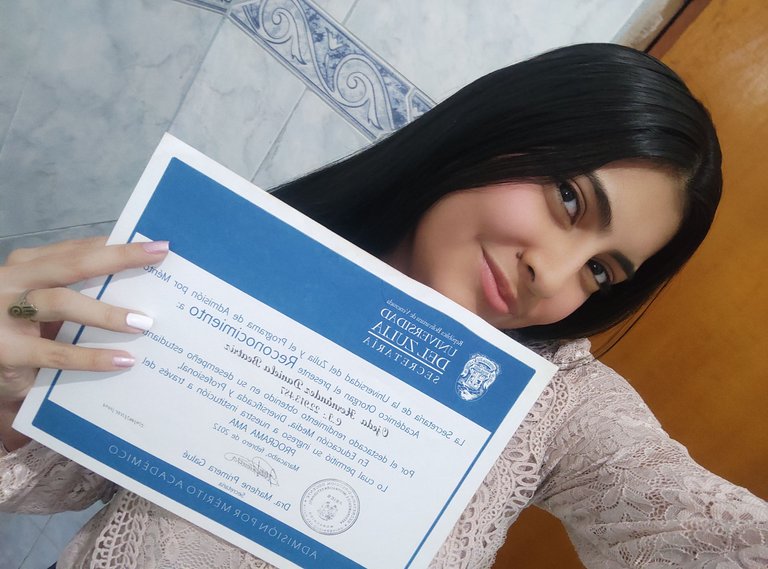 Me - Yo.
When I was 16 years old, my way of thinking changed a lot 🤯 I began to tell my mother that I wanted to take different courses in different areas, so my mother always supported me but limited the economic part (my mother was a mother and father at home) for what I always took the courses that were within my reach, even so, I can take several that were on my list.
Cuando ya tenía una edad de 16 años mi forma de pensar cambio mucho 🤯 comencé a decirle a mi mamá que deseaba realizar diferentes cursos en diferentes áreas por lo que mí mamá me apoyo siempre pero me limitaba la parte económica (mi mamá era mamá y papá en casa) por lo que siempre realizaba los cursos que estaban a mi alcance aún así puede realizar varios que estaban en mí lista.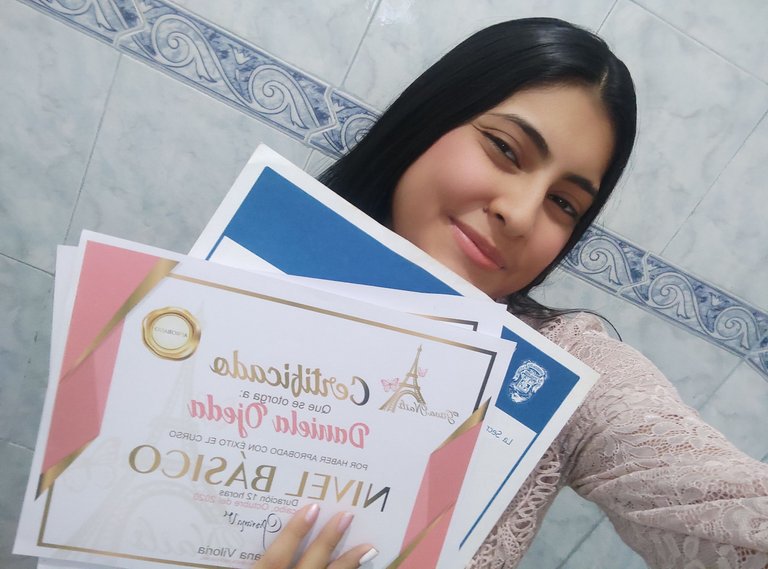 Me, with my certificates - Yo, con mis certificados.
When I graduated from high school it was one of my greatest achievements because I had obtained it with a lot of effort, days and nights of study without stopping. Thanks to that effort I obtained an admission certificate for academic merit to one of the best universities in my country and this certificate is not easy to obtain, it is only awarded to the best students so I say to myself Congratulations Daniela! you achieved!
Cuando me gradué de la escuela como bachiller fue uno me mis mayores logros porque lo había obtenido con mucho esfuerzo días y noches de estudio sin parar. Gracias a ese esfuerzo obtuve un certificado de admisión por mérito académico a una de las mejores universidades de mi país y este certificado no es fácil de obtener solo se le otorga a los mejores estudiantes así que me digo a mi misma ¡Felicidades Daniela lo lograste! 🤭🤭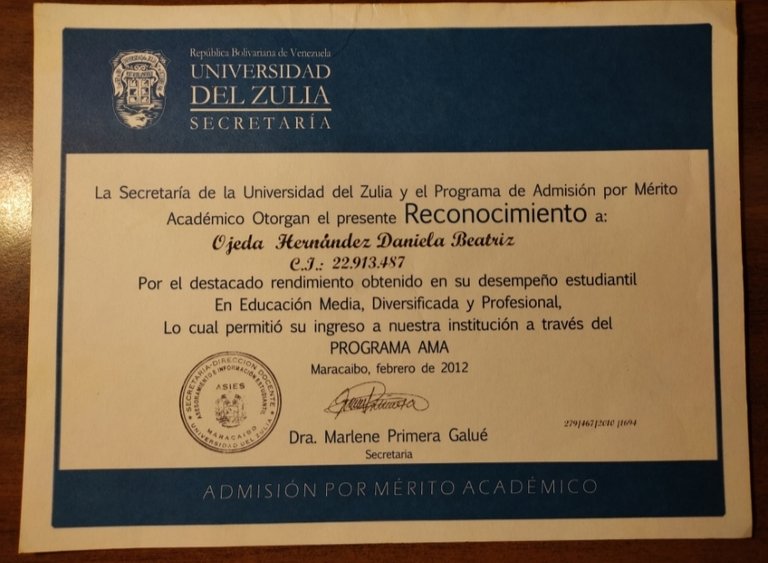 Admission for academic merit obtained a place in the important university of my country - Admisión por mérito académico obtenido un lugar en la importante universidad de mi país.
I obtained my bachelor's degree while graduating I was very undecided about which career to choose because I liked many but again I was financially limited and not because I had to pay tuition at the university, no, it was because of the instruments or materials that they demanded of me throughout of my career. I liked architecture, in fact I still like it, so I wanted to take a course in graphic design, I did the basic and the advanced but the advanced certificate was damaged, it got wet with water.
When I had my training in design, I told my mother, well in college that they admitted me to the degree they assigned me was a degree in physics, I want to study in another at the same time Civil Engineering and my mother accepted it and that's how it was. Studying both majors at the same time was absorbing and exhausting but I was happy I took the opportunity to take a course in Autocad since it was necessary in my Civil Engineering career and that is how I did it with good results, I share my certificates:
Yo obtenido mi título de bachiller estando graduada me encontraba muy indecisa de que carrera elegir porque me gustaban muchas pero nuevamente me veía limitada económicamente y no porque tuviera que pagar matrícula en la universidad no, era por los instrumentos o materiales que me exigieran a lo largo de mi carrera. Me gustaba la arquitectura de hecho aún me gusta, así que quise realizar un curso en diseño gráfico hice el básico y el avanzado pero el certificado del avanzado se dañó, se ha mojado con agua.
Al tener mi capacitación en diseño le dije a mi mamá bueno en la universidad que me admitieron la carrera que me asignaron fue licenciatura en física yo quiero estudiar en otra al mismo tiempo Ingieneria Civil y mi mamá lo acepto y así fue. Estudiando ambas carreras al mismo tiempo era absorvente y agotador pero yo era felíz aproveché para realizar un curso en Autocad ya que era necesario en mi carrera de Ingeniería civil y así fue lo realice obteniendo buenos resultados, les comparto mis certificados: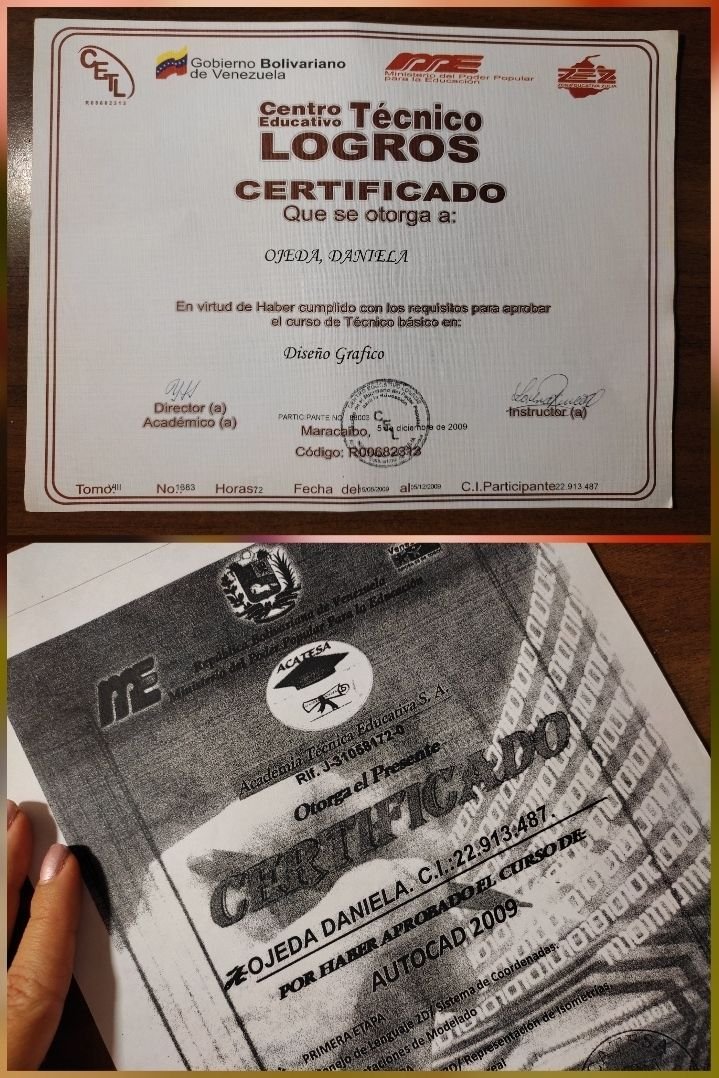 Graphic Design and Autocad Certificates - Certificados de Diseño Gráfico y Autocad.
I continued with my careers but the situation in my country is not very good so I froze the civil ING career, remaining as TSU. I continued with my degree in Physics and I find myself waiting for my degree. During all that study period I also found myself working in a handicraft store and selling desserts with my mother, then as time went by things changed and I managed to get a job in an airline in my city but the job was as an AVSEC Agent for You must train for this position by completing different courses such as: AVSEC personnel, Operational safety management system (SMS), Induction of occupational health and safety, First aid, Accident prevention, Contingency plan and emergency care, Ergonomics. Many courses and others of which I do not have certificates.
I will not explain what each course consisted of because the text would be eternal but I will explain it in a future publication because I like these topics a lot for now I share my certificates.
Seguí con mis carreras pero la situación de mi país no es muy buena así que congelé la carrera de ING civil quedando como TSU. Continue con mi licenciatura en Física y me encuentro esperando mi título. En todo ese plazo de estudio también me encontraba trabajando en una tienda de artesanías y vendiendo postres con mi mamá luego al pasar el tiempo las cosas cambiaron y logré obtener un trabajo en una aerolínea de mi ciudad pero el puesto de trabajo era de Agente AVSEC para ese puesto debes capacitarte realizando así diferente cursos como: Personal de AVSEC, Sistema de gestión de la seguridad operacional (SMS), Inducción de seguridad y salud laboral, Primeros auxilios, Prevención de accidentes, Plan de contingencia y atención de emergencia, Ergonomía. Muchos cursos y otros de los cuales no tengo certificados.
No explicaré en que consistió cada curso porque sería eterno el texto pero si lo explicaré en una próxima publicación porque me gustan muchos esos temas por ahora les comparto mis certificados.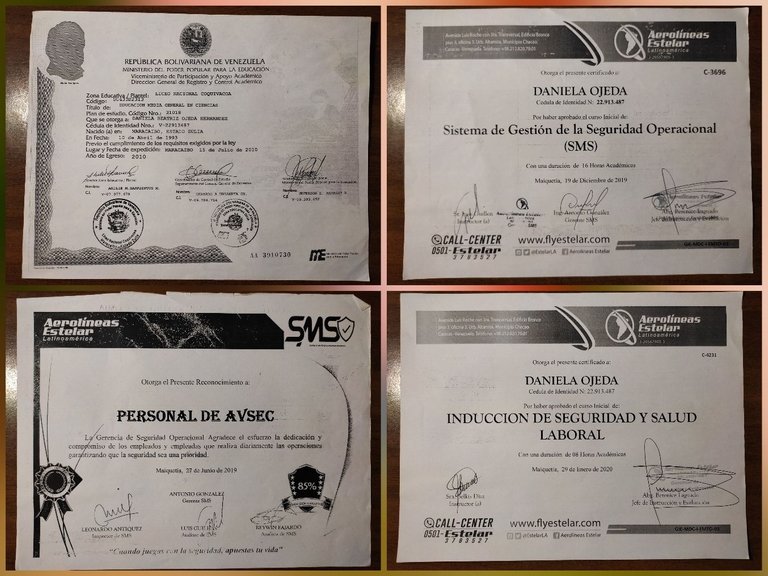 My Certificates obtained by training in the airline - Mis Certificados obtenidos por formación en la aerolínea.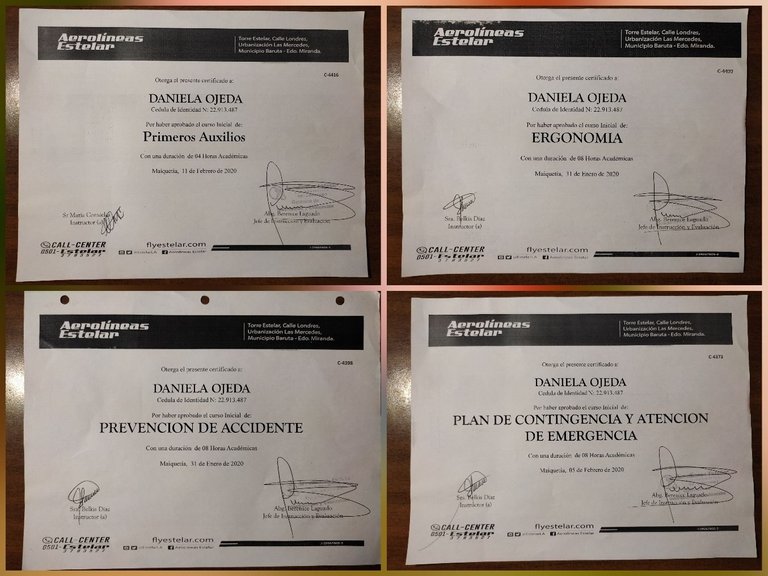 My Certificates obtained by training in the airline - Mis Certificados obtenidos por formación en la aerolínea.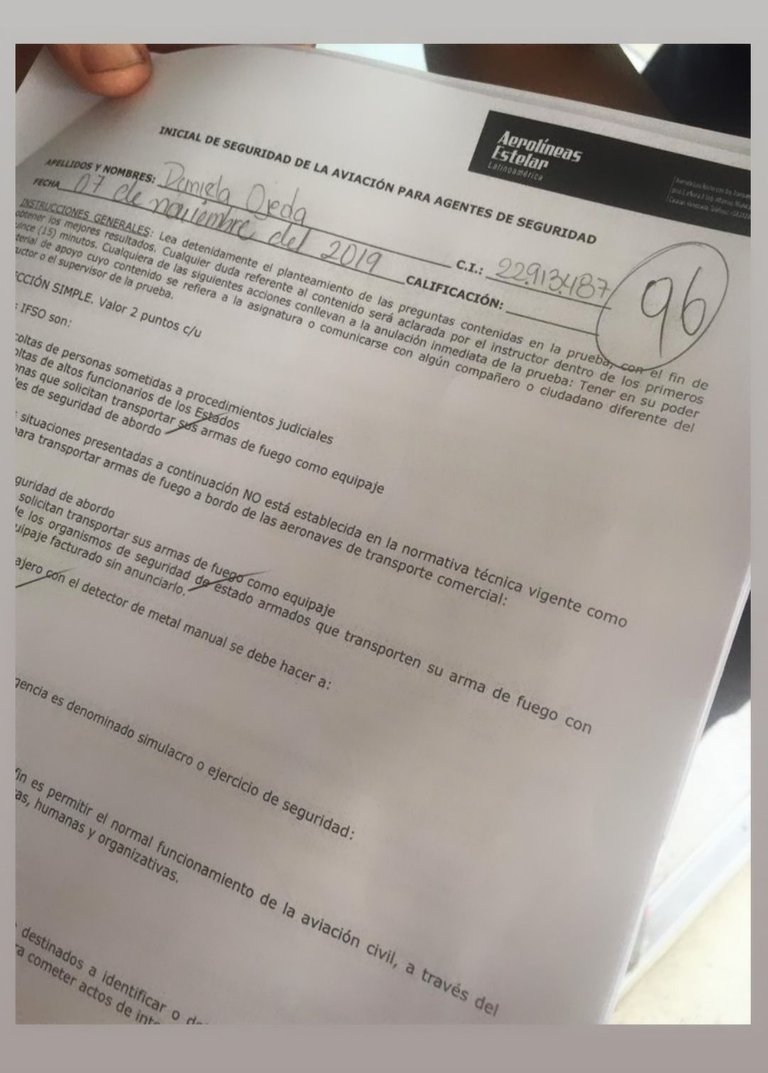 Qualifications obtained in my trainings - Calificaciones obtenidas en mis capacitaciones.
Due to the pandemic I am not working in the airline continuously so I decided to look for more options because I do not like to do anything, I am a person who likes to constantly feed on knowledge.
In search of solutions, I decided to do a manicurist course, that is, to fix nails, I did the basic course and the intermediate one, I still have to complete the advanced one. I have not done the advanced because I want to practice first and the materials are expensive so I bought them little by little. But it is very likely that I will soon share that experience with you 🙏🏻❤️ He also took the English course reaching the second level but it was very basic so I do not have much knowledge in English so I use a translator for my publications.
En vista de la pandemia no me encuentro laborando en la aerolínea de forma continua por lo que decidí buscar más opciones porque no me gusta estar sin hacer nada, soy una persona que le gusta nutrirse constantemente de conocimiento.
En busca de soluciones decidí realizar un curso de manicurista, es decir arreglando uñas realice el curso básico y el intermedio me falta por realizar el avanzado. No he realizado el avanzado porque quiero adquirir práctica primero y los materiales son costosos así que los he comprado poco a poco. Pero es muy probable que les comparta esa experiencia pronto 🙏🏻❤️ También realice el curso de inglés llegando al segundo nivel pero fue muy básico por lo que no tengo mucho conocimiento en inglés por lo cual utilizo traductor para mis publicaciones.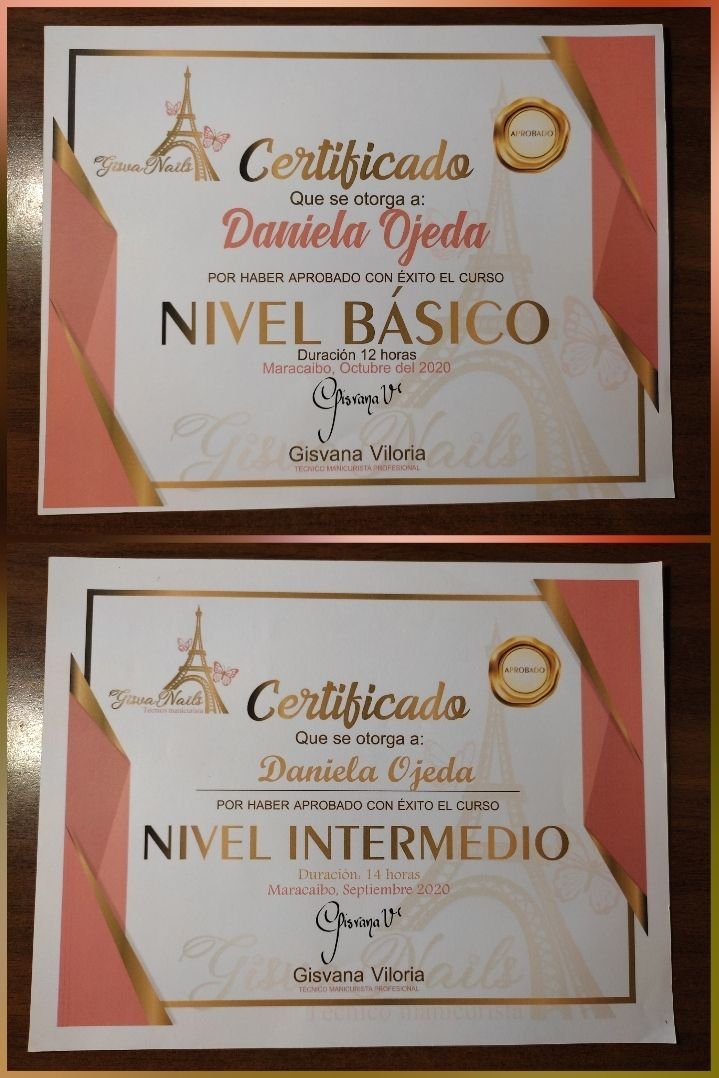 My manicurist certificates - Mis Certificados de manicurista.
And that's it for now 🤭 I am very proud of myself for everything I have achieved here, there are many things to mention but I would never finish writing. I know that the time will come when I can enjoy the fruits of everything I have harvested to this day, life is often hard and painful but it is still beautiful, better moments will always come, it is just a matter of always showing a smile. I say goodbye to kisses and hugs ❤️
Y eso es todo por ahora 🤭 estoy muy orgullosa de mí por todo lo que he logrado aquí faltan muchas cosas por mencionar pero no terminaría nunca de escribir. Se que llegará el momento donde pueda recoger los frutos de todo lo que he cosechado hasta el día de hoy, la vida muchas veces es dura y dolorosa pero aún así sigue siendo hermosa, siempre vendrán mejores momentos solo es cuestión de mostrar siempre una sonrisa indiferentemente de como este tu estado de ánimo. Me despido besos y abrazos. ❤️
🌹🌹🌹🌹🌹🌹🌹🌹🌹🌹🌹🌹🌹🌹🌹🌹🌹
The photographs are of my authorship taken with my Redmi Note 10 cell phone and edited with the Instagram application, the translation of the text is done using this medium: Deepl. You can reach me through my account
Instagram
Las fotografías son de mi autoría tomadas con mi celular Redmi Note 10 y editadas con la aplicación Instagram la traducción del texto la realice utilizando este medio: Deepl. Pueden ubicarme por medio de mi cuenta de
Instagram