[EN] - What is Ecency?
Ecency is a dApp that runs on the HIVE blockchain. It is built to make it easier to maintain your blog created on the HIVE blockchain. The dApp is also downloadable on smartphones, and both iOS and Android versions are available. This app helps a lot for users blogging with their smartphones, as well as creating new posts, you can also assign upvotes and comments. It encourages more interaction between users as we are now using our smartphones more frequently than a desktop PC,
Here is the link to the official website https://ecency.com/
Its founder is HIVE user @good-karma
[IT] - Che cosa è Ecency? (articolo del 25/09/2021)
Ecency è una dApp che gira sulla blockchain di HIVE. E' costruita per rendere più semplice la cura del proprio blog creato sulla blockchain di HIVE. La dApp è scaricabile anche su smartphone, ed è disponibile sia la versione per iOS che per Android. Questa applicazione aiuta molto gli utenti che fanno blogging con lo smartphone, oltre a creare nuovi post, si possono anche assegnare upvote e commenti. Incentiva maggiormente l'interazione tra utenti in quanto oggi usiamo più frequentemente lo smartphone anziché un PC desktop,
Qui di seguito il ilnk al sito ufficiale https://ecency.com/
Il suo fondatore è l'utente di HIVE @good-karma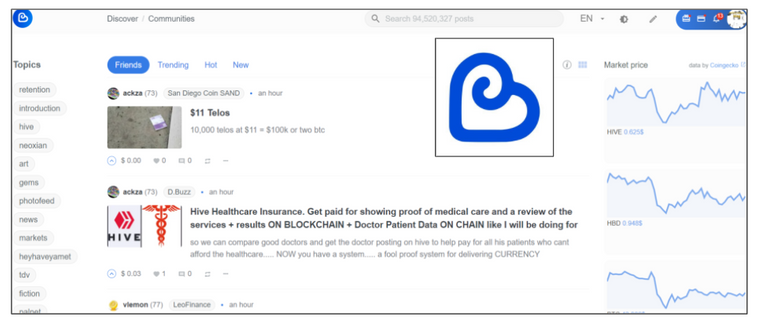 [EN]
Ecency has an internal system of points, called "POINTS". These POINTS are earned by doing things with the application. For example, if you make a post you will earn 15 POINTS, if you comment you will earn 5 POINTS, if you give an upvote you will be given 0.3 POINTS.
You can use the POINTS you earn to promote your posts, or you can turn them into a considerable upvote to give to your own post or someone else's post.
[IT]
Ecency ha un sistema interno di punti, chiamato "POINTS". Questi POINTS si guadagnano facendo delle operazioni con l'applicazione. Ad esempio, se si fa un post si guadagnano 15 POINTS, se commentiamo guadagnamo 5 POINTS, se daremo un upvote ci verranno dati 0,3 POINTS.
Con i POINTS ottenuti si possono promuovere i post oppure si possono anche trasformare in un upvote considerevole da cedere al proprio post oppure a quello di qualcun altro.


[EN]
Once in Ecency, everyone has a referral link, here is mine:
https://ecency.com/signup?referral=stefano.massari
To find your referral link you need to do the following:
-(figure 1) Go to the WEB application (https://ecency.com/) and click on "settings".
-(figure 2) At the bottom you will find your Ecency referral link.
[IT]
Una volta entrati in Ecency, ognuno di noi ho un Referral link, qui di seguito il mio:
https://ecency.com/signup?referral=stefano.massari
Per rintracciare il proprio Referral link bisogna eseguire l seguenti operazioni:
-(figura 1) Andare nell'applicazione WEB (https://ecency.com/) e cliccare su "settings"
-(figura 2) In basso troverete il vostro referral link di Ecency