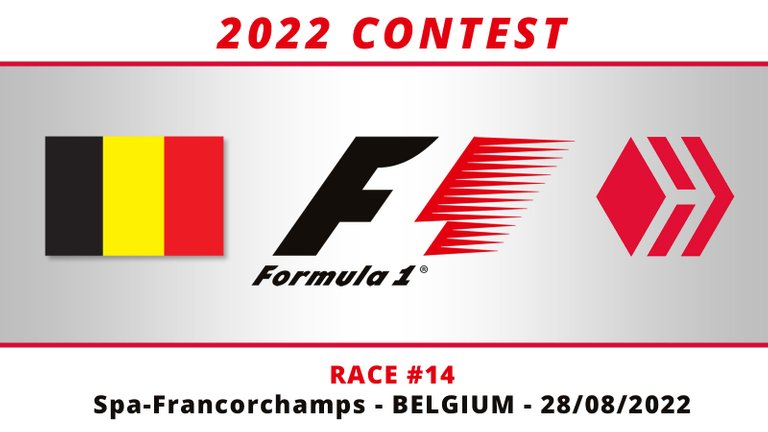 Gara #14 - Spa-Francorchamos, Belgio
Un saluto a tutti,
vacanze finite? Si, il campionato di Formula 1 riprende, e così il nostro contest. So correrà in Belgio, su una delle piste che preferisco in assoluto, quella di Spa-Francorchamps. Oltre ad essere la più lunga del campionato, è anche quella più tecnica, con la spettacolare doppia curva a ESSE con discesa e risalita: la famosissima Eau Rouge.
Quest'anno modificata leggermente per avere maggiori vie di fuga.
Probabilmente si aggiungerà l'incognita del meteo, che potrebbe rendere la gara ancora più spettacolare.
Qui contano molto l'esperienza dei piloti e avere una vettura ben bilanciata sui cambi di direzione. Vedendo i risultati delle ultime gare, possiamo dire che ormai Mercedes è tornata competitiva, quindi si aggiunge a RedBull e Ferrari come possibili vincitori.
Aspetto i vostri pronostici e come sempre, buona fortuna a tutti! 🏁
---
Molti di voi già conoscono il funzionamento del nostro contest, mentre per i nuovi rimando al regolamento del concorso presente nel post della prima gara.
---
Per quanto riguarda il nostro concorso, più sotto potete vedere i risultati dell'ultima gara e la nostra classifica generale.
Tutti speravamo in una Ferrari vincente, e invece nessuno ha centrato il pronostico. Dobbiamo però dire che non è stata una gara persa dalla Ferrari per mancanza di performance o capacità dei piloti, mai messe in dubbio, ma per una sbagliata strategia di scelta gomme per tutto il weekend. Però tra tutti i pronostici sbagliati, @c3r34lk1ll3r e @serialfiller hanno indovinato Russell al terzo posto, guadagnando almeno un punto.


Race #14 - Spa-Francorchamps, Belgium
Hello everybody,
holidays over? Yes, the Formula 1 championship resumes, and so does our contest. I know he will race in Belgium, on one of my absolute favorite tracks, that of Spa-Francorchamps. In addition to being the longest in the championship, it is also the most technical, with the spectacular S Shape double curve with descent and ascent: the famous Eau Rouge.
This year modified slightly to have more escape safe areas.
Probably the uncertainty of the weather will be added, which could make the race even more spectacular.
Here the experience of the drivers and having a well-balanced car on changes of direction count a lot. Seeing the results of the last few races, we can say that Mercedes is now competitive again, so it joins RedBull and Ferrari as possible winners.
I'll wait for your prediction, and as always, good luck to everyone! 🏁
---
Many of you already know how our contest works, while for the new ones I refer to the contest rules in the post of the first race.
---
As for our competition, below you can see the results of the last race and our general ranking.
We were all hoping for a winning Ferrari, but no one hit the odds. However, we must say that it was not a race lost by Ferrari due to the lack of performance or ability of the drivers, never doubted, but due to a wrong tire choice strategy for the whole weekend. But of all the wrong predictions, @c3r34lk1ll3r and @serialfiller guessed Russell in third place, earning at least one point.


Race #13 results and general standing



Races Calendar 2022
| RACE | Track | 1st | 2nd | 3rd |
| --- | --- | --- | --- | --- |
| | | | | |
| 20 / 03 | | | | |
| R01 | Bahrain | Leclerc | Sainz | Hamilton |
| 27 / 03 | | | | |
| R02 | Saudi Arabia | Verstappen | Leclerc | Sainz |
| 10 / 04 | | | | |
| R03 | Australia | Leclerc | Perez | Russell |
| 24 / 04 | | | | |
| R04 | Italy - Imola | Verstappen | Perez | Norris |
| 08 / 05 | | | | |
| R05 | USA - Miami | Verstappen | Leclerc | Sainz |
| 22 / 05 | | | | |
| R06 | Spain | Verstappen | Perez | Russell |
| 29 / 05 | | | | |
| R07 | Monaco | Perez | Sainz | Verstappen |
| 12 / 06 | | | | |
| R08 | Azerbaijan | Verstappen | Perez | Russell |
| 19 / 06 | | | | |
| R09 | Canada | Verstappen | Sainz | Hamilton |
| 03 / 07 | | | | |
| R10 | Great Britain | Sainz | Perez | Hamilton |
| 10 / 07 | | | | |
| R11 | Austria | Leclerc | Verstappen | Hamilton |
| 24 / 07 | | | | |
| R12 | France | Verstappen | Hamilton | Russell |
| 31 / 07 | | | | |
| R13 | Hungary | Verstappen | Hamilton | Russell |
| 28 / 08 | | | | |
| R14 | Belgium | - | - | - |
| 04 / 09 | | | | |
| R15 | Netherlands | - | - | - |
| 11 / 09 | | | | |
| R16 | Italy - Monza | - | - | - |
| 02 / 10 | | | | |
| R7 | Singapore | - | - | - |
| 09 / 10 | | | | |
| R18 | Japan | - | - | - |
| 23 / 10 | | | | |
| R19 | USA - Austin | - | - | - |
| 30 / 10 | | | | |
| R20 | Mexico | - | - | - |
| 13 / 11 | | | | |
| R21 | Brazil | - | - | - |
| 20 / 11 | | | | |
| R22 | Abu Dhabi | - | - | - |




Official FIA Formula 1 Site
Official FIA Formula 1 Youtube Channel
---
Call for the Players
@robertomarinello, @zottone444, @stefano.massari, @catgio, @zipsardinia, @lokibalboa, @ciuoto, @blumela, @yocritico, @alfredolopez1980, @grof, @jonelescalona, @vicpics, @dexpartacus, @franz54, @nfelix92, @fuentesjo3006, @chipi17, @edgarf1979, @cmoljoe, @sportsjrfc2018, @bisec, @lucasantangelo, @carlood, @dianagomez, @pagliozzo, @lelluzzo, @antorchajohnny, @acont, @dernierdiaz, @deusjudo, @lolyfuentes, @salazarcag, @colon2018, @linterio, @jclark, @neo-wiza, @sljivanono, @justamoment, @lostprophet, @lovetaxi005, @hollywwod, @barbadosso, @davidesimoncini, @serialfiller, @sukhothai, @perdomo56, @adimantong, @traveljack894, @stefanogabbo, @coccodema, @freestyle7, @massrado, @alequandro, @eagle71, @mrhuman88, @ifiwasfrank, @britandjosie, @cetyoung, @tosolini, @samubit, @vancouverpics, @samubit, @mauropi,@ifiwasfrank, @c3r34lk1ll3r, @bencwarmer, @siomara-2018, @sportsbuddy, @makeitreal95, @libertycrypto27, @ismaelgranados, @mrfrank88, @coolkris, @fraba, @stewie.wieno, @davidesimoncini and the others…
---
Immagini CC0 con diritti di modifica
CC0 Image labeled for reuse with modification