This is my entry for the daily #monomad challenge hosted and curated by @monochromes.
Hello and greetings everyone. I hope all of you are doing great and with a good health. Today we meet again for another black and white studio portraiture series from me. Today's black and white series was taken few time ago just after I graduated from the photography training. Francisca was my model during that time. She was introduced by a manager for a photoshoot, to update her portfolios and for posting on her social media for her new pageant that she was going to join. She brought few different type of dress for her photoshoot. For the first theme it was a casual photoshoot. She was wearing a black tube as an inner dress and white shirt with an flower decoration for her outer dress.
The studio setup for the actual shoot was using three lightings setup, but on the earlier session I was testing a one lighting setup for a more dramatic shoot and I managed to get some good shoot on the earlier setup. A one light setup with Godox 400w mounted with a beauty dish without the honey comb and a diffuser was placed on the left side of me. A 45 degree tilted from above and aimed to her face on a 45 degree angel from the camera. It was mainly aimed to illuminate her face with a darker shadow while contouring her face shape with the light. Most of the challenge while doing a photoshoot with one lighting setup was, how to balance the brighter area and the darker area. As for my case here today, I just went a little bit darker on the darker side comparing on my regular lighting setup. The contrast was set to the highest. Below are the images that I get from the photoshoot session.
Salam sejahtera dan salam sejahtera semua. Saya harap anda semua berada dalam keadaan yang baik dan diberi kesihatan yang baik. Hari ini kita bertemu lagi untuk satu lagi siri potret studio hitam putih daripada saya. Siri hitam putih hari ini diambil beberapa masa lalu selepas saya menamatkan latihan fotografi. Francisca adalah model saya pada masa itu. Dia diperkenalkan oleh seorang pengurus untuk sesi pemotretan, untuk mengemas kini portfolionya dan untuk menyiarkan di media sosialnya untuk pertandingan barunya yang akan disertainya. Dia membawa beberapa jenis pakaian yang berbeza untuk pemotretannya. Untuk tema pertama ia adalah pemotretan kasual. Dia memakai tiub hitam sebagai pakaian dalam dan kemeja putih dengan hiasan bunga untuk pakaian luarnya.

Persediaan studio untuk penggambaran sebenar menggunakan tiga persediaan pencahayaan, tetapi pada sesi sebelumnya saya sedang menguji satu persediaan pencahayaan untuk penggambaran yang lebih dramatik dan saya berjaya mendapatkan penggambaran yang baik pada persediaan yang lebih awal. Persediaan satu cahaya dengan Godox 400w yang dipasang dengan hidangan kecantikan tanpa sikat madu dan peresap diletakkan di sebelah kiri saya. 45 darjah condong dari atas dan ditujukan ke mukanya pada malaikat 45 darjah dari kamera. Ia terutamanya bertujuan untuk menerangi wajahnya dengan bayang-bayang yang lebih gelap sambil membentuk wajahnya dengan cahaya. Kebanyakan cabaran semasa melakukan pemotretan dengan satu persediaan pencahayaan adalah, bagaimana untuk mengimbangi kawasan yang lebih cerah dan kawasan yang lebih gelap. Bagi kes saya di sini hari ini, saya menjadi lebih gelap sedikit pada bahagian yang lebih gelap berbanding dengan persediaan pencahayaan biasa saya. Kontras telah ditetapkan kepada yang tertinggi. Di bawah adalah gambar-gambar yang saya dapat dari sesi photoshoot.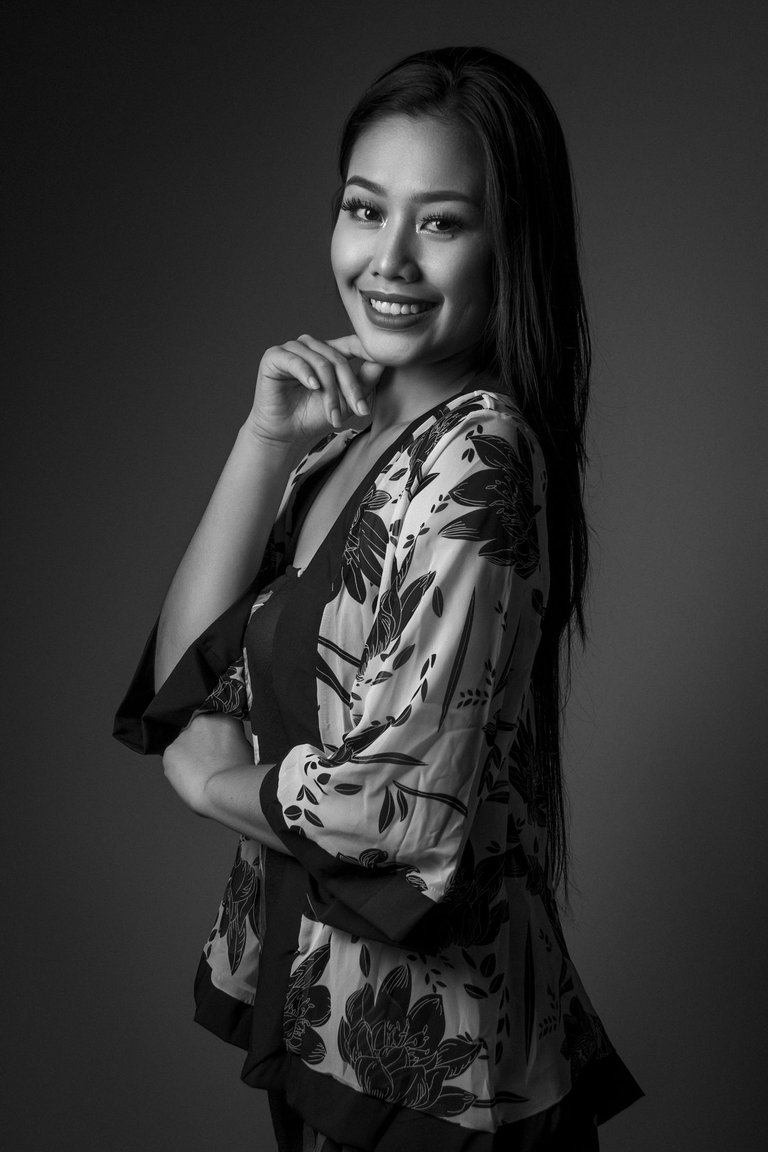 Vertical half body closeup shoot, EXIF : ISO - 100 | f 7.1 | 1 / 100 sec | 32mm | 0 step exposure bias
As you can see I had the perfect balance on the brighter and the darker area of the photo. Her face was perfectly illuminated with the light with a good shadow gradient. If I still remember the lighting was set to a very low power and was placed very near to her face and I managed to get this shoot. A clean black and white photo and this really made me happy :D
Seperti yang anda lihat, saya mempunyai keseimbangan sempurna pada kawasan yang lebih cerah dan lebih gelap pada foto. Wajahnya diterangi sempurna dengan cahaya dengan kecerunan bayang yang baik. Jika saya masih ingat pencahayaan telah ditetapkan pada kuasa yang sangat rendah dan diletakkan sangat dekat dengan mukanya dan saya berjaya mendapatkan penggambaran ini. Gambar hitam putih yang bersih dan ini benar-benar menggembirakan saya :D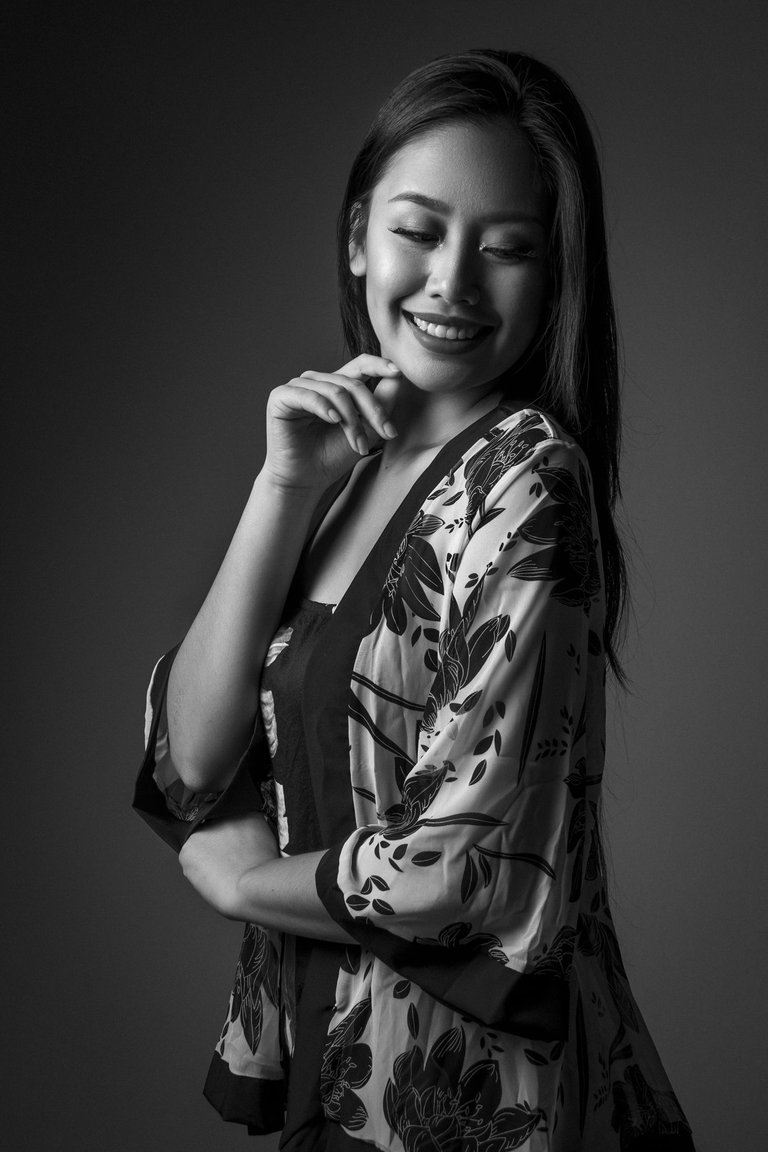 Vertical half body closeup shoot, EXIF : ISO - 100 | f 7.1 | 1 / 100 sec | 32mm | 0 step exposure bias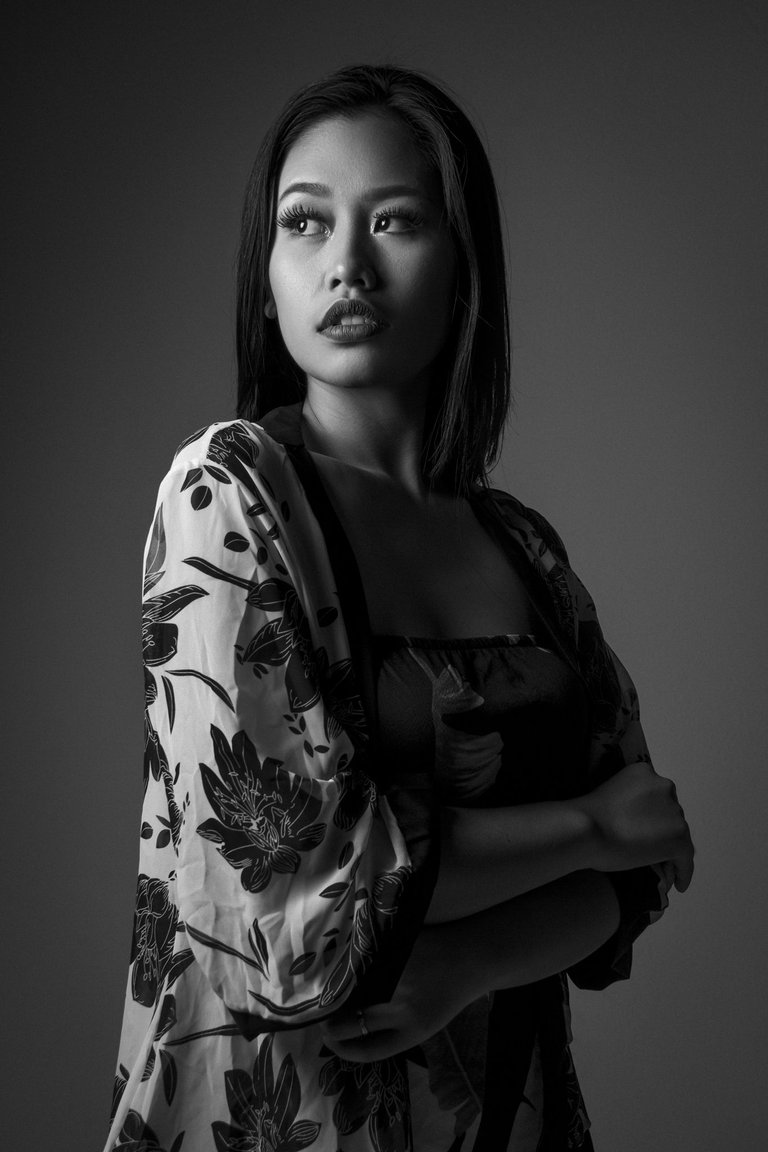 Vertical half body closeup shoot, EXIF : ISO - 100 | f 7.1 | 1 / 100 sec | 35mm | 0 step exposure bias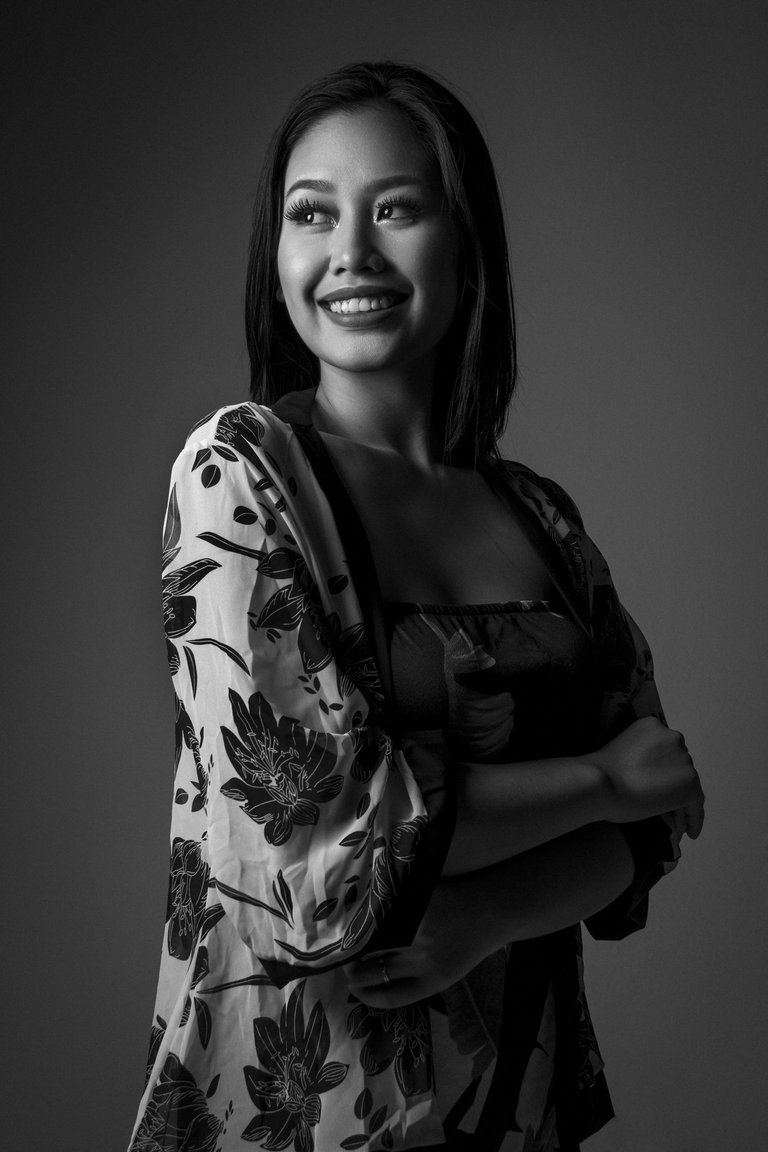 Vertical half body closeup shoot, EXIF : ISO - 100 | f 7.1 | 1 / 100 sec | 32mm | 0 step exposure bias
The photo above was taken after I asked her to change her body position. I tried to take only a little part of the dress and tried to make more of her body in the shadows. It turn out good to me. I like the vibes that it gives me. It makes me think for a new look on the next photoshoot session with only one lighting setup.
Gambar di atas diambil selepas saya memintanya menukar posisi badannya. Saya cuba mengambil hanya sebahagian kecil daripada pakaian itu dan cuba membuat lebih banyak badannya dalam bayang-bayang. Ia ternyata baik kepada saya. Saya suka getaran yang diberikannya kepada saya. Ia membuatkan saya berfikir untuk berwajah baharu pada sesi pemotretan seterusnya dengan hanya satu persediaan pencahayaan.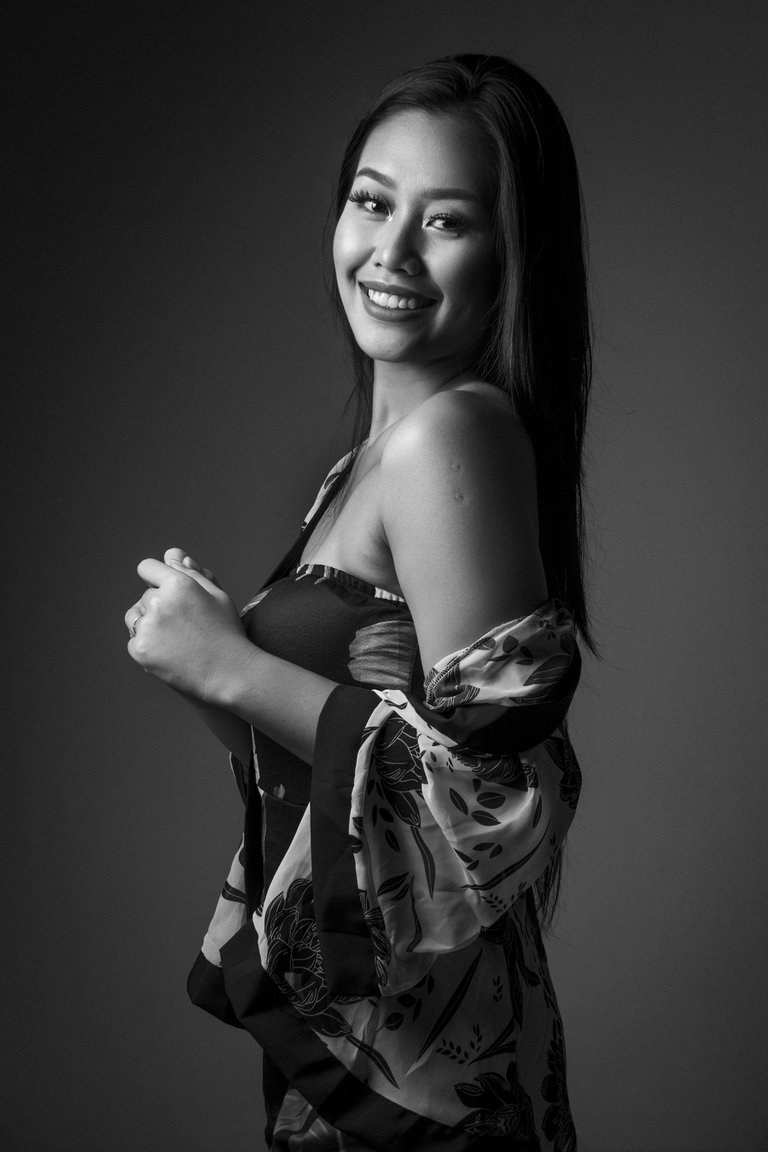 Vertical half body closeup shoot, EXIF : ISO - 100 | f 7.1 | 1 / 100 sec | 32mm | 0 step exposure bias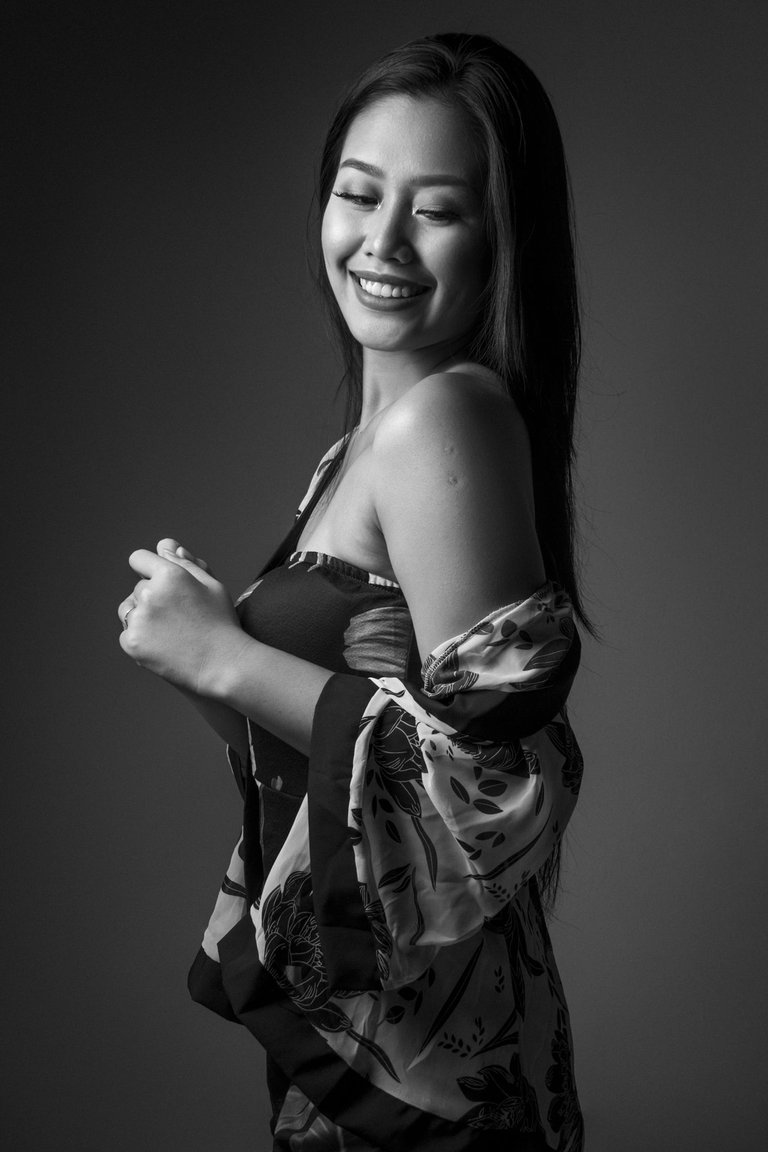 Vertical half body closeup shoot, EXIF : ISO - 100 | f 7.1 | 1 / 100 sec | 32mm | 0 step exposure bias
And that is all from me today. I am really happy to share this to all of you. I hope that you guys enjoy my post and thank you so much for visiting. Until we meet again on the next black and white portrait series from me. Stay safe always everyone and have a great day.
Dan itu sahaja daripada saya hari ini. Saya sangat gembira untuk berkongsi ini kepada anda semua. Saya harap anda semua menikmati siaran saya dan terima kasih banyak kerana melawat. Sehingga kita berjumpa lagi pada siri potret hitam putih seterusnya daripada saya. Kekal selamat sentiasa semua orang dan semoga hari yang hebat.
| | |
| --- | --- |
| Photographer | @tawadak24 |
| Camera | Canon 70D| 18mm - 200mm f3.5 - f5.6 |
| Editing Software | Adobe Photoshop CC |
| Stylus Tablet | XP Pen Deco 01 V2 |