---
Hello #Hive friends... These last few days have been exquisitely "photographic" here.... So, I've encountered many types of street photos.... Some stolen, some simply "found" and made with people's consent.... It's something I never get tired of doing, it's my "daily catharsis"...
Hola amigos de #Hive... Estos últimos días han sido exquisitamente "fotográficos" aquí... Entonces, he encontrado muchos tipos de fotos de calle... Algunas robadas, otras simplemente "encontradas" y hechas con anuencia de la gente... Es algo que no me canso de hacer, es mi "catarsis cotidiana"...
So, these photos and these stories are my entry to today's #monomad challenge...
Entonces, estas fotos y estas historias, son mi entrada al reto #monomad de hoy...
---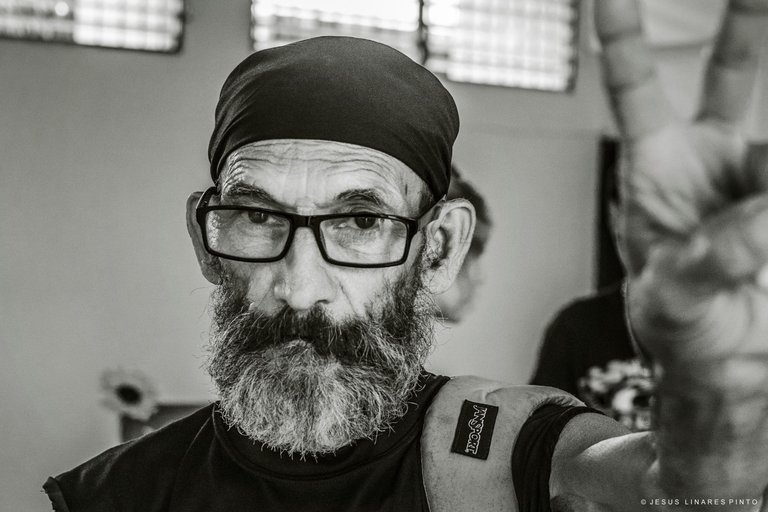 "Pablo Villamediana".... Pablo is an artist, he makes sculptures, wood carvings and he also paints... Pablo is a "typical character of the village"... He is quite eccentric and one day he can be very friendly and ready for a photo, and the next day he can pass by you without greeting you and absorbed in his thoughts... But Pablo, for me, is a good friend and an interesting person...
"Pablo Villamediana".... Pablo es artista, hace esculturas, tallas en madera y también pinta... Pablo es un "personaje típico del pueblo"... Es alguien bastante excéntrico y un día puede ser muy amigable y estar dispuesto para una foto, y al día siguiente puede pasar a tu lado sin saludar y absorto en sus pensamientos... Pero Pablo, para mi, es un buen amigo y una persona interesante...
---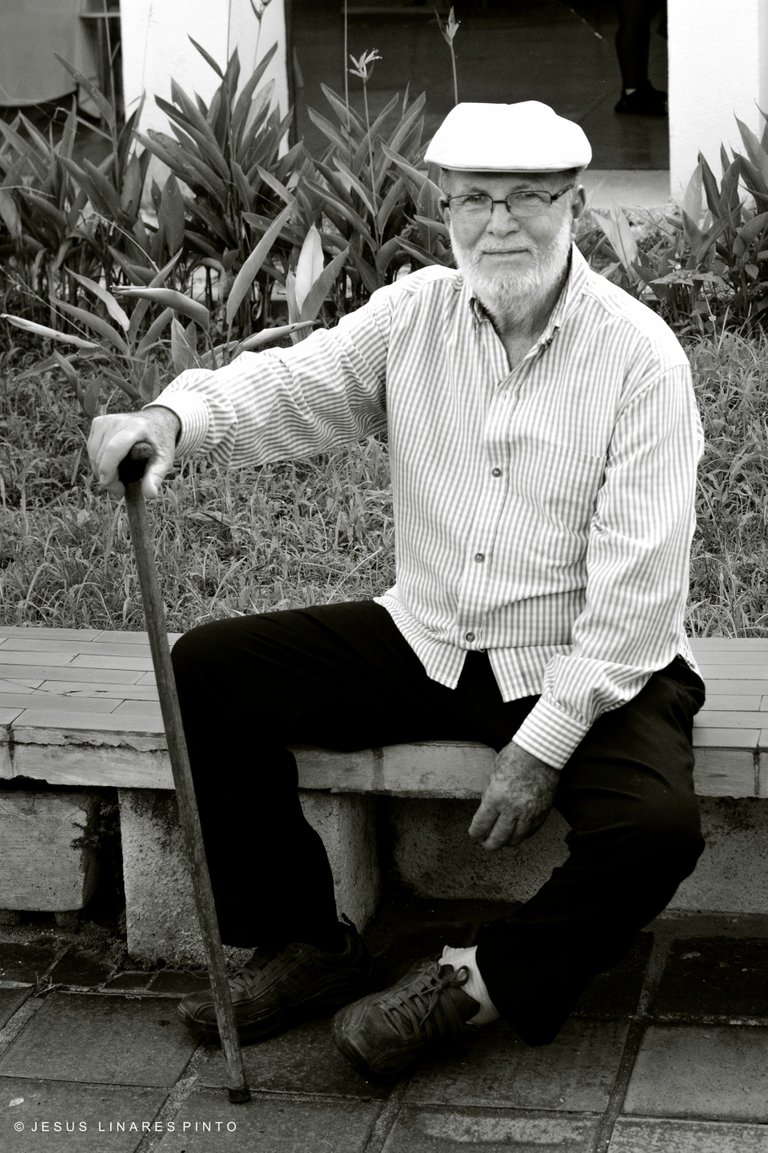 "Don Jesús"... My dear friend Jesús Soto is well known for his innate philanthropy, his good character and for being someone willing to help others at all times... This photo was taken during a cultural event where he was one of the main promoters...
"Don Jesús"... Mi entrañable amigo Jesús Soto es bien conocido por su filantropía innata, su buen carácter y por ser alguien dispuesto a ayudar a otros en todo momento... Esta foto se la hice durante un evento cultural en donde él fue uno de los promotores principales...
---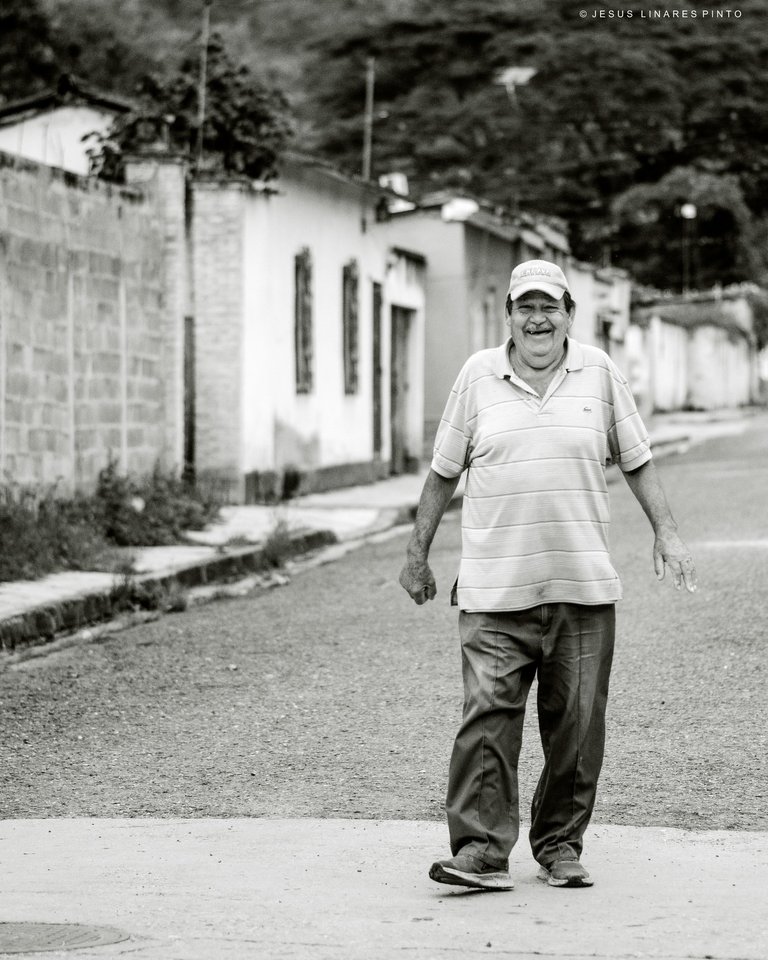 "El Musiú Antonio"... Antonio is my wife's stepfather, so he is "My father-in-law"... I find him walking frequently through the streets of the town, because his doctor has recommended daily walks to improve his health... The term "Musiú" is given here to people of foreign origin... Antonio has been given it because he was born in Portugal... With almost 40 years in the village, he is already a typical character!...
"El Musiú Antonio"... Antonio es el padrastode mi esposa, así que es entonces "Mi suegro"... LO encuentro caminando con frecuencia por las calles del pueblo, debido a que su medico le ha recomendado caminatas diarias para mejorar su salud... El termino "Musiú" se le da a aquí a las personas de origen extranjero... A Antonio se lo han asignado por haber nacido en Portugal... ¡Con sus casi 40 años en el pueblo ya es también un personaje típico!...
---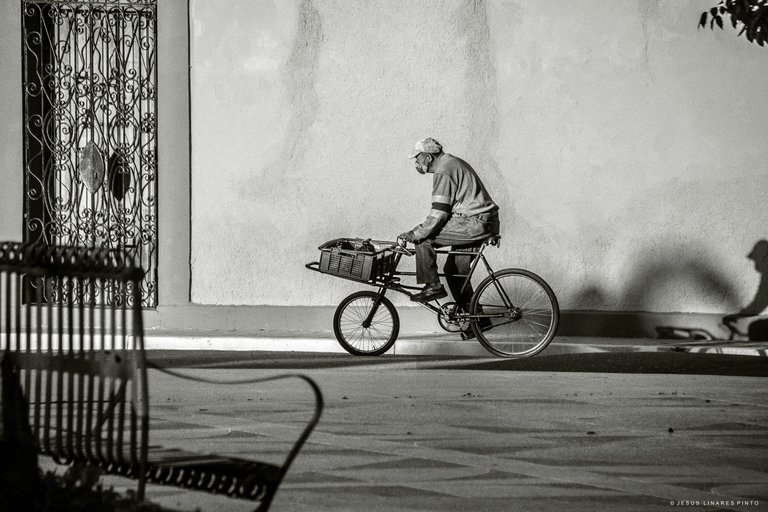 "Home deliveries"... This type of bicycles called "delivery bikes" are used by many people here to make a living by taking things to and from the local grocery stores and similar things... With the recent fuel crises, they have come back into vogue and have multiplied in the streets.... It's like going back in time for me....
"Entregas a domicilios"... Este tipo de bicicletas llamadas "repartidoras" son utilizadas por muchas personas aquí para ganarse la vida llevando y trayendo cosas a los clientes de los abastos locales y cosas similares... Con las recientes crisis de los combustibles, han vuelto a estar en voga y se han multiplicado en lasa calles... ¡Es como un retorno en el tiempo, para mi!...
---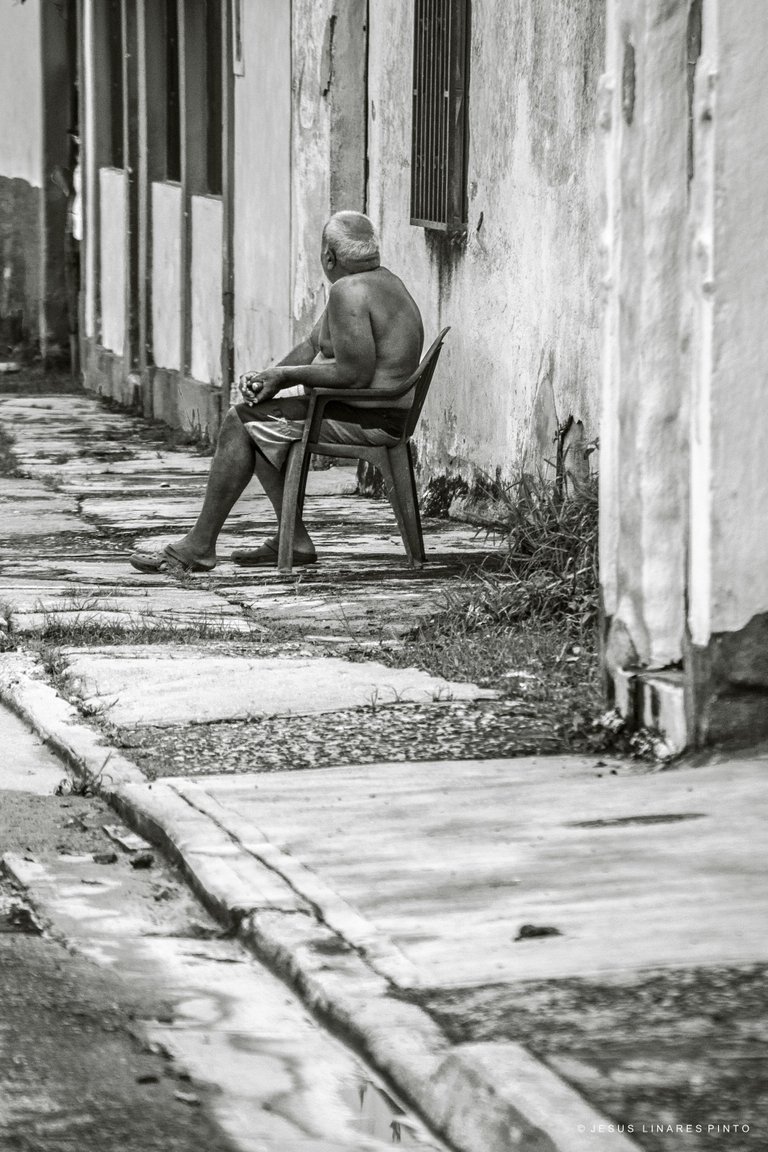 "Relax"... Well, it's 7 a.m. on a Wednesday morning, and my friend Luis has already pulled out his "favorite chair" to sit in front of his house and watch the people go by.... This is relaxed living!... ha ha ha ha.... :)
"Relax"... Bien, son las 7 de la mañana de un miércoles, y mi amigo Luis ya ha sacado su "silla favorita" para sentarse en frente de su casa a ver la gente pasar... ¡Esto es vivir relajado!... ha ha ha... :)
---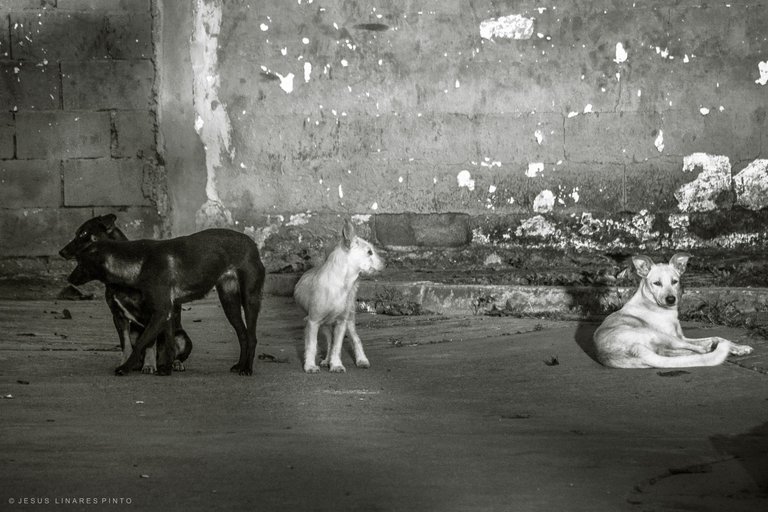 "Neighborhood dog pack"... At 6:30AM, when the sun begins to rise on the horizon, the stray dogs begin to appear on the nearby streets... Here many of us feed them and some people even keep them in their backyards so they can sleep during the night... Although many of them are reluctant to be in the houses...
"Jauría del vecindario"... A las 6:30AM, cuando el sol comienza a despuntar en el horizonte, los perritos callejeros comienzan a aparecer en las calles cercanas... Aquí muchos solemos darles de comer e incluso algunas personas los guardan dentro de sus patios para que duerman durante la noche... Aunque muchos son reacios a estar en lasa casas...
---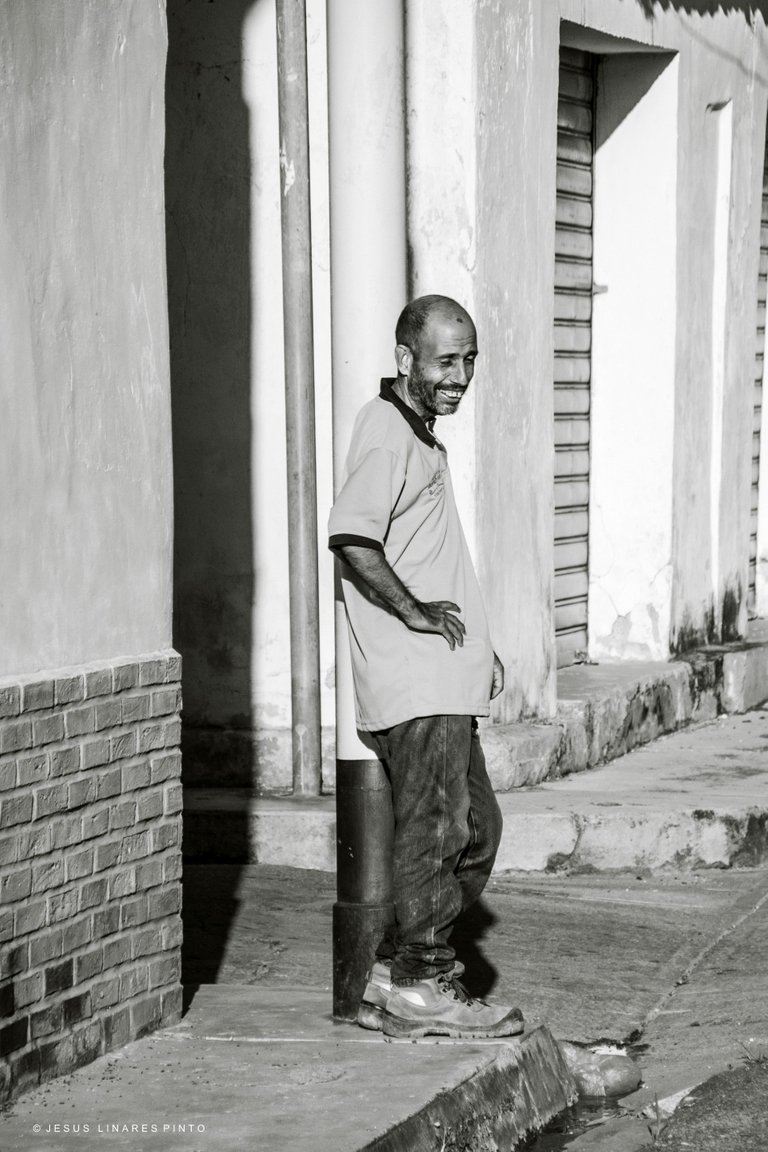 "Julio el cascarrabias".... :)) Julio is my cousin and he works in a hardware store owned by his family... The store opens at 8AM, but Julio is usually on the street since 7AM watching that the employees arrive very early and being irritating with those who arrive a little late... He has earned the nickname "Julio el cascarrabias" (Julio the grouch) because of this habit... It's more like a joke... And quite funny by the way.
"Julio el cascarrabias"... :)) Julio es mi primo y trabaja en una ferreteria propiedad de su familia... Dicha tienta abra a las 8AM, pero Julio suele estar de piue en la calla desde las 7AM vigilando que los empleados lleguen muy temprano y siendo irritante con los que llegan un poco tarde... ¡Se ha ganado el apodo de "Julio el cascarrabias" debido a esa costumbre... Es más bien como una broma... Y bastante gracioso por cierto.
---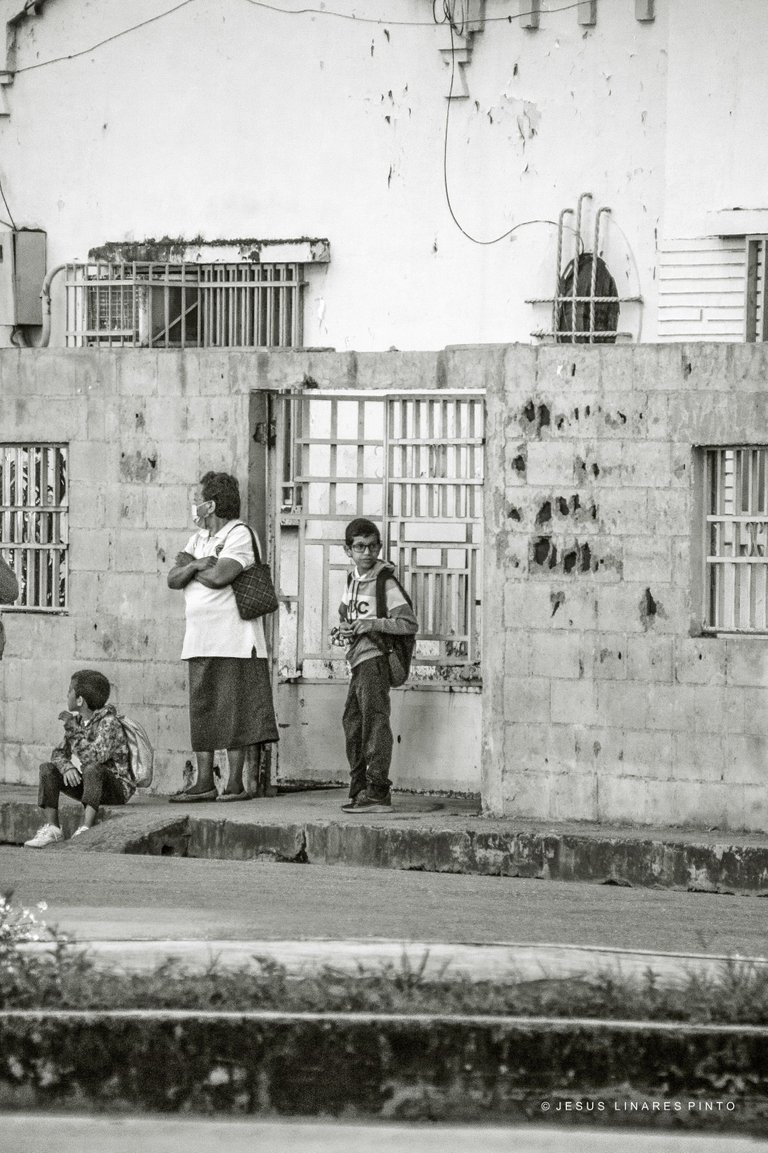 "The school gate".... 45 years ago, I was the child who used to stand at that door together with my master, waiting to enter the school... Today the façade of my old school is somewhat deteriorated, but inside those walls my memories as a child are still intact...
"La puerta de la escuela"... 45 años atrás, era yo quien solía estar de pie en esa puerta junto con mi maestra, esperando para entrar a la escuela... Hoy la fachada de mi vieja escuela está algo deteriorada, pero dentro de esas paredes mis recuerdos de niño siguen estando intactos...
---
These then are my "Stolen Stories" for today.... Always in the streets, with memories, anecdotes and my daily people... Thank you very much to all of you for stopping by and appreciating, we will see each other again soon with more pictures and more lines between us...
Estas son entonces mis "Historias Robadas" de hoy... Siempre en las calles, con recuerdos, anécdotas y mi gente de a diario... Muchas gracias a todos por pasas y apreciar, nos veremos pronto nuevamente con más fotografías y más lineas entre nosotros...
END / FIN
---
"We make photographs to understand what our lives mean to ourselves." - Ralph Hattersley.
"Hacemos fotografías para comprender lo que nuestras vidas significan para nosotros mismos." - Ralph Hattersley.

Camera: Nikon D7000 | Lens: Sigma 18-200mm f3.5-6.3 II DC OS HSM
Cámara: Nikon D7000 | Objetivo: Sigma 18-200mm f3.5-6.3 II DC OS HSM
Montalbán, Carabobo, Venezuela.