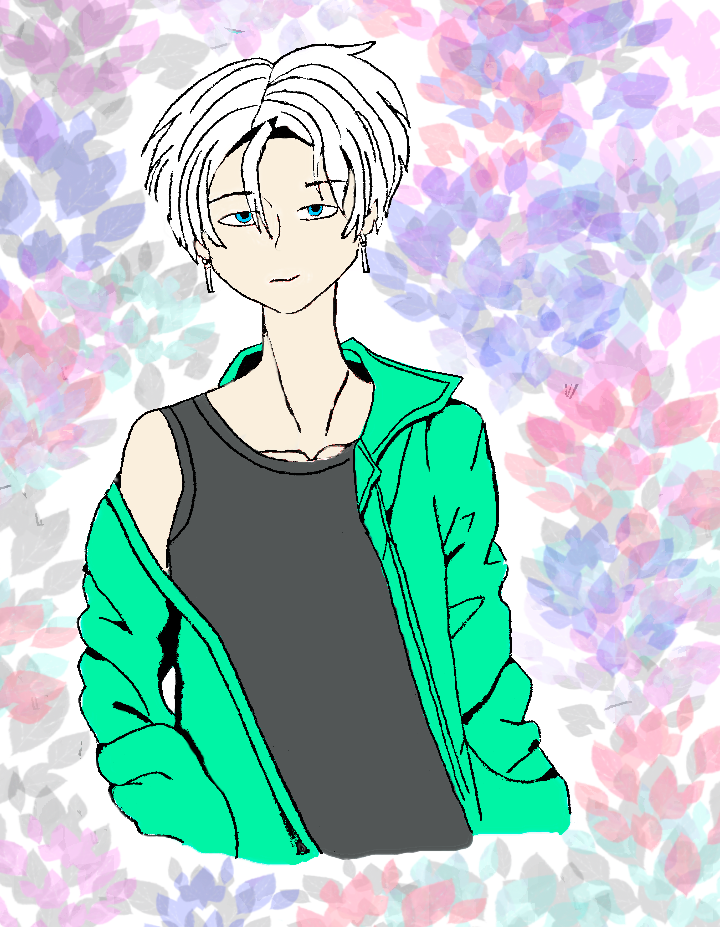 ¡Hola, gente de internet! Este es mi tercer dibujo probando el arte digital, y quiero mostrárselos. Como digo en diversas ocasiones, recién estoy aprendiendo a dibujar, asimismo también estoy empezando a curiosear con el arte digital, así que instalé photoshop y me puse manos a la obra.
Hello, Internet People! This is my third drawing trying digital art, and I want to show it to you. As I say in several occasions, I'm just learning how to draw, I'm also starting to be curious with digital art, so I installed photoshop and I started to work on it.
Desempolvé los comandos de photoshop que había aprendido de amigas diseñadoras gráficas cuando trabajé en un fotoestudio, y poco a poco empecé a trabajar. Tomé dos fotografías de Yesung como referentes, en una me gustaba su pose y en la otra su ropa, así que tomé elementos de ambas fotos:
I dusted off the photoshop commands I had learned from graphic designer friends when I worked in a photo studio and slowly started to work. I took two photographs of Yesung as references, in one I liked his pose and in the other his clothes, so I took elements from both photos: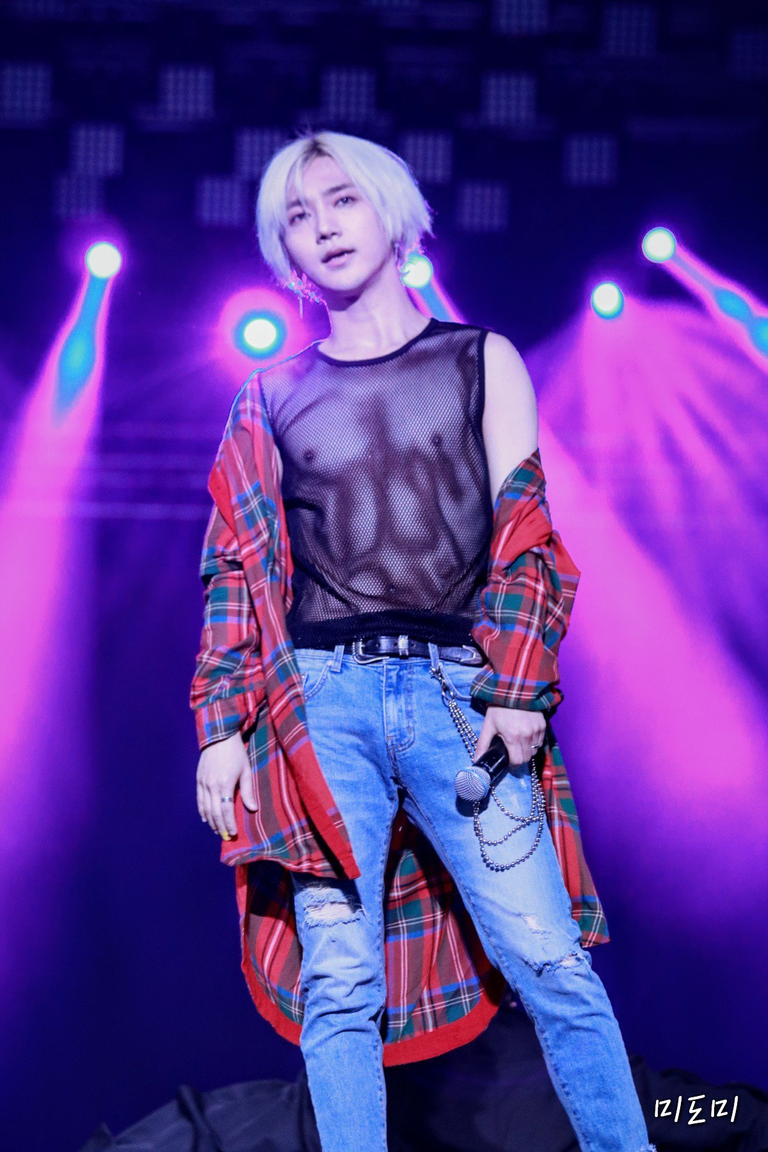 Fuente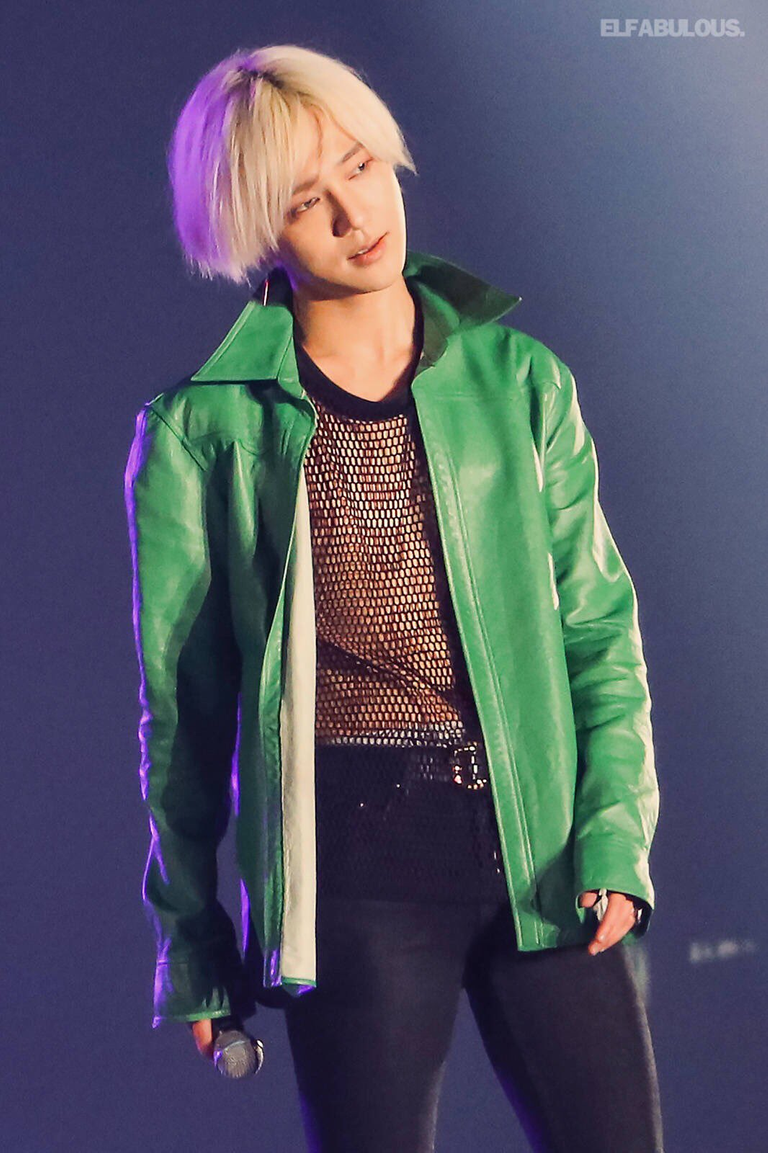 Fuente
La orientación del hombro descubierto de Yesung la cambié por estar distraída, pero como no era algo grave, decidí dejarlo así y no borrar todo el trabajo que ya había hecho.
The orientation of Yesung's bare shoulder I changed it because I was distracted but as it was not serious, I decided to leave it like that and not erase all the work I had already done.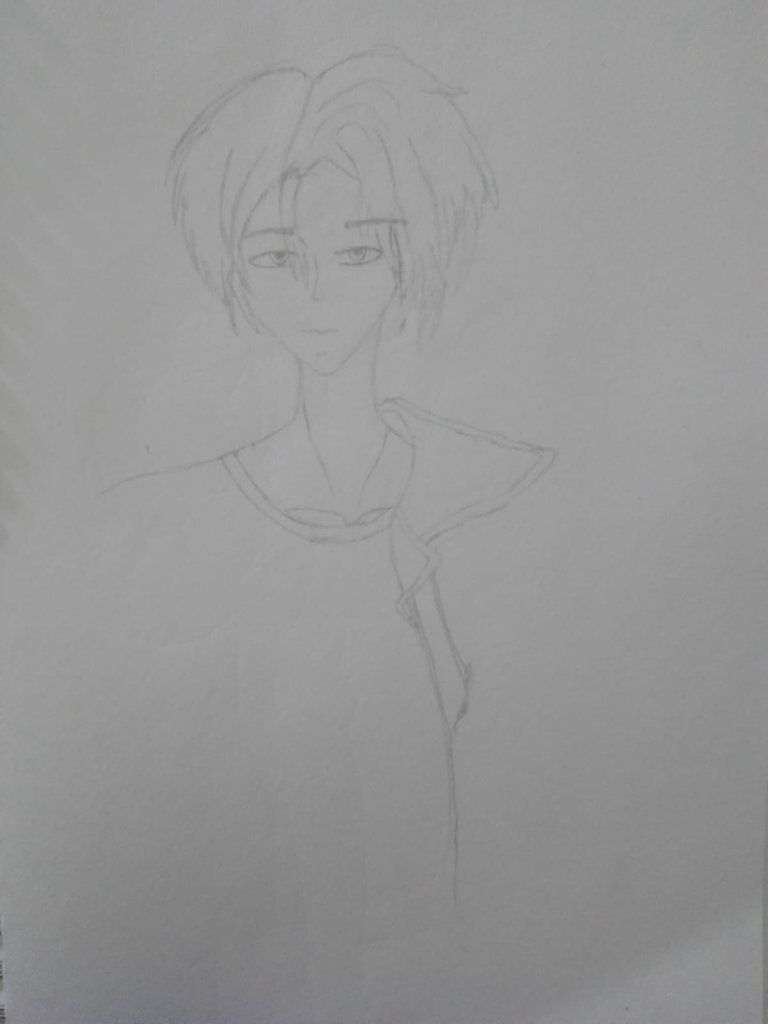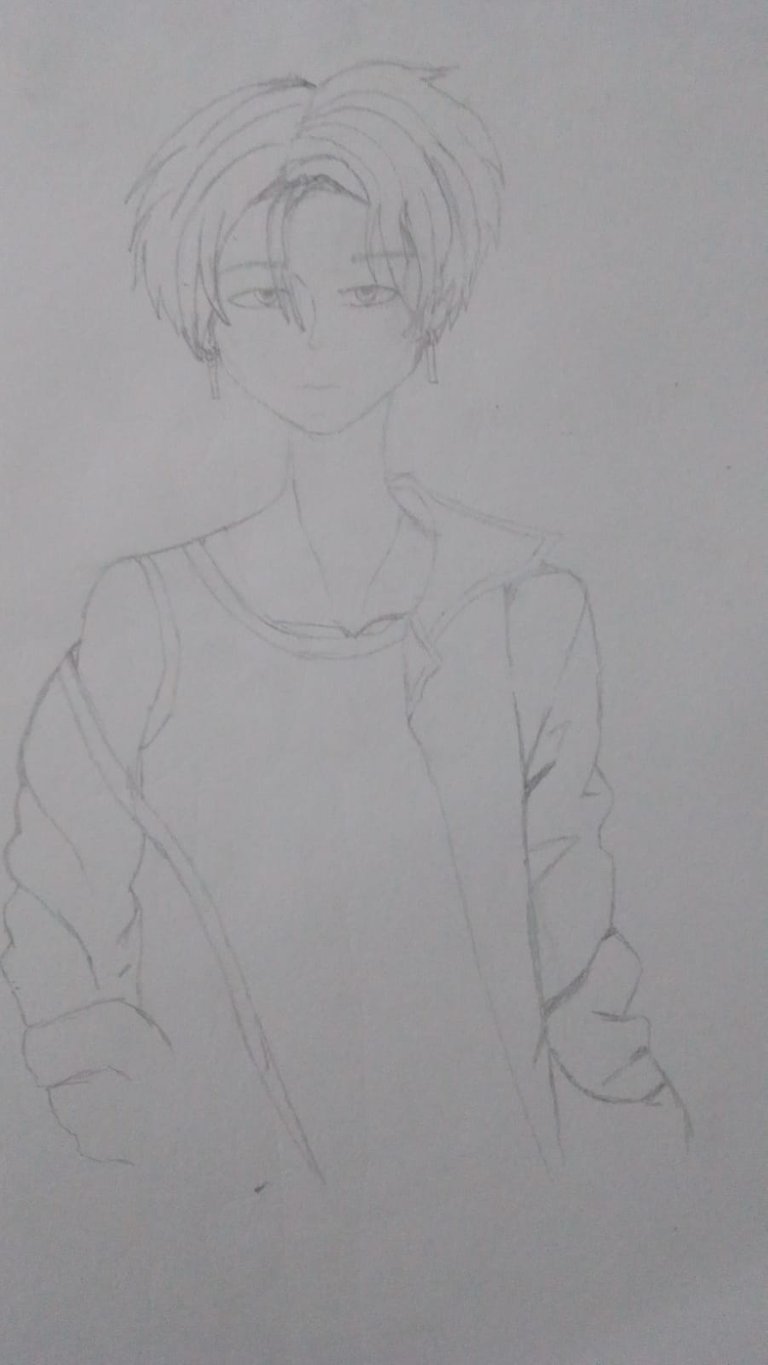 En el primer boceto, tuve problemas de proporción. Tengo ventaja con Yesung dado a que mi estilo preferido es el Anime y él tiene una cara pequeña en forma de "V" (el típico estándar de belleza asiática) y así son los rostros de los personajes de Anime. Sin embargo estaba haciéndole la carita muy en "V" y sus hombros muy grandes para la contextura del Idol, así que en la segunda foto, se ve como lo corregí.
In the first sketch, I had proportion problems. I have an advantage with Yesung since my favourite style is Anime and he has a small "V" shaped face (the typical Asian beauty standard) and that's the way Anime characters' faces are. However, I was making his face too V-shaped and his shoulders too big for the Idol's build, so in the second picture, you can see how I corrected it.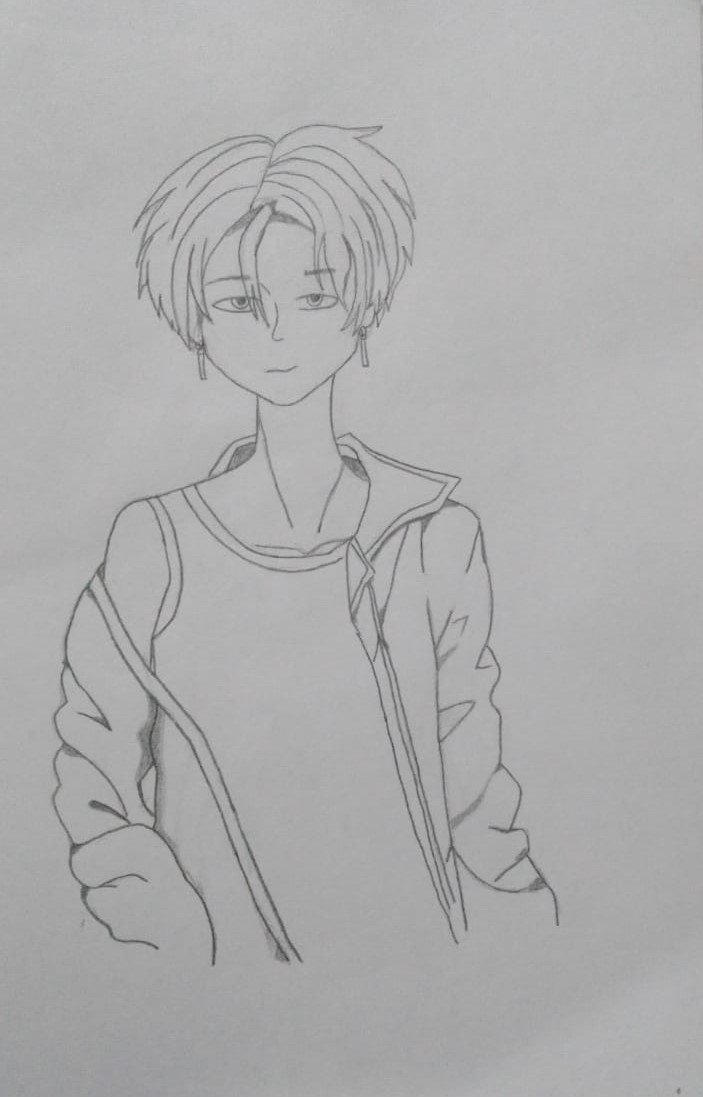 Aquí se ve como le hice las sombras (tenía que especificarlas en el grafito para guiarme mejor a la hora de colorearlo en la computadora) y de hecho después tuve que usar el lápiz más grueso para remarcar todo el dibujo y que el scaner lo pudiese tomar.
Here you can see how I made the shadows (I had to specify them in the graphite to guide me better when colouring it in the computer) and in fact I had to use the thickest pencil afterwards to highlight the whole drawing, so that the scanner could take it.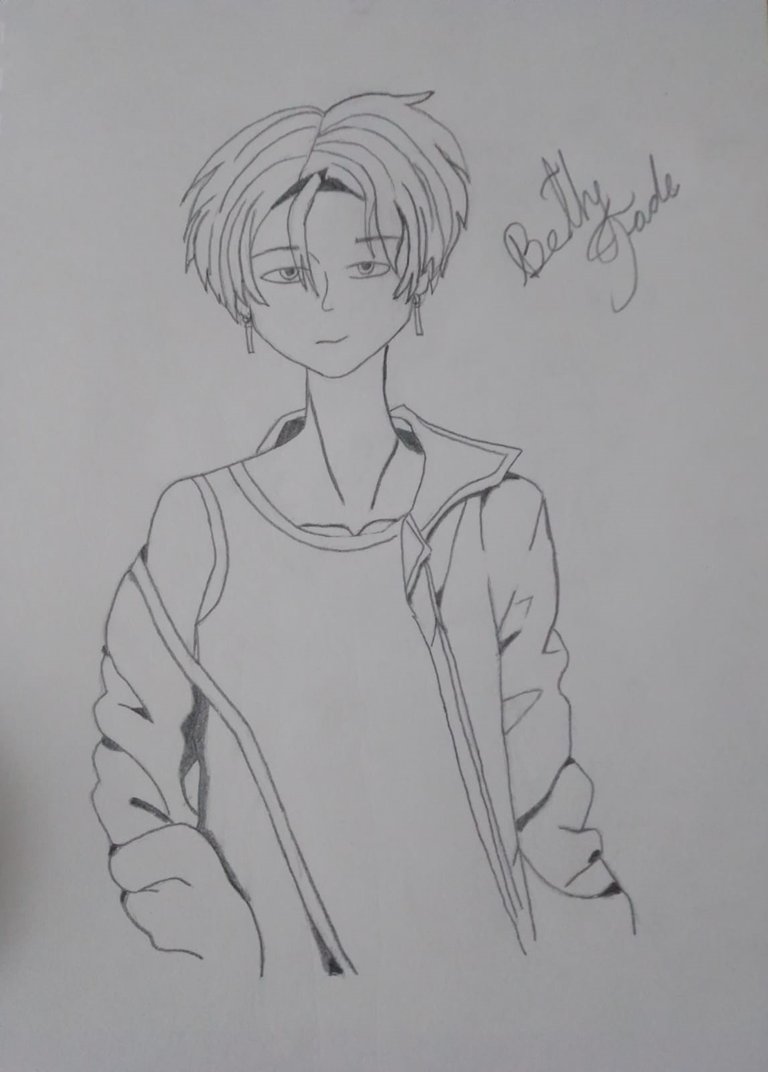 Y así se ve el dibujo ya escaneado:
And this is what the scanned drawing looks like: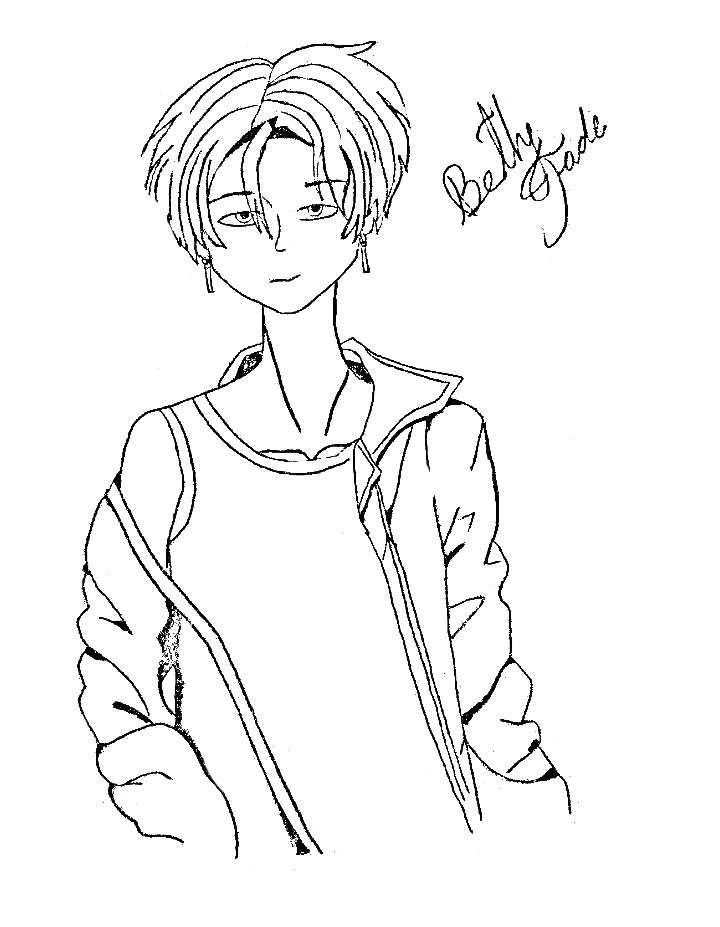 Aquí les dejaré el video del proceso de coloreado y debajo explicaré algunas cosas referentes a él.
Here is the video of the colouring process and below I will explain some things about it.
---
Dibujo y coloreo a Yesung de Super Junior
La música utilizada en el video es la siguiente:
Branded in my heart
Fireworks
Confession
Wish
Like Us
Eats Ok
Maybe My Story About Us
Pink Magic
Todos los derechos a Yesung, SJ Label y SM Entretament
All rigth reserved to Yesung, SJ Label and SM Entretament.
Super
Todos los derechos a Super Junior, SJ Label y SM Entretament
All rigth reserved to Super Junior, SJ Label and SM Entretament.
---
▶️ 3Speak
Trabajé al principio con los colores invertidos (esto nos da colores más vivos que la paleta común) con este trabajé la ropa y los ojos de Yesung. Intenté trabajar también en su cabello y piel pero no me gustó el resultado. Una vez que terminé con eso, guardé la imagen en png, así podría ser editable al volverla a trabajar, entonces al volverla a trabajar, empecé a buscar una nuevo color de piel para Yesung.
At first I worked with inverted colours (this gives us more vivid colours than the common palette) with this I worked on Yesung's clothes and eyes. I also tried to work on his hair and skin, but I didn't like the result. Once I was done with that, I saved the image in png format, so it could be editable when I reworked it, then when I reworked it, I started to look for a new skin colour for Yesung.
Yesung tiene una piel bastante blanca, así que es difícil de representar en un dibujo, ya que mientras buscaba el tono ideal, el primer resultado fue muy gris y después la piel tenía un subtono un poco amarillento, probé varias combinaciones hasta que di con un tono con el que quedé contenta.
Yesung has quite white skin, so it's difficult to represent in a drawing, as while I was looking for the ideal shade, the first result was very grey and then the skin had a slightly yellowish undertone, I tried several combinations until I found a shade I was happy with.
Después trabajé las sombras y detalles, las herramientas que más usé fueron el cuentagotas y el pincel, así que a facultad, tomaba una u otra para ir corrigiendo detalles en el dibujo.
Then I worked on the shadows and details, the tools I used the most were the dropper and the brush, so at times, I took one or the other to correct details in the drawing.
Asimismo, acomodé detalles del cabello y lo puse más prolijo para entonces dar paso al fondo.
I also arranged details of the hair and made it neater and then gave way to the background.
Este lo hice con un pincel de textura, utilizando colores que me parecía que combinaban con la paleta que quería manejar y que no deslucieran a Yesung, incluso al final decidí borrar mi firma porque no me gustaba como se veía el fondo con ella, y al final así quedó:
I did this one with a texture brush, combining colours that I thought matched the palette I wanted to use and that didn't detract from Yesung, even at the end I decided to erase my signature because I didn't like the way the background looked with it, and that's how it ended up: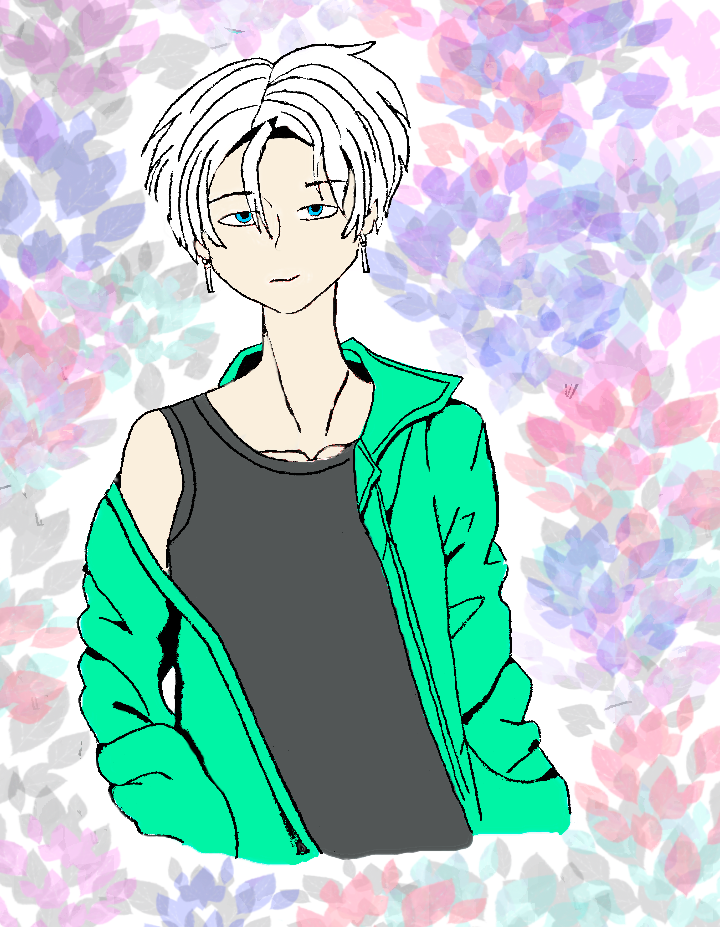 Y bueno, gente, esto ha sido todo por el post de hoy, espero que les haya gustado. Muchas gracias como siempre por apoyar mi trabajo, le doy la bienvenida a los nuevos lectores, les quiero mucho a todos, les envío un abrazo y ya nos encontraremos en otro post
And well, people, that's all for today's post, I hope you liked it. Thank you very much as always for supporting my work, I welcome new readers, I love you all very much, I send you a hug and I'll see you in another post.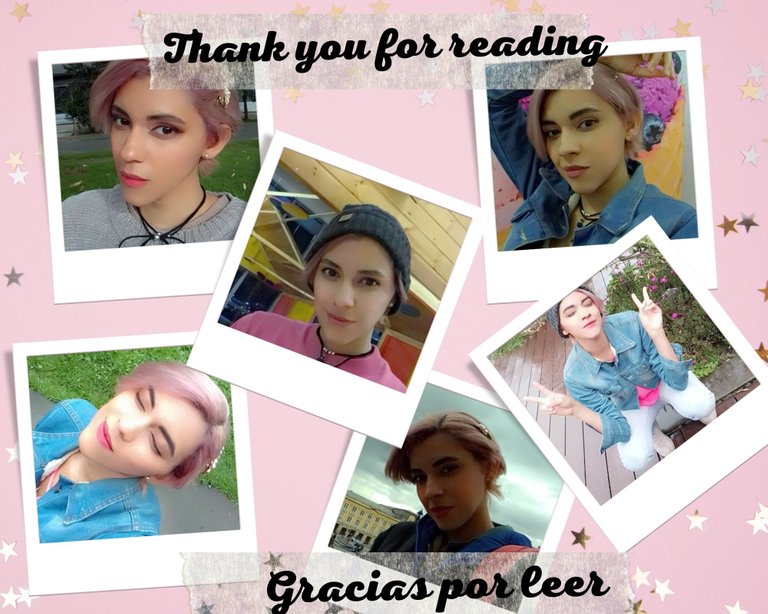 I made the farewell image in Canva.
La imagen de despedida la realice en Canva