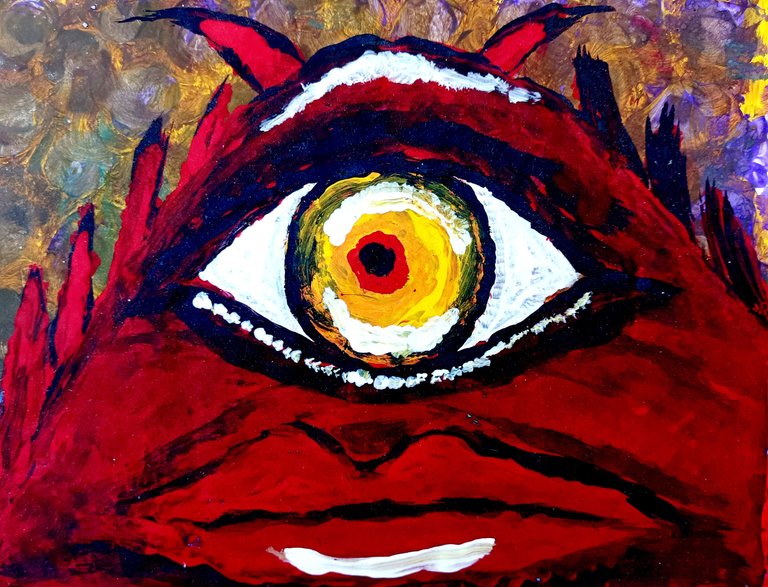 Todo ojo
---
-No sé a qué te refieres, yo solamente veo un ojo-
-Tiene dos, uno al frente y el otro en la parte de atrás de la cabeza, de otra manera, Cómo nos vería a los dos al mismo tiempo?-
-Yo lo veo de frente, puedes confirmar que lo estás viendo de espalda?-
-Claro que no. Yo también lo estoy viendo de frente-
-Ah ya veo. Entonces tiene dos frentes-
-Al parecer si-
-Crees que sea peligroso?-
-No lo sé, pero igual no quiero averiguarlo-
-Recuerda que solo nos ordenaron observar y reportar-
-Si, pero ya me estoy cansando, no sé mueve nada-
-Es mejor, no crees?-
-Supongo que si-
-Disculpen, ya tienen rato mirándome. Les puedo ayudar en algo?-
-No señor monstruo. Lo que sucede es que nos llamó la atención que usted tenga dos caras con un solo ojo cada una-
-Pero, de que están hablando? Yo soy todo ojo. Lo que ustedes están viendo son mis tatuajes. Ya saben para verme más normal-
-Todo ojo? Podría por favor explicarlo-
-Creo que es mejor que lo vean por ustedes mismos-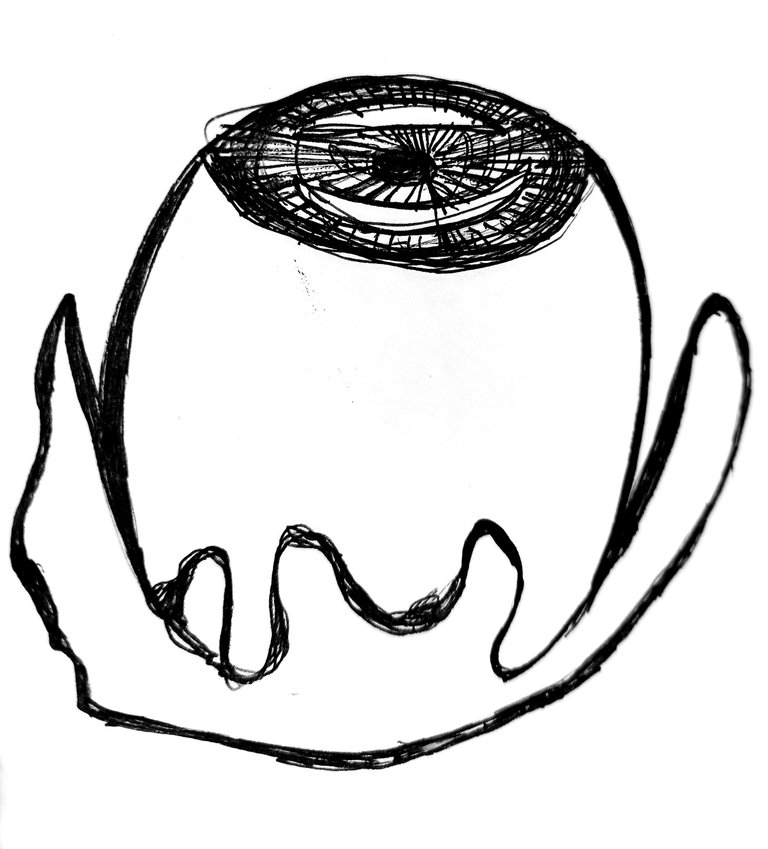 -Hay caray, es cierto. Puedo tocarte-
-Puede, por supuesto, pero no te lo recomiendo-
-Que fue eso?-
-Supongo que fue como ver todo el mundo al mismo tiempo-
-Ya para de vomitar-
-Es que eso fue impresionante-
-Y para donde se fue el monstruo?-
-No lo sé, supongo que también puede teletransportarse-
-Puede al parecer si. Tu que vas a reportar?-
-Yo nada y tu?-
-Yo tampoco-
---
Historia corta y dibujos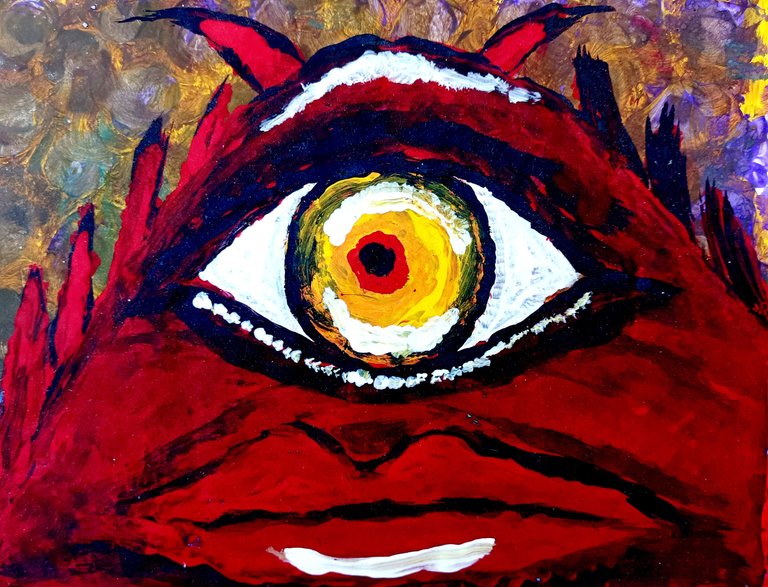 All eye
-I don't know what you mean, I only see one eye-
-He has two, one in the front and the other in the back of his head, otherwise, how would he see us both at the same time?-
-I see it from the front, can you confirm that you are seeing it from the back?-
-Of course not. I'm also looking at it from the front-
-Oh I see. So he has two fronts-
-Apparently, yes-
-Do you think it's dangerous?-
-I don't know, but I still don't want to find out-
-Remember that we were only ordered to observe and report-
-Yes, but I'm getting tired, I don't know how to move anything-
-It's better, don't you think?-
-I guess so-
-Excuse me, you've been looking at me for a while. Can I help you with something?
-No sir monster. What happens is that we were struck by the fact that you have two faces with only one eye each-
-But what are you talking about? I am all eye. What you are seeing are my tattoos. You know to see me more normal-
-All eye? Could you please explain-
-I think it's better that you see for yourselves-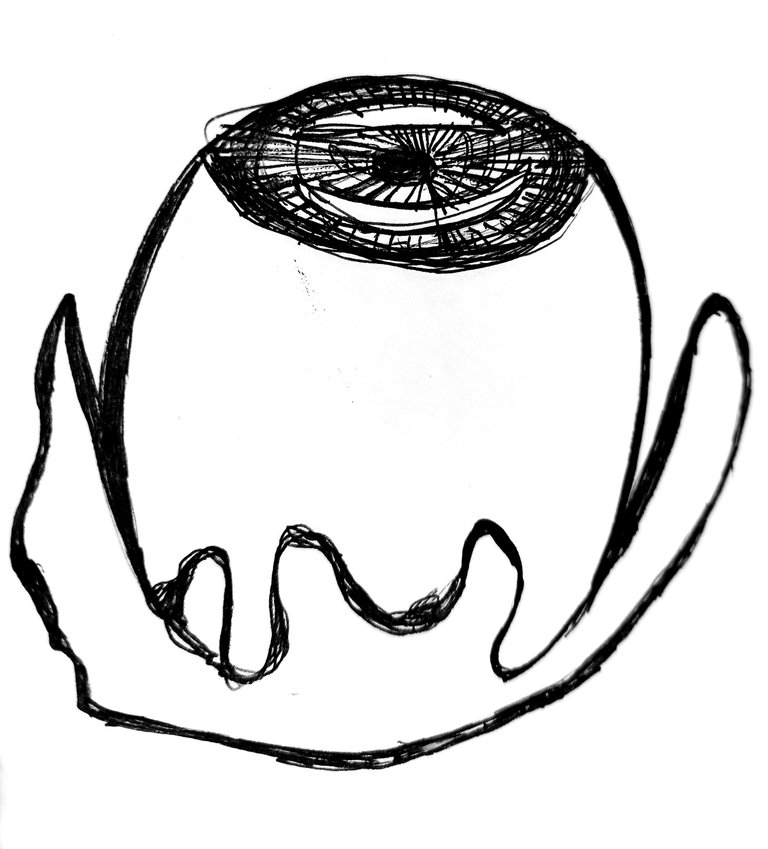 -There's hell, it's true. Can I touch you-
-You can, of course, but I don't recommend it-
-What was that?-
-I guess it was like seeing the whole world at the same time-
-Stop vomiting-
-That was impressive-
-And where did the monster go?-
-I don't know, I guess he can also teleport-
-Apparently. What are you going to report?
-Me? nothing and you?-
-Neither do I-
---
Short story and painting