Hi fellow Buidlers,
Today I'm finally back with the finished piece of a post I started a year ago LOL the birdhouse!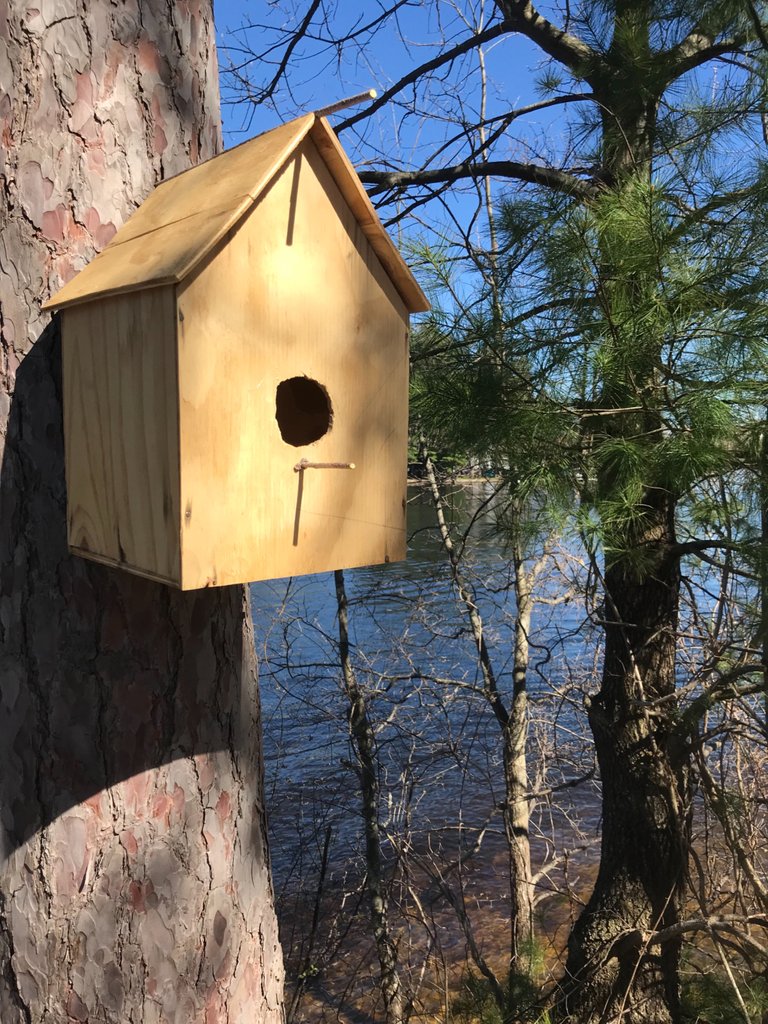 Birdhouse Complete
One of the things that happens with me and some projects is that it takes me a while to do them for one reason or another. I don't know if I had a great reason not to do this one but nevertheless it was delayed for probably nearly a year at this point lol. Better late than never :D
I had the birdhouse sitting on a shelf with some other things and we've been cleaning house in a major way so that we can more easily move a long distance and not have to pack this stuff. So instead of throwing the birdhouse out, I decided it's best to finish it and hang it up!
That certainly starts with making sure the birdhouse was finished and accessible for the little critters. It was missing a hole for them to get into the house! I was looking for a way to fix that without having a hole saw kit. I decided to use a water bottle, the best round shape I could find. With the employment of the little man as well, certainly!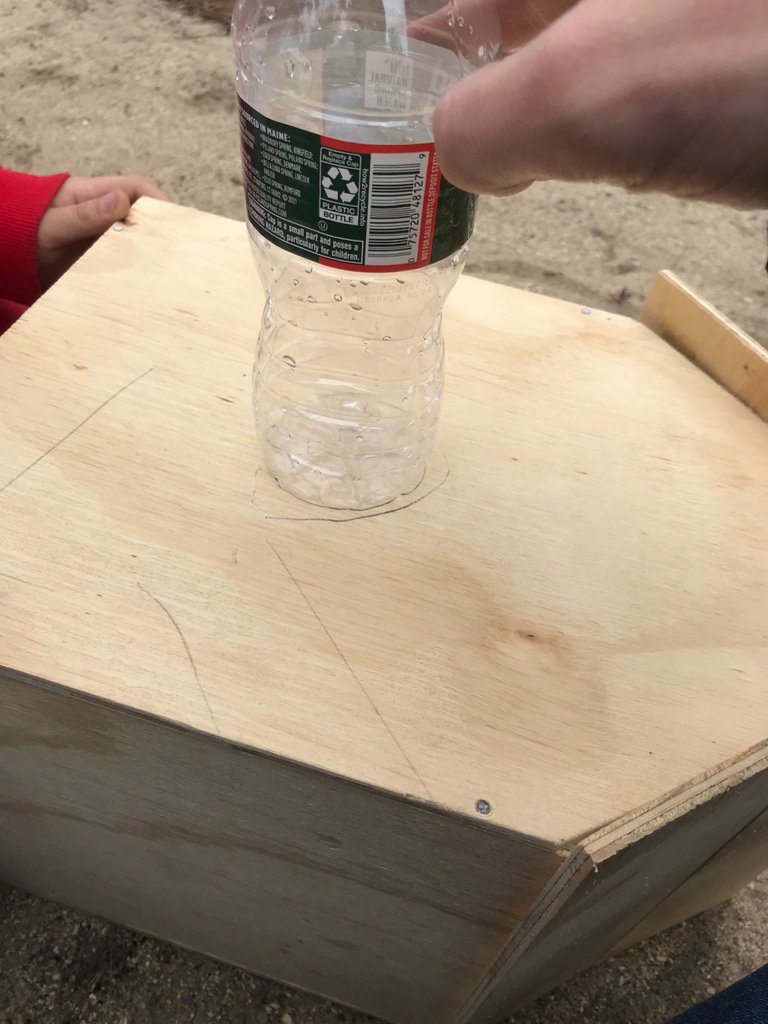 With the hole done (had to use a drill and drill it a bunch of different times, not the cleanest look but it works I guess lol) I had to make a little support for the birds to hang out on! Drilled a hole underneath the opening so that they could perch on it if they needed to. Might not ever get used but who knows?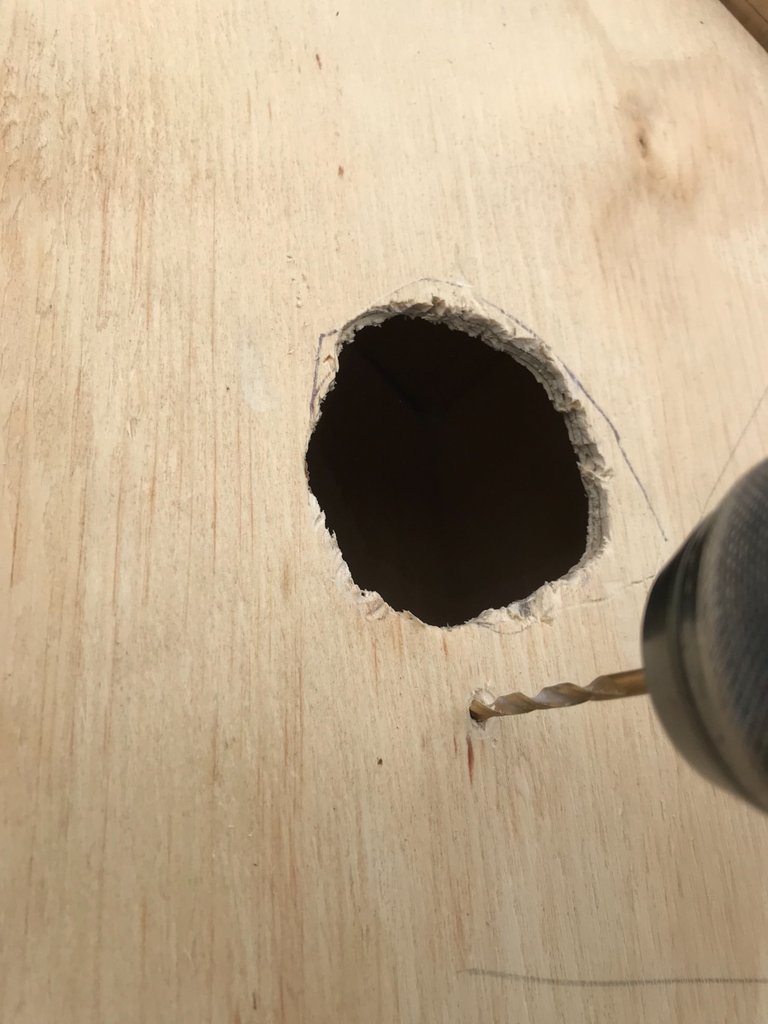 Now that the hole was drilled, I had to find a suitable piece of wood to go in there. We cut down some trees that we didn't want growing in the yard so they made perfect sticks for this purpose! Jammed it in there nice and snug and it likely won't move with the light weight of the birds.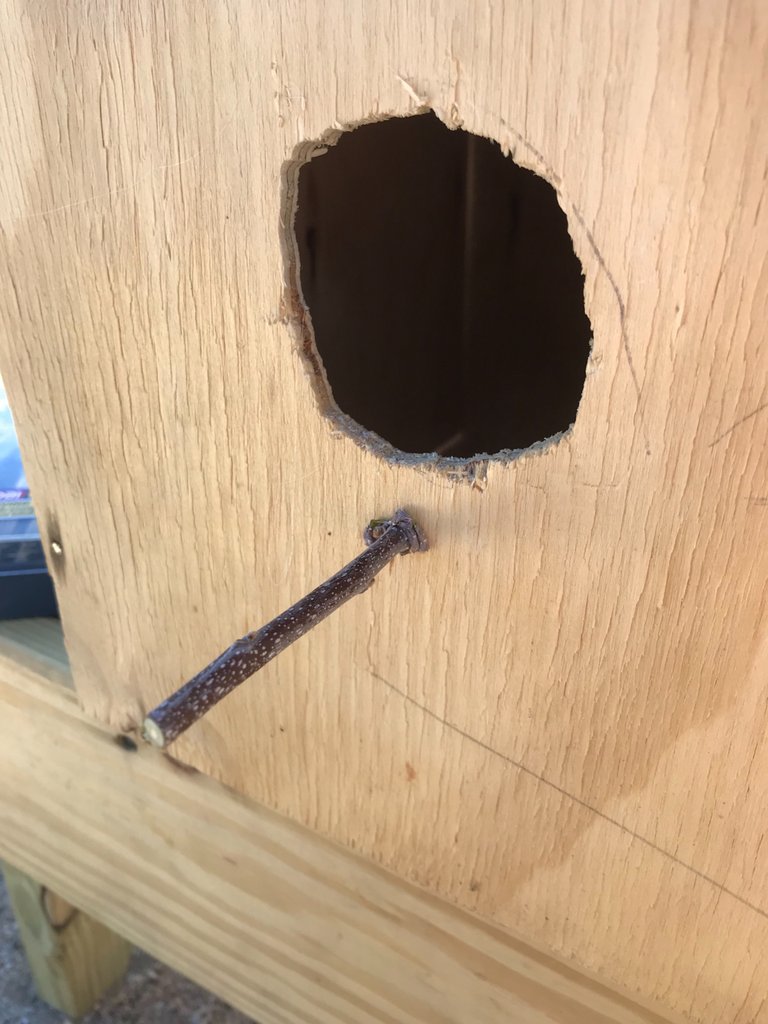 I wanted to add a bit of style to it as well but also fashion something that would seal the top of the birdhouse since I wasn't going to put shingles on the thing or anything lol. The stick here served as the perfect culmination of the house! It was glued in place and gave it a nice seal but also a bit of a cool look to it I think.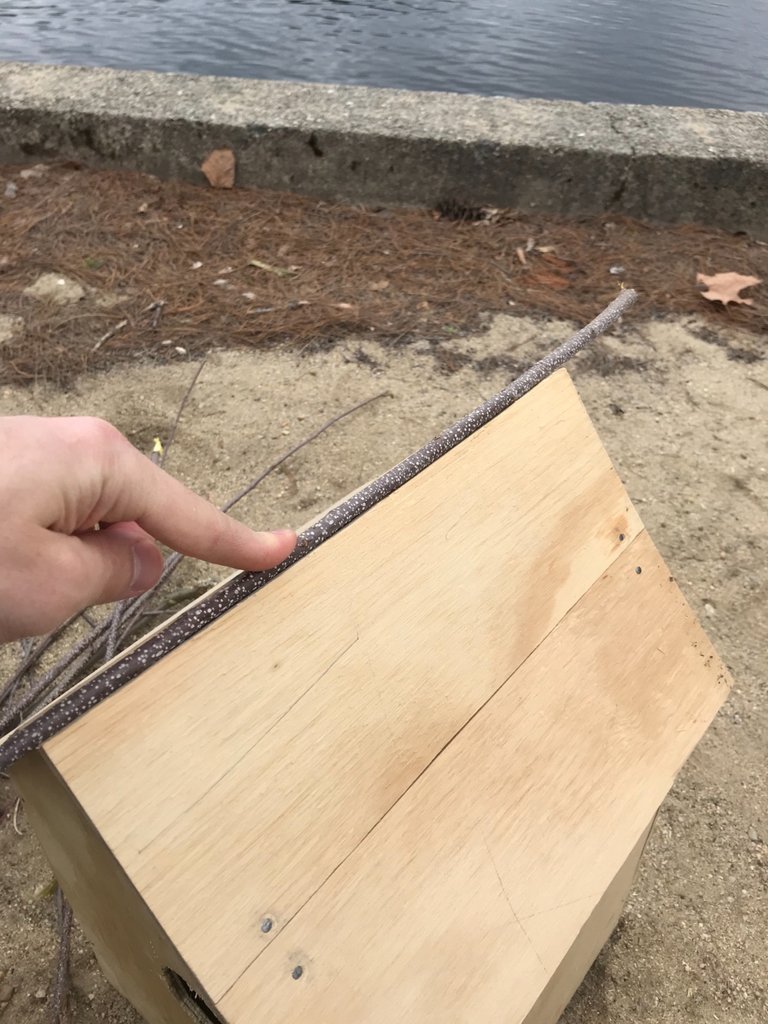 I trimmed the end of the stick off at the back and left a bit of a longer one up front for some style points and decided I better not try to do anything else to it to mess it up so this is where it was going to get hung as!
To hang it I pre-drilled some screws in the back. The roof of the shelter was sticking out about an inch or two so I knew that if I didn't have these screws pre-drilled it was going to be a mess and likely wouldn't be easy to hang it. Thankfully I had the stuff with me and gave it a drill which worked out nicely in the end.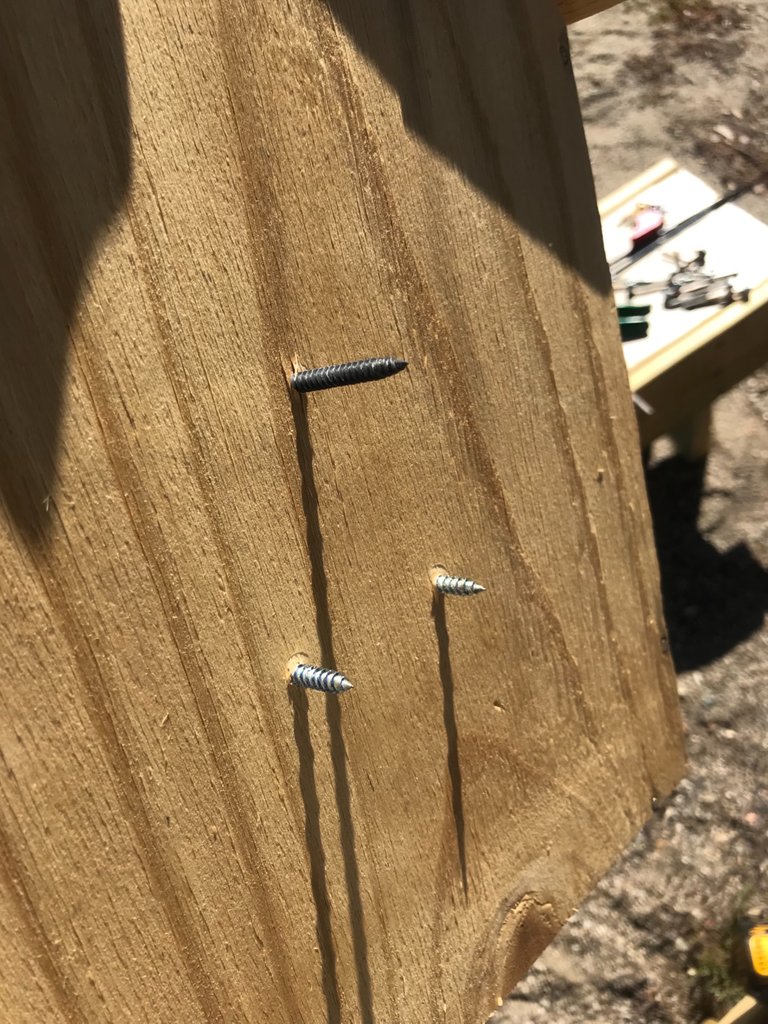 The last piece was to hang it! I think it was a nice spot here, in the trees but also could see the lake. A lot of the birds come and fly around the lake for many reasons but it's good to have the tree here so that the birdhouse can be secured to it and not be near the house. We didn't want any extra poop on the house!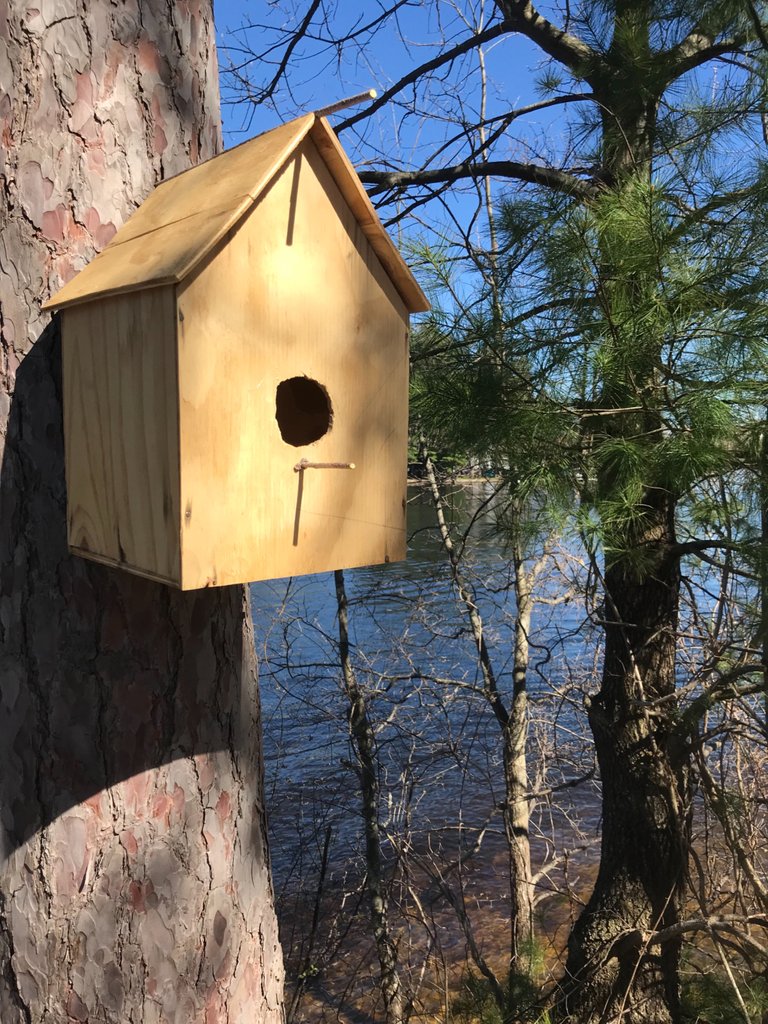 Overall this was a fun way to finish the build I started too long ago with the little man. I don't know how many years this thing will hold up since we didn't use all of the perfect materials like wood glue and others but I'm hoping it will last 2 or 3 years at least! I wonder when we will be back to see it, I don't know if it will be a lot longer once we move away!

Connect with me!
Do you want to get paid, in crypto, for searching the internet? Try using and signing up for Presearch to earn some great crypto! I've currently got 2,720 PRE tokens, with a market value of $380.27. It doesn't sound like a lot but when you search using sites like Google you get paid $0! Join Presearch to break Google's stranglehold on the internet searches. If you'd like to sign up, use my referral link below and spread the word!
https://www.presearch.org/signup?rid=513043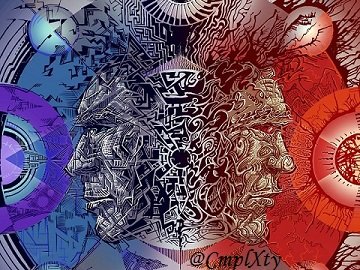 Image source