This post is written in two languages and divided for ease of reading.
Este post está escrito en dos idiomas y dividido para facilitar la lectura.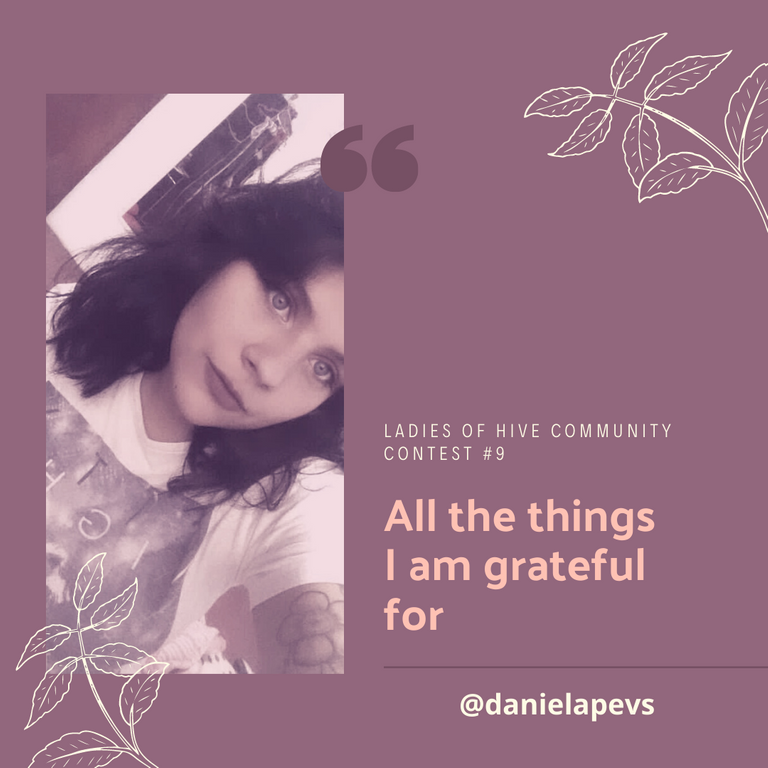 Imagen hecha por mí en canva

This week I decided to answer the second question of the Ladies of Hive contest because gratitude is a theme that I love to touch, express and discuss with others.
When I was a teenager I really didn't have much connection to gratitude, in fact, I took things for granted and let them go unnoticed, adding that I was a pretty negative and bitter person, I didn't see the need to be grateful for anything at all.
This has been something that over the years I have had to learn to change, it is serious when you talk about living in a negative bubble only attracts negative things. So little by little, training my head I started to be grateful for the little things I still had with me, both on the outside and on the inside.
This re-organized a little bit the wild world that lived inside me, which swam in disorder, bitterness and hopelessness, bringing calm with it.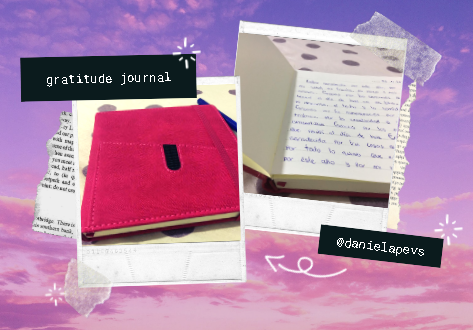 Image made by me in canva
Near my bed I have a small notebook in which I write down everything for which I am grateful after finishing a full day, both of work and of rest, it is something like my diary of gratitude, where I do not write down anything else apart from it.
Today I want to share with you a little bit about the things for which I am grateful every day.
One of the things I am immensely grateful for is life, because I breathe and every day is a new opportunity that should not be missed. Not every day is good, but every day always has something special and I have learned to appreciate every space of my days, with its ups and downs.
I am grateful for the creativity that still abounds in me, which allows me to build wonderful things.
I am grateful because even though these times have been stormy for the health of humanity, I am healthy and well, as is my family. I am grateful for my family, my friends, my work.
I am also grateful to belong to a community as united as Hive is, the union and support that I have seen among all the members of the beehive fills me with much joy, here there are no borders, nor language barriers, there is simply support and union, that is wonderful to perceive and even more, to be part of it.
I can really say I love life, I love the new days, I am grateful for everything I have achieved, what I have and for all those around me, there is no reason not to be grateful and I am so happy to have learned that.

Ésta semana decidí responder a la segunda pregunta del reto de Ladies of Hive porque el agradecimiento es un tema que me encanta tocar, expresar y debatir con las demás personas.
Cuando era adolescente realmente no tenía mucha conexión con el agradecimiento, de hecho, las cosas las daba por sentado y las dejaba pasar desapercibido, añadiendo que era una persona bastante negativa y amargada, no veía necesario el agradecer por absolutamente nada.
Esto ha sido algo que con el paso de los años he tenido que aprender a cambiar, es en serio cuando se habla de que vivir en una burbuja negativa sólo atrae cosas negativas. Así que poco a poco, entrenando a mi cabeza empecé a agradecer por las pequeñas cosas que mantenía aún conmigo, tanto en el exterior como en mi interior.
Esto re-organizó un poco el mundo salvaje que vivía dentro de mí, que nadaba en el desorden, la amargura y la desesperanza, trayendo calma consigo.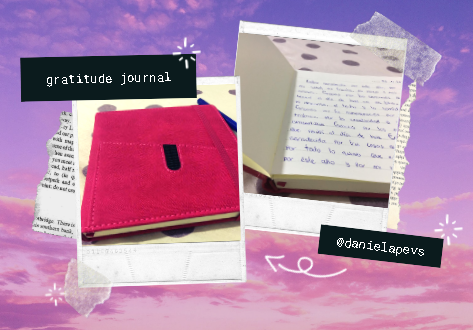 Imagen hecha por mí en canva
Cerca de mi cama tengo una libreta pequeña en la cuál anoto todo por lo cuál estoy agradecida luego de terminar un día completo, tanto de trabajo como de descanso, es algo así como mi diario de agradecimiento, dónde no anoto nada más aparte de ello.
Hoy os quiero compartir un poco sobre las cosas por las cuáles estoy agradecida cada día.
Una de las cosas por la cuál estoy inmensamente agradecida es por la vida, porque respiro y cada día es una nueva oportunidad que no se debe desaprovechar. No todos los días son buenos, pero cada día siempre tiene algo especial y he aprendido a apreciar cada espacio de mis días, con sus altos y bajos.
Estoy agradecida por la creatividad que aún abunda en mí, que me permite construir cosas maravillosas.
Estoy agradecida porque a pesar de que estos tiempos han sido de tormentas en la salud de la humanidad, tengo salud y estoy bien, al igual que mi familia. Estoy agradecida por mi familia, mis amigos, mi trabajo.
Agradezco también el pertenecer en sí a una comunidad tan unida como lo es hive en sí, la unión y el apoyo que he visto entre todos los miembros de la colmena me llena de mucha alegría, aquí no existen las fronteras, ni las barreras del idioma, simplemente existe el apoyo y la unión, eso es maravilloso de percibir y más aún, de formar parte de ello.
Realmente puedo decir que amo la vida, amos los días nuevos, estoy agradecida por todo lo que he logrado, lo que tengo y por todos aquellos que me rodean, no hay motivos para no estar agradecido y estoy tan feliz de haber aprendido eso.
Invito a @sirenahippie a unirse a ésta iniciativa. ♥