"It's that fucking church again, look at it.., taunting us"
The Welsh Presbyterian indeed was looking down at both of us as we slowly approached in my car. It had gotten the better of us one time and was in a very gloating mood.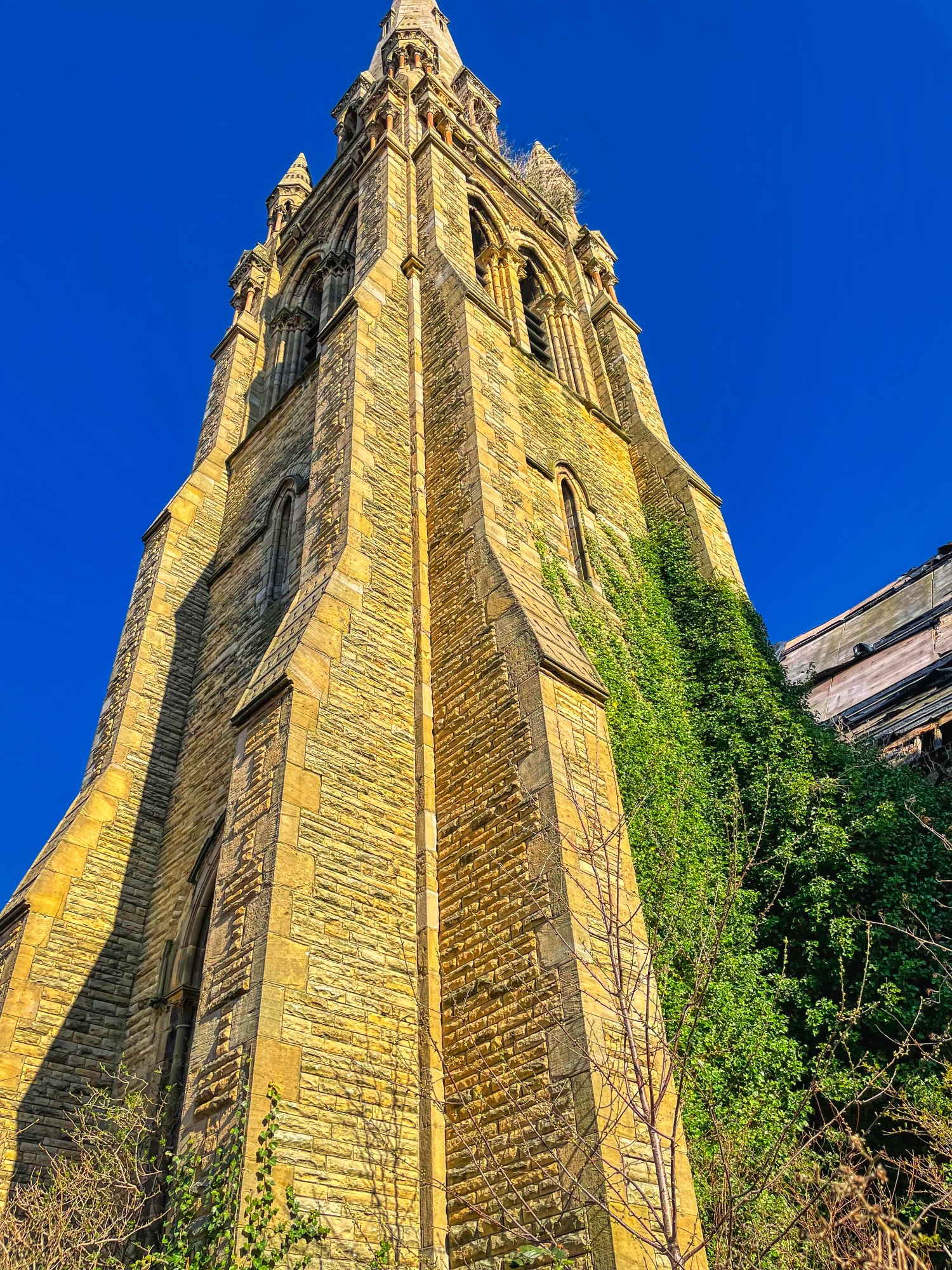 It was not our agenda, but what the hell? That swagger was insufferable and this time it would not get the better of us.
The The Welsh Presbyterian Church, was built around 1867 and was once the tallest structure in Liverpool. It has been left abandoned for at least 30 years.
In 2019 news emerged of a rescue plan which was subsequently abandoned in 2022 due to funding issues.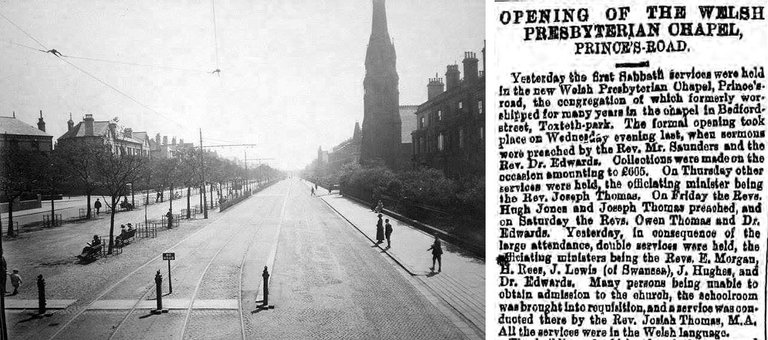 I did find a couple of old images relating to the church both of them on Twitter so there are no tangible sources.
The writer mentions a schoolroom and I am wondering if that is the part (below) that we discovered. The amount of money raised was huge; £605 was a colossal fortune in 1867.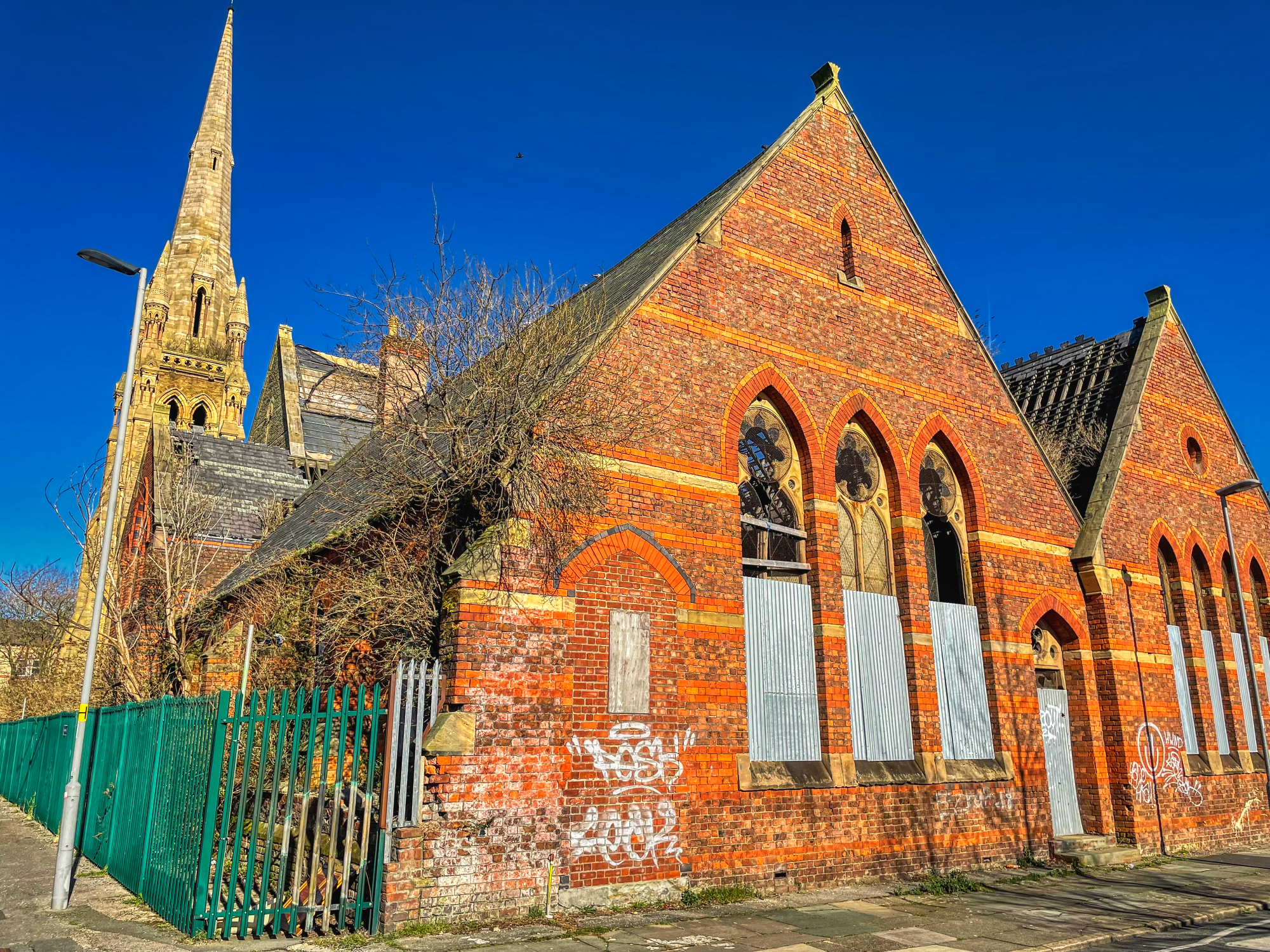 The comfy sofa had been removed from when I published my old fails post, and still, we were not confident of vaulting the wall close to the probably angry scourers' house who might chase us down the streets of Toxteth with a rusty axe.
…'it might look impressive from the outside, but I had a feeling it was yet another death-trap inside'…
@anidiotexplores found the weak point and was inside the grounds within seconds leaving me flailing to catch up as usual.
"Hold on a second..., fucking hell man", I yelled scrambling to a horizontal position in a very public area.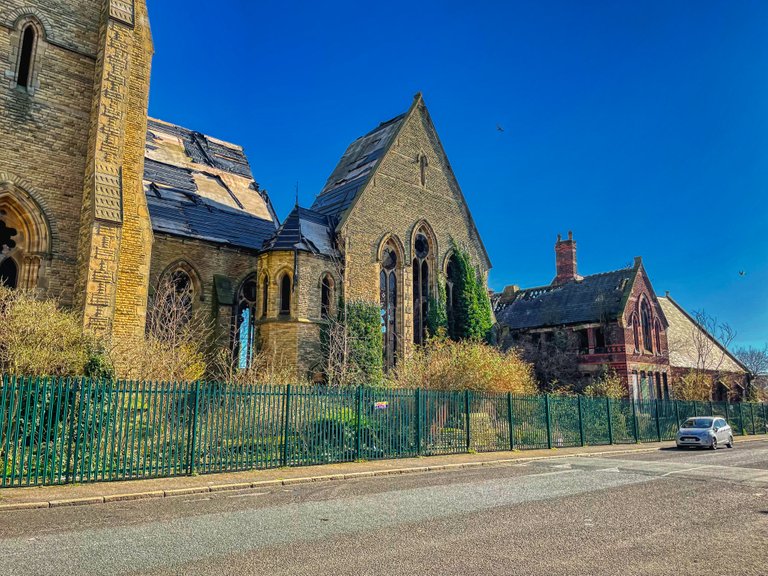 Let me put it this way... if you want to get in expect some very strange looks coming your way.
"Not this time, you condescending motherfucker", I muttered to the church who was now positively frowning down at me in severe disdain.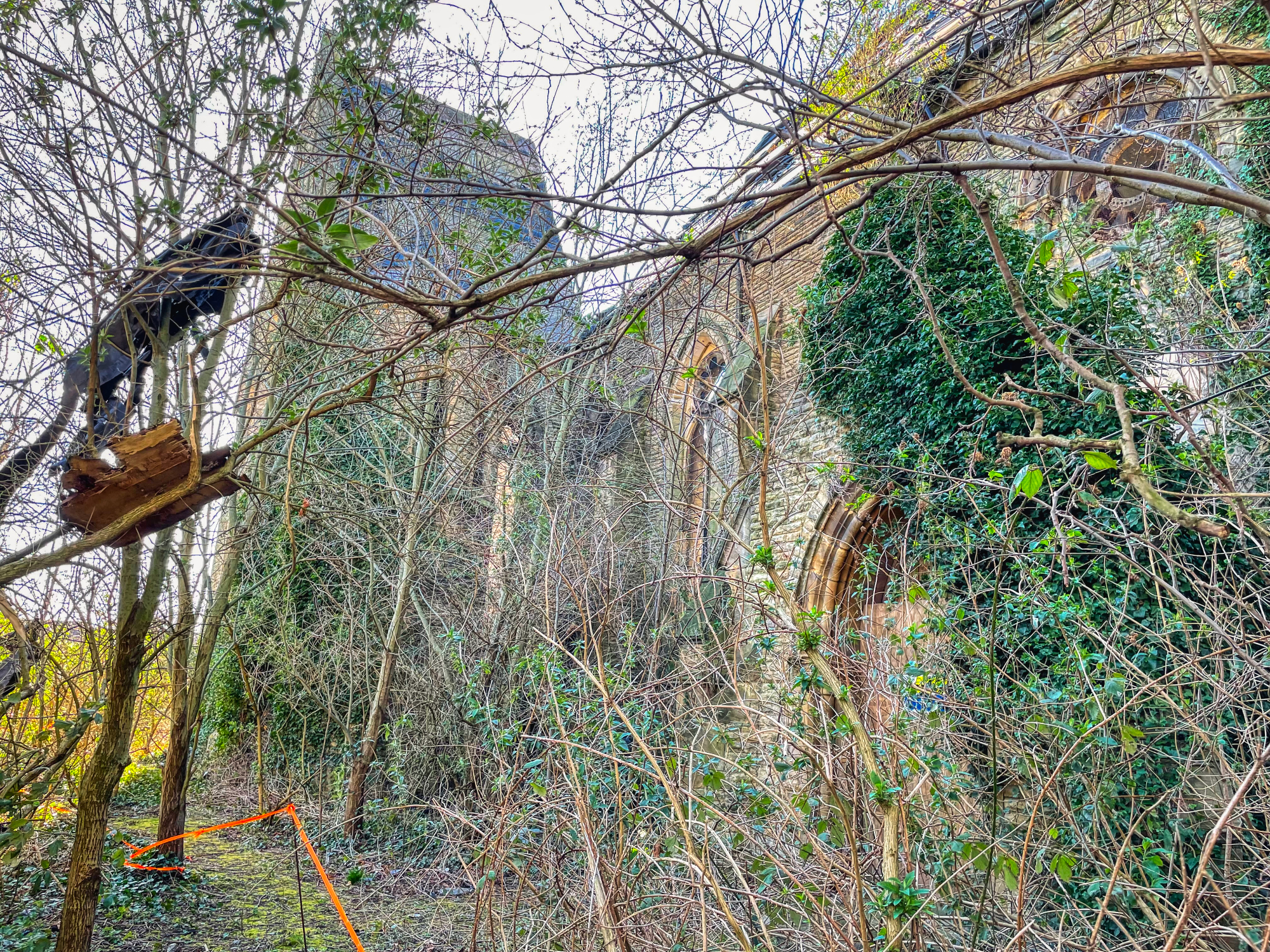 As this was March, the ground's foliage was most deadened wood and easier to navigate than a summer explore.
You still need to watch your eyes; they can be poked out quite easily.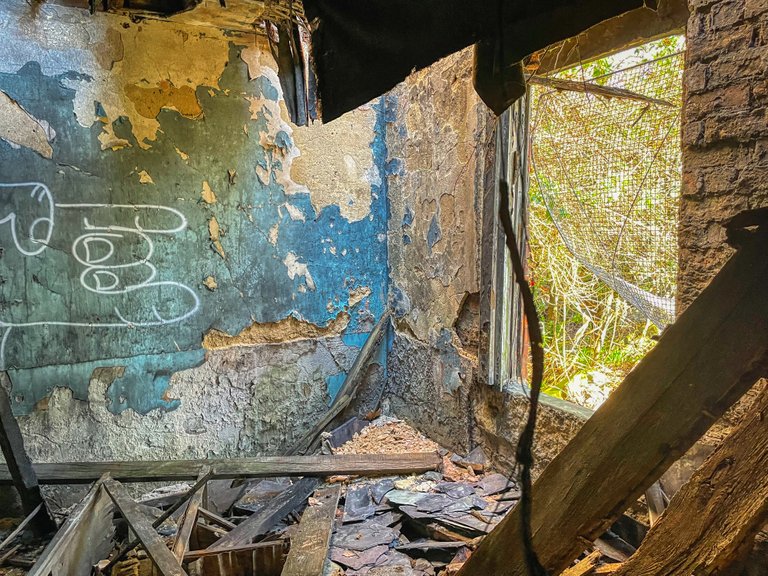 We entered via the rear into extreme derpiness. Climbing over the fallen brickwork, beams and masonry was treacherous.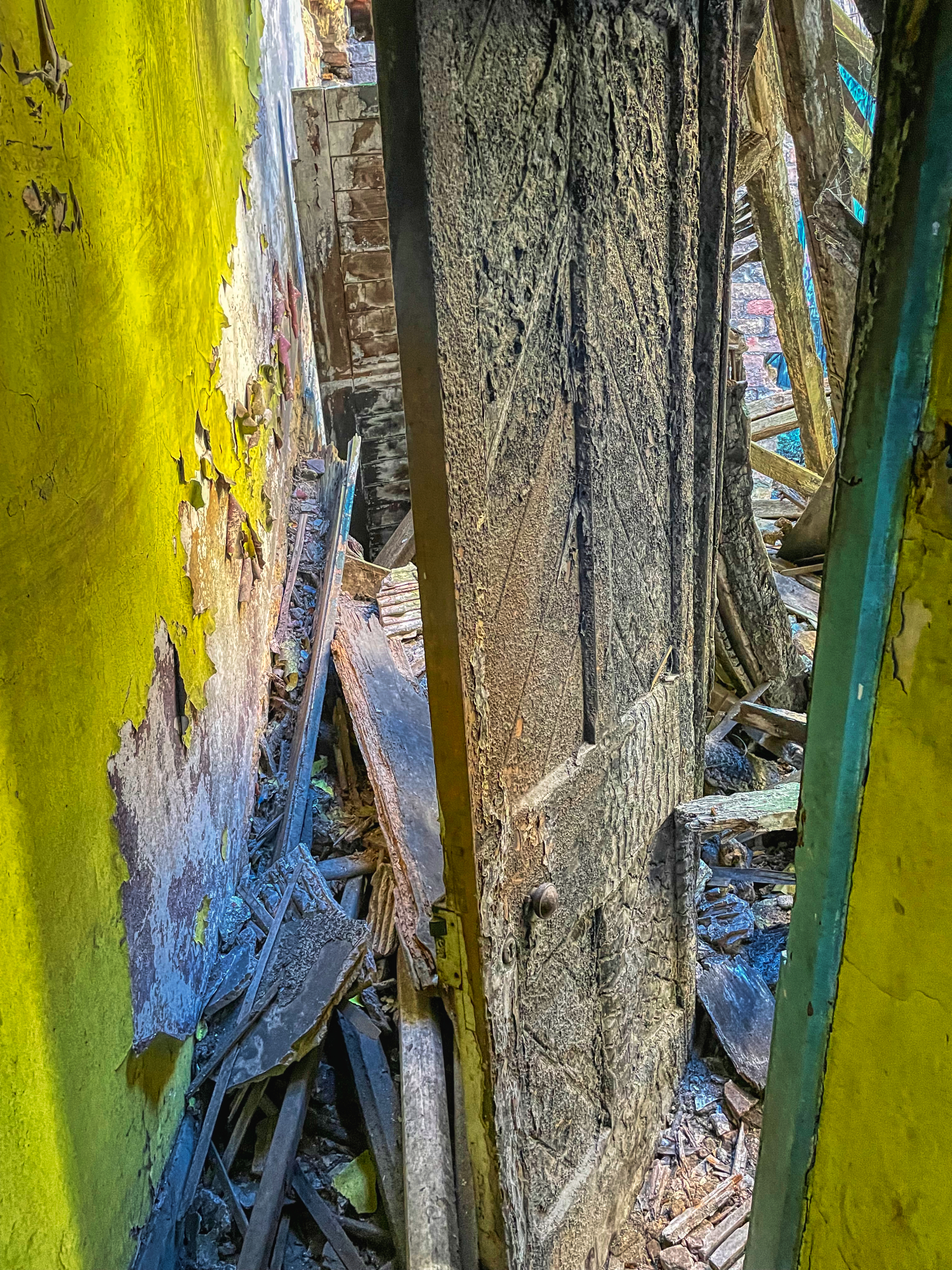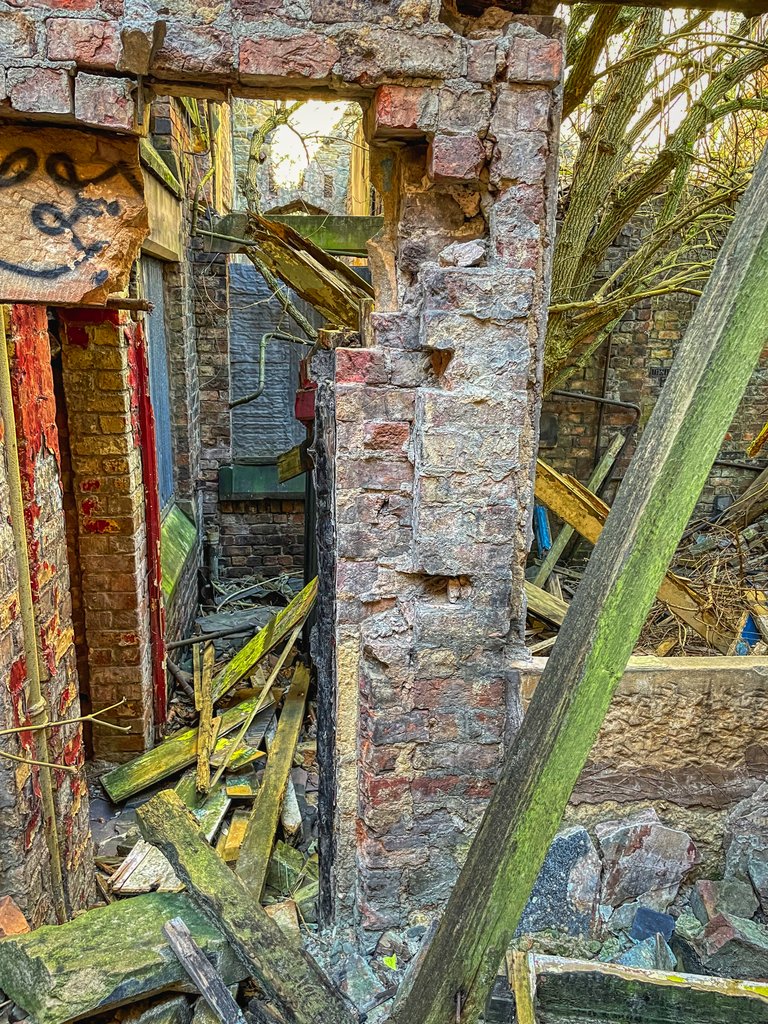 Gingerly clawing through this room using the pillars for support we navigated through several more rooms looking for that 'big church' area.
Eventually, we reached this large cavern, but it was definitely not the massive expanse we were looking for. Something or other, Holy Temple it said amongst the ageing graffiti.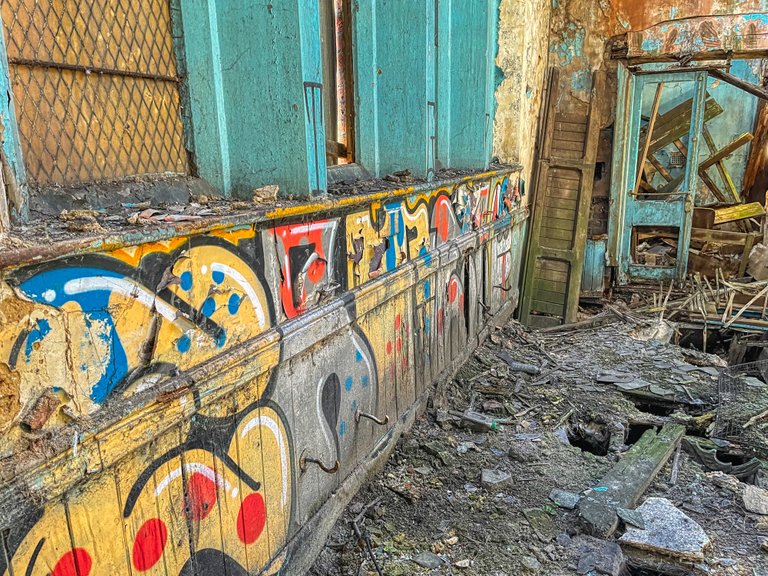 It must have been easier to get inside in the past; the graffiti was almost as ancient as the building. We found no fresh empty cans hanging around.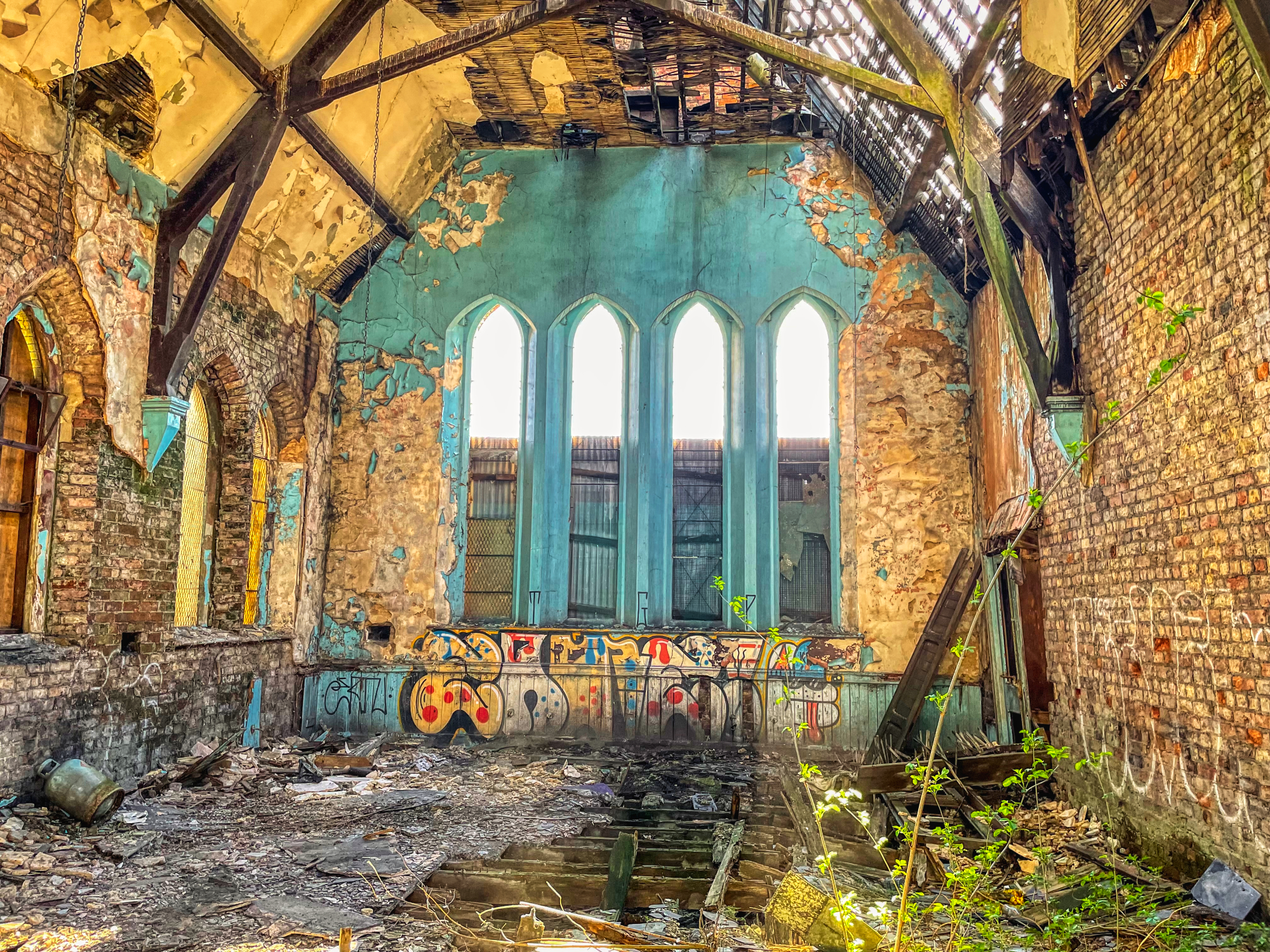 Very holy in more ways than one; large holes adorned the old 'temple' looking to twist an ankle.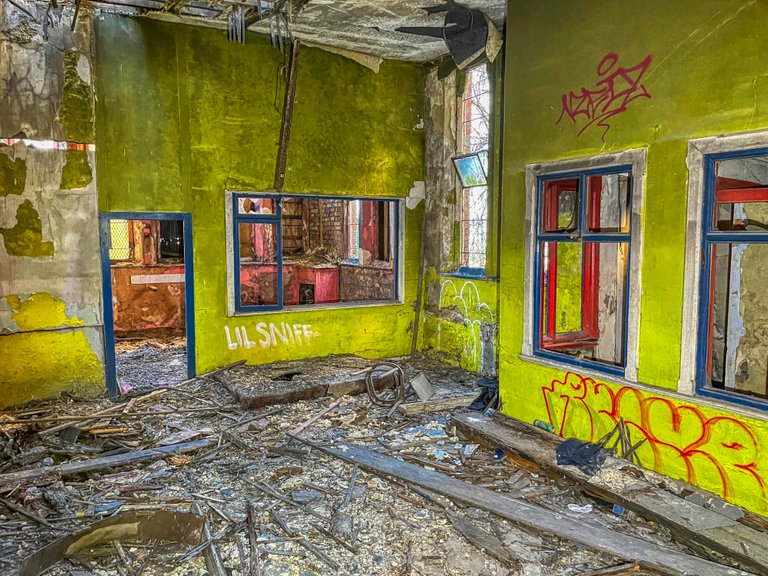 I did wonder what the adjoining rooms were once used for, perhaps the schoolrooms (as mentioned above). Mustard Yellow is not to my taste but kids may like it, the graffiti probably improves the look.
The sunlight was creating a small holy tower before us, or was it a holy cock? I am not quite sure.
I spotted something in the top left corner, surely not an old organ. Male body parts were coming at me left right and centre. Some breasts would have been preferable.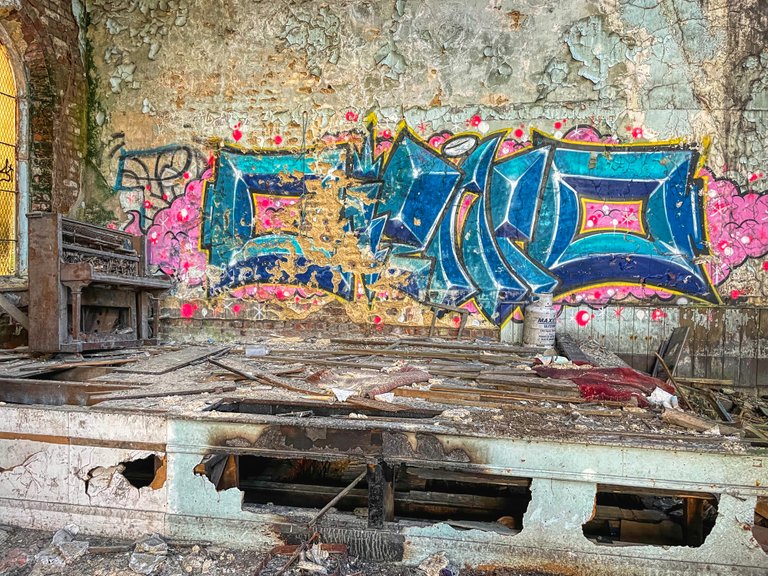 Stepping up on the stage and meandering toward the instrument I hoped to play a Major C, D Minor, or B Flat chord.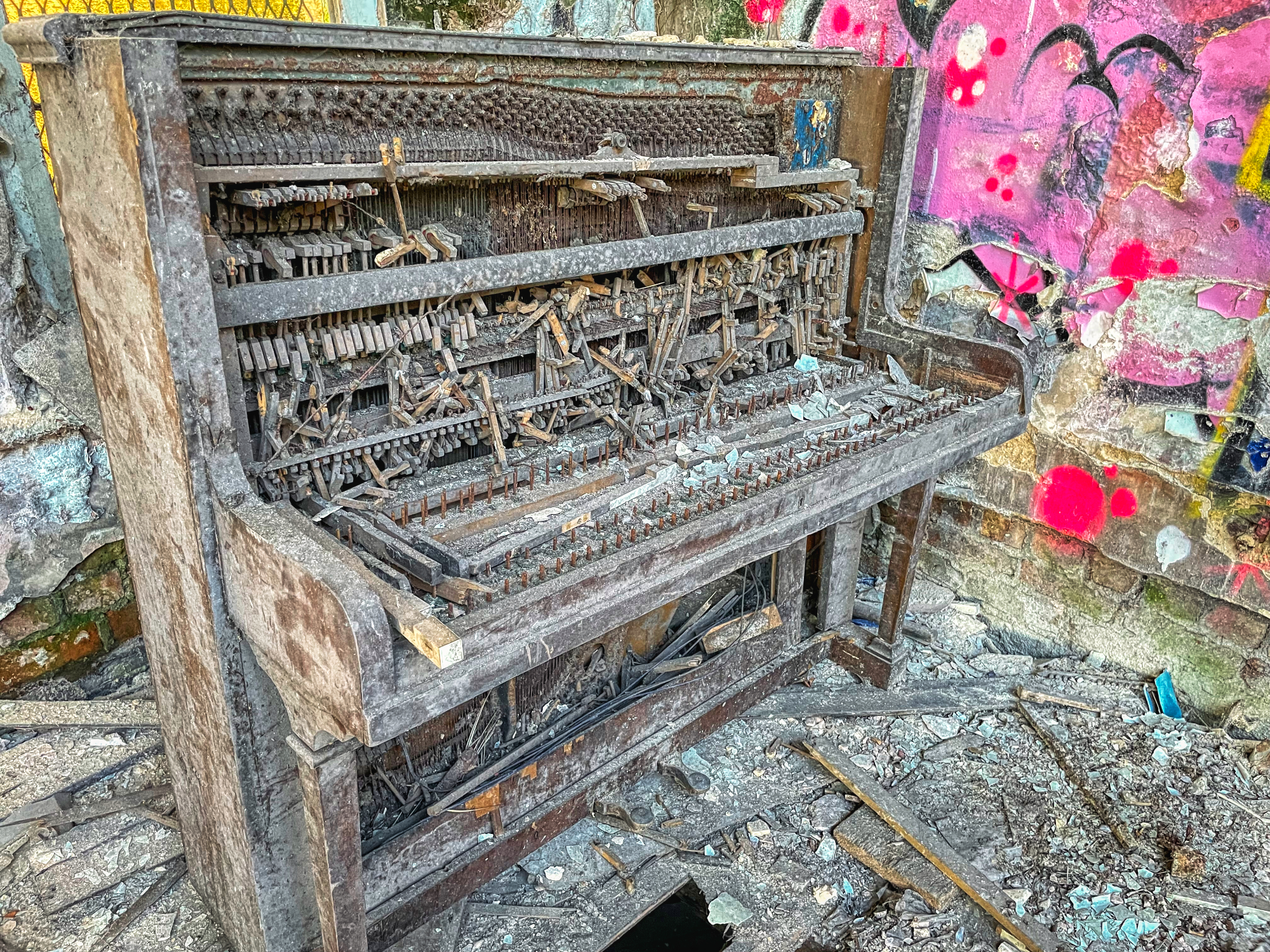 This had to be the worst piano or organ I have ever come across, but seeing it intact was something. I didn't try and hit any keys, this one pokes back hard.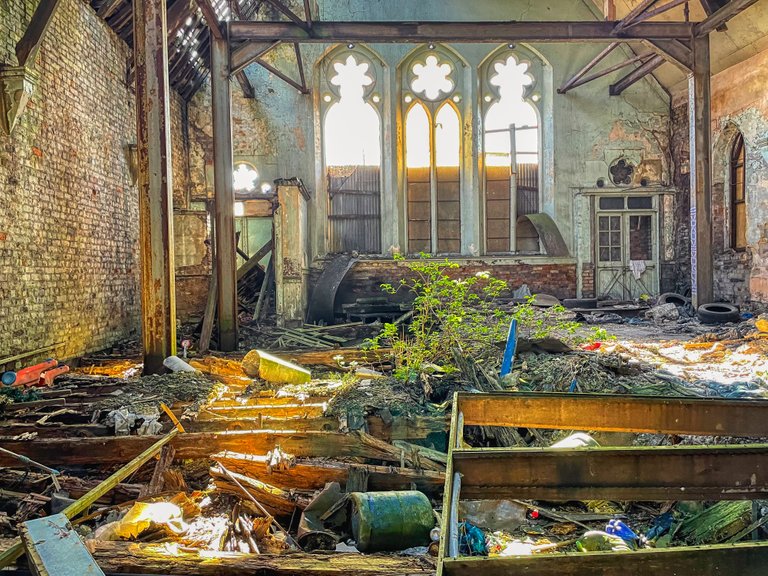 I was grateful for that sun; a rainy day would have pissed down on us inside. You can't expect any shelter in a place like this.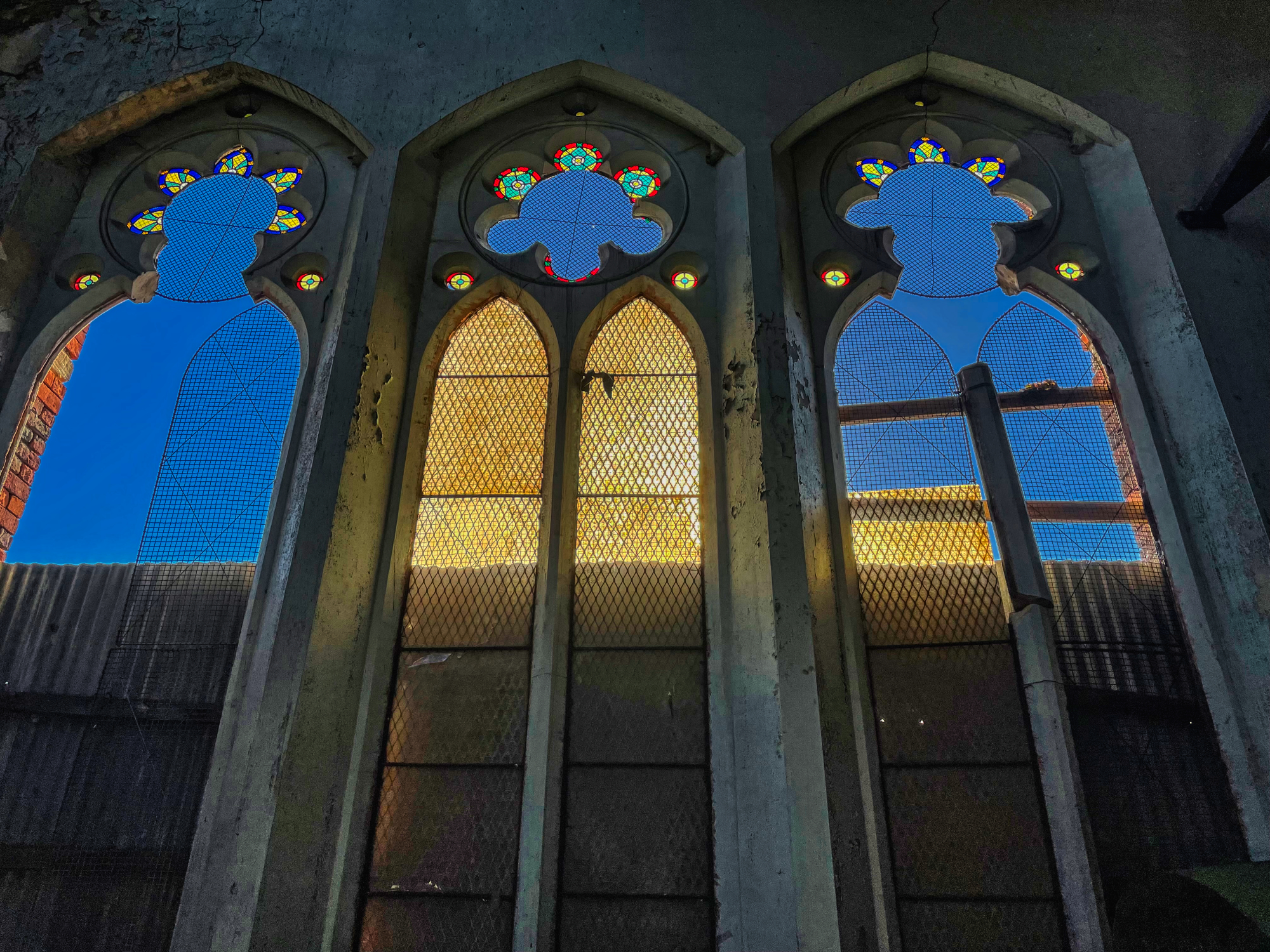 It almost looks good, with traces of the stain-glass windows intact.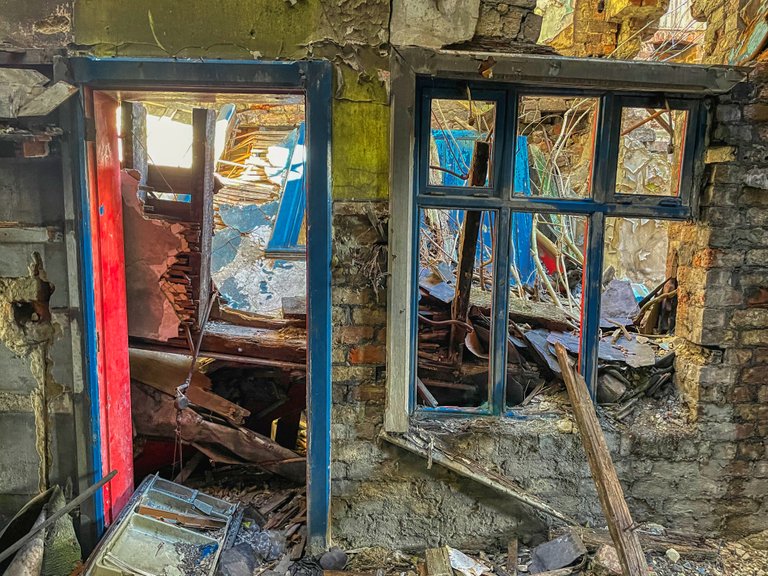 We thought of moving on but to where... there was an exit door but… er…, there is a point which neither of us will cross.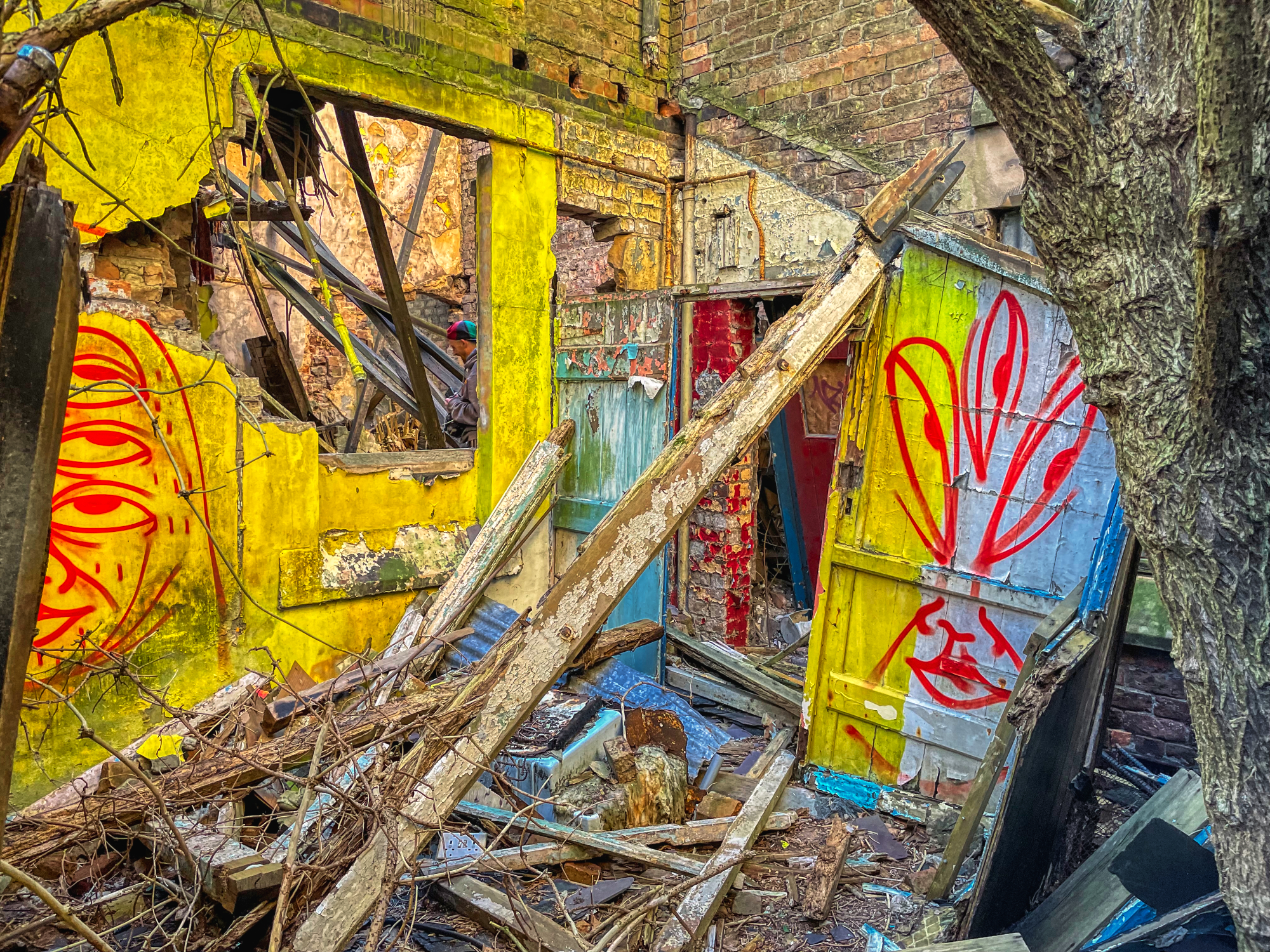 Yet we did but for only one more room. The whole place looked like it was ready to collapse and besides this church was hardly happy with me, to begin with.
Backtracking to the entrance point we decided to scour the perimeter. The main section was still evading us.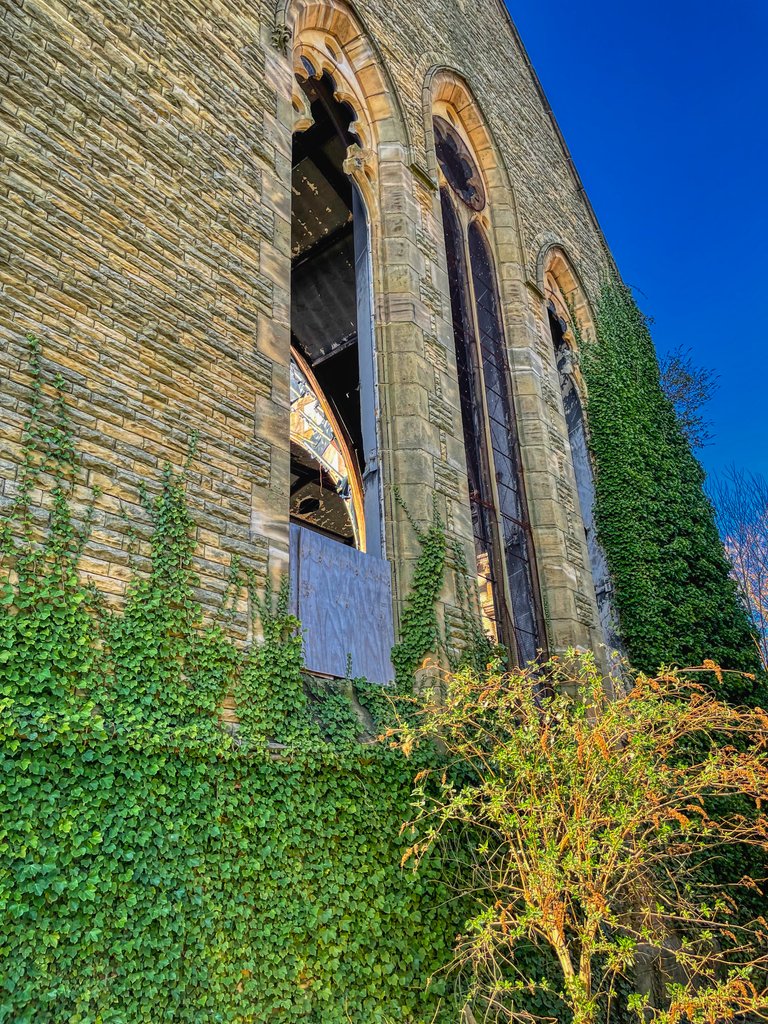 That's around 15 feet up. If only I had through to fetch the not-so-portable ladders from my car.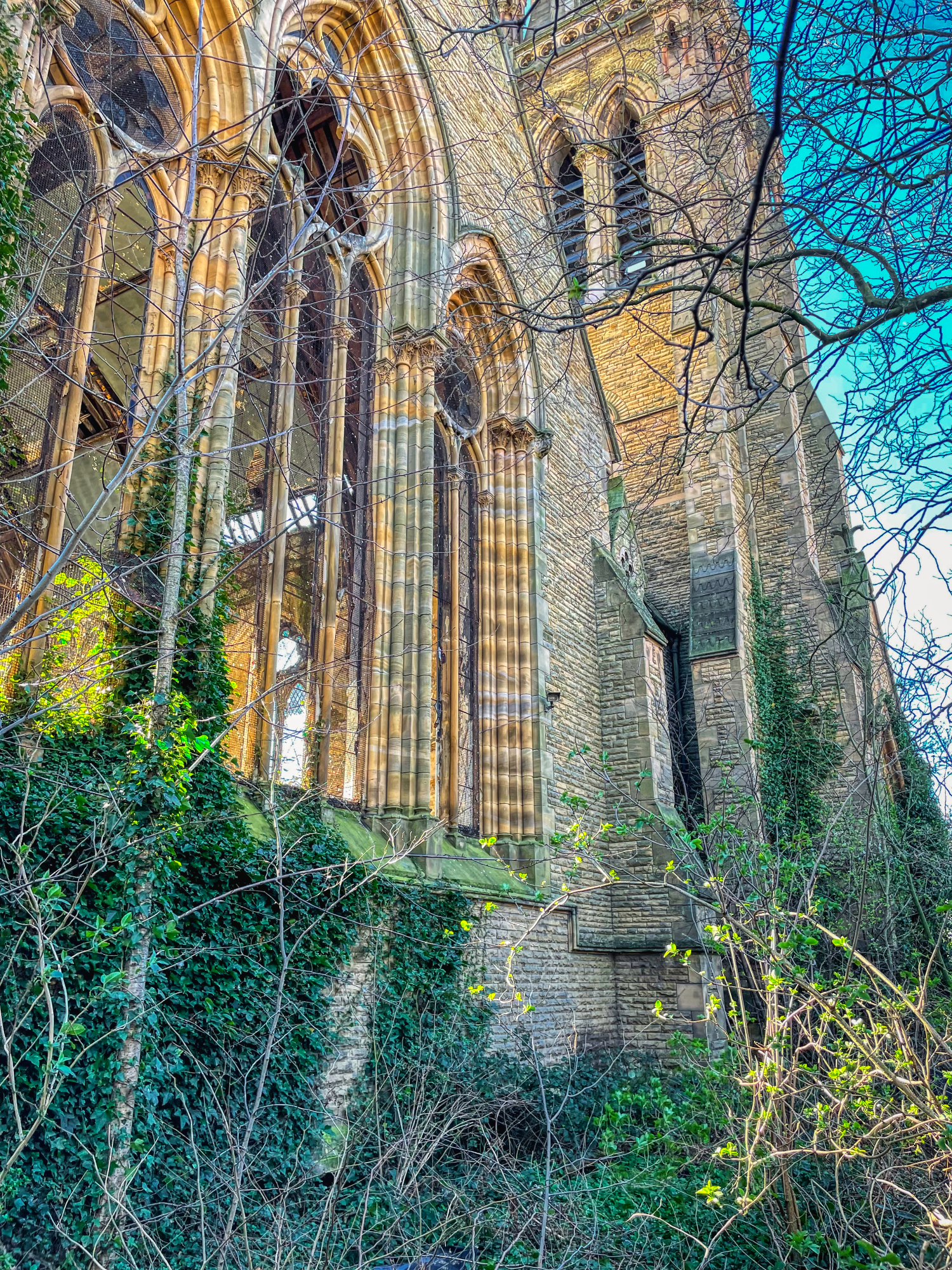 @anidiotexplores did heave up this section and peer down inside the old main church section. "It's bare and how do we get out, there are no climbing aids far-side", he yelled back.
Was it worth the bother? Possibly now I would have tried it, but then in those days of 'lesser confidence', we decided to abort.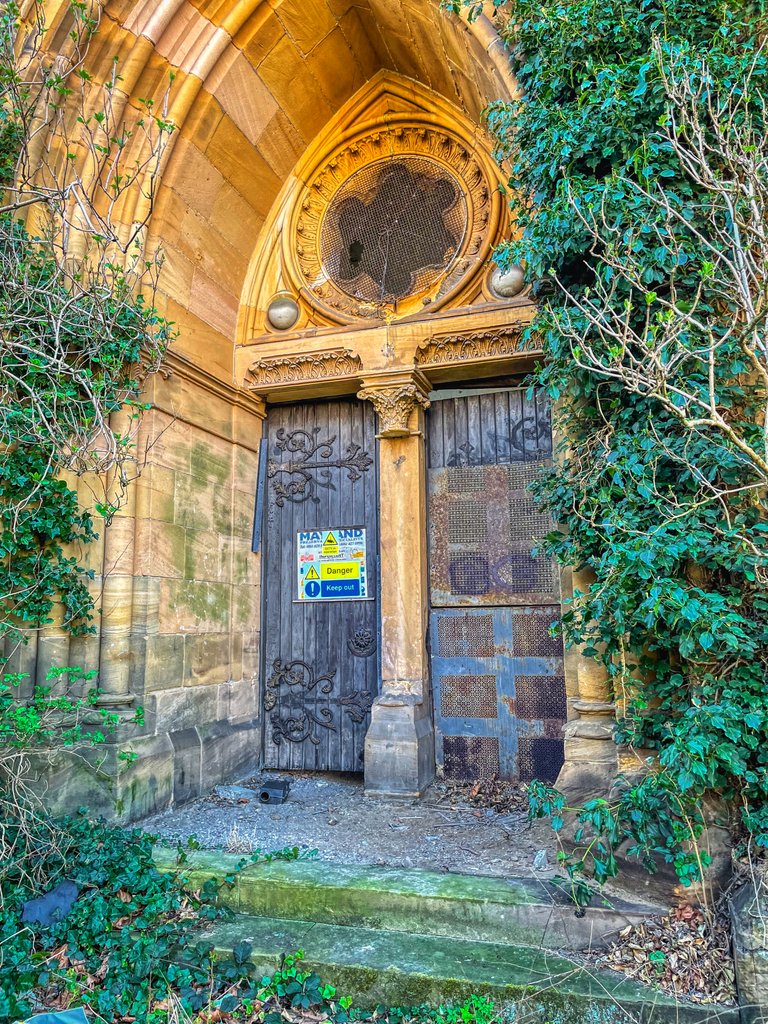 The front door was positively sealed; through the arches is the only way into the main section.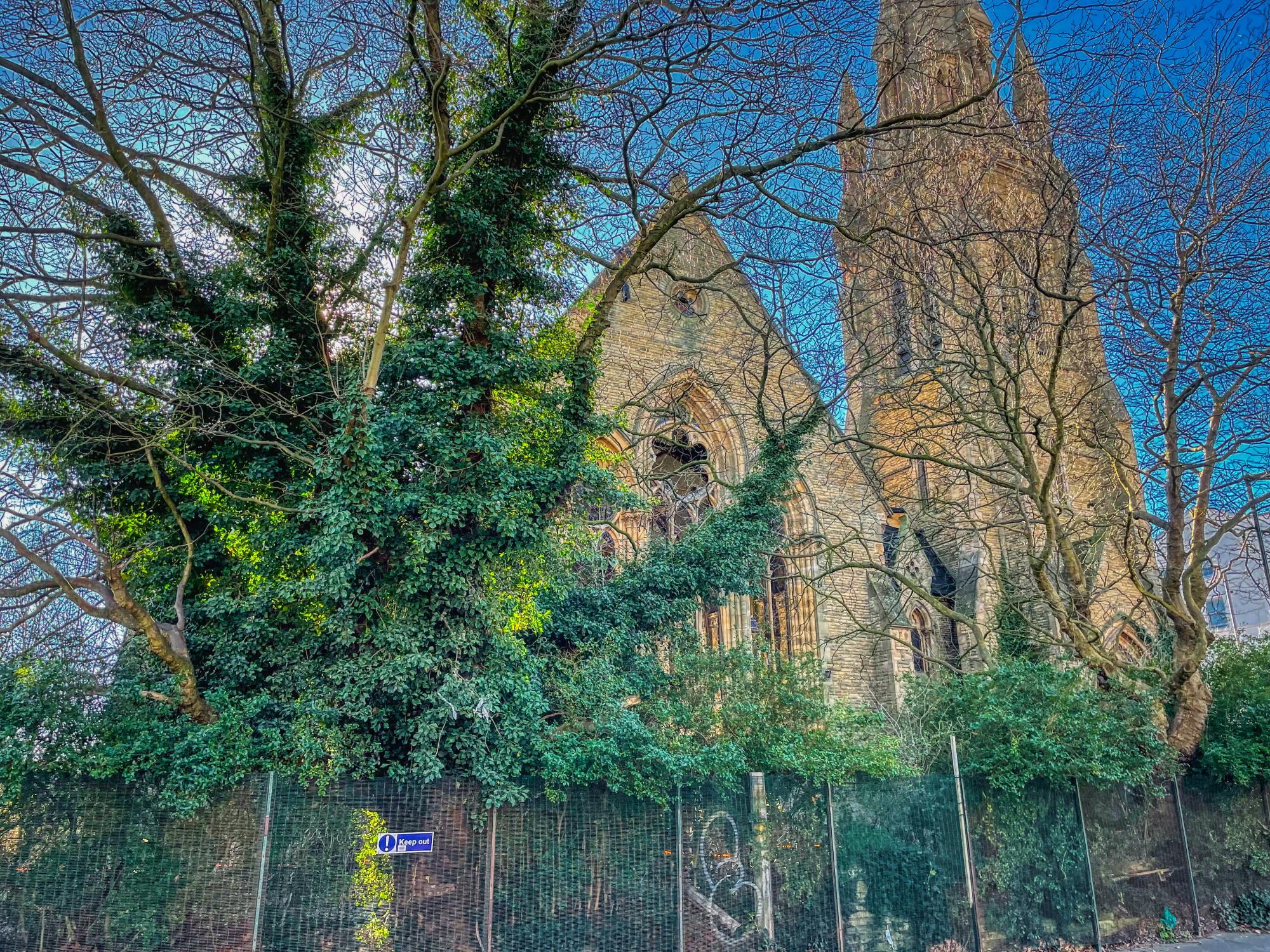 Looking around for pedestrians we scrambled back out, once again startling passing motorists. I have heard about wobbling breasts causing distractions and accidents, one day we may too.

Do you like posting your Urbex content and photography for FREE on Facebook and YouTube? I like to get some form of reward for my work and every time I create I do just that. Take a look at The Urbex Community on HIVE.
If you want to keep creating for FREE then ignore what you are reading. If you want to be like me and gain something other than BUGGER ALL for your work then click here and learn about posting on the HIVE blockchain.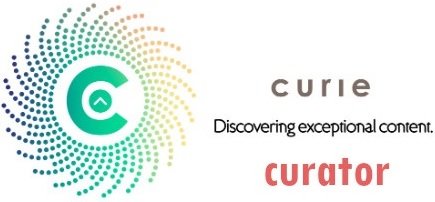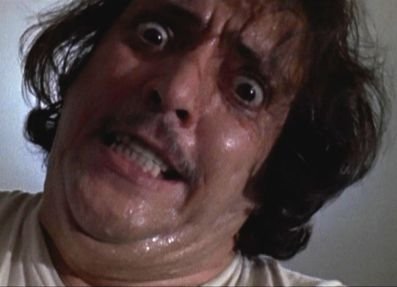 If you found this article so invigorating that you are now a positively googly-eyed, drooling lunatic with dripping saliva or even if you liked it just a bit, then please upvote, comment, rehive, engage me or all of these things.