Hello lovely people of Hive community. Hopefully you will be enjoying your life with good health and spirit. Friends, there is no business in the world which offers such a huge profit as offered by crypto coins.BTC in the span of 14 months recorded more than 750% profit. Such a remarkable profit make it hot cake for miners.Bold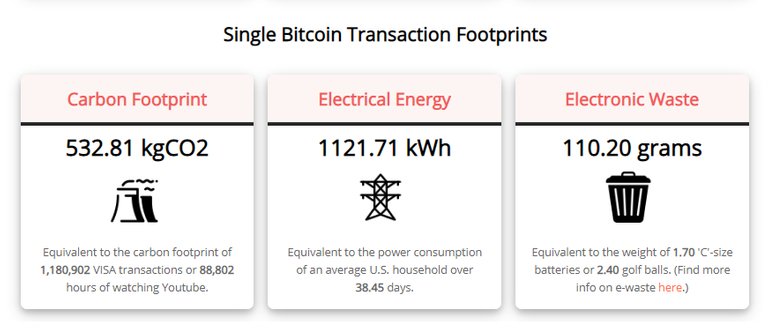 There is nothing wrong in mining if we see the rise of the coin during last 14 month.Every coin has two sides. The one which suit your perspective shinning side and the one which oppose your perspective darker side. The shinning side is that mining offers lot of profit. The darker side is that mining consumes lot of energy which is indeed not good for environment.
I was shocked to read that one transaction of BTC consume 1121.71 Kwh energy and leave 538 kg co2 footprints. Indeed such huge number emission will create environmental issue.
Recent statement by Tesla owner Elon Musk already showed concern on envental impact created by BTC morning. Tesla owner announced earlier to sell vehicle against BTC payment regret to sell vehicle against BTC due to environmental issues.Musk tweet badly hit the market. BTC had last 10% worth and 365 billion USD whipped out from the market in just 2 hours of Musk tweet.
Already alarming situation for the coin which is trading just below 50,000 USD.
Environmental impact may create hindrance in the rise of world leading coin.This necessitate the shifting of BTC mining into renewable energy.
Unfortunately the problem is not as simple as seeing. BTC minning was carried out around the world. Voice should be raised to create awareness around the world to convert minning into renewable energy. Otherwise restriction and ban on Crypto may damage the coins worth.
I am unsure about the emission of CO2 footprints number mentioned by digiconmist, as some people believe it is prapoganda against the world leading coin. But I still be addressed on early basis to avoid any restrictions on crypto and minimizing the environmental impact on this amazing world.
I hope you will like my effort. Wish you all a very happy, healthy and prosperous life ahead. Have a nice time.